Morning is the time when you wake up with a rejuvenated mind and body, ready to take on the world with new spirits. To add to this positivity, Inspirational good morning messages from loved ones can play a wonderful role. Not only do these motivational words fill your heart up with the warmth of having all the support from your loved ones, but they will also inspire you to give your best throughout the day.
So, if you are trying to make someone's day by sending them a motivational good morning message, then you have landed on the right page. We have compiled a list of 30 inspirational messages that you can send to your friends and family to wish them good morning.
Inspirational Good Morning Messages:
1. With a new day, you have a new opportunity to fulfill your goals. I hope all your dreams come true and the path of success becomes easier for you. Good Morning!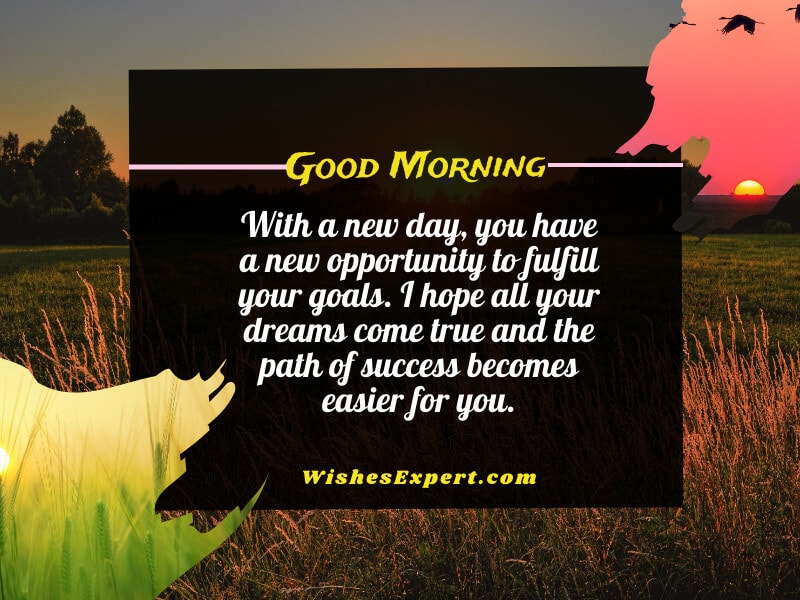 2. Wishing you a very good morning! Start your day with a short prayer and ask for everything your heart has ever desired. May God bless your day.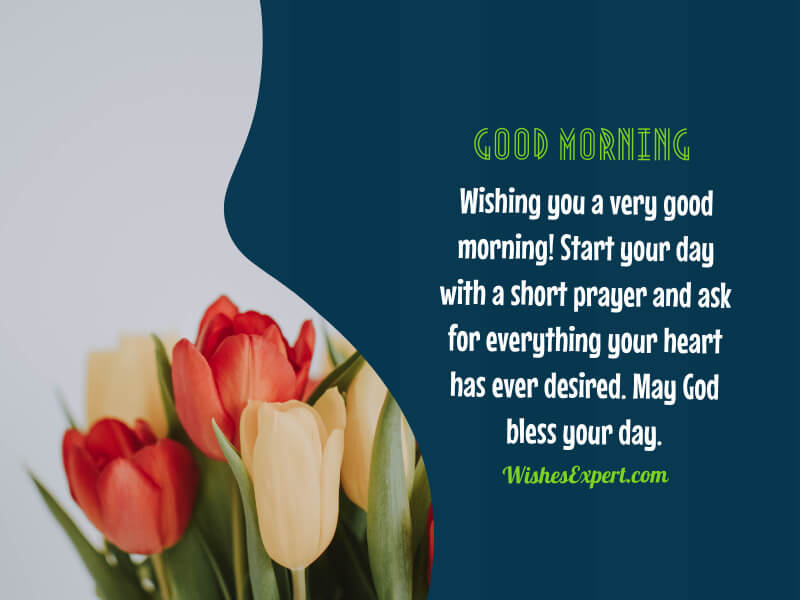 3. I wish I was there with you to motivate you every day. Since we are so far away, this message is to boost your motivation and confidence to tackle all the challenges today. Good Morning!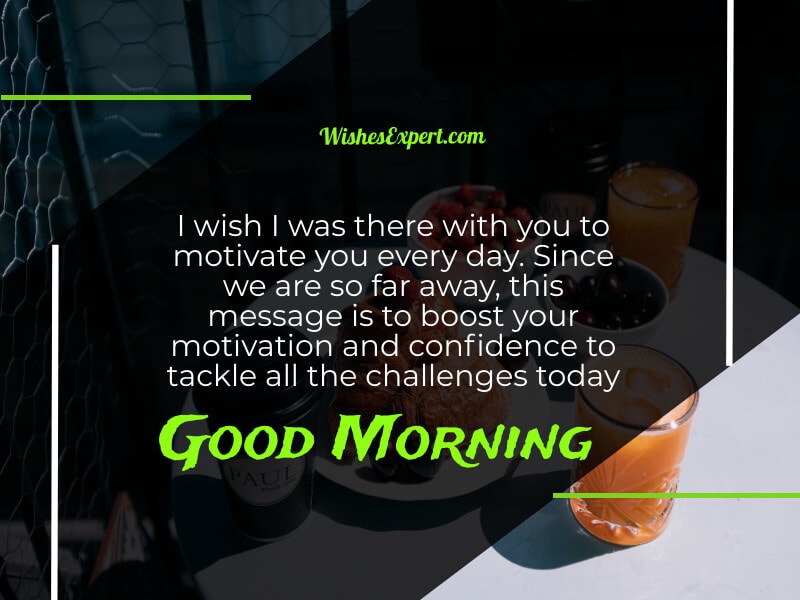 4. When the sun rises, it spreads light and positivity everywhere. I hope it also brightens your future and motivates you to fulfill all your dreams. Have a wonderful morning.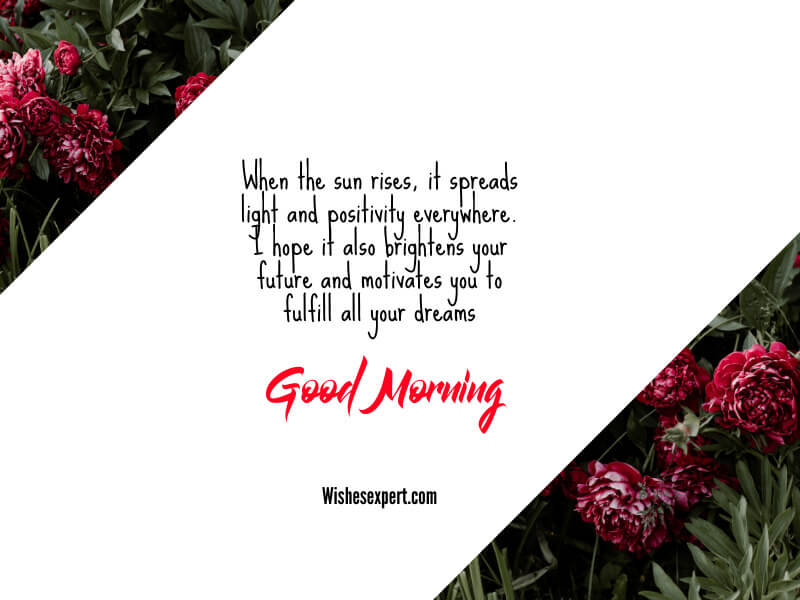 5. Start your day with a nice cup of coffee and put all your energy into doing what you have always wished for. Good Morning, Have a great day ahead!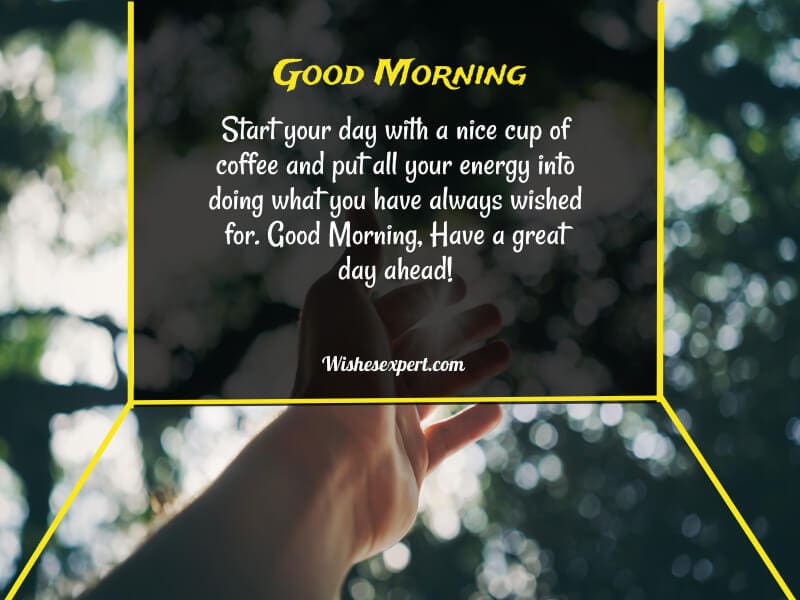 6. Welcome another day with a positive smile on your face and motivation to conquer all the challenges that come your way. Good Morning, friend.
7. Forget what happened yesterday, and do not worry about what is going to happen tomorrow. Focus on today and welcome this day with a positive attitude. Have a great morning.
8. Good morning to the most hardworking person I know. I hope you continue to achieve all your goals in the same way. Have a wonderful day ahead!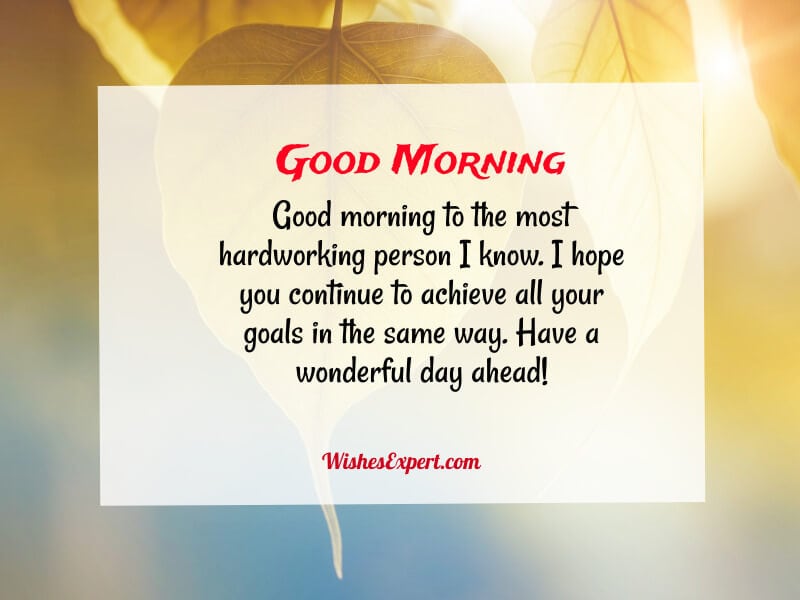 9. Start your new day with the resources that you have and turn it into something exemplary. May you have the strength and motivation to transform your future. Good Morning!
10. Hey, pal! Get out of your bed and enjoy the freshness of the new day. Live your life to the fullest and shine bright like the sun out your window. Have A Good Morning.
Read: Good Morning Messages for Friends
Positive Good Morning Message:
1. Today, let go of everything that is holding you back and stopping you from fulfilling your dreams. It is your day to shine and claim what's yours. Have a nice morning!
2. If you believe in yourself to know you can achieve anything, you can actually do it! Do not let anyone bring you down. Start your day with your highest energy and fulfill all your goals.
3. With a crisp morning breeze, I hope you feel as light as a feather. Forget about all your failures and start fresh with new determination. Good Morning!
4. May all your wishes are fulfilled, and your heart becomes softer and kinder than before. Wishing you a very good morning, dear friend!
5. Positive thinking and a brighter outlook on life help you become a happier and more successful person. So, adopt this strategy and reach the skies. Good Morning.
6. Rise and shine, dear! I hope this day brings happiness, abundance, kindness, and positivity to your life. May God shower all his blessings on you.
7. Get out of your bed and head out for a morning walk. Appreciate the beauty of nature around you and watch the universe fill your life with the beauty of positivity. Good morning!
8. Do you know what's common in all successful people? They always value their mornings. So get out of bed, and make the most out of this morning! Have a nice day ahead.
9. Every morning, just smile in the mirror and tell yourself you are worthy of all the finest things in life. Self-love is the first step to success. Good Morning, beautiful!
10. Thanks to the Lord for giving you another day to live, filled with countless opportunities. Get out and claim what's yours. Have a wonderful morning, friend!
Check: Good Morning Messages for Girlfriend
Motivational Good Morning Messages:
1. A great attitude and a positive mind are just like a cup of coffee in the morning. Don't start your day without one and conquer it all. Good Morning!
2. Set a goal or the next day every night to wake up with the motivation to get out of bed and ace it with just the right energy. Good Morning, from your beloved.
3. Good thoughts result in great progress, and great progress results in a mood worth enjoying. Start your day with a fresh mind and have a Good Morning!
4. Good Morning, buddy! Things might not be as easy as they were. But it is up to you to make every morning a new start to make things better again.
5. Every opportunity is like a sunrise; if you wait too much, you might lose it. Grab the right opportunities and make this day even more special. Good Morning.
6. The first step to success is to gain the willpower to resist your snooze button and get up to conquer the day. Wishing you a Good Morning and a positive day.
7. Forget about what you couldn't accomplish yesterday. Wake up to think about what you can achieve today. I hope you have a Good Morning and achieve the goals you have planned for today.
8. You can't get back a day that has been spent before. Wake up and make this one more special than the last ones. Have a Good Morning!
9. A wise man once said, "You don't need to be great to start something, but you definitely need to start to be great". It won't be perfect instantly, but it can be later if you start today. Good Morning.
10. Get up, get dressed and achieve that dream you just had last night. One push out of your bed is all it takes for a productive day, Good Morning!
Motivation boosting words can help you get up and achieve your goals with a new approach and outlook. With these good morning wishes, you can brighten up anyone's day and push them to do their best. So, what are you waiting for? Send these beautiful inspirational good morning wishes to your loved ones to show all your support and love for their future goals.