Good Morning Prayer Quotes And Messages: Before you start participating in our human race, start your day With these good morning prayer quotes. Nothing is more important than setting the tone of the morning if you want to have a productive or happy day.
Starting your day with a prayer will make you able to tolerate tougher days or be calmer on stormy days. If you start your day on a positive and holy note by practicing good morning prayers then you will surely be able to feel content on good days and stronger on tough days. So, the outcome of taking out time to say your morning prayers will always be a win-win one. Save these quotes to have that outcome.
Good Morning Prayer:
#1. With this dawn, yesterday has died.
With this new day, I am reborn.
My heart is more than grateful to you Lord,
For letting me have this new day, new me.
#2. Lord, may I don't forget today to be mindful to not miss out on the beauty that surrounds us every moment, every day.
#3. Dear Lord, today, surround my soul with your love and light, heal me from the wounds I am not aware of, from the pain the world is not aware of.
#4. Dear Lord, my heart is deeply grateful and my soul at peace, as you have made me wake up to this serene dawn again to live another day of life, thank you!
#5. Dear God, land me the strength to be merciful today because it is in forgiving that one is forgiven, good morning!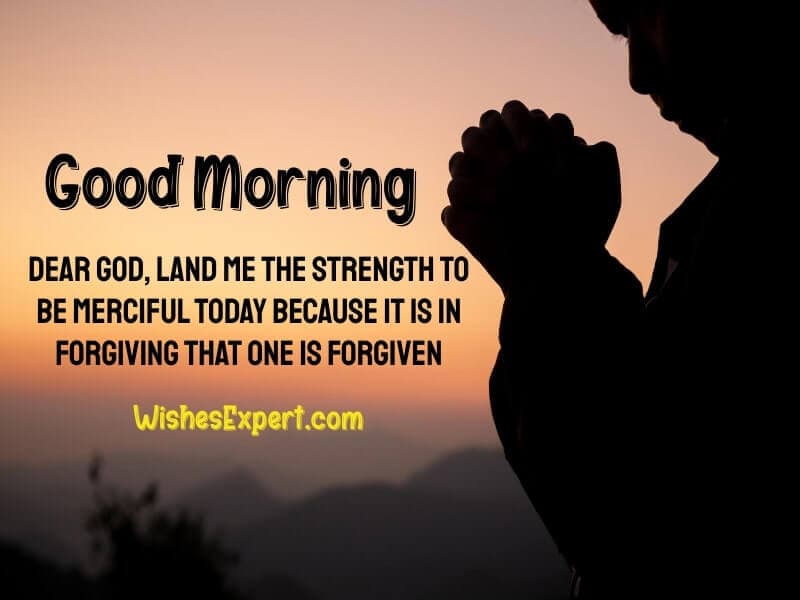 #6. Dear Lord, I hope, as I start my day and divine showers blessings on me, I don't forget to take a moment and be grateful. Good morning.
#7. Lord, be my sailor of the day to help me ride along with the hide tides, to help me find the treasures. Lord, be my guide and bring me the sailor's good luck.
#8. Dear Lord, make me take turns even when I don't wish to if they can lead me to the path I am supposed to walk on. Good morning.
#9. God, today help me seek freedom from everything that pulls me back and keeps me stuck in the rut. Lord, help me seek freedom! Good morning.
#10. Dear Lord, I drop down all the weapons and allow you to be in charge of me and my day as I choose to be a carrier of divine energy today.
Check: Good Morning Happy Friday Quotes
Good Morning Prayer Messages:
#11. May the rays of sunlight travel to the gloomiest corners of your life to illuminate your day and life, good morning!
#12. Good morning. May the divine forces be with you today to lead you to the path of your highest good.
#13. Every day, the door to blessings is made open to us, may today you choose to walk in and have the finest day; good morning.
#14. As this life is the art of the creator, may you become able to see the wonders in the art that surrounds you! Good morning.
#15. May the divine help you unbox the trunk of your hidden gifts and talents to unlock your unlimited potential. Good morning.
Read: Inspirational Good Morning Messages
Powerful Good Morning Prayer:
#16. If there is one thing I cannot afford to lose is my sanity, dear Lord, be by my side to help me do that! Good morning.
#17. Lord, for this dawn, can show me hope, I pray to you.
For the life you have given me, I thank you.
For these holy words can fill my empty soul, I pray to you.
#18. Dear Lord, I pray to you to breathe life into my soul, and I will pour my grateful heart out to you. Good morning.
#19. When I sink in the silence, dear Lord, don't forget to comfort me with the whispers.
When I build walls around me, dear Lord, don't forget to make me feel at home.
#20. Dear Lord, let your love be my shelter, let your wisdom be my guidebook. Lord, let me be a follower of your light today. Good morning.
Try: Good Morning Family Quotes
Good Morning Prayer For Her:
#21. May this morning you fill yourself with gratitude and feel the love of the divine that surrounds you; good morning!
#22. May God passes the good news on your way to ring your phone with, may he be with you when you are making your way through the day; good morning.
#23. I pray that the divine light stays with you today to keep you in the shield of love to protect you from any harm, good morning.
#24. I pray that you could leave yesterday in the graveyard, and see this new day with a hope that is all ready to put your soul on fire! Good morning.
#25. I pray to God that you may see yourself, your loved ones, and the world, in a little better light for we all are seeking love; good morning!
#26. Breathe in the fresh air of this new day, and may it help you rejoice in life. May these rays of sunlight help you rekindle your zest for life. Good morning.
#27. May today take away the weight you have been carrying to let you fly free, may God take away all the hurt to help you rise again like a Phoenix from the ashes. Good morning.
#28. May Lord extend his healing touch, helping hands, and blessings to you to make your morning and day. Good morning.
#29. May you stay devoted to being a human who chooses to operate from a place of love and kindness, good morning.
#30. May this morning, the orb of light lighten up your day to help you forget the nightmares you woke up with. Good morning.
Also Read: Good Morning Love Messages For Lover
Good Morning Prayer For Him:
#31. May the divine lift up the clouds of darkness as you wake up and lift the curtains of your window up. Good morning.
#32. May you listen to the melody that the birds are singing and may these chirpers bring peace to your soul, good morning.
#33. May God's healing touch soothe your soul and may the sunlight warm your soul up. May this be your brightest day so far; good morning.
#34. As the sun has come out to the horizon bringing in a new day to cherish, may you get the best of today; good morning.
#35. May Lord help you see beyond the illusions and lies. May Lord help you see yourself without any filters. Good morning.
#36. I pray to God that you find the best version of yourself and work with it to serve yourself and others around you the best. Good morning.
#37. For love is only real, may we only operate from all that falls in the basket of love; good morning!
#38. Honey, may you never forget to be grateful for the shelter you have found under the tree of life, good morning.
#39. May today you climb a few steps on the ladder of success and may we make the loudest celebrations for it, good morning.
#40. May you seek happiness in the tiniest moments and may you never forget to celebrate the happiness of others for that is the best way to go through today. Good morning.
Good Morning Prayer For A Friend:
#41. May Lord fill your pockets with joy and the day with the moments that you can not afford to not cherish, good morning.
#42. May God, fill our souls with love. May he help us to be in the service of him, mother earth, and the world. Good morning.
#43. The morning has come up with a clearer sky to welcome a new day, may we, too, can welcome the day with purer hearts.
#44. May today be the day we come out of our cocoon to liberate our souls and put our resilience to the test, good morning.
#45. I pray that with the divine love and the love I am sending you, the wounds of your soul and the pain of your heart get healed. Good morning.
Good Morning Prayer For My Husband:
#46. As you have woken up today to this beautiful day, promise God that every single moment of today will be cherished by you. Good morning.
#47. May God open the gates of the land you wish to build a home on; may I become your helping hand to build it. Good morning.
#48. I pray to God that he gives you the courage to be yourself. I pray to him that he gives you the strength to endure everything that stands as fork in your road. Good morning.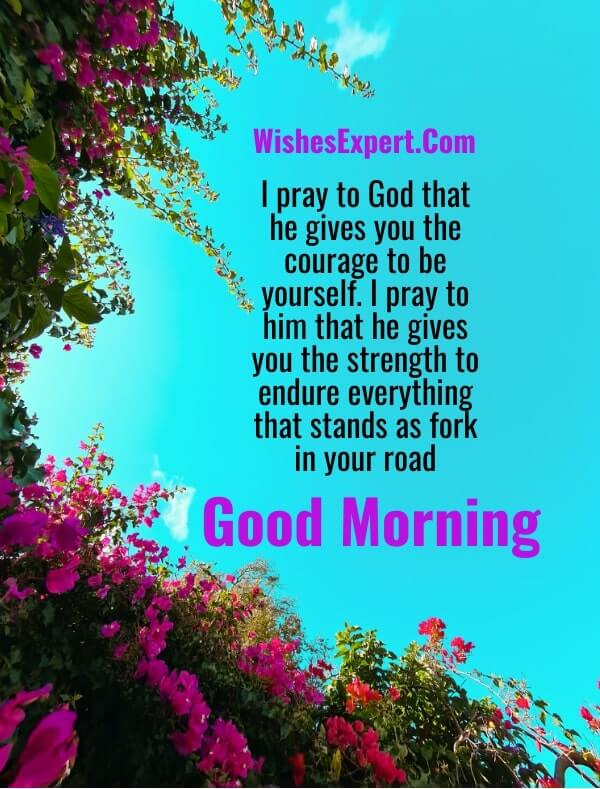 #49. May you again overcome everything that is there to hold you back as you have done before, for you are my strongest man, may you never forget to be vulnerable. Good morning.
#50. I pray to God that he may help you make the truth, love, and kindness your biggest weapons against which nothing and no one can stand. Good morning.
There is no specific time to be grateful but the morning is the best time of the day as it puts you in the right mindset. And what better way to start your day is than to say a prayer? Doing so can fill your soul with enormous faith or at the very least will make you feel grateful for being able to breathe this morning. The above-mentioned good morning prayer quotes are the ones you can include in your morning prayers or send to your loved ones to start your and their day on a positive note.