"Happy 6th birthday!" This is a special phrase that rings with joy, love, and excitement for the adventure a new year of life holds. For a child, every single year unfurls a new opportunity to unravel the mysteries of the world around them.
Birthday celebrations, especially for a little one turning six, provide an unforgettable chance for them to bask in fun, joy, and the affection of their loved ones.
However, the most cherished gifts may not necessarily be expensive toys or fancy gadgets. More often, it is the simple and heartfelt expressions of love that can leave an indelible mark on their hearts. With this in mind, consider giving them a timeless treasure – a letter or a card filled with your love and heartfelt wishes.
And to assist you in crafting the perfect message, we have gathered some delightful and touching Happy 6th Birthday wishes.
Cute 6th Birthday Wishes For 6 Years Old
1. My dear son, you are growing older, man! It's your 6th Birthday, and we couldn't be more thrilled and proud. We wish you grow up to be as sweet and caring as you are now. Happy Birthday, our Sunshine!
2. I still cannot forget the moment from 6 years back when I saw your face for the first time and helped you in my arms. I feel so lucky that God has chosen me as your mother. Happy 6th Birthday, my angel on earth! I wouldn't choose it any other way than being your mom.
3. The innocence in your eyes, the purity in your smile, and your childish talks are all a source of happiness for me, my child. From the day you were born to today, I rejoice every moment with you. Happy 6th Birthday, sweetheart! More amazing birthdays are on your way. Love you a lot!
4. Happy 6th Birthday, my dear child! There is nothing in this world I want more than your happiness and well-being. You are a little rock star with a big impact on all our lives. We love you, baby!
5. My little angel, Happiest 6th Birthday! You have been my whole world with your tiny little hands and feet. Mommy wishes you all the happiness and blessing in the universe. Always keep smiling, my tiny little baby!
6. Twinkle, twinkle, little star, when have you grown up so fast! I still can't believe you are 6 years old, my baby. Happy 6th Birthday! Enjoy your day to the fullest.
7. The most special person in all our lives is turning 6 today! And we can't keep our calm. Happy 6th Birthday, little one. You are our sunshine and the star on the darkest night. Shine bright, baby!
8. On your Super 6 birthday, you deserve a cake that is six times bigger than you! Happy 6th Birthday, my dear child! I love you to the moon and back. Stay blessed, baby!
9. On your 6th Birthday, my little angel, I wish that you grow up to be a fine young soul full of empathy and love. I wish that nothing evil on earth ever touches you or your soul. My love and guidance are always there with you. Happy Birthday! Make us proud!
10. Happy 6th Birthday, my tiny little sunshine. May God always protect you and shower his blessings upon you. May you grow up to be a great human being. Our love and prayers are always on your way. Love you.
11. On your 6th Birthday, I wish that all the dreams your little mind see come true and that you stay as happy as we hope for. You brought so much happiness into our lives that the world is nothing compared to that. Happy Birthday, My Sun on the Earth!
12. As you are walking into another year of your life, I wish that the road becomes smooth and happy for you. Happy 6th Birthday, my dear! May all your dreams come true!
13. I thank God every day for sending me an angel in the form of you. You are my biggest gift, my priciest possession. I would never trade you with anything in the world. Happy 6th Birthday, my baby! Always keep smiling.
14. Happiest 6th Birthday, my child! Today marks a very special day for all of us as it's your Birthday. Cut the cake and make a wish. It will definitely come true.
15. You are the most wonderful 6 years old child I have ever met. May your life be as wonderful as you are. Happy 6th Birthday, sweetie!
Best Happy 6th Birthday Wishes
16. Happy 6th Birthday boy. You are growing up quite fast.
17. You are such a sweet soul girl. Happy 6th Birthday.
18. Watching you laugh and play makes me so happy. Congratulations on your 6th Birthday.
19. It makes me so grateful to God to have a beautiful daughter like you. Happy 6th Birthday Sweetheart.
20. It has been 6 years since I held you in my arms for the first time. Love you sweetheart.
21. It is rare to find a smart and cute kid like you. May you enjoy many happy Birthdays.
22. Roses are red,
Violets are blue
Oh, my Darling!
A happy Birthday to you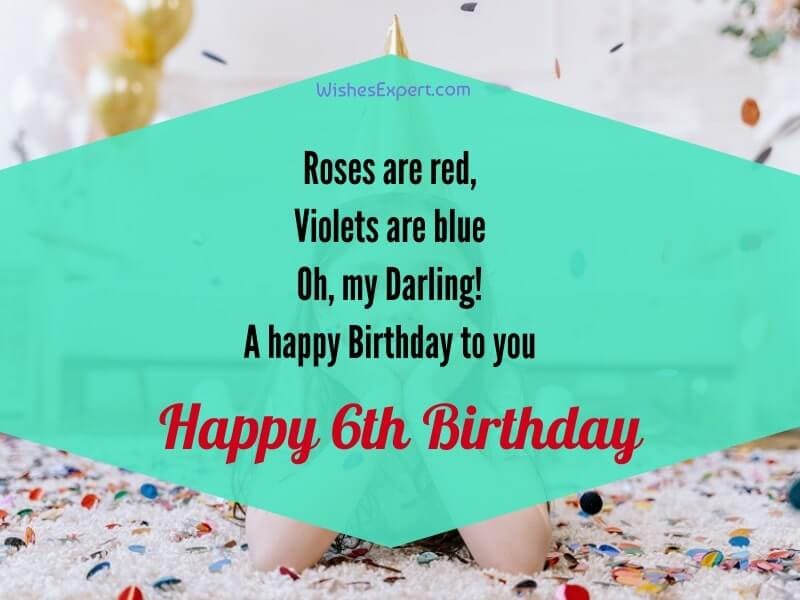 23. Being Blessed with a kid like you is a rare gift. Happy 6th Birthday honeybee.
24. A special birthday for a very special 6 years old.
25. May you get to celebrate an awesome Birthday dear!
Happy 6th Birthday Wishes with Images
26. Watching a kid like you grow up so fast makes my heart so warm dear. Happy Birthday!
27. To the funniest 6th year old in the family. I wish you a very Happy Birthday.
28. May you celebrate a very happy birthday with lots of love and chocolate.
29. Do you want a lot of gifts for your Birthday baby? Well, you do deserve them.
30. Thank you for all your cute things sweetheart. Happy Birthday.
Take A Look: Birthday Wishes For Kids
Happy 6th Birthday Boy Wishes
31. To the boy who is the perfect match for his father. Happy sweet 6th Birthday, boy.
32. I thank God for blessing me with a kid like you. Mama is proud of you boy.
33. The day you entered my life was the happiest. It's unbelievable that 6 years have passed.
34. My Dear boy life can teach you many things if you are willing. Happy 6th Birthday, buddy.
35. Watching you grow as a smart boy makes me so much proud. Enjoy a lovely 6th Birthday.
Read: Birthday Wishes for Niece
36. Wishing you a very happy 6th birthday with lots of kisses and hugs sweety.
37. You are such a beautiful 6 year old. I wish you grow as a beautiful and smart woman.
38. It is said that a girl makes his dad a king and you surely are my princess girl. Happy 6th Birthday my sugar candy.
39. From the first time you held my finger, till now, every moment has been so special. Happy 6th Birthday sweetheart.
40. Congratulations on your 6th Birthday. May you enjoy this day to the fullest.
Check: Birthday Wishes for Daughter from Dad
Happy 6th birthday Granddaughter
41. Happy 6th Birthday to my sweet Granddaughter. Love you, sweety.
42. The small mischiefs you do make you so adorable. Enjoy a Birthday filled with laughter.
43. I am thankful for being blessed with a cute granddaughter like you.
44. I have brought lots of pancakes and sweets for my lovely Granddaughter on her 6th Birthday.
45. You fill my heart with love and warmth Darling. Celebrate your 6th Birthday.
Enjoying small and sweet moments with kids gets engraved in their memory which makes their childhood extra special. You have to try to make them feel how special they are for you and for everyone else. Using Birthday wishes quotes for 6-year-old is a perfect gift you could give.