Happy 6th Birthday Wishes: For a kid, every year of their lives brings a new chance to enjoy the mysteries and adventures of the world. Celebrating the birthdays of kids especially those who are 6 years old gives them a chance to have fun and enjoy the love of everyone. Since it is not important for you to give them an expensive gift as it will be wasted it is better to leave them a letter or card that they could keep and can read when they grow up. Here are some cute Happy 6th Birthday wishes quotes you could use in your cards, letters and gifts.
Happy 6th Birthday
1. Happy 6th Birthday boy. You are growing up quite fast.
2. You are such a sweet soul girl. Happy 6th Birthday.
3. Watching you laugh and play makes me so happy. Congratulations on your 6th Birthday.
4. It makes me so grateful to God to have a beautiful daughter like you. Happy 6th Birthday Sweetheart.
5. It has been 6 years since I held you in my arms for the first time. Love you sweetheart.
6. It is rare to find a smart and cute kid like you. May you enjoy many happy Birthdays.
7. Roses are red,
Violets are blue
Oh, my Darling!
A happy Birthday to you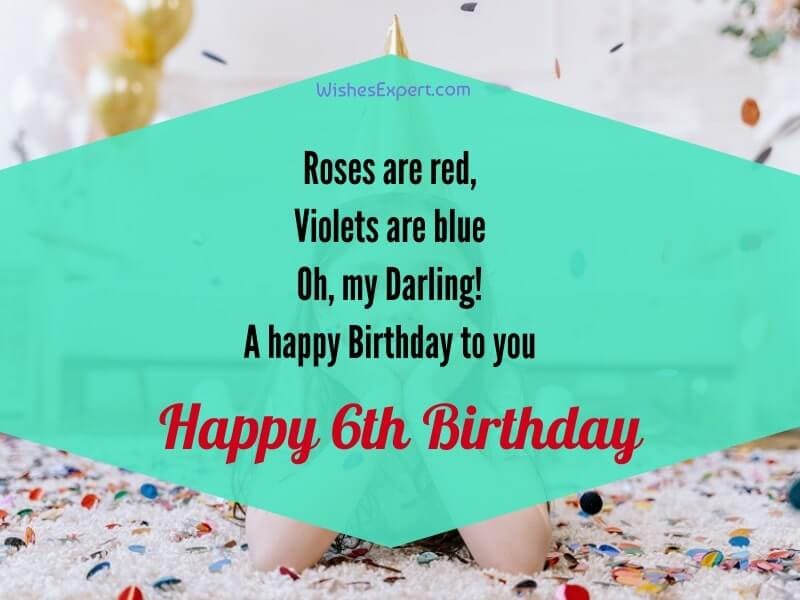 8. Being Blessed with a kid like you is a rare gift. Happy 6th Birthday honeybee.
9. A special birthday for a very special 6 years old.
10. May you get to celebrate an awesome Birthday dear!
Happy 6th Birthday Wishes with Images
11. Watching a kid like you grow up so fast makes my heart so warm dear. Happy Birthday!
12. To the funniest 6th year old in the family. I wish you a very Happy Birthday.
13. May you celebrate a very happy birthday with lots of love and chocolate.
14. Do you want a lot of gifts for your Birthday baby? Well, you do deserve them.
15. Thank you for all your cute things sweetheart. Happy Birthday.
Take A Look: Birthday Wishes For Kids
Happy 6th Birthday Boy Wishes
16. To the boy who is the perfect match for his father. Happy sweet 6th Birthday, boy.
17. I thank God for blessing me with a kid like you. Mama is proud of you boy.
18. The day you entered my life was the happiest. It's unbelievable that 6 years have passed.
19. My Dear boy life can teach you many things if you are willing. Happy 6th Birthday, buddy.
20. Watching you grow as a smart boy makes me so much proud. Enjoy a lovely 6th Birthday.
Read: Birthday Wishes for Niece
21. Wishing you a very happy 6th birthday with lots of kisses and hugs sweety.
22. You are such a beautiful 6 year old. I wish you grow as a beautiful and smart woman.
23. It is said that a girl makes his dad a king and you surely are my princess girl. Happy 6th Birthday my sugar candy.
24. From the first time you held my finger, till now, every moment has been so special. Happy 6th Birthday sweetheart.
25. Congratulations on your 6th Birthday. May you enjoy this day to the fullest.
Check: Birthday Wishes for Daughter from Dad
Happy 6th birthday Granddaughter 
26. Happy 6th Birthday to my sweet Granddaughter. Love you, sweety.
27. The small mischiefs you do make you so adorable. Enjoy a Birthday filled with laughter.
28. I am thankful for being blessed with a cute granddaughter like you.
29. I have brought lots of pancakes and sweets for my lovely Granddaughter on her 6th Birthday.
30. You fill my heart with love and warmth Darling. Celebrate your 6th Birthday.
Enjoying small and sweet moments with kids gets engraved in their memory which makes their childhood extra special. You have to try to make them feel how special they are for you and for everyone else. Using Birthday wishes quotes for 6-year-old is a perfect gift you could give.