Good Morning Tuesday Wishes And Messages: It is always delightful to wake up to the Good Morning texts of loved ones. Bring a smile to the face of your loved ones with good morning messages. So, here is a compilation of good morning happy Tuesday wishes you can send to your dear ones.
Tuesdays are almost the beginning of a week, but things can get hectic. Remind your loved ones how much you care for them with lovely text messages. Each morning is a new beginning. Hence, there will be fresh opportunities and new challenges.
Let your good morning messages boost their energy to face life with their bravest smile. You can send these wishes to your friends, family, and colleagues to fill their hearts with positivity and happiness. Your quotes can inspire them and motivate them to do their best.
Good Morning, Tuesday:
1. After beating your Monday Morning Blues, you have the energy to take up any challenge this Tuesday offers you. Facing the warm Sun, darling, I wish you a Happy Tuesday morning.
2. It is the second day of the work week, and you will not feel weak. You will breeze through the day like a breeze blowing on this Tuesday. Good morning, dear.
3. You are up for all the challenges and tasks Tuesday has in store for you, dear. You will smile the smile of victory when this day is over.
4. Start your Tuesday with a fresh thought at play. Forget the mistakes that you made on Monday. Don't worry about the tasks that you have to complete on Wednesday. Just enjoy your Tuesday.
5. The morning breeze arrives like a caress to the cheeks. It is Tuesday, so get up to face the Sun and the world and try to listen to those words it speaks.
6. The alarm clock chimes in, announcing it is a Tuesday. You are the architect of this day. So, get ready to design your day with utmost determination and unwavering faith, filled with admiration.
7. Today is the day you get to make a fresh start. Today is Tuesday, so start afresh, make this day count and fulfill your wishes there in your heart.
8. Wake up and see the sun brightening the horizon this Tuesday morning. Welcome this Tuesday with utmost gratitude, and jauntily move ahead and seize the moment for a perfect beginning.
9. There is a perfect balance between work and life. The Tuesday morning you have today won't be there tomorrow, so strike that balance and survive. Happy Tuesday morning.
10. Start smiling as the Tuesday morning has arrived. Hear the birds chirp, leaves rustle as you revive. Wake up and work to materialize your dreams. Make it a part of your Tuesday regime.
Read: Good Morning Monday Wishes
Good Morning Happy Tuesday:
11. I hope you work hard and achieve all of your dreams. Seeing you happy makes my heart fill to the brim. Wishing you a good morning is my trend. Have a happy Tuesday, friend.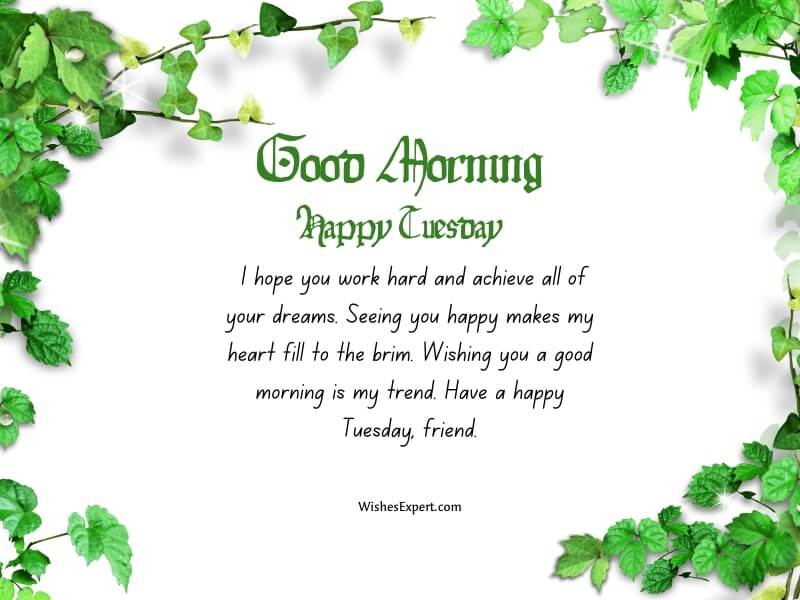 12. A new morning is all it takes to forget a bad day, don't let your new day be sad and gray. Good morning and do spend a happy Tuesday.
13. Life is all about new beginnings. Whether it is a day or a new chapter of life, it has a special meaning. May you have a great Tuesday morning.
14. May your hard work be fruitful and all your moments beautiful. Hope this new morning brings you happiness. I wish you a very good morning. Have a beautiful Tuesday.
15. I hope every decision you make brings you happiness and peace, and may your good luck increase. May the beautiful morning and an equally precious Tuesday make your day.
16. May this new day and the morning give you much new hope and strength to cope with hurdles. Stay motivated with a fresh morning as this new Tuesday cuddles.
17. Treat this new day as a second chance that is being given to you so that you can make your good works enhance. Have a happy Tuesday morning filled with romance.
18. Even though life has uncertainties, a new morning is one of life's constant beauties. Don't dwell on such probabilities. Have a beautiful morning and a productive Tuesday filled with opportunities.
19. Let go of all your despair. This new day will bring you strength for your broken heart or dreams to repair. Good morning and have a very happy Tuesday without fear.
20. Hopefully, there's a smile on your face when you welcome this morning because you are so much worth it, darling. Have a beautiful and inspirational Tuesday morning.
Read More: Good Morning Happy Friday Wishes
Beautiful Tuesday Morning Wishes:
21. Let your day bloom with the happiness of the gentle and bright sun rays. Let the gorgeous morning view fill up your day. Hopefully, this will be your reason to smile today. Good morning, and a happy Tuesday.
22. Weekdays are stressful but don't make it a reason to feel bad. Let this be a reminder for you to smile whenever you are sod. Good morning, happy Tuesday, darling.
23. Happiness is not always a choice, but peace and kindness are. May God fill your life with happiness and peace, dear. Good morning, and happy Tuesday, do take care.
24. The world is running at the speed of the fastest bullet train. It is challenging to win again and again. So, stop and get stunned by the orange sunrise hue. I wish a happy Tuesday to you.
25. Waking up beside you is bliss. But now we are miles apart, so I am letting this message carry my good morning kiss. Happy Tuesday, darling. I wish you an excellent morning.
Check: Flirty Good Morning Texts for Him
Inspirational Good morning Tuesday Quotes:
26. A day is like a sentence put within a quote. Put your best efforts and make it worth remembering and inspirational for others to note. Good morning, bae. Happy Tuesday.
27. There are ups and downs in life. But know how to enjoy the rollercoaster ride and survive. Squeal in excitement as life makes a sudden drop. Good morning and happy Tuesday, and do enjoy life nonstop.
28. The morning reminds you to wipe out your regrets. Buckle up your shoes and get ready to shine brighter, dodging all threats. Good morning, and remember to live life your way. I wish you a happy Tuesday.
29. Mornings are meant to wake up from your 'dream' and chase your dreams by fighting all odds and extremes. Good morning, and happy Tuesday, it seems.
30. Mondays are full of stress, and Tuesdays are no less. But don't let those worries dull your smile because you must cross one thousand miles. Good morning, and happy Tuesday, and may this week be exciting.
Also Read: Good Morning Paragraphs For Her
Good Morning Happy Tuesday with Images:
31. There is no darkness to shadow, you know. Similarly, I hope no night stops you from beginning a new page in your life today. Good morning, and a happy Tuesday.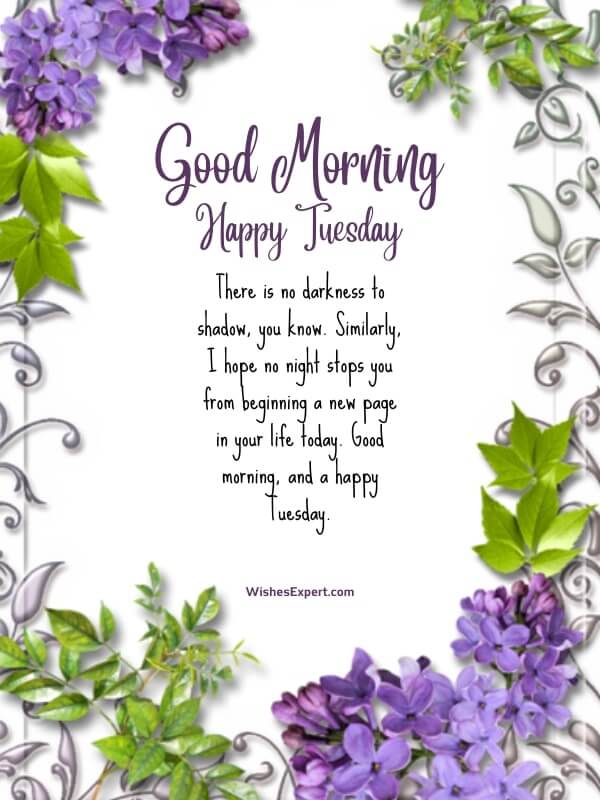 32. Every day you might not have the sun to dazzle up your morning. Be your sunshine and brighten up the life of people around you, darling. I wish you a happy Tuesday and good morning.
33. You have infinite power. But you won't know until the perfect hour. Move out of your bed and grab every chance to stay ahead. Happy Tuesday, have a kickass start to your day.
34. The morning sun wipes out the darkness, and the bird chirps break the silence of the night to a new day filled with happiness. Happy Tuesday, may you start your day with loads of sweetness.
35. Night does not linger forever. The day unfolds the moment night gives in, dear. Let the positive thoughts reign in your mind while you keep negativity away. Good morning, and happy Tuesday.
Final Word:
Every morning comes bearing the freshness of something new and endless chances for new opportunities to unfold in front of your eyes. Tuesdays are working days. Therefore, it can be stressful. Make your loved ones feel happy as you send them these Good Morning Happy Tuesday wishes to make them happy.
Your words can give them more strength to do their best even when your loved ones are tired. Be their sunshine and brighten up their days with good morning wishes. You can add your word and personalize the Good Morning, Happy Tuesday messages while sending them to your friends, family, and colleagues.