Flirty Good Morning Texts for Him: Every morning seems to be entirely new with your loved ones. If you crazily love your baby, then a flirty good morning text for him with a morning kiss accompanied can do wonders. Though words will never be enough to express love, you can show your appreciation with a few simple gestures. You can flutter their heart by expressing your feelings about them. These flirty good morning texts for him can make their mornings better as they start with you in their mind.
You may prefer pickup lines or some soft and tender words of love to make their heartbeat go crazy. Let them bask in the thoughts of your togetherness so that they can get drowned in the memories you made with each other. Celebrate those moments and make them feel special every day with these flirty good morning texts for him.
Flirty Good Morning Texts For Him:
#1.  It is comfortable waking up by your side in the morning, but who wants comfort darling, when you are naughty enough while saying good morning.
#2. It's a real challenge to choose between two—getting up while being peppered with kisses or enjoying the morning cuddle. So, I'll take both, good morning baby, you are too hot to handle.
#3. I have always been in love with the warmth of the morning coffee, but these days it seems to fade in front of your warmth hottie. Good morning dear, when you are far I miss you awfully.
#4. I love the way you steal kisses now and hug me while I cook. But, I love it the most when your morning raspy voice wakes me with a loving yet naughty look. Good morning honey, with you every hour seems so sunny!
#5. I don't know how to overcome the temptation of seeing your sleepy cute face while enjoying the protectiveness of your arms? Good morning hubby how do stay faithful with all your charms!
#6. The morning sun makes me jealous by touching you with its golden rays to wake you up. But she probably feels jealous to see me in your arms, kissing you good morning, while sipping tea from the morning cup.
#7. A simple 'how was your day' from you makes my heart flutter. Unknowingly I add to your bread extra butter. I don't know if that's the reason you utter those words to my ear, good morning dear.
#8. It's hard to stay away from your soft glance, seductive smirk, and loving smiles. When I watch those I feel like walking with you a hundred miles. Can't wait for the day when I will wake up in your arms without fear. Good morning, dear.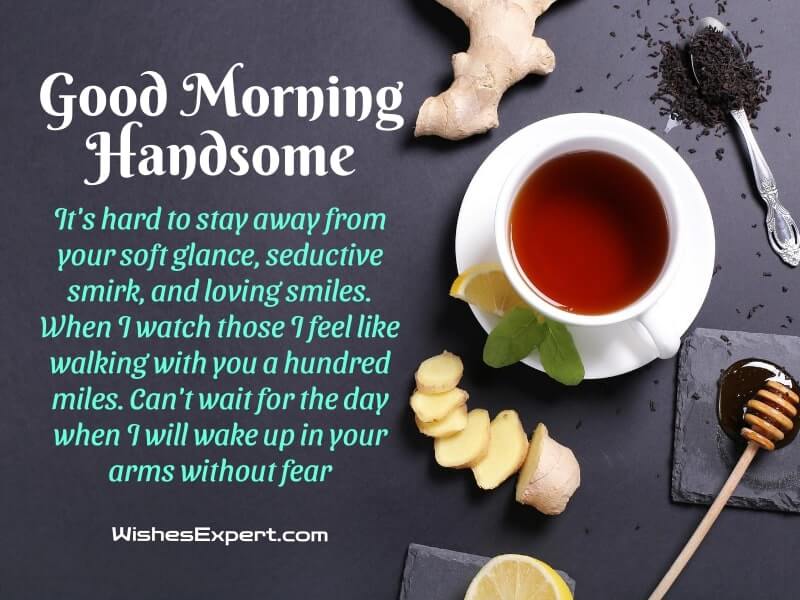 #9. Your embrace reminds me of summer. Your smile soothes me like the soft breeze of spring. Why does it feel like you are smiling right now, my Prince Charming? Good morning darling.
#10. Good morning honey bunny. Morning makes me want to taste your half-burnt pancakes again. Dance and get drenched, in the rain, finally taking shelter in bed, trying to sleep in deep slumber in vain.
Read: Good Morning Love Messages
#11. Good morning, my charming handsome darling! I had a sweet sleep last night. Do you know why? Because I dreamt of you in my arms! I have nothing more to say because my dream was all about your charms!
#12. I wish to wake up with you by my side. Sleeping, peacefully thinking and blushing about the last night. Good morning darling, let's start the morning quickly, say it a day, and make night happening.
#13. I hope the first thing in the morning you see is the message I send. I mean to be the first one to lighten up your day that's always have been the trend. So, good morning bae, have a great day!
#14. The last thing at night and the first thing in morning is to think of you and find myself in you. You are remembered in every breath. Good morning darling with you, life is all set!
#15. Just the way sun shines the day, you shine in my life. Your cheerful presence blooms my days and allows them to thrive. Wish you a bright day ahead! Good morning, quickly now leave your bed!
Check: Good Morning Paragraphs For Him
Funny Flirty Good Morning Texts For Him:
#16. Wishing a stunning good morning to sexiest dude on the planet. Your attraction is like a magnet. The only thing that disturbs me is your snoring, but you look awesome while dusting, mopping and cooking!
#17. Good morning my love. I hope that you did have a good sleep last night. Because I've just realized I'm dealing with a major problem… I just can't get you out of my mind when you are out of my sight!!
#18. Good day, handsome! If I rob you any day, I will take a night from you as ransom! The mosquitoes in my room do not let me sleep, kill them, while I am having a slumber deep.
#19. There are times when I forget you, but then looking at coffee mug I remember like you there are only a few. After all, who spill coffee while drinking, don't look amazed dear, you are pretty bad at hiding. Good morning!
#20. I'm overjoyed that my dreams are still coming true! After all, I am having in my life, a sloth like you. Wishing you a productive day at work! Good morning love.
Take A Look: Good Morning Messages For Boyfriend
Flirty Good Morning Texts For Him Long Distance:
#21. Good morning handsome! We're thousands of miles apart and that's make me tiresome. My heart is always with you. I cannot wait to hug and kiss my beau!
#22. Good morning, dear have a fresh start1 Although distance may keep us apart, remember we are a whole and within me lies your part. Maybe that's why I am so overweight you see, after all, it is not just me, but it's you and me!
#23. Good morning honey, the boy-next-door is pretty funny. I was almost falling for him, when I remember a stupid with glasses fully-rimmed! I know you are faraway, but whenever, you will do anything stupid you will remember me anyway.
#24. Everywhere I go, I imagine you alongside me. Your deep eyes are deeper than even a sea. When the rays of the sun will kiss you, feel me in that too! Good morning, my honeydew!
#25. Our love is greater than all the miles, borders, and challenges that the world has to offer. Good morning to the best person ever. I am jealous of the pillow that can touch, when I am here all hollow!
Whether they are with you or far from you, you can make them feel the warmth of your love with romantic messages. Flirty good morning texts for him can be a perfect start to their day. Your sweet and flirty good morning texts for him can remind them of your loving and caring embrace every day. Let them fall in love with you once again. They might also like to explore the naughty you. Send them some flirty good morning texts and enjoy your togetherness with minds filled with the thoughts of each other.