If your baby is angry with you, send this killer flirty good morning texts to her in the morning and see the magic. Send them as soon as possible for the magic to begin. You must appreciate the delicacy of love, the thrill of love, and the need for making it even more romantic by sending her morning text messages that always turn her on and make her feel special is reasonably necessary.
Especially good is sending such lovely text messages first thing in the morning when the recollections of the previous night are still fresh in mind. Continue reading the rest of the page to see more lovely flirty good morning texts for Her to peruse. Your picks should be sent to her, and you should get a good response from her as a result.
Flirty Good Morning Texts for Her:
#1. Put aside that coffee mug, and cuddle close, my beloved rose. I know the world is a beautiful place today, please stay, don't just blush and run away.
#2. My sweetest heart has awoken from its slumber; I know you are as lovely as ever. I wish you a happy morning, my baby always looks charming.
#3. Good morning, my sunshine, I still can't believe you are mine. Your beautiful dreams filled my night, you see dear, you are never out of my sight.
#4. What a pleasure it would be to kiss your soft and honey lips right now; good morning, my sweetie, will you please allow me?
#5. My love for you continues to bloom as brightly as ever today, and you are my most precious gift from the heavenly realm, as they say. Good morning baby, welcome to a lovely day, my lady.
#6. Whenever I don't want to grin or laugh, you're there to cheer me up. You motivate me to greatness and make every moment joyous filled with happiness. My sweetie, I wish you a wonderful day, just remember your blush will not save you from having things in my way.
#7. Good morning my moon, I know today it will be a beautiful day and lovely noon. My night was filled with your precious dream, you know very well that we make the best team.
#8. Good morning love, I thank God for bringing pleasure and happiness into my life, you know you look gorgeously dangerous with that shining vegetable knife. Sorry hon, for that pathetic PJ, but your killing looks always gives rise to this flirty DJ.
#9. You see, I never plan a candle-lit dinner because your moon-like glow makes me a sinner. Mornings are better, with you and me, cuddling and sharing the same sweater!
#10. Why do I love you, my lovely lady? Maybe because of your lovely melody? Or maybe because of your beauty? But mostly because of this aura around you, which fills everything with positivity!
Read: Good Morning Paragraphs For Her
Funny flirty Good Morning Messages:
#1. Dear new acquaintance, good morning to you. This is a warning to you to stay away from me today because if I happen to run into you. I will take up all of your time, so start counting every dime. Don't blush and run honey, you should know that I like being in your company.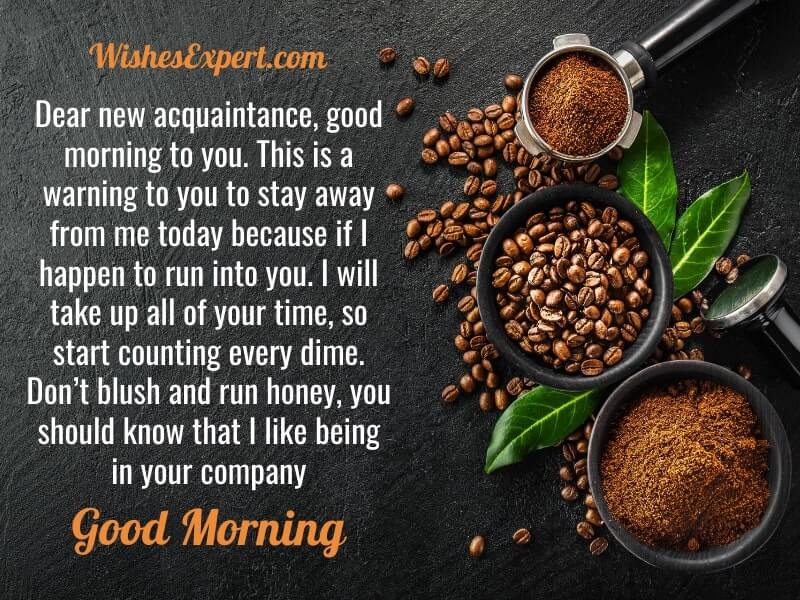 #2. Due to the intensity, I've been missing you lately. Good morning, young lady, your red cheeks in this sweet morning looks so bubbly. We'll see you shortly.
#3. You know I have never watched a horror movie until I met you, you can this my destiny. So, why not dear watch one today and take advantage of the opportunity.
#4. So, despite all of my efforts, you're still waking up without my name as the first thing on your mind? Show before wishing you good morning, let's remember the last night baby, and task I assigned!
#5. Good morning my honeydew, I can't wait to see you. I'm so excited, I will meet you today, I am so delighted. I hope I don't forget to wash my teeth or take a shower! Oh, did I forget the flowers? It's going to be an incredible day. Welcome to the day
Check: Good Morning Miss You Quotes
Flirty Good Morning Messages For Her Long-distance:
#1. There are a thousand miles between you and me. Even though we've been away for months, I still remember your tickle in front of that vast see. Good morning, sweetheart, do you remember what happened, afterward?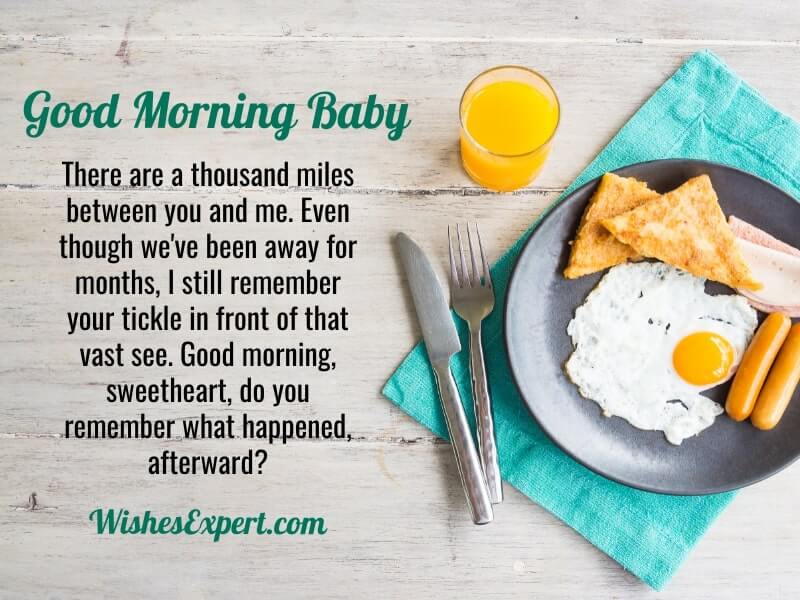 #2. Good morning, my sweetheart, are you sipping your morning coffee without me? Oh, how I wish I could be that cup of coffee! But don't you mind, I have served you loads of morning coffees and teas, so when we meet next you will give me my fee!
#3. Do you remember our rainy days, and amidst the rain our most favorite game? The fact that I'm breathing close to my phone means that you're doing the same. Oh dear, I can almost feel those red cheeks, as if you are so near! Hello, the lady of my dreams, do you still glow like the sunbeams!
#4. It's within your embrace that I find my happy spot! Have you ever given it a thought! You know, when I shiver in cold here, I remember you in that red dress and I started feeling hot! Are these morning messages making you perplexed, please don't hurriedly close my text!
#5. Hey chirpy bird, remembering my lovely words? Or are you jealous of that next missus? Don't worry dear, no one will ever be able to bring us apart because our love illuminates all around us. I adore you, and good morning to you.
Also Read: Good Morning Text to Your Crush
Flirty Good Morning Messages For Her:
#1. People are constantly perplexed as to why I have a grin on my face, whenever I read a particular text. They believe I'm insane, they are not much wrong sweetheart, I'm always having you in my brain. Greetings in the early hours of the morning, is it me, you are remembering?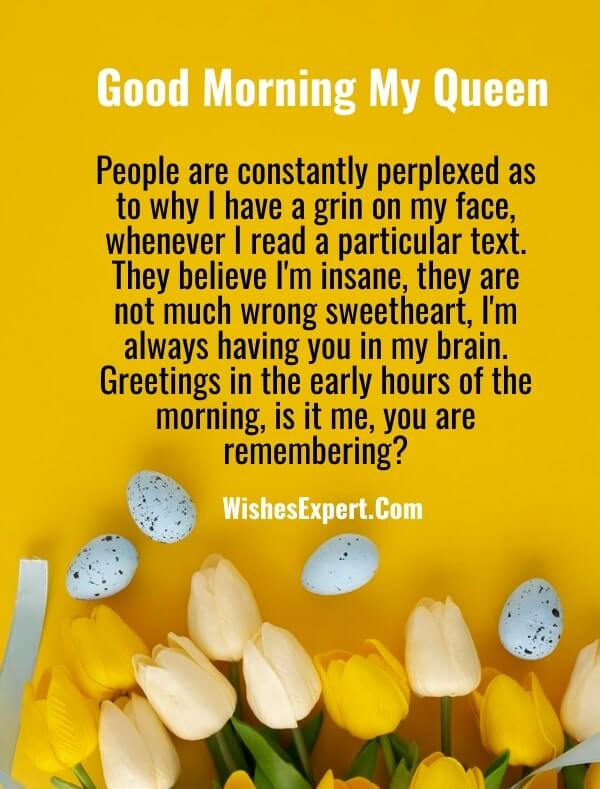 #2. My sweetheart, good morning. Instead of waking up early morning, I'd want to remain with you in my dreams, darling! I know meeting is impossible and I can't see in your lovely smile, so be in my dream, if only for a little while.
#3. Good morning, dear bunny, are your hands searching for me, bunny? You can find a box of chocolate in the refrigerator, and expect my call little later!
#4. The chocolate on your cheek reminds me that like you, there are only a few. I would have no idea what love is if it weren't for you. You brought it into my life and transformed me into the happiest guy. Good morning, my sweet honey, while eating strawberries here, I remember my little bunny.
#5. Without me by your side, are you getting bored? My lonely heart and I are counting down the days till we are together once more. In the meanwhile, remember our late snacks and how your hands used to reach for the biscuits on the topmost rack!
Check: Flirty Good Morning Texts for Him
Good Morning Flirting Messages For Her:
#1. I brought you the moon last night before you closed your eyes, and this morning before you opened your eyes, I got you a burst of brilliant sunlight to brighten your day.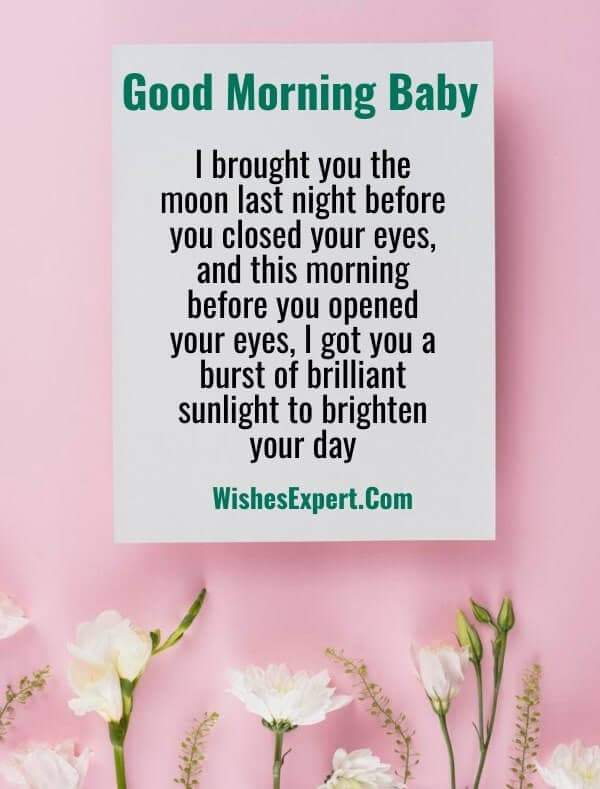 #2. My feelings for you are becoming stronger and stronger with each passing day. I imagine you beside me, and we both waking up together with a good morning kiss, before starting our day.
#3. Do you remember the good night symphony? You looked so peaceful as if you have never been in such harmony! However, what happened next, to me, is more alluring, good morning to the princess, blushing!
#4. When I'm feeling depressed, all I have to think of is you, dear. A simple flip of your notion in my heart sends me into a fit of uncontrollable laughter. Don't get angry my sweetie, you see, your deep blue eyes are still the reason for me being a bit naughty!
#5. Good morning, are you thinking of me? If not then think of us in front of that violent sea! Does it ring a bell dearie, oh sweetie, why do you always make me so flirty?
To ensure that you stay in her thoughts throughout the day, it is a good idea to greet her in the morning. But why make it boring? Why not make your love blush a bit! So, send your love these flirty good morning texts for her. Let her fall head over heels in love with you. Or with the naughty you!
These flirty yet romantic messages will show her that she is the first thing that comes to your mind, which will help you build a strong bond with her.