Good Morning Miss You Quotes: Does your morning tea taste bitter now? Does waking up and going to work has become a routine affair to you? Well, it happens. Don't worry. When your loved ones are away from you, living becomes dull and sulky. But you cannot control things all the time, but you definitely can make it a bit memorable with some very tiny gestures of yours.
We know, life, nowadays, is way too mechanical. Especially when you have to stay away from your near and dear ones to earn a living. But the missing feeling remains, and that might become overwhelming at times. So much that you actually want to express that to your beloved person. But you fell short of words. So, here is a bit of help for you. If your morning sulks because of your beloved's absence, then you can let them know that through some beautiful quotes.
These Good Morning, Miss You Quotes will help you out with that! So, now without a bit of hesitation, send them to your sweetheart, whom you are missing a lot!
Good Morning, Miss You Quotes
1. The morning cup of tea and dishes, reminds me of your good morning kisses. I miss you dearly, hope you were near.
2. My mornings were always good when you were there. Now that you are gone, I am all alone. My heart misses you a lot, I still wear that mickey mouse watch that you bought.
3. Good morning, mate, today we had our first date. I went to the park where I first saw you, with naked feet, standing on the fresh drops of dew. I am missing you.
4. No, I am not missing you. Neither your good mornings nor your goodbyes, because even though you are not in front of my eyes, within me you always reside.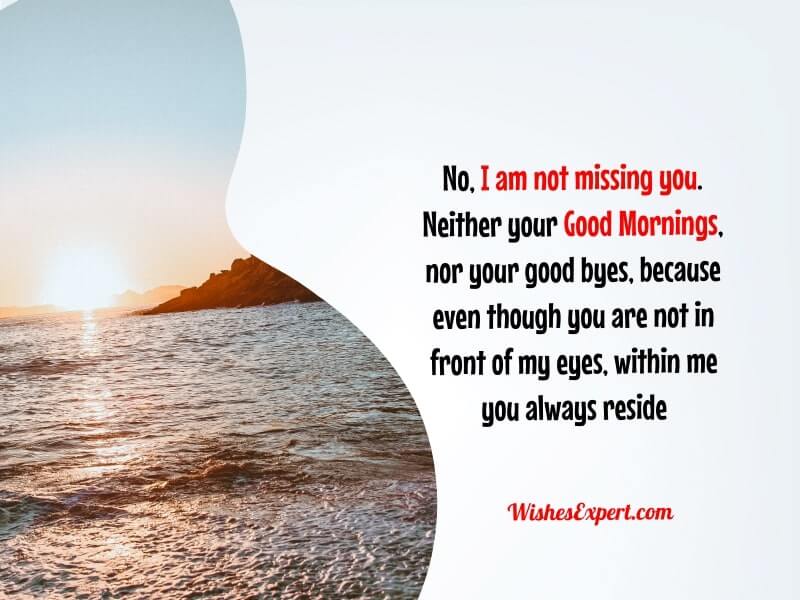 5. This morning is so dull, and life feels like null, without you here, oh my dear! Miss you my cutie, now it's time to get back to my duty.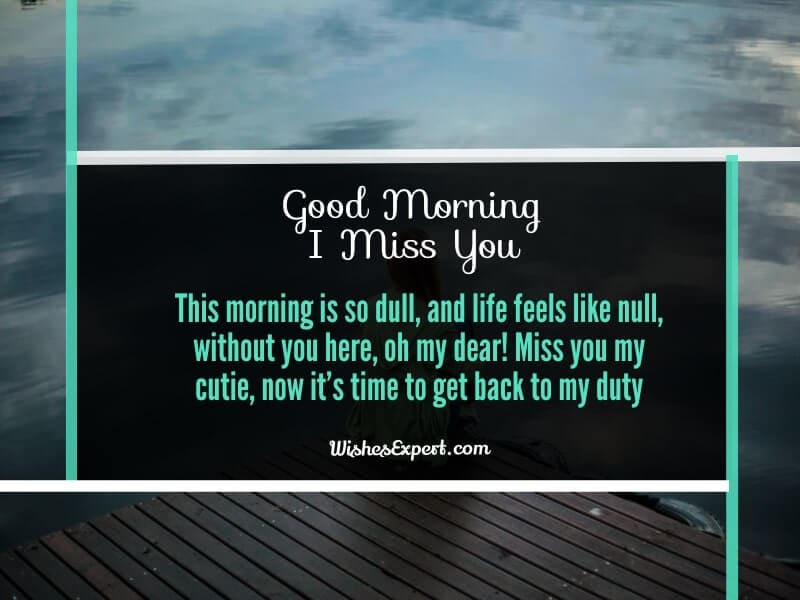 6. The morning tea is steaming hot, but I feel down no matter what! For it's missing your magic touch, oh, I miss you so much.
7. I made the egg with a sunny side up, along with a brewing coffee cup. But digesting is tough since you are not here and anything is not enough!
8. This morning I woke up and it was raining, and soon there was a missing feeling! As I kept thinking about you, and time was passing through.
9. I missed the alarm today, as you were not here to wake me up in your unique way. Miss you, all-time alarm!
10. Everyone in the office bade good morning, but since you were missing, it was just a dutiful calling! Miss you, my darling.
Read: Romantic I Miss You Quotes For Her
Good Morning, I Miss You Quotes
1. The flower in the vase & curtains misses you as much as I do. Our mornings are dull, without our life all void and null!
2. I went to the washroom in the morning as usual but suddenly the cockatoo started taking your name like I used to do for the towel. Not just the cockatoo, but I miss you too.
3. Everything is on time, my food for the day worth the dime. Yet, I miss you, because none wishes good morning to me, as you do!
4. Your intentional touch on my neck would wish me good morning, without much saying. Now the alarm annoys, oh, I miss you so much, your absence has snatched all my joy!
5. After trying a lot, I realized none can make the morning coffee like you do. Yet my lips are missing that warm sip. Do I miss for that or more? My mornings are not good, they are so dull and bore.
6. Nest Mini wishes me good morning, every day, without a delay. But doesn't rebuke anymore, guess, it misses you too now, and like me is living somehow!
7. I never understood, when your annoying gesture became a thing of my desire, my mornings devoid of pleasure, I miss you, in work and leisure.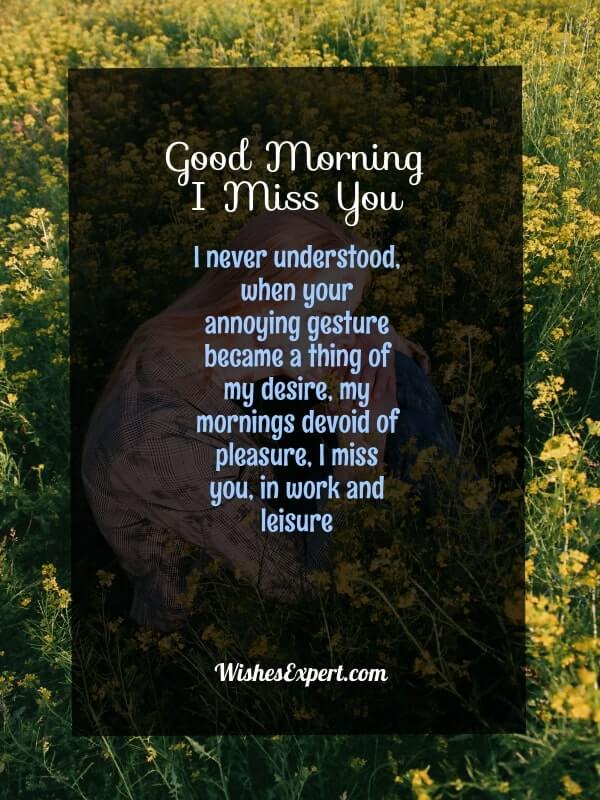 8. Did you have your breakfast? I couldn't, seems like I will again fast! Without you too supervise, my morning breakfast is all without spice. I miss you, darling, you wished me the sweetest good morning!
9. Rain, a big mug of coffee and the best food, nothing could have made my morning so good. Yet the rain hurt, I miss you so much, my sweetheart.
10. My morning sulks like never before, with you not here to irritate me anymore. Missing you babe, I will never be late for any of our dates.
Also Read: I Miss My Boyfriend Quotes
Good Morning, My Love I Miss You
1. I had a headache in the morning and felt like screaming! Missed you my pain balm, as you always healed me with your charm.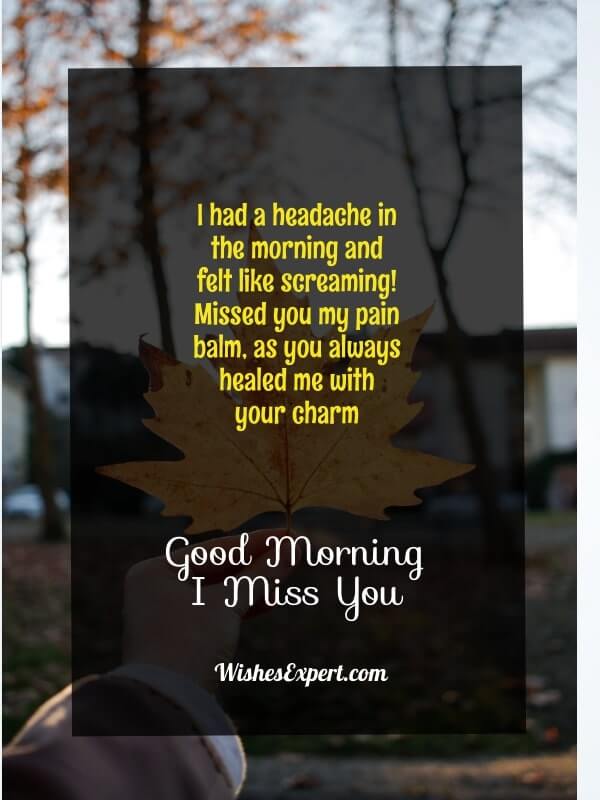 2. I miss you the most in the morning, my sunshine! Now that you are not here, I miss you and whine.
3. They say that morning shows the day, but without you in the morning, things go totally astray.
4. Your wet kiss, I miss, especially in this mundane morning, when your soft touch would heal like anything!
5. To be very frank, mornings are all blur and blank. I function like a fully programmed robot, miss you my enlivening chat-bot!
Check: Good Morning Messages for Girlfriend
So, these are some exciting Good Morning, Miss You quotes, which you can always watch out for whenever you are missing someone badly in the morning and want to speak that out loud! Hope these help you in times of need and uplift your loved one's mood more than ever. If that happens, we will know that our efforts have rightly shown the magic and will offer you more such quotes in the future so that you are never at a fix.