The beautiful day ends on a superb note when you get to read an endearing and encouraging goodnight paragraph for him that has been carefully crafted for you. We have curated goodnight paragraphs for him so that you can choose a perfect message for your beloved. There are enough emojis and one-liners that can be used to wish a person goodnight, but it doesn't have that personal touch.
Hence, a small but meaningful paragraph that has been carefully written to wish a person goodnight is far more appealing. You can take your time to write such paragraphs. Or you can browse through our collection of goodnight paragraphs for him. We assure you that you will get plenty of wonderful choices from our collection of goodnight quotes.
Goodnight Paragraphs for Him
#1. The night is quite long, so dear ones, sleep soundly. Enjoy the peace and quiet profoundly. Delve in your dreams and swim around gladly. Goodnight, dear ones, sleep soundly.
#2. Refresh yourself with the healing touch of sleep. There are difficulties, and the wounds might be too deep. But it will begin to heal while you are asleep. It will give you to walk through the road, even if it is narrow and steep.
#3. It might be hard now to think about getting up the next day, but tonight's rest will change your thoughts tomorrow. Sleep well so that you forget your sorrow.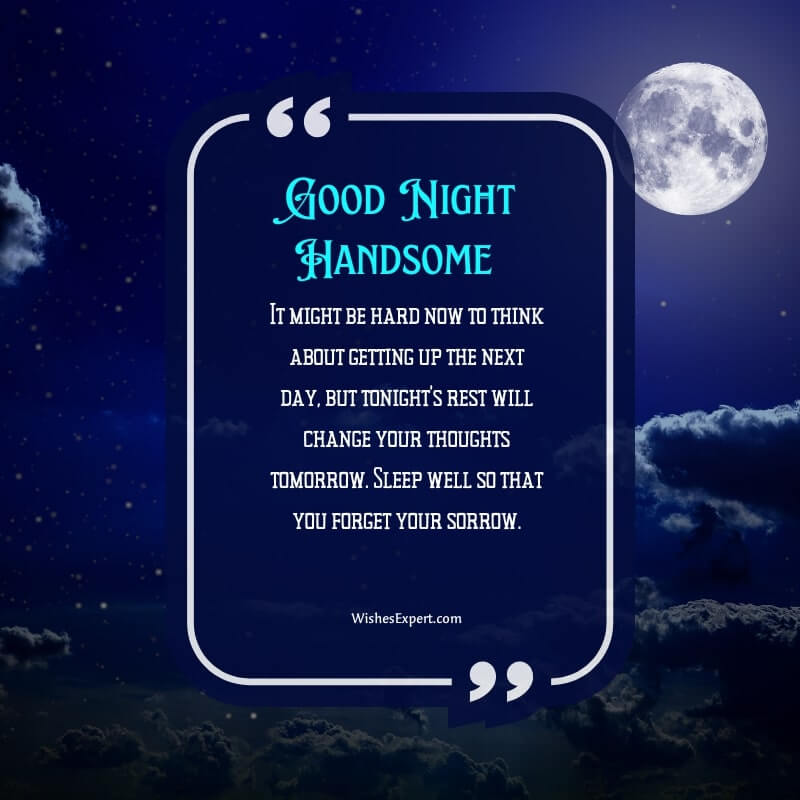 #4. Let the long dark night act as the balm for hurt body and mind, mate. So, when the Sun rises tomorrow, you shall be able to greet it without regret.
#5. After the long day of toil, rest awhile and shake off your troubles. Let the night work its magic and wrap you in its warm cocoon. Goodnight, dear, and sleep well while watching the moon.
#6. The night is there to rest and recuperate after the long day of toil and turmoil. Take your time to fall asleep. But make sure it is sound and deep.
#7. The day has passed, and it is time to rest. Lie back for a while in your nest. The dark night has closed the blinds right. On your warm bed, sleep tight.
#8. The night is cold, but the room is warm. Get ready to sleep, but don't forget to set the alarm. Because Tomorrow is a new day, you should start it without fear. Enjoy a peaceful night, dear.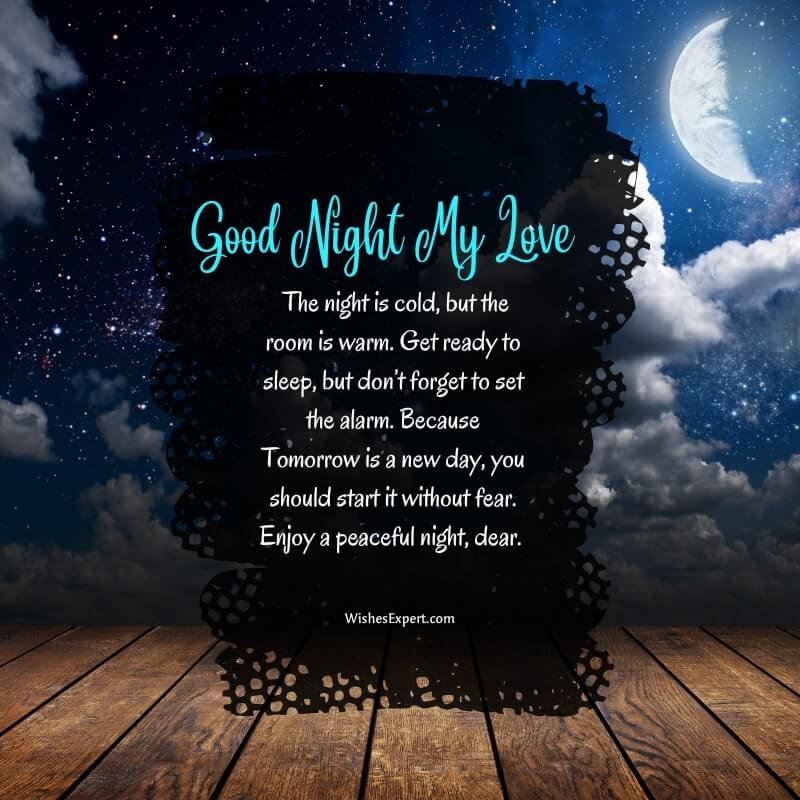 #9. The ticking clock is showing the time. It is time to leave the desk and rest awhile without thinking about the dime. Rest your eyes and your back while you sleep peacefully. Goodnight, dear, dream magnificently.
#10. The long dark night has arrived. It is time to lie down and let dreams drive. Delve deep into the world of imagination and look for inspiration. Goodnight, dear, do get rid of exhaustion.
Read: Sweet Good Night Messages For Husband
Goodnight Paragraphs for Him to Wake Up to
#1. The night is dark, which will soon give way to the light of dawn. Rest awhile so in the morn you are ready to embrace it with your heart and not your yawn. As you close your eyes, look at the moon set by your lawn.
#2. The night is nature's shelter that offers you relief from the hardships faced during the day. Let dreams come and light up your upcoming day. Goodnight, my beloved, watching the full moon tonight while on your bed you lay. I will watch it from here with you, bae.
#3. The restless soul and the worn-out body find solace in the arms of the lovely night. Sleep soundly as the night pulls over the blanket until the horizon brightens to make everything right. I know every day you will win your fight.
#4. The night is the period of peace when you get to rest your mind and body, darling. May God bless you with profound sleep that ends with the beginning of a beautiful morning. Sleep tight tonight, and while in your dreams, keep smiling.
#5. Nature's beings sleep soundly in the dark, and it is time for you to rest peacefully until the birds' chirp. I hope the morning brings good news for you, which will sound as musical to you as the playing of the harp.
Read More: Good Night My Love Quotes
Goodnight Paragraphs for Him Who is in Long Distance
#1. Though countries separate us but the sky unites us. The darkness of the night is the same every night for you and me. So, don't be afraid, my honey-bee. Sending goodnight wishes to you, my baby.
#2. Whenever I lie down to rest, I see the night sky and remember the promises that we have made. Longing to see you soon as I cry on my empty bed. Goodnight, my beloved, sleep soundly, remember our moments, and do not let them fade.
#3. This distance has made it impossible to spend some time with you, but still, we can see the night sky and believe that we are near each other. Goodnight, and have a restful night, dear.
#4. I would have flown off to meet you had there been a magic carpet. But tonight, let us sit near this window and enjoy the moonlit sky from other sides of the globe without regret. Let's this be our secret.
#5. Even the stars and the moon don't know how painful it is to be away from you. Until we meet again, let me share the best goodnight wish with you. As the night falls, and to their nests, the birds fly, I am reminded of my days spent with you.
Check: Long Love Paragraphs For Him
Long Goodnight Paragraphs for Him to Copy and Paste
#1. Long nights seem quite lonely where only your thoughts keep me company. I wish we could be together now, but we shall abide by the rules of time and let the night pass calmly with sweet dreams and beautiful memories. We shall count the moments spent alone until we meet, sweetie.
#2. Words cannot fill the void that grows when you are not with me. I hope you miss me too when I smell the roses in the night air, baby. The sky is silver with the starry fare, and I wish you goodnight, my dear.
#3. The night is beautiful as the moon is in the sky in all its glory. The full moon has its charm as the stars seem lost in their light, raging from Sun's fury. With renewed energy, I wish to paint all those glorious moments that we have shared. Goodnight, dear, you are treasured.
#4. The night, after all, has its own tale to tell as stories spin out of control and facts and myths mix. At that juncture of mystical mystery found during the cold night, you remind of your face in a fix. I hope you rest easy tonight as we relive those precious moments again during the night.
#5. The night is not long when we spend it talking with each other. Unless tiredness makes our eyelids droop, the cold night lulls us into a slumber. Let us make the most of each moment by sharing our thoughts and feelings with clarity like the lucid dark sky, larking.
Conclusion
It is a touching moment for a person when their beloved sends them a goodnight message. You might want to write down a paragraph or two as a goodnight message for him, but due to lack of time, you might not be able to do so. We have the most splendid goodnight paragraphs for him to ease your problem. We know you might not want a generic message for your beloved person. We have made each paragraph as unique as possible for that. Hence, pick your favorite goodnight paragraph for him and send it to your beloved.