A son's graduation day brings many proud and joyous moments to parents. Congratulate your son with some graduation quotes for son. Your little boy is now all grown up and set to face the challenges their career and adult life will offer.
Graduation day is not only a milestone for them but also a crucial and doubtful point where they question their abilities and strength to face the world. Your advice will prepare them and encourage them for their upcoming journey. At the same time, a pat on their back can motivate them and boost their confidence. Make the emotional day precious for yourself and your son by showing your support.
Here are some graduation wishes for son quotes to brighten their special day.
Graduation Messages For Son
#1. The little boy who would play around all day is now grown up with a graduation degree and a fine career on the run. It is endearing to see you growing up into a fine man.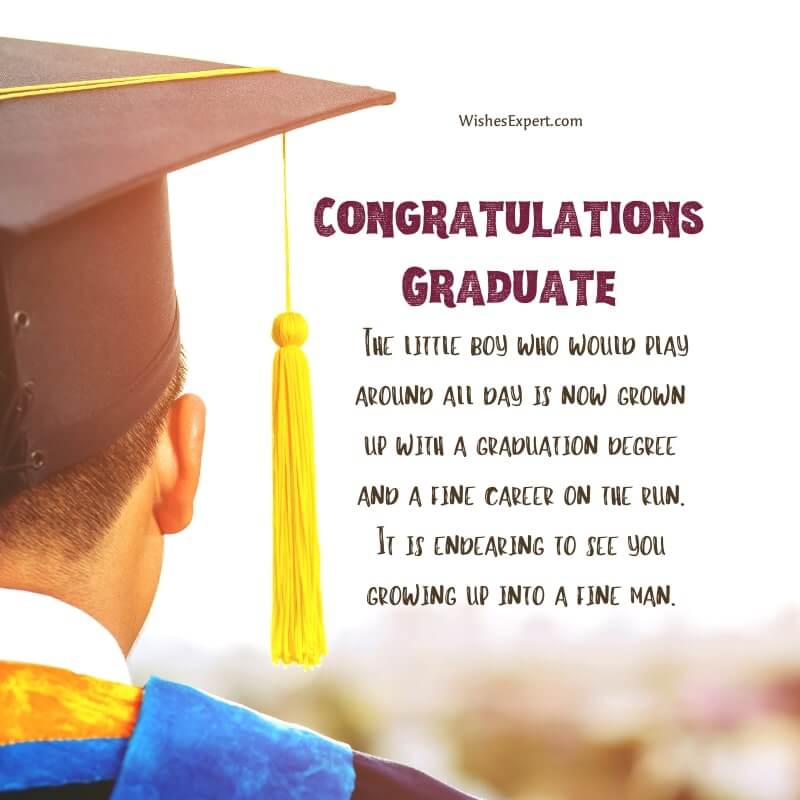 #2. Congratulation, my dear son, and I must say I am proud to see you walking toward your dream. May God give you strength and confidence to face the upcoming challenges, no matter how bad it seems.
#3. Congrats, son, and kudos to your determination. You have finally achieved your graduation degree. May you taste success at every cup life serves, and promise not to forget me.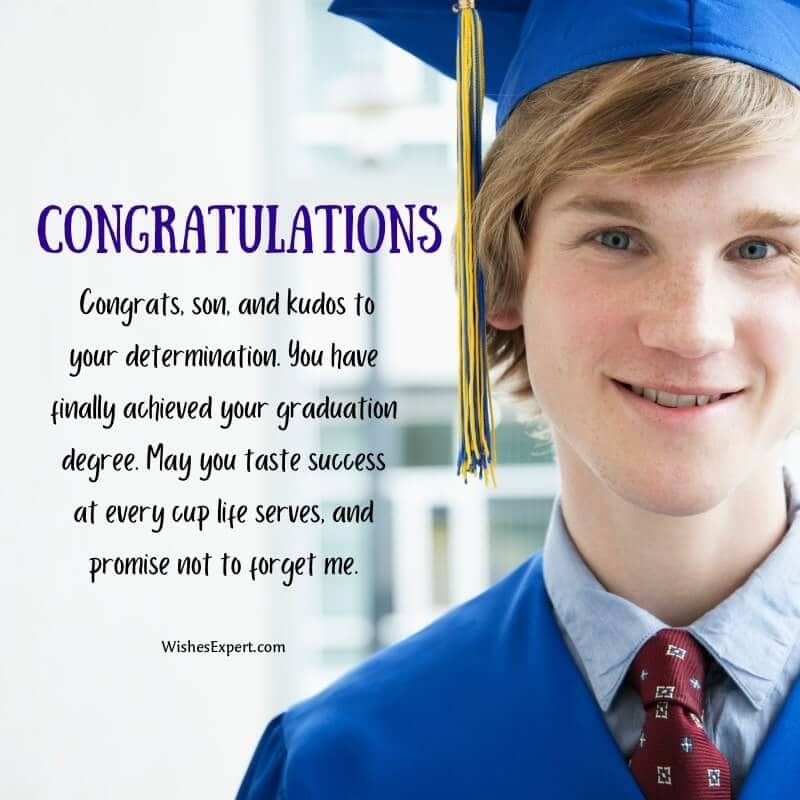 #4. Dear son, congratulations on your graduation. It is a proud moment for the parents to witness their son in a black graduation robe. May God guide you to succeed and helps you to conquer the globe.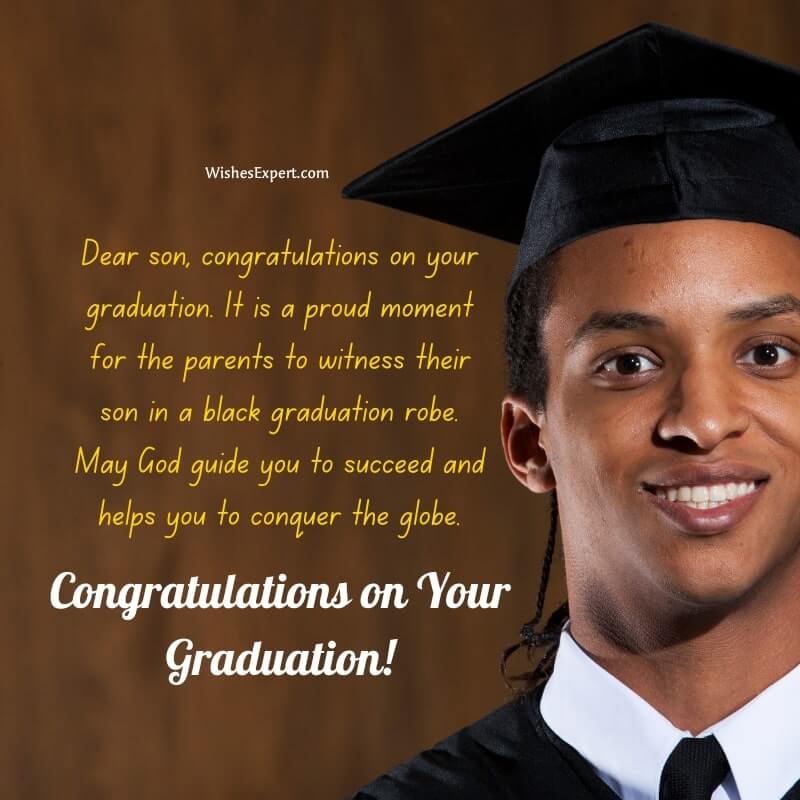 #5. Your mind holds the spirit to conquer all the challenges, sweetheart. The courage that summons your abilities waits at your heart. Be ready to face the world and achieve your dreams. Congratulations on your graduation, and don't let anything make you grim.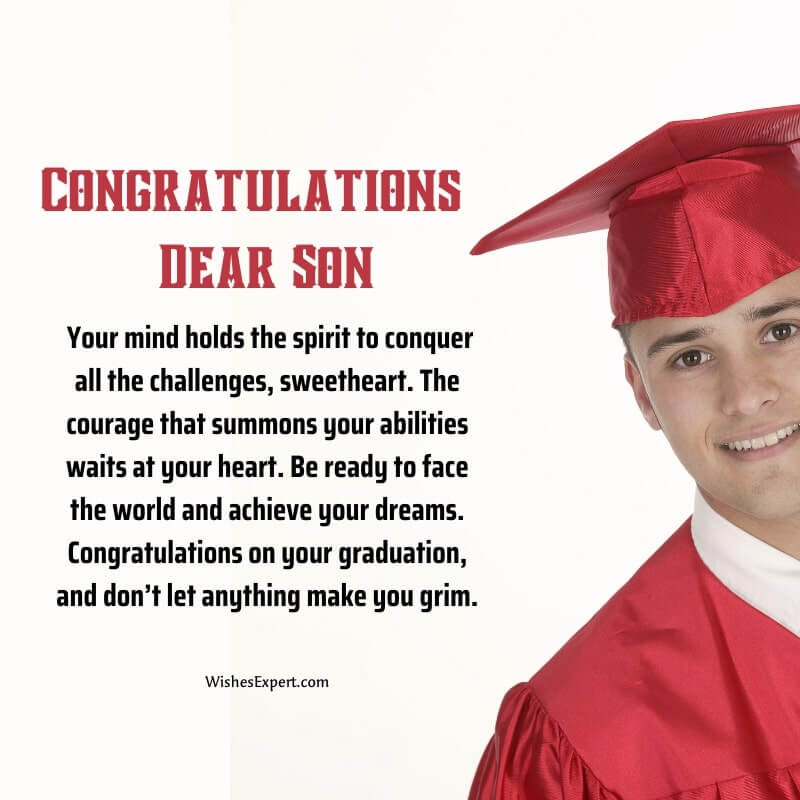 #6. I saw you brightly smiling as you graduated today, and it made me realize what true happiness feels like at the end of the day. You are my inspiration, congratulations on your graduation.
#7. Son, best wishes on your graduation, and it seems the graduation day came too soon. This success is only the beginning for you, and I believe you can succeed even if you aim for the moon.
#8. Congratulations, son, and thank you for working hard and making me a proud dad. Your passion and willingness to sacrifice for your dream career will eventually make you happy and not sad.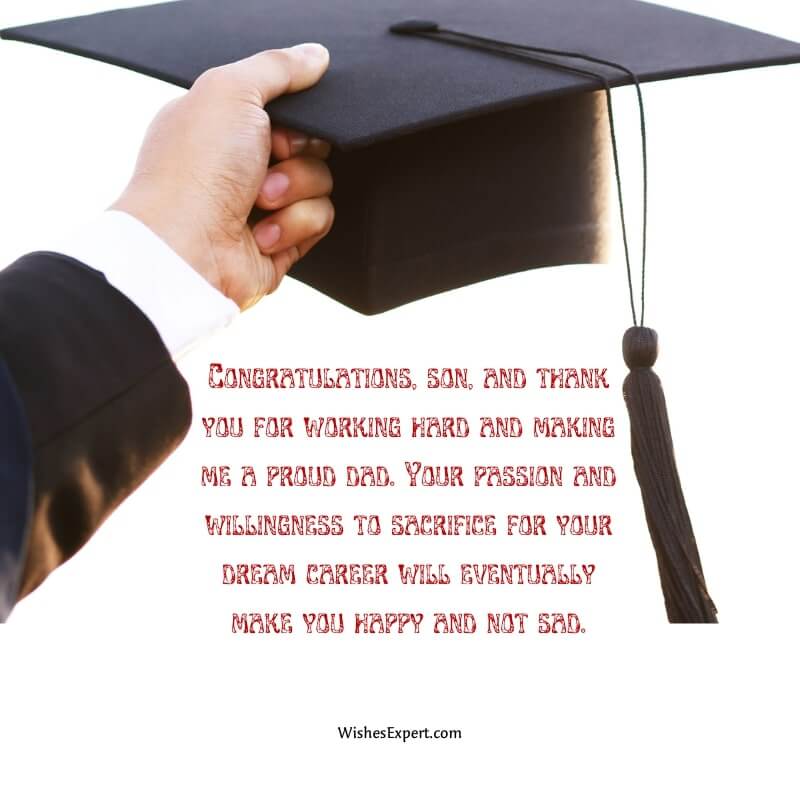 #9. My best wishes on your graduation, and I am glad you have remained calm! Finally, the time to manifest your knowledge has come. I hope success always clings to you as I congratulate you.
#10. Congratulation, dear, and remember, graduation day marks the end of your student life and the start of your career. Let your heart and knowledge guide you there.
Read: Congratulations On Your New Job Wishes
Graduation Wishes Form Parent to Son
#1. You have crossed one of the significant thresholds of your life. Now, you will not have any more chances to be stubborn and naïve. Shine like the sun, congratulations on your graduation, son.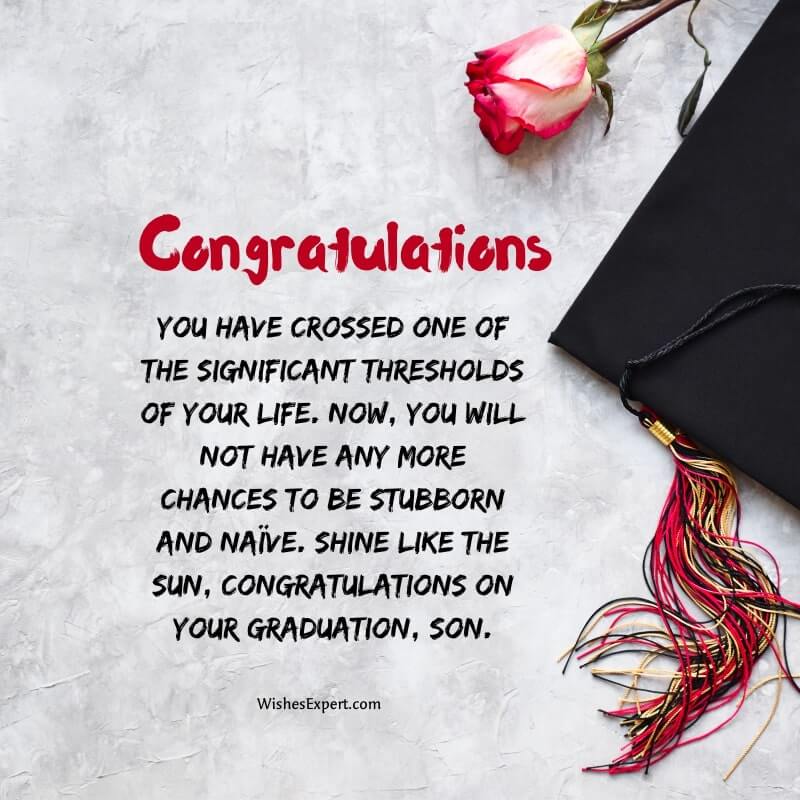 #2. Congratulations, love and I know you have worked very hard to achieve the success that you have achieved today. I know getting this good result is not child's play.
#3. You have completed your graduation with a good score. Many opportunities are there for you in the store. I hope you know how proud I'm of you, and from my heart, I congratulate you.
#4. Congratulations, my dearest child. Life now starts for you, but promise me that you won't hide. Start preparing for your next steps, my dear, and I hope you will succeed like this in every aspect of your career.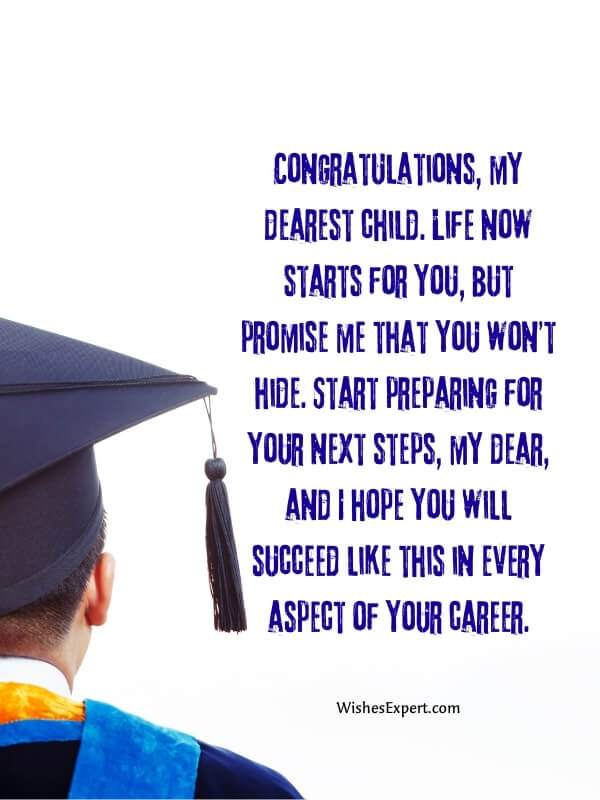 #5. Congratulations, buddy. You hated me when I scolded and forced you to study? But you've made me so proud with your dedication that I've no words to portray the depths of my emotions.
Read More: Congratulations On Your Promotion- Wishes & Messages
Congratulations messages to Son 0n Graduation:
#6. Good job, my son, and congratulation. I must say you, indeed, are an inspiration. It is the time when you get prepared to handle all the problems. I'm sure you will be able to deal with any issue and solve them.
#7. You got rid of all the doubts that were pulling you down. Now it's time for you to shine on your own in the entire town. Dear son, all my best wishes for your future. I hope you will have an excellent career.
#8. Well done, son. There were times when you struggled a lot and didn't know what to do, but everything fell into its place, but how we have no clue.
#9. You studied hard for your exams, and now you have the result of your hard work. Remember, I always told you there is light after dark. Congratulations baby. Now, be happy!
#10. Now that your graduation results are out, you have a reason for celebration, forgetting all your reasons for irritation. I congratulate you on this win after the defeat. Take rest, son, because you deserve it.
Graduation day is the time to celebrate the dedication and hard work your young man has put in to see the proud smile on your face. Your graduation wishes are not only an acknowledgment of their perseverance but also a motivation for their future. You have always shown them the way, but now it's their turn to prepare themselves to face real-world challenges. Let your word express your love and support as their adventure begins in the adult world. It's time to tell them how proud you are of their hard work and determination. Send them these graduation wishes for son quotes to appreciate their efforts.