Losing a person can have a massive impact on people's lives. Thus, we have curated these Happy Birthday in Heaven Husband quotes to help the aggrieved wife express her affection and respect for her beloved husband.
The death of one's husband is an irreparable loss. After a person dies, the people who loved him dearly undoubtedly miss him. The bereaved wife feels the absence of her husband after his demise.
It becomes possible to bear this loss by reminiscing about the memories of the happy days they spent together. Happy birthday in heaven Husband quotes help you find some solace in words. These wishes for your husband are imbued with meaning. Thus, it is a beautiful way to express your birthday wish for your deceased husband.
Happy Birthday in Heaven Husband
#1. I feel you are still near even though you are no longer here. Let us cherish the old memories together on the auspicious eve of your birthday, my dear.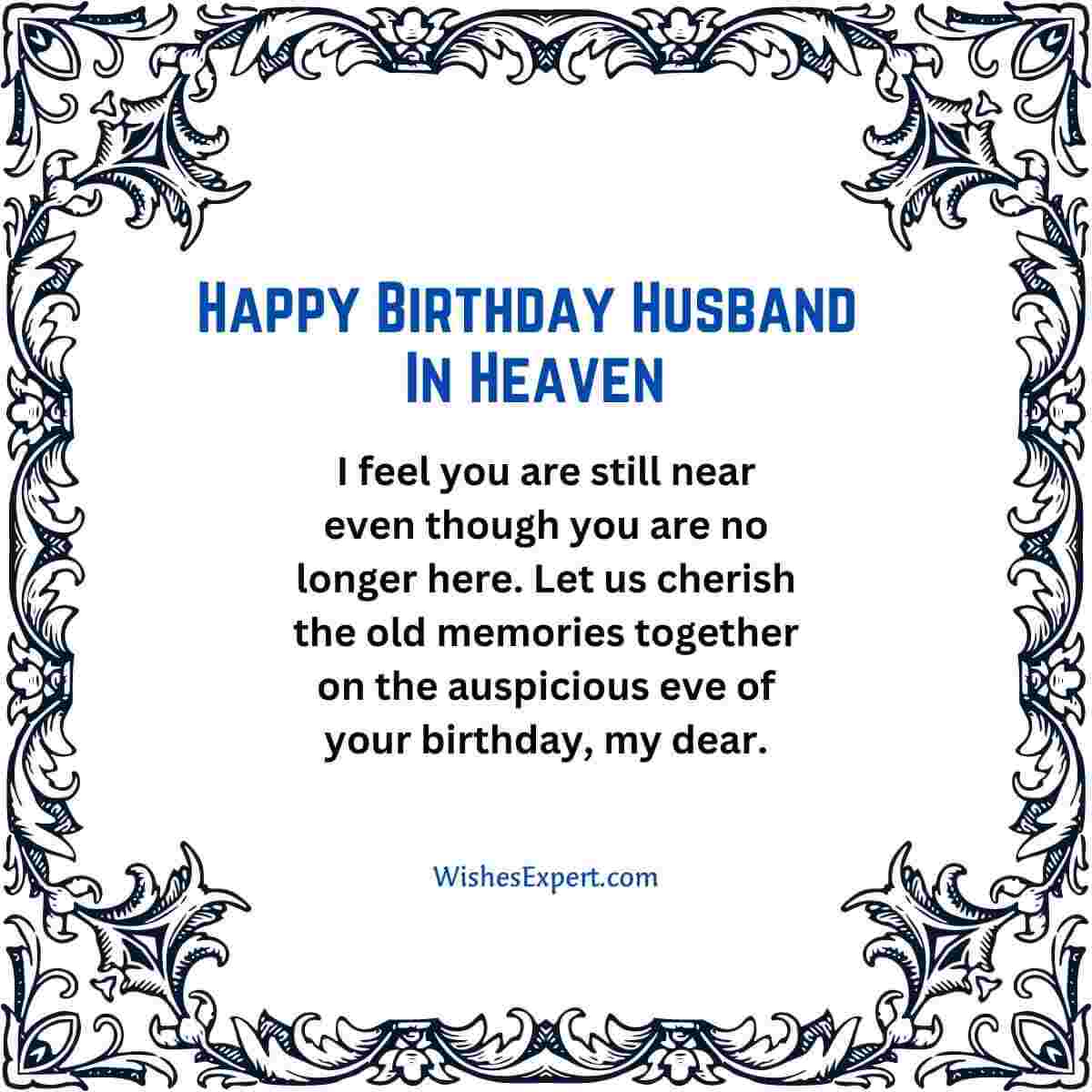 #2. The cake and flowers, everything is here, but you are no longer here. I still hear your footsteps here. This year, celebrate your birthday without me, my dear.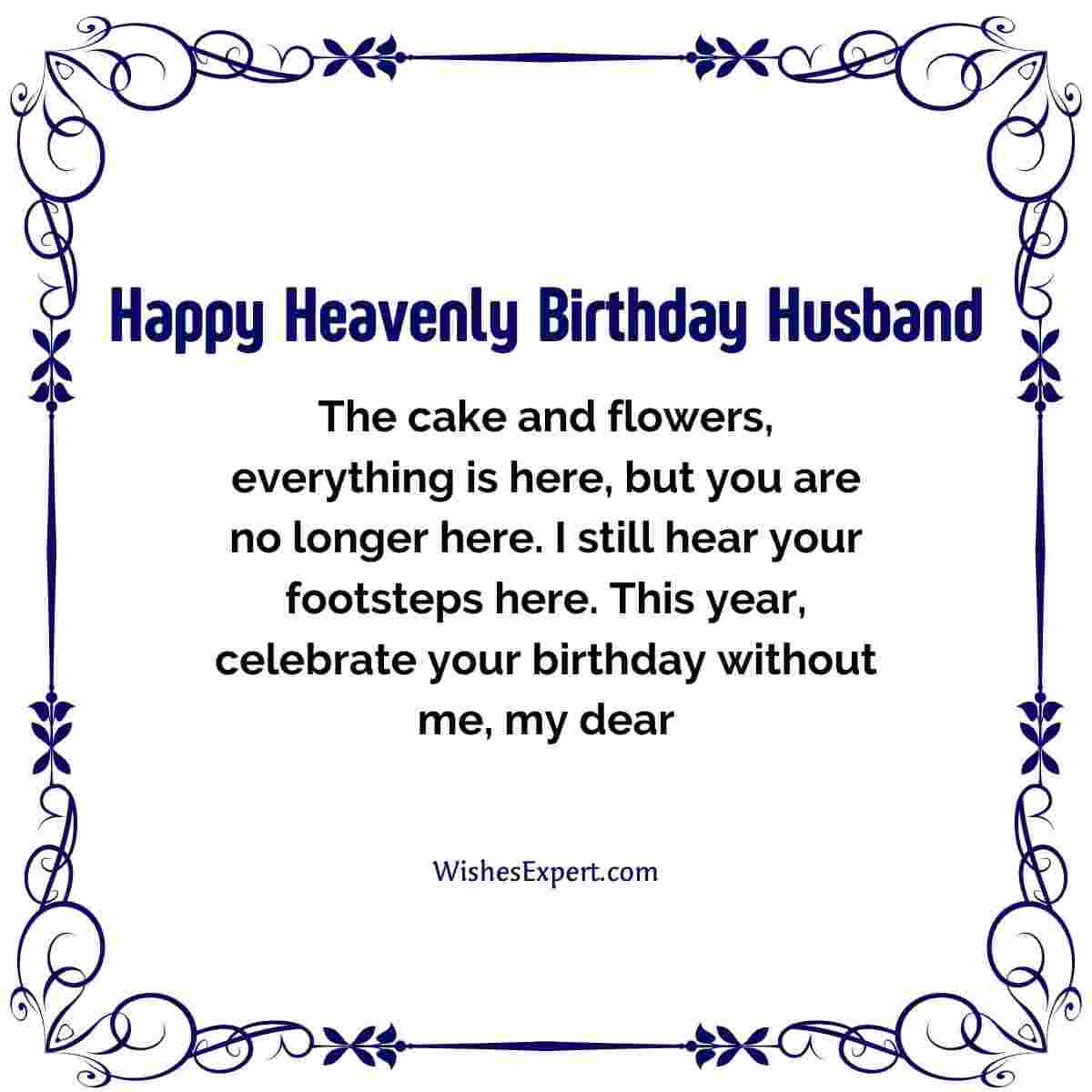 #3. It feels like yesterday when we all jubilantly celebrated your birthday here. You have left for the heavenly abode, but on your birthday, I hope my prayers reach you, dear.
#4. Years have passed since you left for the heavenly abode leaving me forlorn. Now I walk on this life's road all alone. Wherever you are, I wish you a heartfelt happy birthday, and I am coming your way.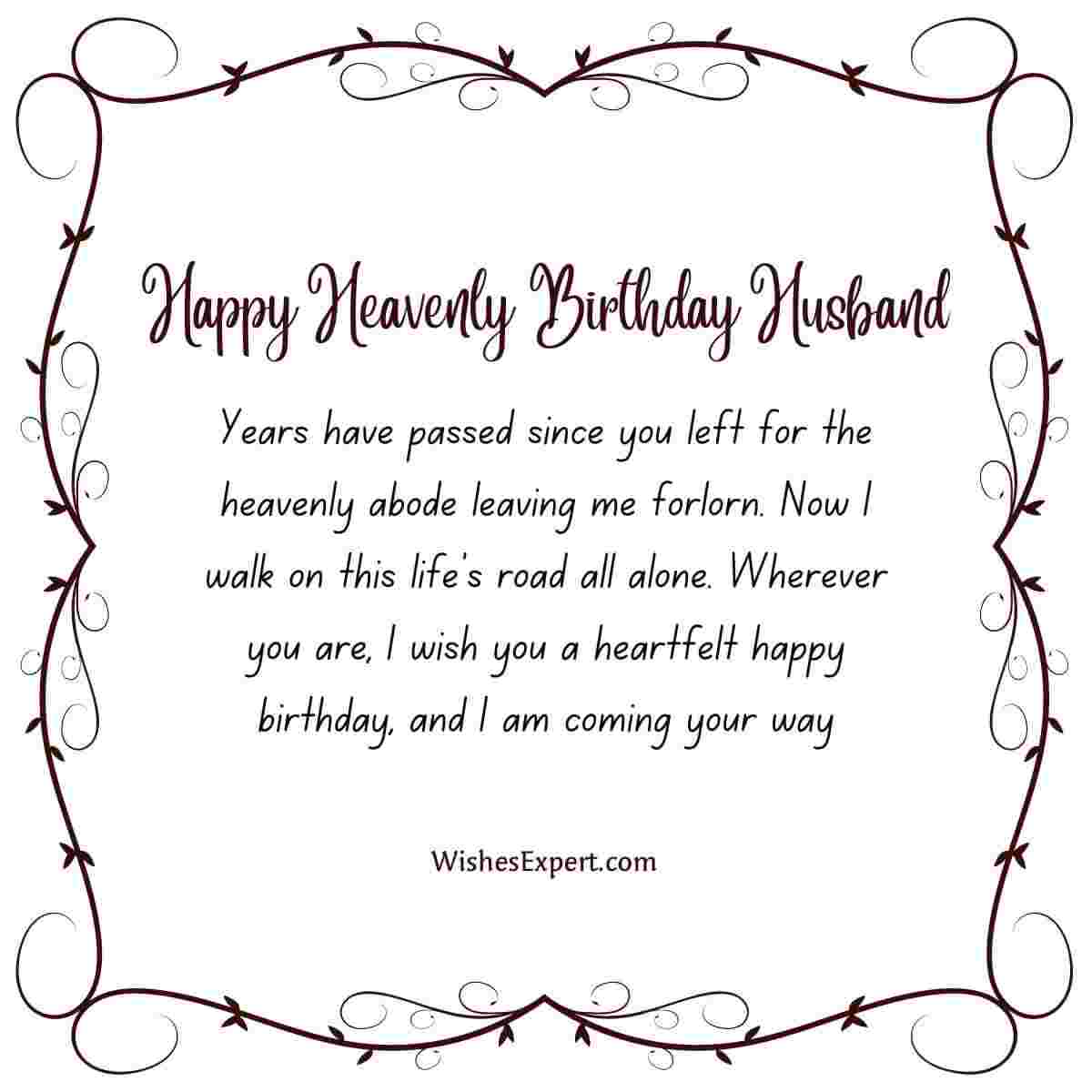 #5. I used to wait for this day to surprise you with gifts and wishes. I still do that in your memory and shall continue to do so while missing your hugs and kisses.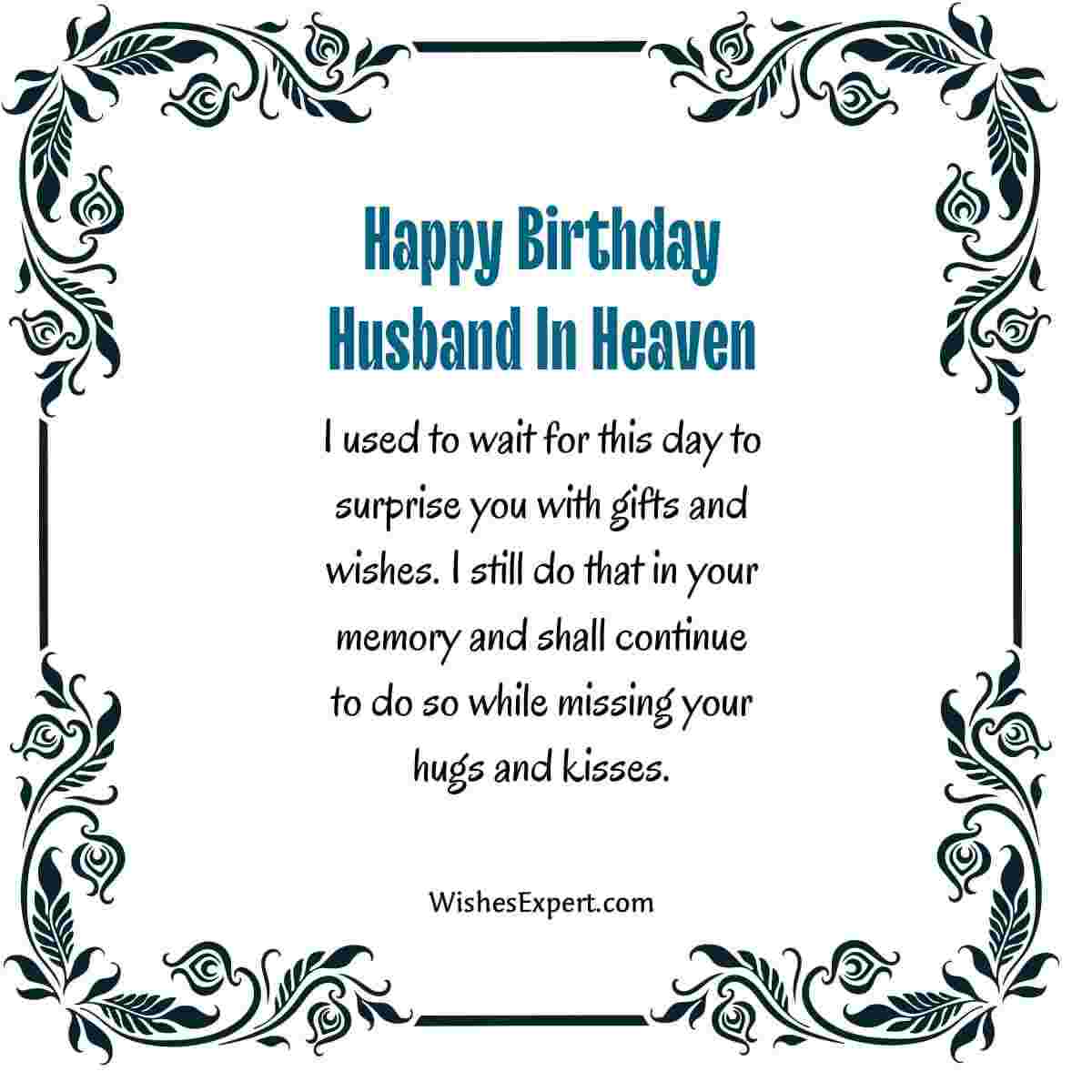 #6. You left me alone, but our loving bond still exists, so if I breathe, you will be there. Celebrate a prosperous birthday in heaven, my dear.
#7. A Day did not go by when I did not cry in your memory. It is bittersweet to celebrate your birthday without you, hubby. But remember, dear, I shall always love you here and hereafter.
#8. I pray to God for you to rest in peace. I am still collecting my broken heart every single piece. Happy birthday, dear, and from up there be my shining star, and I shall have no fear.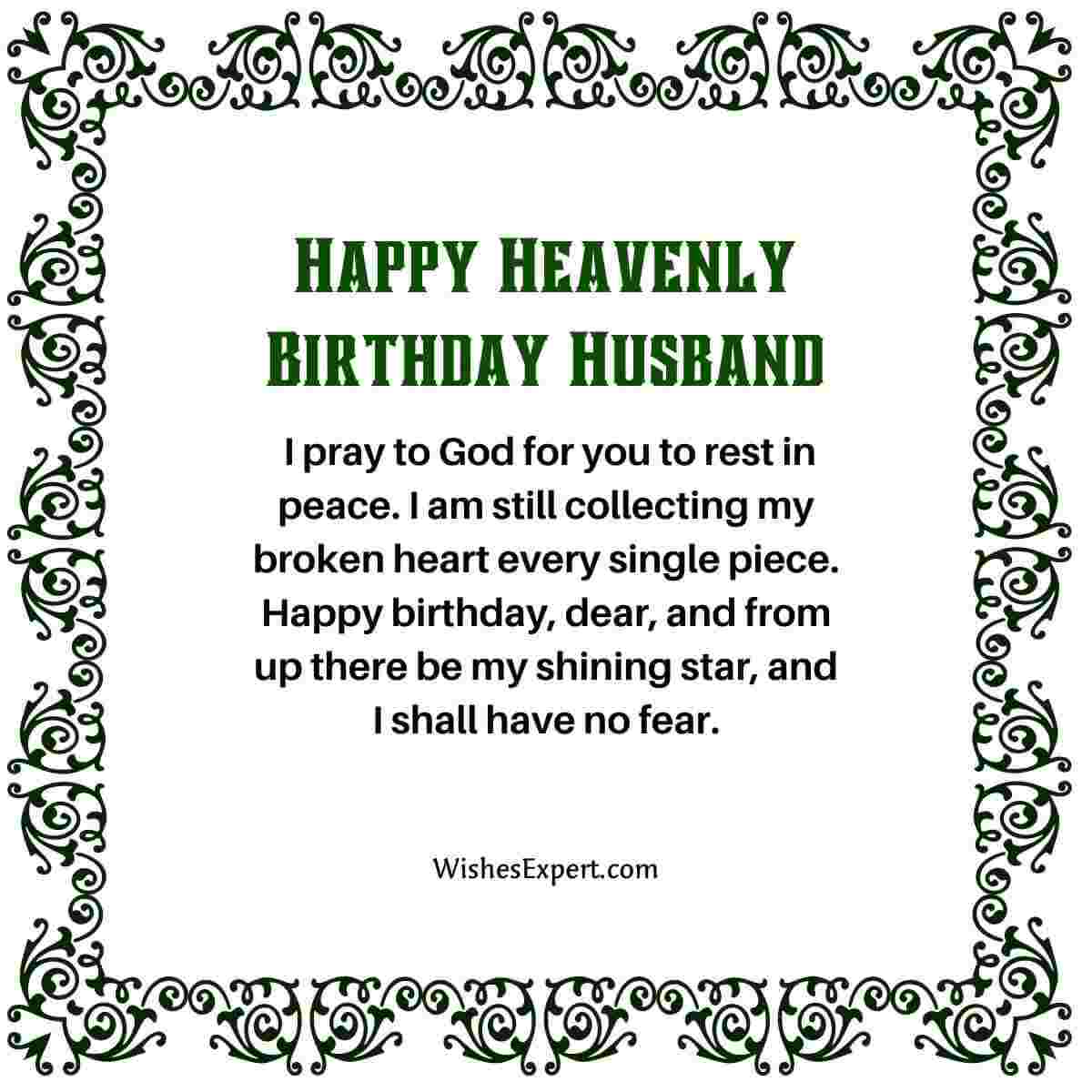 #9. My sense of loss has settled down. Sweet memories now remove my frown. Happy birthday, dear, and I wish angels and Gods shower you with love and care.
#10. It was a misty morning when you left this world forever to travel alone, leaving us in pain. Today on your birthday, the view is misty again, and I miss you, dear, time and again.
Read: Happy Birthday in Heaven Son Quotes
Message To My Loving Husband In Heaven
#1. There are very few words that describe your absence. Your birthday was a day of celebration for us in every sense. So, my dear hubby, I shall celebrate this day alone in your loving memory.
#2. You have left this earth and found your place in heaven. Today as I look up at the sky, I want to wish a happy birthday to you once again.
#3. It pains me to face the fact that I will never behold your face ever. But still, your memories are here. I hope you are celebrating a grand birthday in heaven, dear.
#4. Grief struck me with mighty force when you left me, and alone here I stand. On your birthday, I pray with my heart and soul that you find peace in that immortal land.
#5. None is more important in my life, even after your demise. I surmise you are celebrating your birthday peacefully at the Happy Isles of God while not forgetting your earthly ties.
See More: Happy Birthday In Heaven Grandma
Miss You Messages For Husband On His Birthday Who Is In Heaven
#1. I cherish our old photographs and keep me surrounded by those every day. To my dear husband in heaven, happy Birthday.
#2. Staying apart is challenging, although you are always in my heart. Happiest birthday to my lovely husband, and I hope you are celebrating your birthday in heaven, sweetheart.
#3. Although you got far away, our old photographs help me to keep close to you. The memories will bring me strength, and love will see me through. Happy birthday, husband, and in heaven, soon, I will meet you.
#4. I know, hubby, you have gone forever. But my tears will all be fleeting, and I will smile again for you, dear. Do wait for me in heaven while celebrating your birthday. I will soon join you to make your day.
#5. To lose my dearest husband, whom I loved so much, brings pain beyond belief. I wish you a happy birthday, but no words are left for anyone to ease my pain and grief.
See More: Happy Birthday Dad In Heaven Wishes
First Birthday In Heaven Husband
#1. Hubby, I always think about your special ways that used to keep me happy and hope you were near. Happy 1st birthday in heaven, dear.
#2. Although you have left this world, you will remain my guiding angel. My love for you is everlasting, and so are our memories which keep me stable. Happy 1st birthday in heaven, hubby. On this Earth, I will celebrate it with your memory.
#3. Dear husband, I miss the strength you always brought to me. Your inheritance will always be there to illuminate the way for me. Celebrate the happiest 1st heavenly birthday without your sweetie.
#4. My superb husband, you always gave me a comfortable life. On your 1st birthday in heaven, pretending to be brave is challenging for your wife.
#5. You know, husband, I found some hidden courage protecting me each day after you passed away. I am sure that it comes from you. I wish a happy 1st heavenly birthday to you.
Happy birthday in heaven Husband wishes' sole purpose is to help the bereaved wife. It will help them to express their tangled emotions of grief and sweet memories meaningfully. The absence of an understanding partner is quite depressing.
However, death is an inevitable fact. We must accept nature's laws. Through these wishes, we have tried to create the perfect ambiance to remember your loved one. Indeed, one who passes away will not return. But all we can do is pray for them and celebrate the moments significant in their life.