Pregnancy is big news for a family. The challenges of parenthood might seem overwhelming for a pregnant woman. We have carefully curated a list of Pregnancy Wishes for Sister that you can use to lighten her mood and raise her spirits.
These wishes are created so that your pregnant sister feels the love and warmth of her family. A sister is an immense source of support. Nothing more is significant to her than the support of family and friends during the pregnancy.
Therefore, as a younger or older sister, it is of utmost importance that you share your warm feelings for your pregnant sister in the form of good wishes. So, check these heartfelt pregnancy wishes we have created for you and select the one that conveys your feelings aptly.
Pregnancy Wishes For Sister
#1. From my little sister, you are now going to be a mother. From a little child, now you will be a child bearer. I always wish the best for you. So, sending my love and best wishes to you.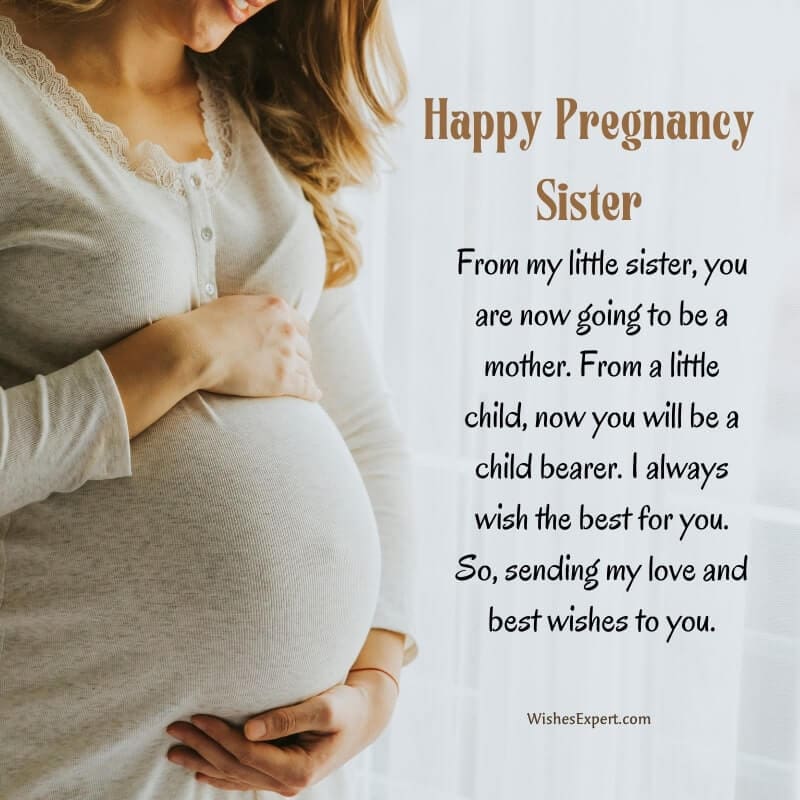 #2. Congratulation, dear, do take care and never fear. You have always been a mother to me more than an elder sister. I am confident that your little one is already blessed to have you as its mother.
#3. Years passed quickly, and now you are all grown into a wonderful woman and an expecting mother. I wish you all the best in your new role as a mother.
#4. Your little one is going to brighten your life, dear sister. I know that for sure because you made our lives brighter. If you are anxious, I shall hold your hand till you feel betterer.
#5. These months you pass while waiting anxiously for the one kicking inside your belly. Don't worry, honey. You will eventually have a splendid beginning.
Wishes For Sister Having Baby
#1. Though I will lose my "youngest in the family" trophy very soon, having this new member in the family seems to be a boon. Dear sister, congratulations on your pregnancy, dear.
#2. I cannot wait to meet my competitor because I need to see who can get on your nerves faster. Is it me or the newbie? Sissy, congratulations on your pregnancy.
#3. Congratulations on your pregnancy, and remember, sissy, this time, your body will undergo some changes because that's normal in pregnancy. So, take care and do not fear, my dear sister.
#4. Soon we will have a smaller version of you. Thank you, dear, for giving me the identity of an uncle. Here are my best wishes for your pregnancy. Let me remind you to take care of yourself and the baby.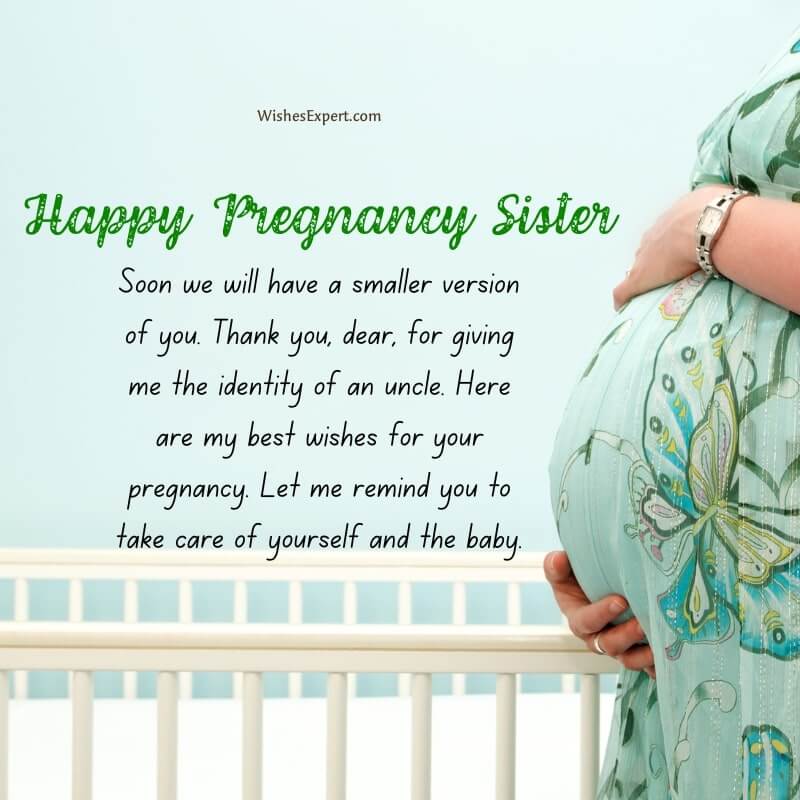 #5. I still remember the day mom got you home from maternity home, wrapped in a swaddle. I am lucky to revisit those days with your little one in the cradle. Hope the date approaches soon, dear. Congratulations on your pregnancy, sister.
#6. Congratulations on your pregnancy, sissy. I still cannot believe someone will call me aunty. Thank you for my promotion in the family hierarchy.
#7. This text welcomes you to the mother community. Get ready to experience some sweet and sour moments with your baby. Congratulations on your pregnancy, sister. Remember to take the best care.
#8. My baby sister, let me congratulate you on your pregnancy, dear. May you have a fab motherhood journey. Be jolly and keep the baby in your belly safe and healthy.
#9. I am happy but worried that my goofy younger sister would be a mother. For handling your mood swings and cravings, I wish good luck to the baby's father. Do believe I am congratulating you from the core of my heart, dear.
#10. It is time for the aunt to revise her nursery rhymes. I cannot wait to cuddle the little angel and make them my partner in crime. You have given the all-time best news, dear. Congratulations on your pregnancy, sister.
Read: Congratulations On New Baby
Funny Pregnancy Wishes For Sister
#1. Congratulations, sissy, and I hope you enjoy every phase of your pregnancy. Motherhood is said to be the beginning of a new life for every woman.A child is like a ray of sun amidst a day filled with rain.
#2. I hope you give birth to a healthy and happy child. After that, you will see that all your pain was too mild. Have a safe pregnancy, dear sister.
#3. Life has granted you the greatest happiness of a woman's life. I know you will be a great mother, like a great wife. Congratulations on the new baby. I wish you happy pregnancy.
#4. Bringing a new life into this world is not an easy fit to achieve, but I know you'll be able to do it because you are courageous. Congratulations, and I know your child will be fabulous!
#5. I still remember the days when you were a baby yourself, always smiling. I hope your pregnancy will be happy and fulfilling. Let me congratulate you, miss. Do stay safe and take care, baby, sis.
Final Sayings
Pregnancy Wishes for Sister ensure you can wish your expecting sister with heartfelt emotions. It often occurs that you have a lot to say.
But you are unable to express your emotions.
We are here to help you by articulating your feelings into beautiful wishes. All you need to do is pick the one that resonates with you or perfectly expresses what your sister may be feeling. We have a collection of wishes for your pregnant sister.
Select the one you love and wish your pregnant sister at the earliest. She will love to hear a heartfelt wish from you.