Newborn Baby Wishes and Congratulation Messages: Has your loved one become a parent? Are you searching for some heartwarming lines to celebrate this special occasion with the new parents? Express joy to the new mom and dad with beautiful new-born baby wishes.
The arrival of little ones in a family makes everyone delighted. If you know such new parents, wish them all the happiness and strength to welcome their parenthood. We are here for you if you want innovative lines to convey your messages to your dear ones. We have some fascinating wishes and quotes that you will love to the core.
New Baby Wishes To Parents:
1. May your sweetheart be blessed with love, good health, and laughter. My heartfelt congratulations to you, dear! I hope your upcoming days are merrier than ever.
2. You have always prayed for a healthy baby while hitting the temple bell. Now is the time to enjoy your baby's tiny feet and cute smell. Sometimes it will seem like hell. But you will love it as well.
3. Be a proud mommy as you enter a new chapter in life, lady. I wish all the very best to your family. I know that you will shower all your love on your baby.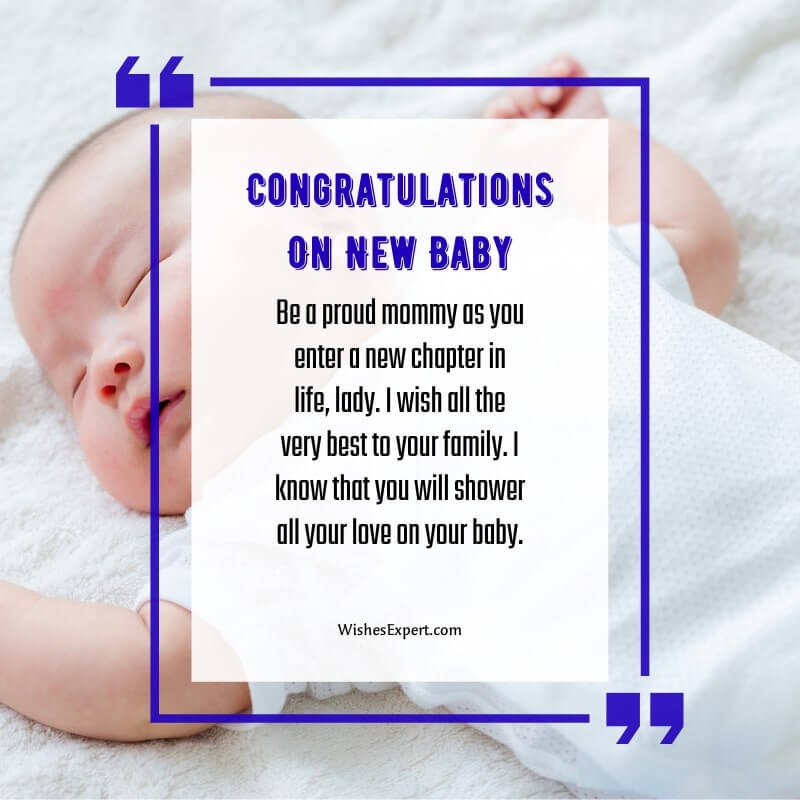 4. Parenthood is undoubtedly a life-changing phase. I hope you cherish every moment of parenting with grace. I believe that the new baby will give you enough joy to embrace.
5. Take baby steps for the journey of a long mile. Now enjoy waking up to your baby's cooing noises and innocent smile. I know your little one will soon pick your style.
6. Congratulations to my lovely daughter-in-law for the new session of parenting. Your mom-in-law will always be there for babysitting. After all, it is all about caring. Isn't it, darling?
7. May the arrival of the little one be the beginning of a splendid journey in our life. I promise to share all my parenting duties with my lovely wife. You gave me a reason to survive.
8. Enjoy and capture every moment of the birth of this little bundle of joy. I shower all my love and blessings on your handsome baby boy. I will undoubtedly buy him the best toy.
9. Enjoy every moment of changing nappies and feeding. Be grateful to God for presenting you with a beautiful human being. You gave me the most precious gift, my darling!
10. Motherhood is a unique experience, and raising a baby is an art. One day, these tiniest feet will make the best footprints in your heart. You make every one of us proud, sweetheart!
Read: Pregnancy Wishes For Sister
Congratulations Messages on New Baby
11. A new life wants you to nurture it the way you nurture a tender plant! I'm happy for you and your newborn kid! Congratulations on the new baby, my dear!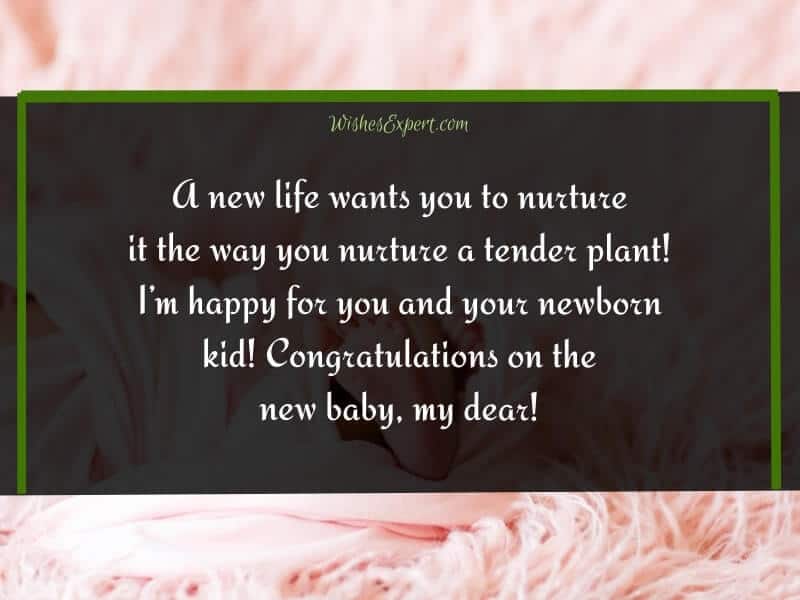 12. I don't know how to tell you what I felt when I held your baby in my arms! That kid is so warm and I know you're the warmest parents it could ever have! Congratulations on the new baby, mates!
13. Your smile when you held your baby for the first time was wider than the one you had when you were promoted. Best wishes on being promoted to a parent.
14. A wise person once said that kids give us a chance to be the best version of ourselves and I congratulate you for getting that chance!
15. Wrapped in a warm pink blanket is a new life that you now have to take care of! Loads of love to the new baby and congratulations for the baby to the new dad!
16. It's amazing how kids bring the best out of us and now it's your turn to be there! Congratulations on the new baby boy!
17. That kid is an amazing soul and it's gonna prove that how prodigious it is in the coming future. Till then, you take good care of it!
18. Being a parent myself, I know how fulfilling it feels when you become one! Congratulations on the new baby, buddy!
19. It is a proud moment for you and you should live it to the fullest! Have fun with your new baby and handle it with care!
Read: Pregnancy Congratulations Wishes And Messages
Congratulations on Your New Baby
20. Kids are fragile and so is our concern for them. You don't let your concern overpower your love for them and everything would get better! Lastly, congratulations on your new baby! You're a big man now!
21. The purest sentiment is the one that a parent has when they hold their babies in their arms, and when it's a newborn baby, that sentiment's power is increased manifolds. So, love your kid the way you love your life!
22. Congratulations on your new baby, boss! You've got a little you to serve now, I'm sure you'd handle the kid like you handle all of us at the office.
23. Sometimes we need a little reward from life to keep going and your new kid is definitely a big reward from life. Now you keep doing the amazing job you've been doing and everything would get alright!
24. Newborns are always a pleasure to be with and I can't wait to visit yours! Congratulations on your new baby!
25. The first cry of your newborn son should win a Grammy for being the most soulful melody you'd ever hear and their first word should win an Oscar for best dialog ever! Congratulations on the new baby, dear!
26. Hang tight! Because the newborn is a challenge that you would face and you must prove yourself worthy!
27. I know you'd give your son the best everything in this world and how lucky he is to have the best parents in this world already!
28. The newborn daughter is so tiny, cute and warm. Spitting of yours. I wish that may god bless you with all the love and health. Congratulations!
29. I know you must've been getting a lot of texts about the new baby, but this one is different because it's about you. I appreciate your decision to have the kid as it takes a lot to accept and handle a new life.
Try: Birthday Wishes For Baby Girl
Congrats on New Baby Wishes:
30. Congrats on the new baby, daughter. Now you'd know how hectic it is to handle a kid like you! Love, mother.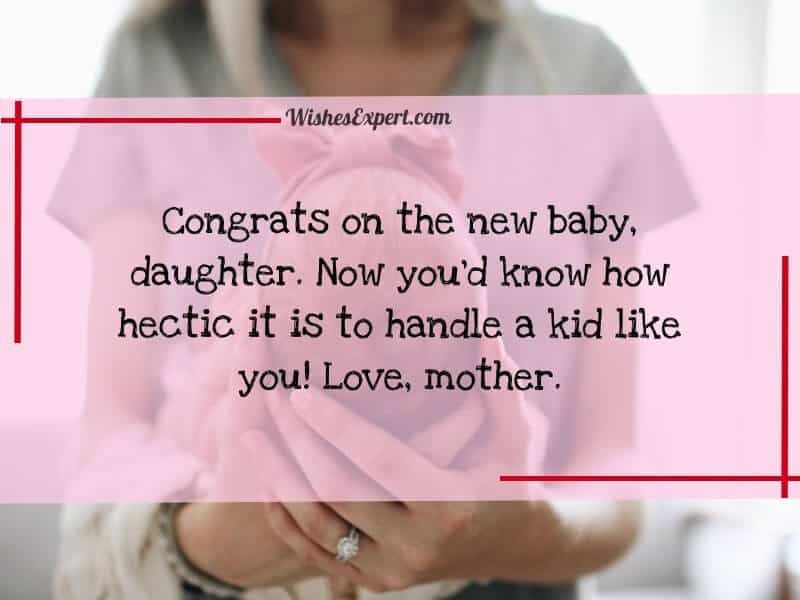 31. People would ask you to be the best parents or something, but nobody's perfect. All you can do is to provide what's best for them and if the kid's good, you'll become the best for him.
32. Imagine how wonderful your life is going to be with that kid around! Congrats on the new baby, man!
33. Love should know no boundaries today as it's the first child of yours who has entered the world. May god bless him! Also, congrats on the new baby!
34. I'm so happy for you. It was tough to see you sad and desperate. The kid has changed that. God bless you!
Check: Birthday Wishes For Kids
New Baby Wishes And Messages
35. I can't wait to pamper my nephew! Expect me there by Monday with the best baby outfits and toys! Love, new uncle.
36. A melodious voice would awaken you every day and it's gonna get so much better with the kid around! Have a happy life!
37. I just heard the news about your baby girl!
Daughters are very special because they made their parents special, too!
38. It is such a great day today! I got promoted at job and my friend got promoted in life. Congratulations, big guy for the tiny guy!
39. Lots of love to the new soul! May God bless her and may you give her the best life ever!
Final Sayings:
Parenting is not an easy task to accomplish. But unequivocally, it's one of the best phases of a person's life.
As new parents are ready to experience sleepless nights, encourage them with congratulatory notes that parenthood is more than worth it with your little one. Show your love to them and their baby.
We hope the new-born baby wishes will help you to congratulate the new parents on the arrival of their baby.