Thank You Messages And Notes For Doctor: After going through a worldwide epidemic, we have realized that doctors are the real superheroes. They risk their lives to save ours and work tirelessly to provide better healthcare services to us. Because of this reason thank you notes and messages to doctor are only fair to appreciate his or her efforts. If you want to show gratitude to your doctor, then here are 35 different ways to convey your message:
Thank You Note To Doctor:
1. I have realized who the real superhero of our nation is. It is you and your team! Thank you for all your efforts and sacrifices for the betterment of our health.
2. As a doctor myself I know the hardships we have to go through to ensure a better life and health for our patients. Thank you for your commitment and constant efforts.
3. To save a life is in God's hands but he has made you the source of recovering. A massive thanks for all the things you have done to save my life, doctor.
4. A massive salute to you and all the doctors working day and night for the ease and betterment of your patients. You are the true stars of your nation. Thank you so much!
5. I have been a regular patient of yours and I can say for sure that you have given your all to make my health how it is today. Thanks a lot for everything you have done, Sir/Madam.
6. Thank you, doctor, for being my healer, supporter, therapist, and friend. You have been very supportive and patient with me throughout my suffering.
7. It is said that an apple a day keeps the doctor away. But when you have such an understanding and supportive doctor, you have no worries. Thanks you for being the kindest doctor to us.
8. Besides your medical recommendations, your supportive words and healing aura are what have helped me recover so quickly. Thank you for all he services you have provided us with.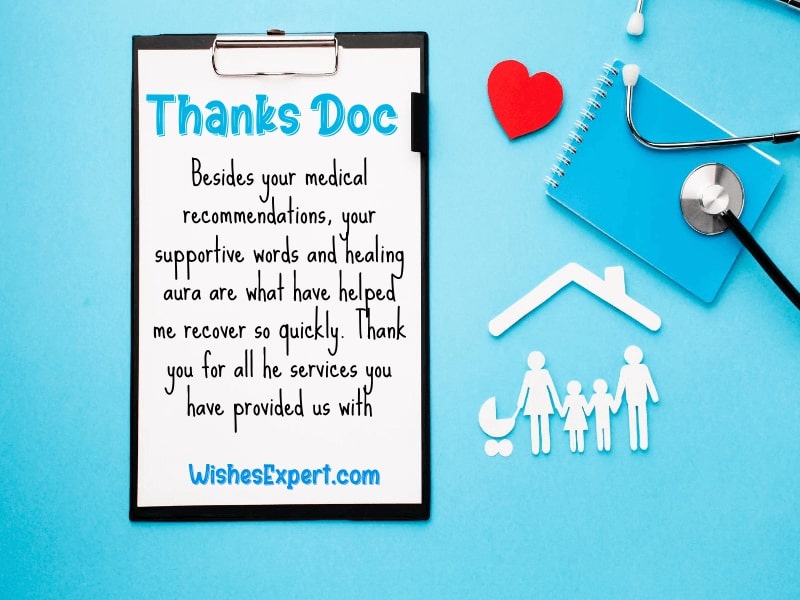 9. Thank you for all your motivation and positivity to help me lead a healthier lifestyle. Your contribution to the healthcare system is immense. May God bless you!
10. You have been a wonderful guide and support while I was in the process of healing. If it wasn't for your non-stop efforts, I would have gone insane. Thank you, doctor.
Read: Thank You Quotes for Friends
Thank You, Doctor:
1. Thank you doctor for always putting the lives and health of your patients first. You are truly the national heroes who deserve all the love and respect. Stay blessed!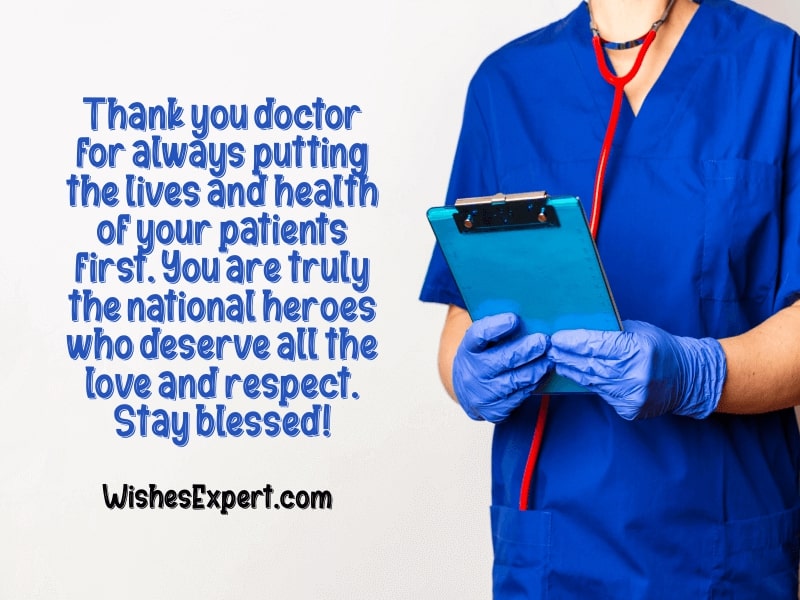 2. With this message, I want to thank you for treating my illness with utmost patience and guiding me towards a better lifestyle. May God fill your life with all the happiness and peace in the world.
3. Not only today, but you have also saved my health from deteriorating on many occasions. Thanks for listening to my problems and teaching me how to recover without any permanent damage. You are a true lifesaver!
4. The service you provide can be compensated with money but the support and positivity you have provided me with are priceless. Thank you, doctor!
5. You are one of the most supportive doctors with amazing with ethic that I have ever come across. Thank you for also being an amazing listener while being a healer by profession.
6. Most doctors prescribe medicines to fight your illness. However, you are the person who has taught me that I can keep a lot of diseases and illnesses at bay just by smiling more often. Thanks for changing my life and teaching me how to adopt a healthier lifestyle.
7. Being a new mother is not easy. Without you, I would have been difficult for me to understand every process in detail. Thanks for being my support, doctor.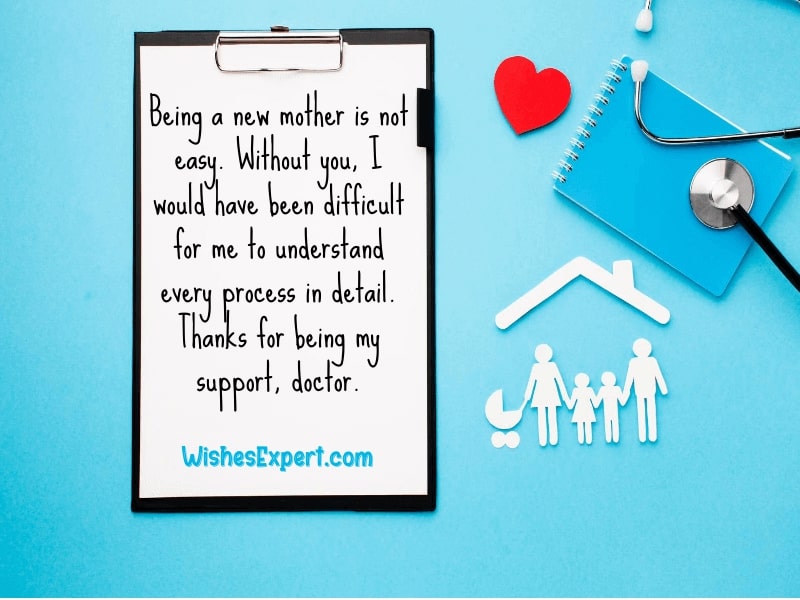 8. I had been a heart patient for most of my life. With your guidance and treatment, I have finally been able to spend a normal and healthy life. Thank you so much for being the source of this miracle.
9. When you have a good doctor with you, the fear of illness just disappears. Thank you for making me trust the process of recovery and motivating me to transform my health.
10. Medicines can only cure illnesses while a good doctor can cure a person mentally and physically. Thank you for your countless efforts.
Check: Thank you and congratulation message for team
Thank You Doctor Message:
1. The services and efforts of a doctor are divine. May the Lord bless you with immense peace, happiness, and contentment. You are truly an angel for us. Thank you!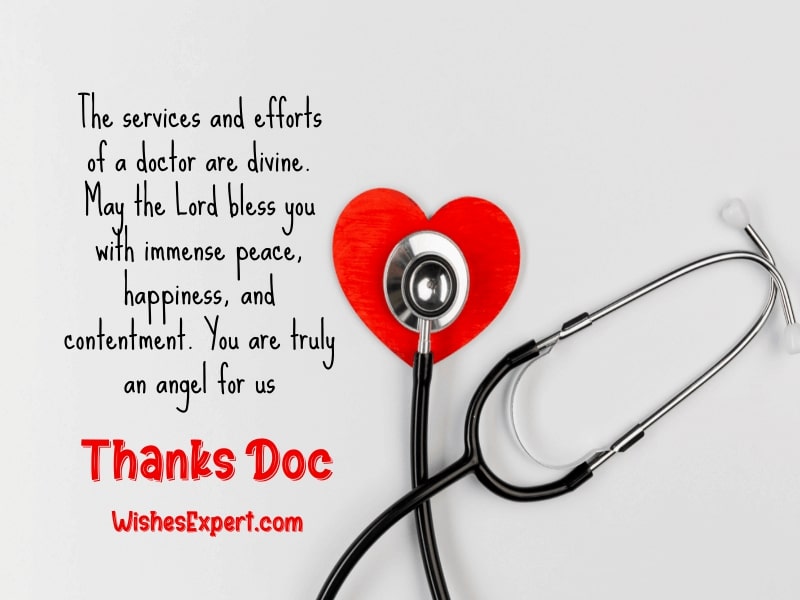 2. My life has become a lot better since the time I first consulted you. You have guided me in detail and inspired me to live a healthier life. Thank you so much, doctor.
3. Thank you, doctor, for making me love and value my life once again. A healthy lifestyle actually changes you as a person. I have never felt this fit and perfect in my life before.
4. A good doctor is a corporeal form of God. I am so grateful for all the miracles I have witnessed about myself because of you. I will forever be indebted for everything you have done.
5. Not only you are a great physician, you are also a wonderful human being. Thanks for treating me and my family helping us get rid of this painful disease.
Take A Look: Thank You Message For Condolences
Thank You Messages For Doctor After Surgery And Treatment:
1. Knowing that your body is going to be surgically operated is not easy for anyone. Thank you for making everything a whole lot easier for me and understanding my anxiety.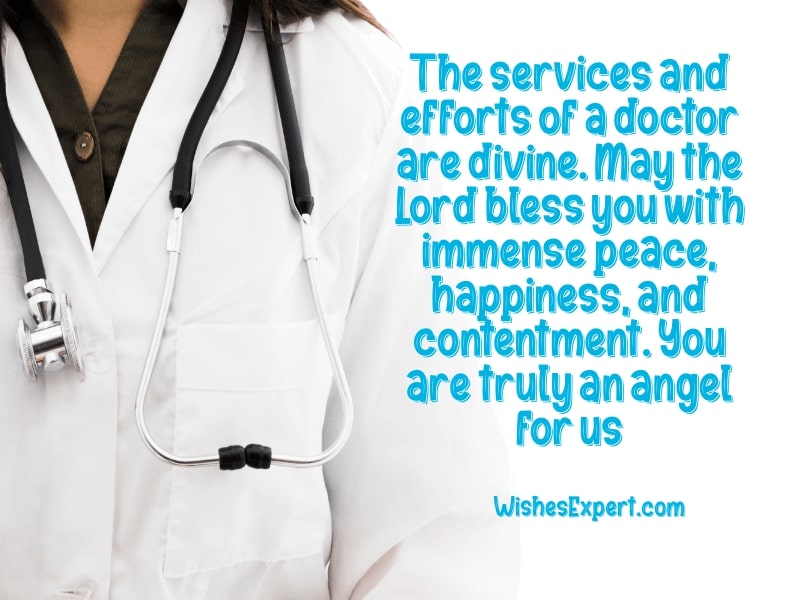 2. I always thought surgery means pain and no recovery. With your support and constant efforts, I now associate surgery with treatment and recovery. Thank you, doctor!
3. Surgery is not easy especially when you know the survival rate is very less. Thank you for your expertise and belief in your knowledge that you were able to treat such a grave disease.
4. After months of being disappointed about my medical condition, I gave up on getting any better. Thank you for treating me when I thought I could never recover. You are a blessing from God.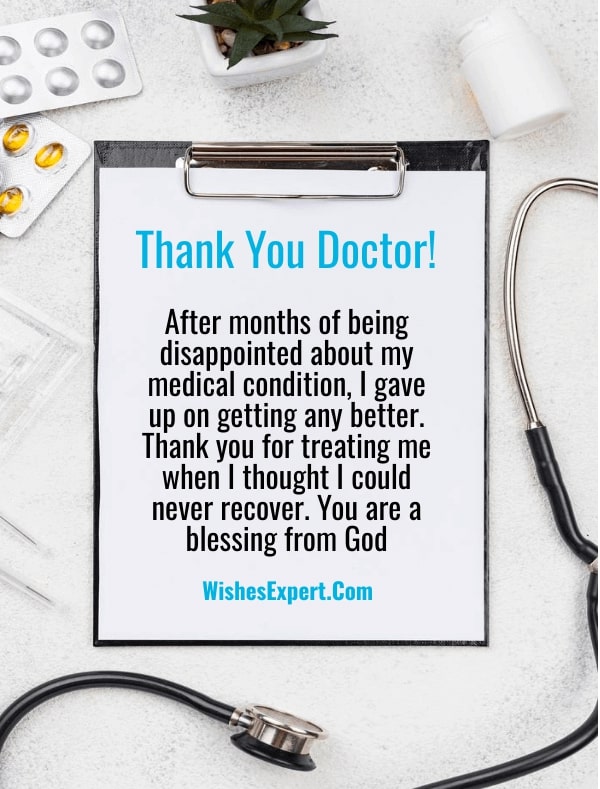 5. Many thanks to you and your entire team for successfully performing such a delicate surgery on me. I have got his new life, all thanks to God and you.
6. Thank you so much for being such a wonderful family doctor. I am such a strong belief in your diagnosis as it has never been proven wrong. I am greatly thankful for your efforts and expertise.
7. No words are sufficient to describe how thankful I am for the precise guidance and treatment you have provided me. May God fulfill all your desires.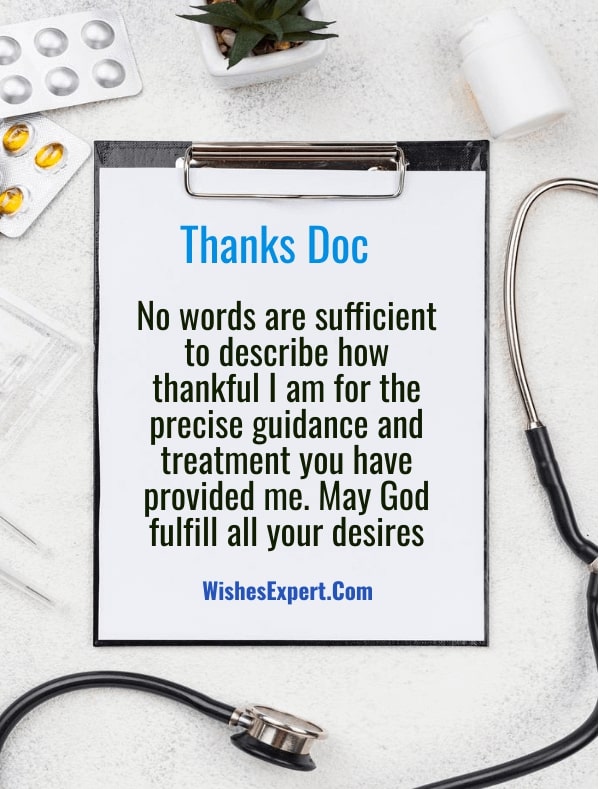 8. I know for the fact that I am one of the grumpiest patients you have had to deal with. However, you have treated me with utmost patience and care. Thank you so much.
9. Thank you doctor for teaching me the importance of an active and healthy lifestyle. I have transformed my whole life with your guidance and prescriptions.
10. I will never forget the efforts you put to save mine and my baby's life. It was truly a crucial surgery that you attempted successfully because of your hard work and expertise. Thank you, doctor!
With such a small gesture, the doctors will feel appreciated for all the hard work they are putting into the healthcare system. Give your doctors the credit and acknowledgment they deserve with these heart-touching words.