Welcome back home messages for the husband are designed to let the husband know how sorely his family missed him. It also offers the wife the scope to express her emotions about how badly she spends her days without her husband. Missing your husband is nothing new. But letting your husband know how much you missed him during his absence with our welcome back home messages is romantic.
We know taking care of a family all alone is a daunting affair. Husbands often have to leave the house for professional commitments, and you miss them badly.
We understand how thrilled you are when your husband is coming back. Thus, we have curated these welcome-back-home messages for your husband. Now you don't have to wrack your brain to write one.
Welcome Back Home Messages for Husband
#1. Your absence made my heart smote, so I have this special welcome note that together, we shall live in our well-built fort, strengthened by the music from symphonic notes.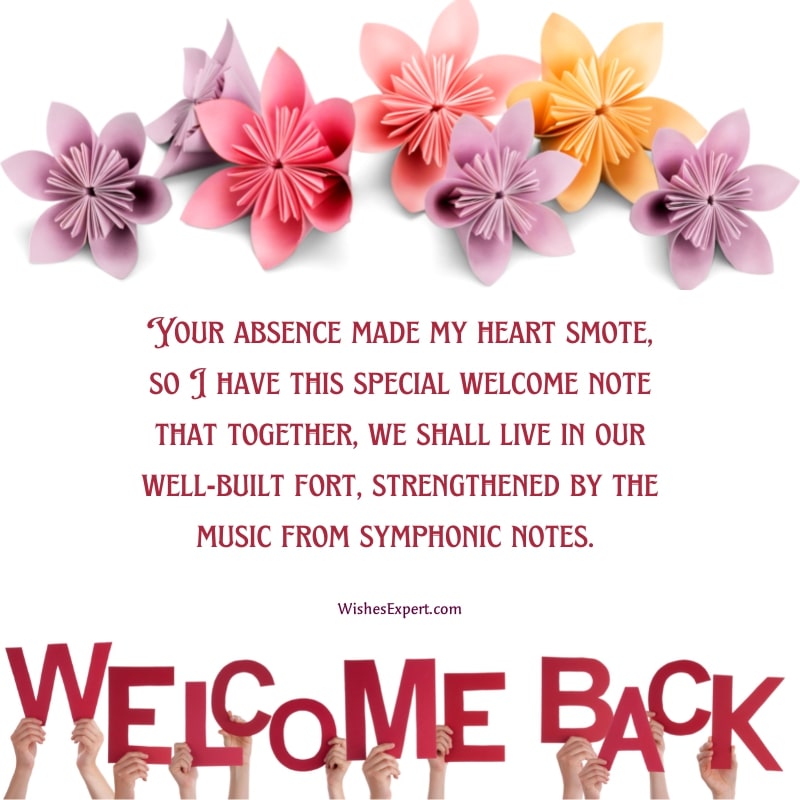 #2. I didn't know it would bother me so much not to be able to feel your loving touch. Welcome back, my dear hubby. I am over the moon that you are back, baby.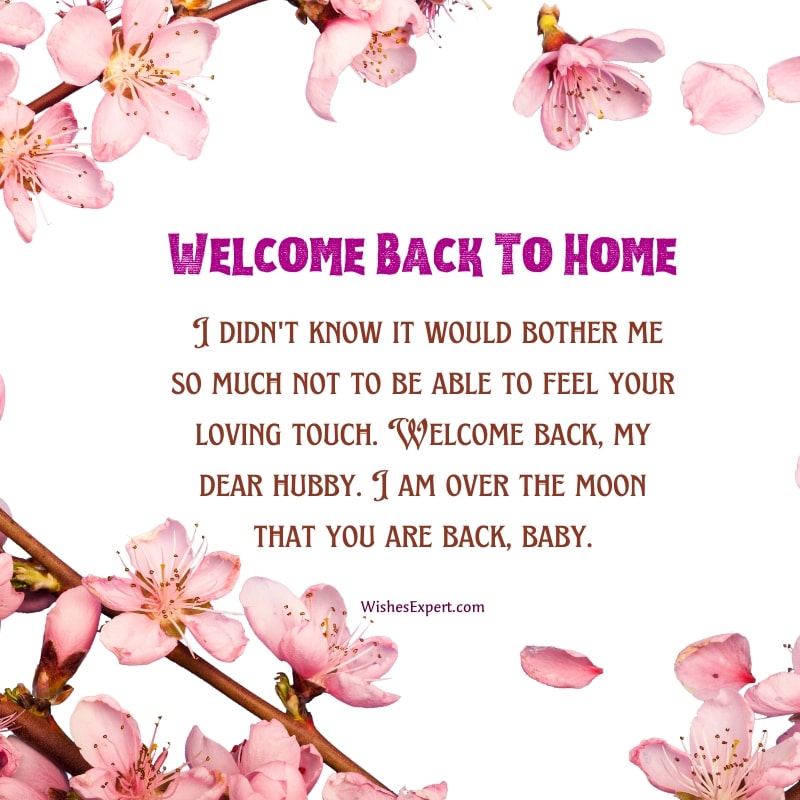 #3. You are back in our home. Now, this house again feels like home. I promise you that wherever life takes you to roam, I shall welcome you back into our home.
#4. My dear hubby, I am so glad that you are back. Without you, my life is so bleak and black. Now you are here, and there is nothing that I lack.
#5. It seemed like an eternity, and my heart walloped. But now you are here, and I wish time would stop because after so long, a smile appeared, and tears dropped.
#6. So much happened when you were not here, but nothing matters now because now you are here. Now everything seems bright and clear, and welcome back hubby dear.
#7. I have pined alone for so long in your absence that now I can't believe in your presence. Are you sincerely back home, my dear? If this is true, I have no more fears.
#8. Living alone shook me to my core, but when you returned and came in through the door, I realized there is no one in the world I love more.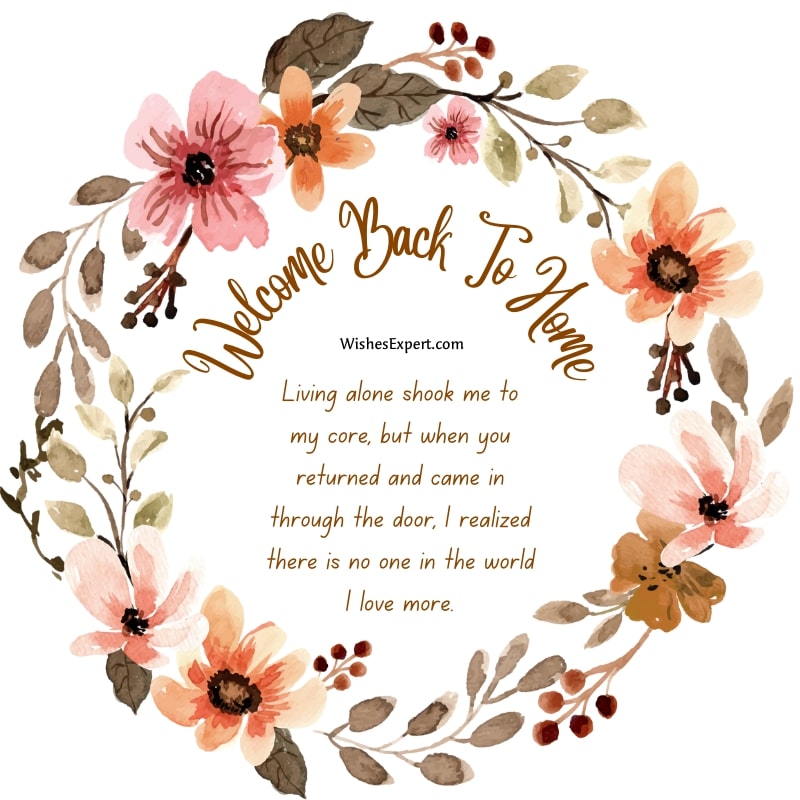 #9. My heart skipped a beat when you had to leave. Now that you are back, I feel so relieved. It is time to refresh our memories while you lay beside me with ease.
#10. My heart got lost in the wilderness because you were not here to fulfill my happiness. Now that you have arrived, my heart has revived.
Read: Get Well Soon Wishes And Messages
Welcome Back Home Messages For Husband
#1. Dear hubby, we missed you a lot in your absence. Welcome back to our humble little house full of madness. I am so glad for your safe return, which ended my anxiety, and increased my happiness.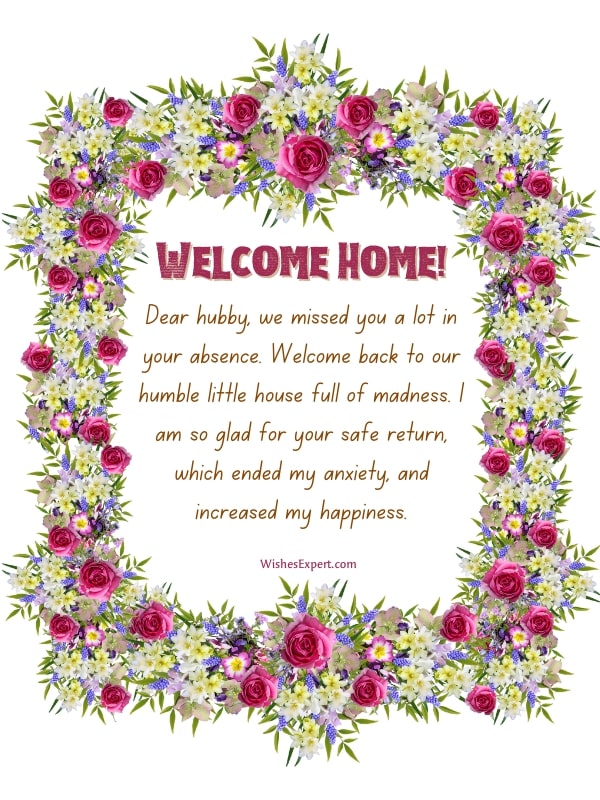 #2. Home is the place where nobody will judge you because everyone loves you here. Welcome back home, my dear. It was not the same without you at all, which is clear.
#3. Dear husband, seeing you return home safe and sound makes all my worries disappear. Let me welcome you back home, dear. We missed you a lot without any cheer.
#4. My loving husband, the house feels incomplete without your cheerful laughter. You were greatly missed by everyone here. Things were just not the same without you hereafter.
#5. My charming hubby, nothing felt the same at home when you were away. Welcome back from your adventurous holiday. We surely missed you loads, sweetheart, and your return made my day.
Related: Love Quotes for Husband
Welcome home messages are significant because it helps to express the depth of a relationship and facilitate a happy return. Writing a welcome back home message for the husband is a great idea. But, in such instances, overpowering emotions make it difficult to write and articulate your message aptly.
We have an exquisite collection of messages appropriate for welcoming your husband. Even a cursory glance through our welcome back home messages for husband collection will show you how unique these are. We tailor each message by keeping in mind the range of emotions an estranged couple faces. Therefore, if your husband is going to return soon after completing his work commitments, we urge you to surprise him with our heartfelt welcome message.