A wedding is a huge celebratory event that we all love to attend. However, considering how much preparation and work goes behind the scenes, these advance wedding wishes might be the ones you should consider sending to the soon-to-be-married couples.
Send your love, regards, and blessings in advance. These wishes might give them a required boost on tiresome days as they'll know that their efforts are being validated and that there are a few people who are rooting for this marriage.
Whether your best friend is getting married or your colleague or else your sibling is, you'll find thoughtful advance wedding wishes here. Without wasting further, scroll down and save the wishes that you like the most.
Simple Advance Marriage Wishes
#1. Congratulations on taking this commitment to the next level. I'm so delighted to see you two getting married, it restores my faith in love.
#2. You two are a match made in heaven and it brings me so much joy to see that both of you have made the decision to grow together. Have a happy, fulfilling marriage.
#3. May God shower blessings on both of you and protect your sacred union for the life. I wish you a happy married life.
#4. You two have given us serious couple goals already. We wish that both of you never grow out of love and keep everyone's faith in love high.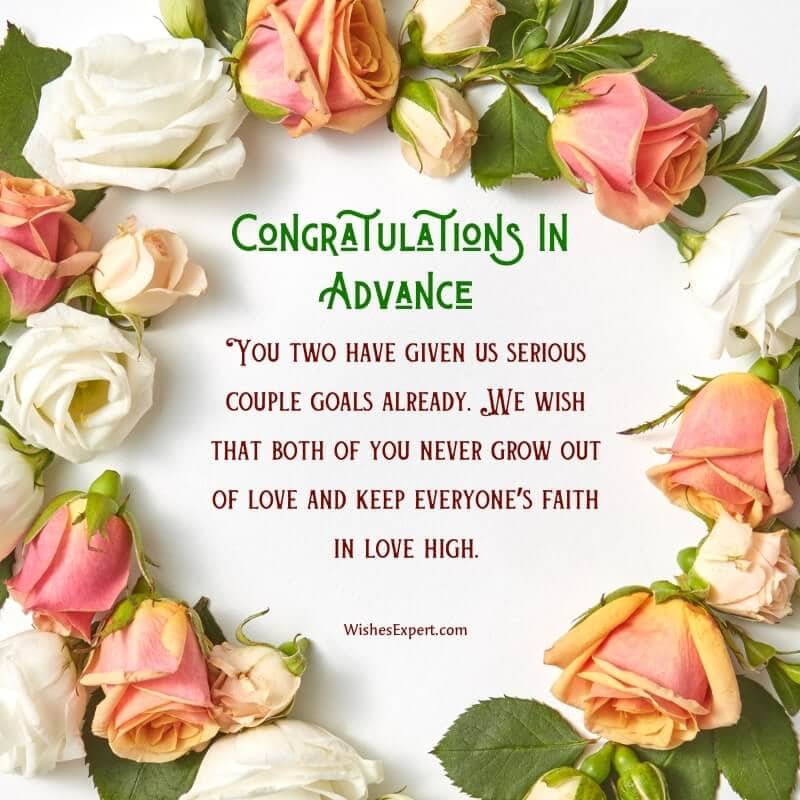 #5. If getting married to each other was the dream for both of you, we want you to know that your wedding is the most awaited wedding for us. May God bless this wedding.
Read: Wedding Wishes And Messages
Advance Wedding Wishes For Best Friend
#1. I've been planning my outfit for your wedding for years and I've not been longing this much even for my wedding. I'm so happy for you.
#2. Finally, my best friend is getting married! I thought I'd never be able to see this day. But here I'm with your wedding card. I wish you all the best in this new endeavour.
#3. It's your wedding yet my excitement is on the roof as if it's mine. But we're best friends so I should be feeling this way only, anyway, sending tons of blessings for a happy marriage.
#4. I'm so glad my best friend is not marrying to red flags. He/she is made for you because you two fit together so well. I couldn't have imagined someone better for you.
#5. My best friend is getting married and they're telling me to take a chill pill? I'm probably more euphoric than you're about your wedding. May you get to have your dream wedding.
Advance Wedding Wishes To Colleague
#1. We're so happy to hear the news of your wedding. Now, you shall stay focused and occupied with the preparation more and work less. We'll take care of the work.
#2. Well, no other wedding bells from any other colleague can make me this happy! My best wishes are with you to lead a successful marriage.
#3. Congratulations! I have no doubt that you'll be a wonderful husband because you're such a gentleman who has the full potential to lead a happy married life and I know you'll!
#4. I'm sending all the good luck to you to live a content life with your husband. You're such a poised and strong woman that I know you'll lay solid family goals.
#5. To the best coworker I know, I'm so excited to have heard about your wedding. I'm assured that you two will build a beautiful home together and grow your love.
Advance Wedding Wishes For Sister
#1. I'm so head over heels for your wedding, sis. I love seeing love win and especially when my sister makes it win. Congratulations. I can't wait!
#2. My sister is finally getting married. It's time to get all glammed up and dance till my feet hurt. For sure, you'll slay your wedding night and married life.
#3. I'm so proud of you that you've finally decided to marry. We now shall live with peace and I shall now own two bedrooms. Have a beautiful marriage though!
#4. If there were to exist any fairy-like wedding, it'll be yours. It's time for me and our family to turn your dream wedding into a reality and we're more than delighted to do so.
#5. While on one hand, I don't wish for you to go but on the other hand, I'm so excited for you to begin this new journey of creating your own family. Good luck.
Also Read: Wedding Wishes For Daughter
Advance Marriage Wishes For Brother
#1. My brother has indeed become a big brother now. I'm so glad to hear that you're ready to take this big step in your life. Meet me sooner to celebrate!
#2. Congratulations, brother. I assure you when you see her walking down the aisle, you'll know how lucky you're to have found your true love. Always keep her on her toes and never let her go.
#3. Knock, knock, here's your brother soon to be a groomsman cannot hold his excitement in. To see you give her the commitment she deserves makes me so proud of you.
#4. Brother, congratulations. I'm so set to be at your bachelor's party and dance like chandler and then give you a hug to genuinely let you know I'm so happy for you.
#5. I wish you good luck in this new chapter of your life. I wish your marriage to be smooth sailing that takes you to the places where you've dreamt of making a home.
We hope you found exactly what you were looking for. These advance wedding wishes are the ones written with the purpose of sending meaningful regards to the soon-to-be-married couple. To not only acknowledge their efforts and love for each other but also the will to take the commitment to the next level. They deserve all the praise and validation from you and you shouldn't hold back. Hopefully, these wishes will help you do so.
You can check out our main page to find more meaningful and unique wishes and greetings for every occasion.