Wedding wishes, messages, and quotes are the best ways to congratulate someone when they are going to start a new life with their partner.
The messages must be thoughtful and well-meaning to show the depth of your feelings. It is never easy to begin a completely new journey.
However, when you know that there are so many well-wishers around you, such as your family or friends, colleagues, or simply acquaintances, cheering, you realize that the journey becomes less scary.
Giving expensive and beautiful gifts on such a special occasion is quite a frequent gesture we see done by everyone, but sometimes a few thoughtful words can mean a lot more than an extravagant gift.
Marriage Congratulations
#1. You are starting a new journey with your beloved spouse. I hope that you both will make a very loving and beautiful house. I wish a happy wedding day to the best cat and mouse.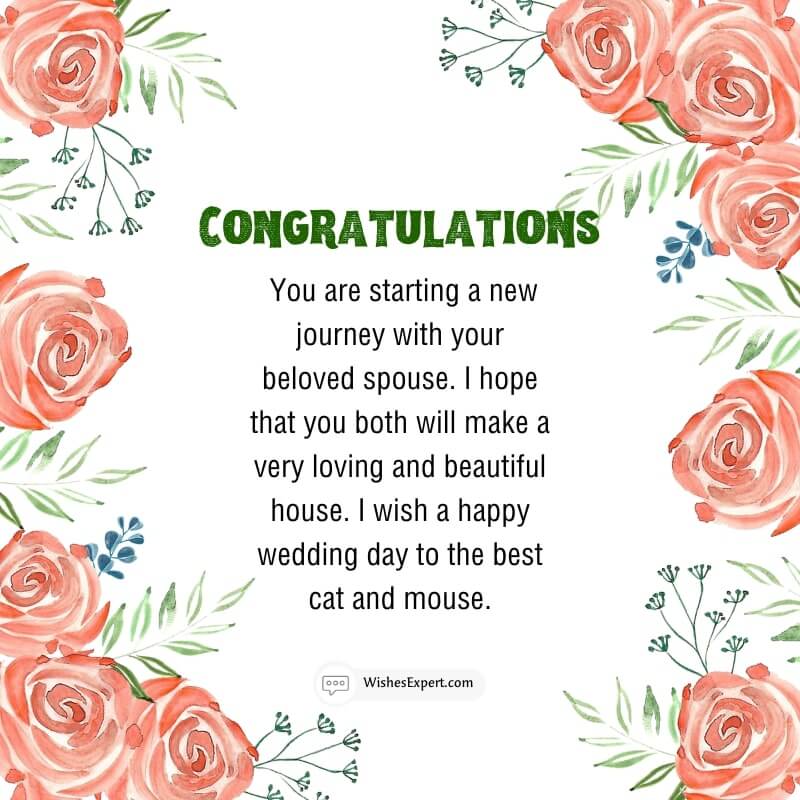 #2. It's never easy to love someone for your whole life, but no one can be more loyal than a wife to a husband and a husband to a wife.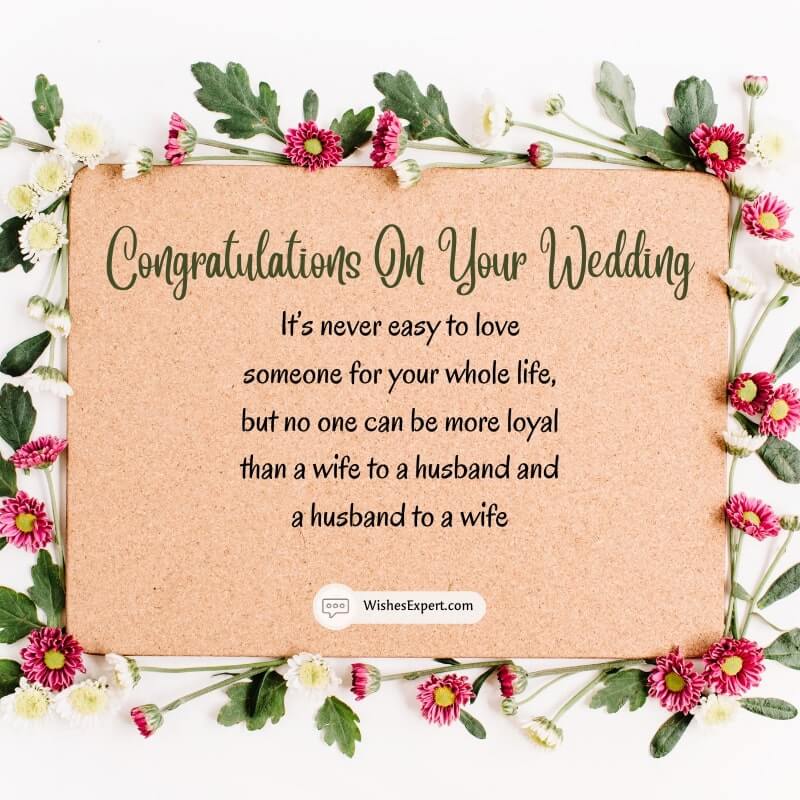 #3. I hope you two will have all the happiness in this world and beyond and stay like this forever, so loving and fond. I wish you a fantastic wedding day. May you have love in your way.
#4. It is not going to be smooth all the time. But not having each other's back while struggling will be a crime. I congratulate both of you as the wedding bell chime.
#5. Now you are tied to each other forever. I hope that the knot never gets lost ever. Love and support each other without fear. I wish you a blissful wedding day, dear.
Read: Belated Wedding Wishes and Messages
Wedding Greetings
#1. All the wedding preparations have finally come to an end. But the main journey has just begun where you will need all my love I send.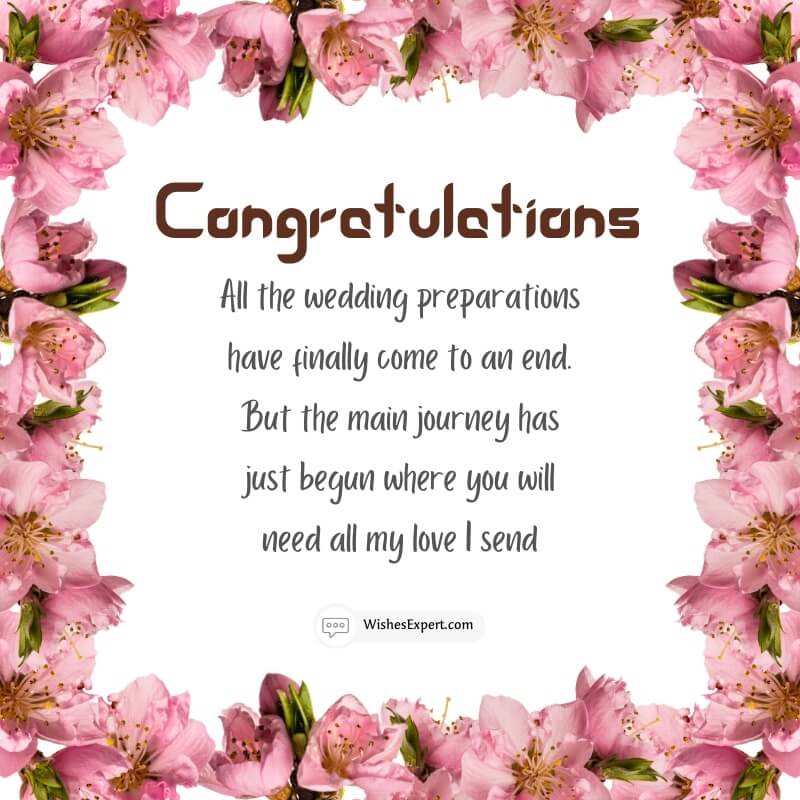 #2. I know how happy you are to spend your life together. I hope nothing will ever cause you any bother. I hope you have a splendid life. Congratulations to you and your wife.
#3. Your love was like the best-written romance novel with the best beginning. I'm overwhelmed to see this happy ending. I shower all my love for a beautiful wedding.
#4. Weddings are happy occasions for everyone involved in it. But it is extra special for the love birds who are getting hitched. Congratulations to the world's most beautiful couple, and I know you will make this chapter a super hit.
#5. Stay happy and in love with each other for the rest of eternity. Stay together even when the fights are petty. Have a beautiful life filled with prosperity.
Check: Advance Wedding Wishes And Congratulations
Wedding Messages
#1. Here are my heartfelt congratulations on finding your true love. God will shower blessings on you from above. Know that your parents are always there, so them you will never miss. We wish you a lifetime of wedded bliss.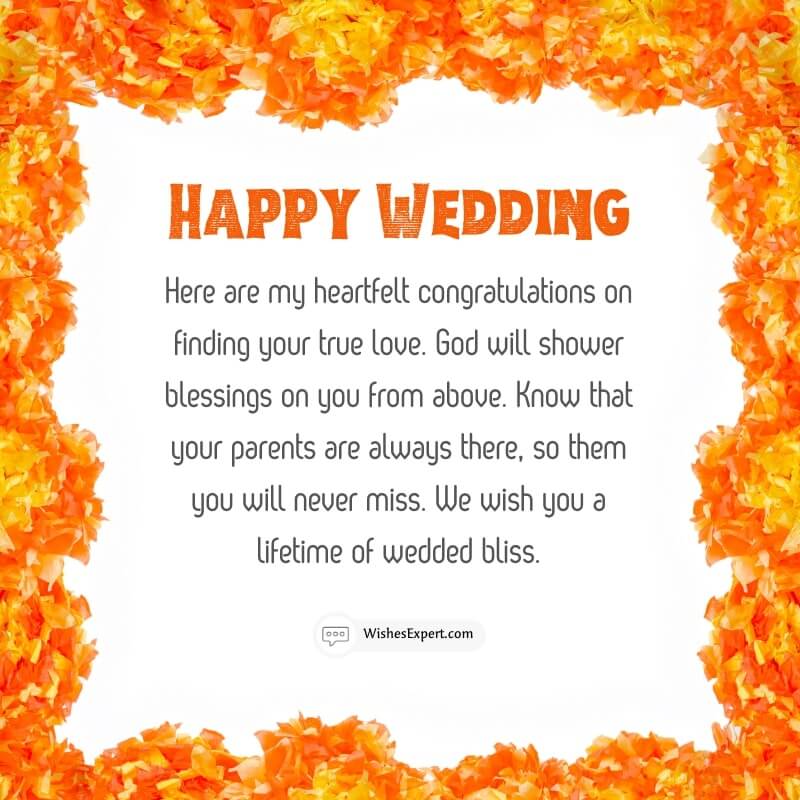 #2. I hope the nuptial bond between the lovebirds grows stronger and deeper with each passing day of your married life! I know that my sweet sister will become a fascinating wife.
#3. My heartfelt congratulations, love, and best wishes to the lovely couple on their marriage and commitment! May the future bring you every joy and merriment.
#4. I am glad that my tiny tot has found a fab partner as her wife. I was worried as your wedding was the most awaited event in my life. Now that you start a new journey or a new day. Make it full of joy, God bless you, and I pray.
#5. I wish a happy married life to my lovely little daughter. Your happiness and prosperity will be in my prayer forever, and I hope you both will make sweet memories together.
Read More: Wedding Prayers and Blessings Wishes
Wedding Congratulations Messages
#1. What more can I pray on this special day but wish you to be a fab lover? Always have a joyous adventure with your life partner.
#2. My warm wishes to a beautiful couple of the day. I hope the ever-growing love blooms with trust and joy, that's all I can say.
#3. My little princess, you're going to start a new journey in your life. I hope the handsome husband enjoys this incredible journey with his pretty wife!
#4. Daddy's little princess has become much older. Have a lovely married life ahead, and stay together this way forever! May the true love you share today grow old together. I hope your bond becomes much stronger!
#5. My darling, you have indeed made me a proud daddy. I wish you all the joy on your marriage day, my sweet lady. May your hubby be your best buddy.
Wedding Wishes For Newlyweds
#1. Let me wish the prettiest couple a lifetime of love and happiness. Stay beside each other in every ups and downs you face. Let God grant all your wishes with grace!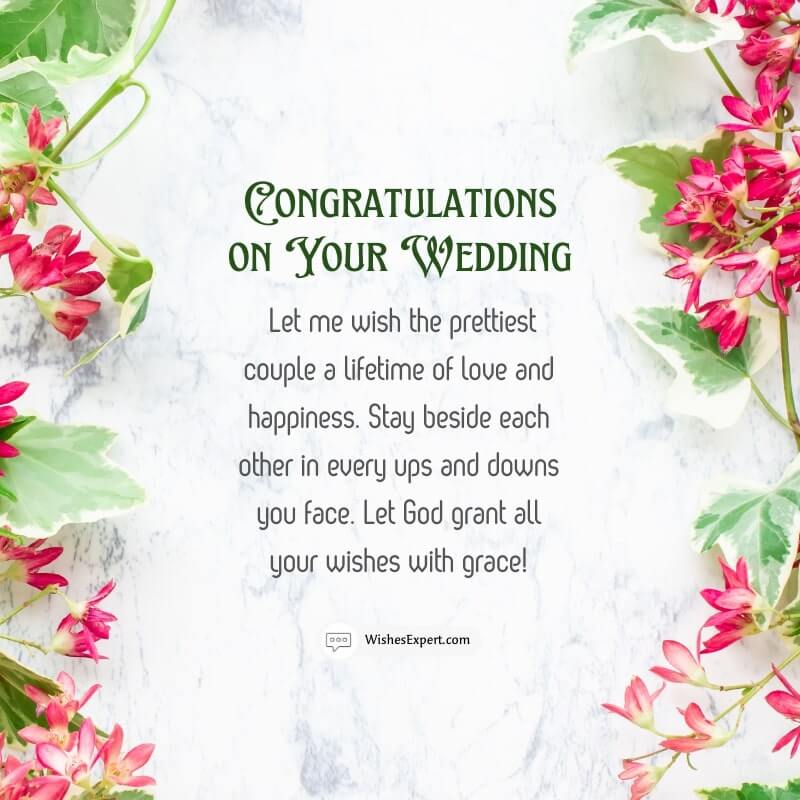 #2. Enjoy your D-Day with glitz and glam, and let it be a big show. However, my life experience tells me that your wedding day will come and go, but your love for each other will continue to grow.
#3. Please accept my best wishes as you start this splendid journey. Marriage is about the love and friendship you share, my little bunny. It never counts the expensive gifts or money.
#4. I hope this bond brings you more joy than you can ever hold together. With each passing day, you will continue to shine brighter than ever.
#5. I wish you love, joy, and happiness on your wedding day as you start your new life together. May the happiness and love you feel today shine through fifty more years.
Wedding Quotes For A Couple
#1. Thank you for letting me be a part of your special day. I wish you all the best as you embark on this splendid union with your future wife and ex-bae.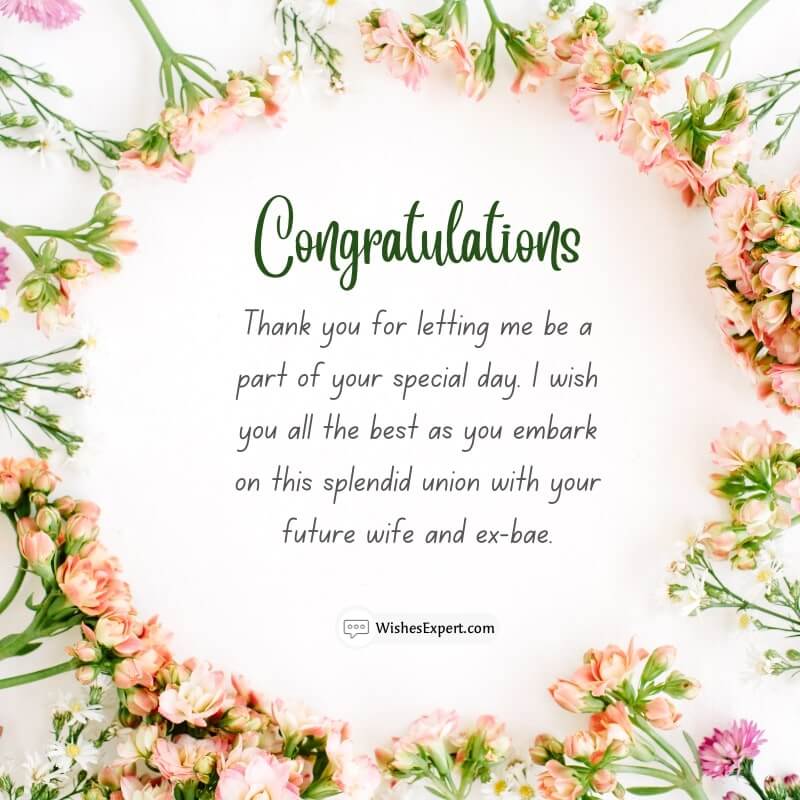 #2. May the Almighty who brought you together bless your marriage on this beautiful day, sonny. Let this new journey enriches your lives and deepen your love throughout the journey.
#3. I share my heartfelt congratulations for your long and happy life together. May you support each other and lessen the stress of your father!
#4. Congratulations on your marriage, and we welcome the beautiful couple to our family. Our happiness knows no bounds today as we will spend the rest of our lives merrily.
#5. Today, as we add one more member to our family, we couldn't be happier. Best wishes to my son and daughter as you start another chapter together.
Wedding Congratulations Messages For A Friend
#1. Congratulation, dear, you have finally found your mate. It was definitely worth the wait. Celebrating your wedding is the best thing for me to date.
#2. You thought beautiful relationships were all glitched! Did you count the number of times you ditched? But in the end, I am happy to see you get hitched. Congratulation, finally, your wedding dupatta has your bae's name stitched!
#3. It is the culmination of a beautiful journey as you take your wedding vows with your partner. I wish you all the success and prosperity on this new journey where you should move forward without fear. Congratulation, and I hope you have a fab married life ahead, dear.
#4. I congratulate you with all my heart on your wedding. I am so glad you made the right choice to spend your life with the humblest person, and I am happy about this new beginning.
#5. It wasn't about being right or wrong. It was about writing that sad or happy song. And this wedding shows you have chosen happiness for yourself. Congratulations, my dear friend, and I can't wait to see your wedding frames on your shelf.
Wedding Congratulations Messages For A Family Member
#1. I know how you have waited for this wedding dream to come true. Today, a new chapter opens in your life, filled with a colorful hue. I wish a glam wedding to you.
#2. It is a big day and a new beginning for you. I am wholeheartedly happy that your dream came true. Congratulations on your wedding, and make your future life full-on happening.
#3. Finally, the good news arrived when the wedding bells rang and informed us about your new beginning. Congratulations and best of luck on this journey, and I hope you enjoy a lovely wedding!
#4. Your wedding is the news that I was eagerly waiting for, dear. Glad to know that now you have found your prince forever. I hope that he will never let you miss our pillow fights ever.
#5. Your wedding will lead you to a new path with your beloved partner. Be happy because we are immensely happy for you, and pray to Lord that you enjoy a happy wedding and a married life, dear.
Wedding Congratulations Messages For A Colleague
#1. I am so excited to know that your life will have a new start! I know you are joyous too for this life's new part. Always be happy with your partner. Like you excel in Excel, excel in relationships, too, dear!
#2. Congratulation is a tiny word to express my pleasure regarding your upcoming nuptial ceremony that I don't want to miss. I wish you to live your dream life together in absolute bliss.
#3. The journey that began with friendship and culminated in this wedding has been beautiful. I hope that you both can create memories together that are wonderful.
#4. I am excited to see that you are ready to take the next step and begin a new chapter in your life based on togetherness and mutual respect. Congratulations on your wedding, and here, too, you will flourish in every aspect.
#5. The wedding ritual bears the love and respect you have for each other. It initiates a meaningful journey where your support and dedication matter. You have been a dedicated worker and will be a splendid life partner.
Use these beautiful wedding wishes, messages, and quotes to wish anyone a fantastic journey ahead. Weddings are such special occasions. So, we should make them even more special with our heartfelt wedding messages. It will make your gift one in all. No other gift can be more precious than the gift of words, and we should always use that. This gift can also be beneficial when we are unable to attend the wedding and will have to send wishes via text to show our support and love.