In this article, we will see funny wedding wishes because, to be honest, the same old wedding wishes congratulating a newlywed about their new journey can get boring and monotonous.
Hence, to bring some twist into these well-intended messages, we will have to make them funny so that the stress that all new couples feel can be relieved.
Moreover, in this way, you show your most sincere feelings for them from the bottom of your heart. But funnily. Wishing someone a good life ahead with their partner does not always have to be sober. Why? Because, to be very honest, we all can use laughter in our lives.
Funny Wedding Congratulations
#1. Congratulations, buddy, my partner-in-all-my-lies. Finally, you got hitched to the love of your life. Now spend the rest of your life being the underdog to the boss that is your wife.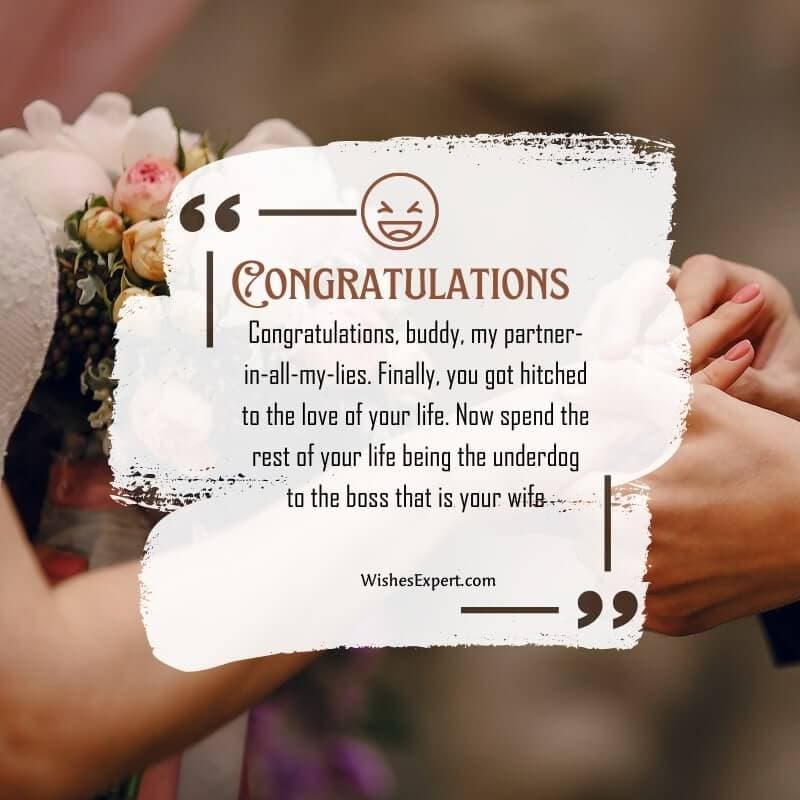 #2. The journey has just started, and you already look tired out of your mind. I hope for your sake that your wife is kind. Have a great life with your awesome wife.
#3. I sincerely promise that no one can be happier than me for your wedding. But I already see freedom from your life fading. Have fun being the family guy. Say your bachelor days a pretty goodbye.
#4. Congratulations, handsome. I know you have waited a long time for this day to come. I'll be here, buddy, whenever you need someone to wallow in self-pity and drink some rum.
#5. You were so good at carrying weights when we used to hit the gym. But your real workout starts now, and your future looks grim. Enjoy your new life and the wedding day while filling the glass to the brim.
Read: Marriage Congratulations
Humorous Wedding Wishes
#1. I remember there was a time when the only things you used to clean were your clothes and dishes. But now you'll have to clean up after your husband like the old clichés.
#2. It is challenging to spend a lifetime with the same man. But it's not your fault you do whatever you can. Have a happy married life, dear friend, and before the wedding, don't forget to remove the tan.
#3. I am glad you got to take the wedding vows with the person you wanted. I told you not to take your single days for granted. Congratulations, bestie, your looks will undoubtedly make your life enchanted.
#4. I hope you get to spend a beautiful life lovingly with your husband. I hope that all the house chores do not make you feel burdened.
#5. I'm sure life gets better after getting married to your loving spouse. You fail to discriminate between a war zone and your beautiful house. Have a prosperous life ahead, my little mouse.
Check: Thank You Message For Wedding Wishes
Short Funny Wedding Messages
#1. The key to a successful marriage is not sharing responsibilities or the perfect union of two souls into a single soul. The most important is possession of the television remote control.
#2. Dear newly-wed friends, be happy. Know how to appreciate every moment gladly. Laugh at everything to make up the situation before it turns nasty.
#3. The best thing about your two's marriage was the delicious meal. Just kidding, the day was rich in emotions and surprises to give a perfect feel.
#4. Money is the main issue for the couple's argument. But have you noticed one thing; the greatest irony of marriage is that it begins with its massive expenses to look elegant.
#5. After marriage, husband and wife often agree to increase the waist size, wife by the children, husband by the beer without compromise. Congratulations guys.
Read More: Happy Belated Wedding Wishes
Amusing Wedding Greetings
#1. We all know that a man is incomplete without a woman. But when his wedding is over, he becomes a finished human. So, beware and have a great married life, my businessman.
#2. In marriage, love and laughter should always come before blaming and shouting. So be prepared and start working. Congratulations on your wedding.
#3. Marriage is a prison. Welcome to its seclusion. Ensure that you grab a classy wedding ring to recreate it in due time without any tension.
#4. Leaving freely and happily without any life commitment is the first sacrifice made by anyone getting married. Warm-up for the better is yet to come to get carried.
#5. Love is like the sun initiating the emergence of the flower of marriage. But I think the love birds will soon draw swords of never-ending war, which would be savage.
Check: Wedding Prayers and Blessings Messages
Silly Wedding Congratulations
#1. You are fantasizing about lovely things for your marriage. But very soon, you will dream about living alone and surrounded by silence without blockage.
#2. You sweetly smiled as you signed your marriage contract. I hope the day does not come soon when you end up signing the annulment papers with all smiles extract.
#3. Are you sure you want to sign the marriage contract, which has no expiration? Marriage is synonymous with killing yourself in a setup that has a splendid presentation.
#4. Primary days after marriage gets filled with sweet moments, hugs, and kisses. But this lovely environment will soon change to quarrel and total war, where love dismisses.
#5. Now before marriage, he is promising you heaven and earth. But afterward, he will not be able to afford to give up his salary for you, proving your worth.
Read More: Wedding Wishes For Friend To Say Congratulation
Witty Wedding Wishes
#1. My best wishes and congratulations as you find your true love. I pray the Almighty shower blessings on you both from above. You will need it, lovely princess, when a lifetime of unity and bliss would say, "miss you, love."
#2. Accept my warm wishes to the most beautiful couple of the day. We will be digitally connected and will not be far away.
#3. I wish the gorgeous couple a bucket of love and happiness. Always stay by each other in all ups and downs and sadness. Always remember that society is here to see how you impress.
#4. Our beloved daughter, you will start a splendid journey in your life. I hope the handsome groom enjoys this fascinating journey with his beautiful wife!
#5. All I have learned from my experience in life is that your marriage day will come and go. But your affection for each other will continue to grow. But I hope that will not be for the show.
Check: Funny Engagement Captions For Instagram And Facebook
Quirky Wedding Messages
#1. Thanks for inviting me to be a part of your special day. I never expected it, being your ex-bae. I shower my best wishes as you enter these colorful ties, and what more can I say?
#2. The matrimonial bond between the lovebirds grows powerful with each passing day of your marital life! After all, I taught my darling daughter martial art to be a happening wife.
#3. I wish you a happy married life, my beautiful little daughter. Being your mother, I will not say you will have a happy married life forever. After all, you are flesh-and-blood, and no fairy tale, dear.
#4. On this auspicious occasion, dear, what else can I wish but pray for you to be a fascinating lover? Start your joyful adventure with your life partner. However, reminder, God mostly gives my prayers a deaf ear.
#5. My warm wishes, congratulations, and love to the glamorous couple on their marriage and commitment! May the coming days bring you more glow with merriment with enough healthy nourishment.
Funny wedding wishes are necessary. Generally, when we attend weddings, we are so overwhelmed with the infectious joy of the new couple and their families that we sometimes forget that it can get a bit scary for them. They are both starting a completely new journey and a once-in-a-lifetime chance where they will not have many opportunities to mess up. That is why humorous wedding wishes are the way to lighten up the gravity of the situation so that no one gets cold feet at the end moment.