Are you hearing wedding bells? And that too of your friend! Then you're in serious need to have a look at these wedding wishes for a friend because these congratulatory wishes are very thoughtful and awe-inspiring. They will help you put your deep sense of enthusiasm in the best manner possible.
Your friend is beginning a journey in which he/she is going to try to build a home and a family together.
That chapter in everyone's life is the profound one and so you shall not run out of words when congratulating them and wishing them luck and bundles of happiness.
So, without any further, have a look at these meaningful wedding wishes.
Wedding Congratulations For A Friend
#1. Congratulations, may this journey be smooth sailing with him/her and the love you two share only grow. Cheers to peace, love, and harmony.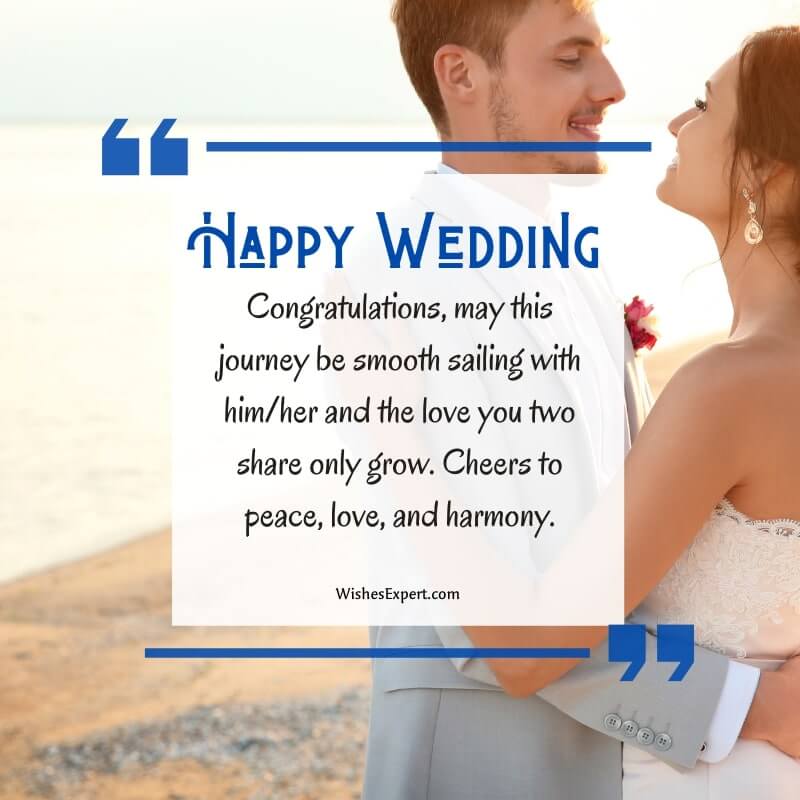 #2. You both are so much worthy of the love you two share and it's almost thrilling and inspiring at the same time to see you two committing to it. Congratulations.
#3. May you two forever blossom as a couple in this field of love and nurture this relationship with not only affection but respect. Congratulations.
#4. Congratulations! In the warm hugs of the Sun, May your marriage stand the test of time and lead you to a peaceful, content life.
#5. Nothing screams more than a match made in heaven than your pair. You're the chosen one for having received the love of a lifetime. Congratulations.
Read: Wedding Wishes And Messages to Write In A Wedding Card
Wedding Greetings For A Friend
#1. Congratulations. In this era, the only way I can wish for you to have the best married life is by praying that you two don't have to go to therapy.
#2. May you two never fall out of love and grace and never run out of compassion to give us the couple's goals forever. Congratulations.
#3. I've seen you walking into many chapters of life and always making the best out of it and being jubilant. May this chapter be like that only but the best. Congratulations.
#4. Congratulations. Never have I seen you beaming with this much joy and trust me, pleasure is mine. May your love stay the same and I get to see you like this for years to come.
#5. Congratulations. Your fantasy story has come to life and now I hope that your marriage becomes such a success that you get to tell tales of happily ever after.
Read More: Thank You Message For Wedding Wishes To Show Gratitude
Wedding Messages For A Friend
#1. Congratulations! May, in the coming years, the roots of your love only get deeper and you two carry the love that becomes contagious.
#2. We would like to know your secret to this happy and fulfilling relationship that is taking another form of commitment. Congratulations but the secret sauce to this deep love must be revealed.
#3. Nowadays, it's rare to find one who can commit to you and in such times, you're going to marry your soul mate; you truly are one of God's favourites. Congratulations.
#4. It takes an enormous amount of strength, forgiving and out of all, genuine love to keep going so strong as a couple as you two are! Congratulations.
#5. It's so refreshing to witness true love and so reassuring that love does exist and leads to beautiful trails. Keep on solidifying this companionship, congratulations.
Check: Belated Wedding Wishes And Messages
Wedding Wishes For A Friend Getting Married
#1. May it get so dreamy that you have to pinch every day to remind yourself that you're living your fairytale; have the married life filled with only love and joy. Congratulations.
#2. For the best people deserve the best companions, God and cupid did their best jobs to bring you two polar opposites together; congratulations.
#3. Only if I could find the love that you two share, I can consider myself the luckiest because what you two have is rare! Congratulations.
#4. Not in this lifetime, I shall come across a couple like you. You two are two gemstones who fell in love deeply by God's grace and we're lucky to have witnessed that journey. Congratulations.
#5. May you two stay caught in this infinite loop of love with less or no drama and commit to walking hand in hand in sunshine or rain. Have the happiest married life, congratulations.
Try: Advance Wedding Wishes And Congratulations
Best Wishes For A Friend's Wedding
#1. If love isn't forever then forever isn't the same. I wish you a journey filled with a lot of adventures and happy accidents that can keep your marriage life exciting and refreshing.
#2. For the two loyal hearts, I can only wish that God keeps you two protected in his light and provide strength when needed to be with each other in sickness and health.
#3. I wish that God would make you able to always find a common ground with him/her and make life a runway of unconditional love which is built on mutual respect, understanding and affection.
#4. May your love only deepen for the years to come and make you two reach for the higher realms; may it stay the same for eternity to come.
#5. I hope you two keep on loving each other with this much grace and hold each other in high regard but also never let the passion and romance exit your lives.
Read More: Wedding Prayers and Blessings For Newly Married Couple
These were all the wedding wishes for a friend we had in store for you. We hope you found what you were looking for. Nothing screams love more than the wedding wishes that have been written with so much love and thoughts.
We've run that extra mile for you(so you don't have to) by putting in thoughts to it, so now all you have to do is save the wishes that speak to you and write them down on your greeting cards.