Life is way too hectic, and we know such untoward things can happen when you forget to wish someone special. Happy belated wedding wishes are designed carefully to cover up your mistakes most adorably. We can guarantee their disappointment or anger will vanish when they read your belated wedding wishes.
When you are late, wishing someone, you already have an inkling that you have disappointed them, but that doesn't mean you can mend it. Browse through our quotes and then decide, but we assure you that you won't be able to resist using our emotive quotes. We assure you that the couple who reads your belated wedding wish will feel overwhelmed to see your beautiful wedding quote.
Happy Belated Wedding Wishes
#1. Good wishes are so significant that I want to wish you both right now, at this very second, without considering the timing, to wish you a marvelous yet belated happy wedding.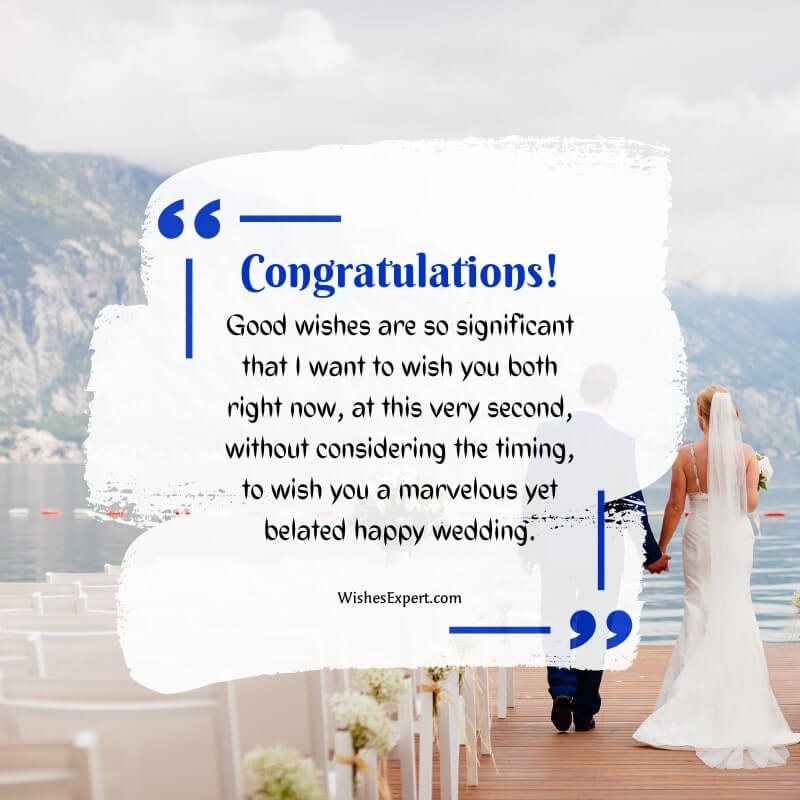 #2. I am a bit late, and I feel bad that you had to wait. But trust me, my heartfelt wishes are genuine. Even though I am late, I wish you two a happy belated wedding.
#3. I don't want to waste a second anymore, as I am already so late, wishing the couple I adore. Let me do it now with utmost sincerity. Happy belated wedding to you, my bestie!
#4. I know I am so late in wishing you your auspicious day. The best vessel for my positive wishes is nothing but a few words that will make your day. Your efforts will make this unique marriage successful after many years. Let me wish you a belated happy wedding day, dear!
#5. I feel genuinely sorry for being late. Thus, I have wrapped my wishin the form of a heartfelt belated happy wedding message because I don't want to face your rage at any rate. May you enjoy a fabulous wedding day, dear. Live and prosper together forever and ever.
Read: Wedding Wishes For Daughter
Belated Wedding Wishes Messages
#1. Indeed, it is late that now I have to leave a belated wedding wish where I wish that you both spend your life in bliss, and may God be with you at all your crucial moments, sis.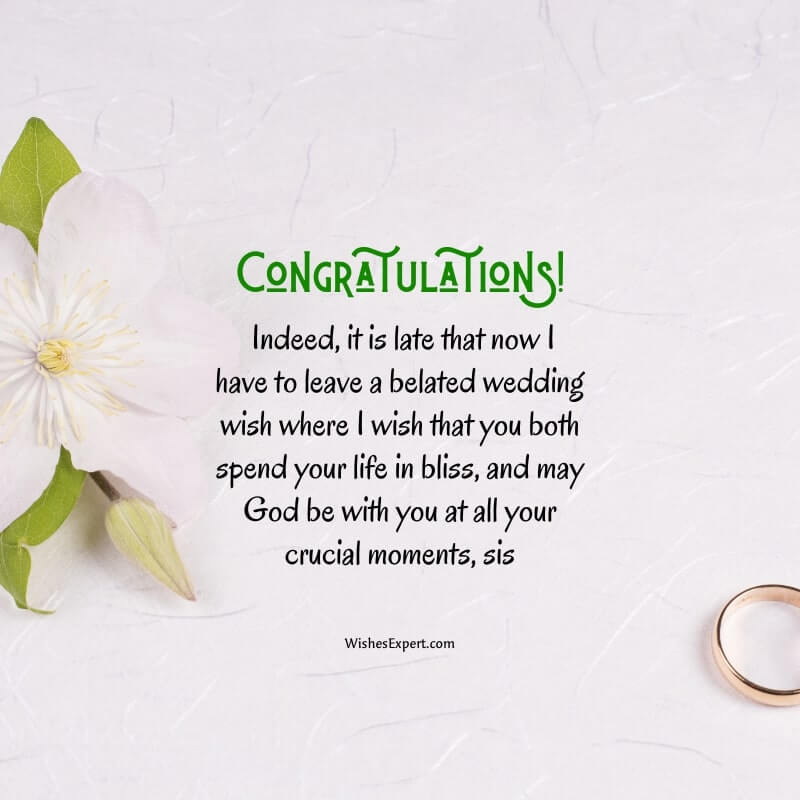 #2. Words can't express how happy I feel for you both because you found him, and he found you. I wish you both all the best for the coming roller-coaster ride. Happy belated wedding, darling, and I always will be by your side.
#3. You have finally found someone with whom you can be happy. From this point onwards, you shall never be unhappy. I wish you love and warm regards. Happy belated wedding, dear, and may the lovely flowers grace your yards.
#4. I came late to wish you a happy wedding on this new path of life that you are heading to; may God be kind and always watch over you.
#5. I apologize for being late. But that doesn't mean I shall ever forget to wish you every wedding anniversary because I will never forget this date.
Read More: Advance Wedding Wishes And Congratulations
Belated Wedding Wishes
#1. I wish you both a beautiful beginning and love to last forever. You live a happy and prosperous married life together. Sorry for being absent from your wedding party, however.
#2. Sorry for being late, darling, but my heartiest congratulations on your wedding. May each day of this new journey find your hearts a little closer, your lives a little fuller, and your love a little deeper.
#3. Three things last – faith, hope, and love and to remind you, my friend, the greatest of these is love. I am so happy that you married your love. Sorry I couldn't make it on your big day because it was tough. But congratulations, my dove.
#4. I hope you will happily live your married life until it last because true love is not lust. My best wishes are for your much-awaited wedding. Sorry I came late, darling.
#5. Please accept my Apologies for not being present at your wedding. Congratulations and warm wishes for your happy married life, and always be like a king. Hold each other's hands for a lifetime. Take care of each other and enjoy this sweet journey of a long time.
Funny Belated Wedding Wishes
#1. Marriage is a bond between a person who never remembers the anniversaries and a person who never forgets them. Sorry for being late but best wishes are for your wedding because now you will be one of them.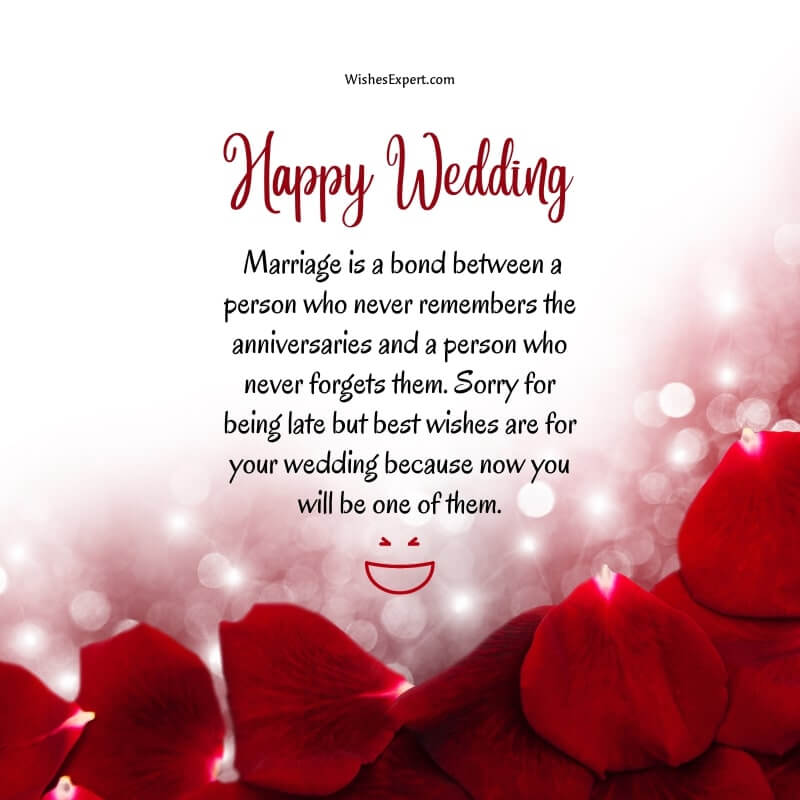 #2. You always wanted to get married because you have always believed it is great to be with that person you want to annoy for the rest of your life. I couldn't witness your big day, but congratulations to you, and best of luck to your wife.
#3. I have always suggested marrying a man who is your age. Because as your beauty fades with age, so will your hubby's eyesight at that phase. You did it exactly, dearies. Please accept my apologies for my absence from your wedding party. Have a happy married life, and I wish to say the same to your brave wife.
#4. It is said that a good marriage would be between a blind wife and a deaf husband. But you both proved it wrong like a legend. Very happy for both of you. Congratulations, and sorry for wishing late, and gifts are due.
#5. A good marriage is where each partner secretly suspects if they got the better deal. So, it's time to see between you two who have that feeling. Sorry, I couldn't be a part of the occasion, but my best wishes are for your life's new equation.
How To Say Belated Wedding Wishes?
#1. I know you have started a completely new life, and I hope you both will have a happy life together as husband and wife. Congratulations on your wedding, and sincerely sorry for forgetting.
#2. I've watched you grow into this relationship like fine wine. I hope you'll overcome all your marital struggles with a face full of smiles when you dine. Belated congratulations on your wedding, and I am sincerely sorry, darling.
#3. I hope you will always support each other, no matter what you do, and it should never be a bother. Have a long and happy married life, dear. I am late, but please forgive me this time, brother.
#4. Getting married is not just about standing together at the altar, but standing together for everything without any falter. Be happy and together forever, and I hope you will forgive me this time, dear.
Belated Wedding Wishes To Friend
#1. I hope I'm not too late wishing you on your precious occasion. I'm so sorry for being unable to attend the invitation. All my best wishes are always with you because you are one among a few.
#2. Please forgive me for wishing late on your wedding day. I promise I'll be the first to wish you your wedding anniversary without any delay. Congratulations, love, and I am sorry, my sweet little dove.
#3. Promise I'm not trying to be a bad friend by wishing you late on your wedding day, but I hope you know all my support is with you always.
#4. I hope you have all the good luck as you start a new life ahead. I pray that the smiles on your faces will never fade. Congratulations, dearie, and for being late for your wedding I am sorry, sweetie.
When you are late, wishing someone, you might hesitate and take more time to decide how you would apologize and then, with a sweet wish, say sorry to the happily married couple. We know that you didn't want to forget the wedding day and wanted to wish the couple their marriage day, but still, you missed it. You may feel terrible about that, but we don't want you to feel bad and sad. Hence, our little surprise quotes collection solely comprises happy belated wedding wishes to mend your relationship with your loved ones.
We also promise you that we won't take an ounce of credit if you choose our belated wedding quotes because the quotes mean nothing until it is perfect and convey your emotion just the same way.