Parents, wish your dear daughters by using these Wedding Wishes for Daughter and make their crucial day more significant. A wedding is a notable event in every person's life. For every parent, their child's wedding holds the deepest place in their hearts.
A daughter's wedding is an event in a parent's life where they shed tears of happiness and sorrow. With the birth of a girl child, the parent starts dreaming about her wedding. They keep their savings intact to celebrate this occasion grandly. A daughter's wedding is a very emotional moment in a parent's life, so it is difficult for them to express their feelings.
So, we hope that these wedding wishes help parents to express their emotions.
Wedding Wishes For Daughter
#1. I can't believe my little doll has grown so big that she is starting her new family today. All my blessings and best wishes are always with you and do enjoy your big day.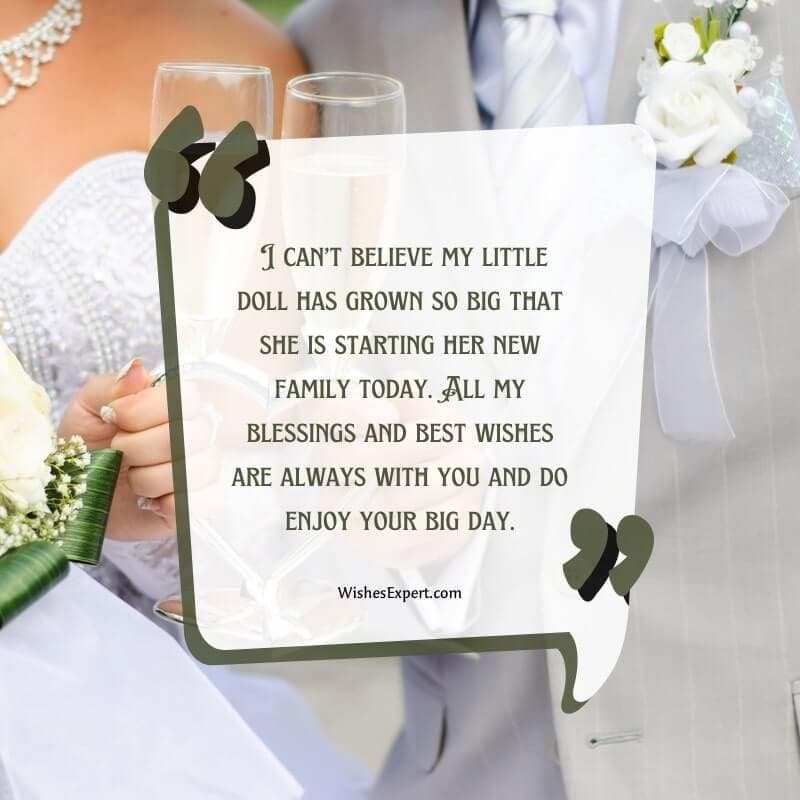 #2. I convey my heartiest congratulations to you, sweetheart, for your marriage. Now daddy's princess will be your husband's queen, enjoying the sunny weather in a carriage. Whatever may come, never lose your courage.
#3. For every parent, their daughter's wedding is the most emotional one. Because, on this day, they give their piece of heart to someone. Dear daughter, even though our son-in-law holds your heart, you will always be our sweetheart.
#4. Congratulations, baby, for finding the true love of your life. May you both always stay happy, and may your love flourish more after you become a wife.
#5. God have made daughters to give happiness to two households in their lifetime. After your birth you have given us immense joy, now its time you make your in-laws happy and spread joy in your new houseall the time.
#6. I am giving the most precious possession of my life, dear son-in-law. She has always been my pride because I feel she is perfect without a single flaw.
#7. Marriage is not only the union of two souls, and it is also a union between two families. So, my daughter, please create a balance between these two dynasties.
#8. Wedding is said to be a combination of three C's that is Communication, Compromise and Commitment. So, follow these three paths and you both can stay happily forever, which is a big achievement.
#9. Marriage is not an easy thing. It needs a lot of effort and understanding. So, as the wedding bells ring, I wish you all the happiness the world can bring.
#10. I wish you both a lifetime of love, joy, and peace. May you two become each other's strength and support so that the sadness decrease.
Read: Wedding Anniversary Wishes For Couple
Special Words to Daughter on Her Wedding Day:
#1. I give my heartfelt congratulations on finding your true love. God will shower blessings from above on my sweet little dove!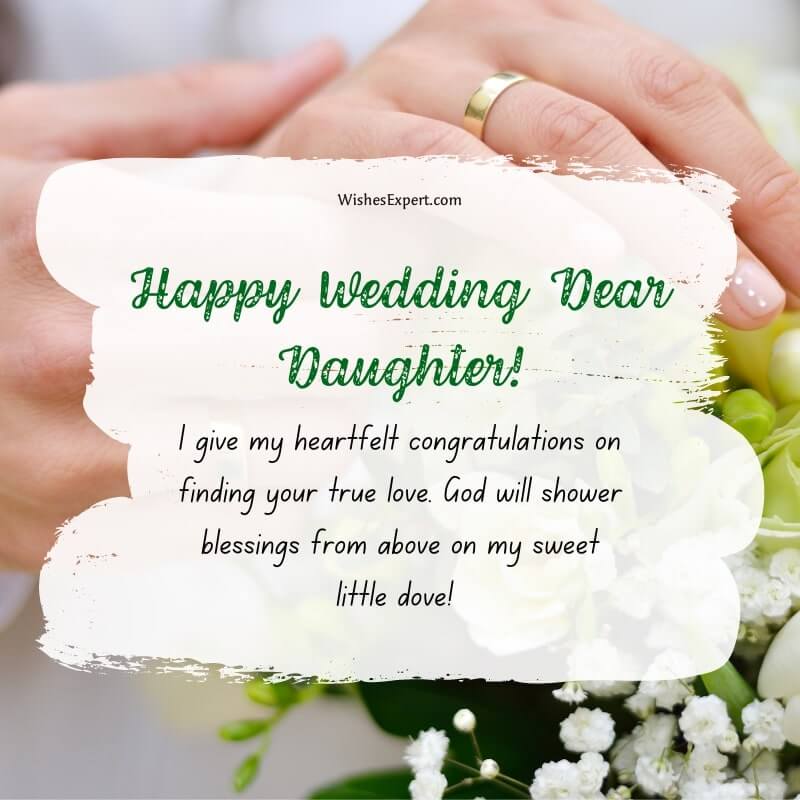 #2. The nuptial bond between you grows stronger and deeper with each passing day of your married life! I pray you will become a fantastic wife and, with your hubby, enjoy your life.
#3. All love and good wishes for your marriage and commitment! May the future bring you joy and merriment. I hope you make memories of each moment.
#4. I am glad you have found a fantastic partner in your life. Your wedding is the most dreaded event in my life. I don't know, without you, how I would survive.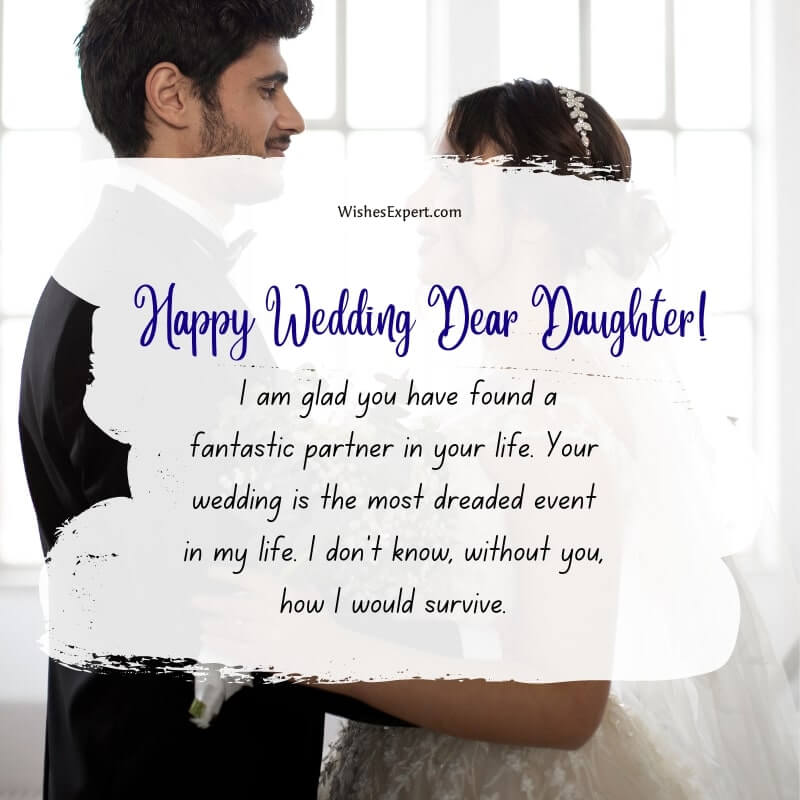 #5. I wish a happy married life to my lovely little daughter and pray you guys to stay happily married forever. I know not everyone gets a fairy tale ending. But my princess, you can have a fairy tale beginning
#6. May you be a great lover to have a fun-filled life with your life partner. Your dad won't be there to bother you when you have your late-night chat session, dear!
#7. It is your father giving warm wishes to his dear daughter. May this wedding give you moments to enjoy. I wish the ever-growing love to bloom with trust and joy!
#8. My little princess will start a unique journey in her life. I hope your husband enjoys this incredible journey with his wife!
#9. Mama's little princess has become much older. Have a beautiful married life ahead, and stay together this way forever! I know my princess will succeed in making me a proud mother.
#10. My sweetheart, you have made me a proud daddy. I wish you all the joy in life, my sweet lady. You know you are lucky, because very few get the chance to marry their bestie.
Read More: Happy Wedding Anniversary Wishes And Messages
Daughter Wedding Quotes
#1. I can't express my happiness in seeing you as a bride. It is the best feeling for a parent from the inside. May God bless you both with immense happiness and a joyful ride.
#2. You have always given your best in whatever endeavors you have taken in your life. And I am sure that you will give your best in this new journey as a wife.
#3. You have always been an obedient daughter. I hope I have chosen the perfect partner to keep you happy and better. May he love you more than I do.
#4. Always remember, dear, that no person is perfect. Your love will make your relationship accurate. Adjustments are needed from both sides to maintain a balance and to make the relationship well-kept.
#5. To run your marriage successfully, you need to be more patient and honest in your relationship. However, in a challenging situation, don't forget to respect each other in companionship.
Read More: 25 Best Advance Wedding Wishes
A parent's blessing and wishes are always vital in a child's life. Moreover, a wedding is an occasion that is like starting a new journey, and parents' wishes and blessings play a significant part in making this journey smoother. A daughter shifts from her parent's home to her in-law's home and starts a new, beautiful venture in her life.
Parents can utilize these Wedding Wishes for Daughter to motivate their daughters in their new phase. Parents always wish the best for their daughters.
So, wish them beautifully on their special day to make them happy and feel confident to begin a new journey.