Prayers and blessings bring peace as they appeal to the Almighty to protect you and your loved ones from harm and evil. Wedding prayers and blessings celebrate togetherness. It also helps us cheer and support the married couple so they can move towards a bright future and happiness.
In most cultures, the wedding blessings are ritualistically given during or at the end of the marriage ceremony to bring Heaven's good wishes to accompany the two hearts united through sacred vows.
Your prayers can bring prosperity to the bride and groom's life as they will receive the love and support of their closest ones at the beginning of their new journey.
Here are some wedding prayers and blessings that will express your love for the newly-wed couple
Traditional Wedding Prayers And Blessings
#1. May this nuptial tie brings love and bring prosperity to your lives. I pray to God to bless the couple with health, happiness, and positive vibes.
#2. Love brightens lives by removing hardships, harm, and gloom. May The Heavenly Father bless your hearts as your love for each other continues to bloom.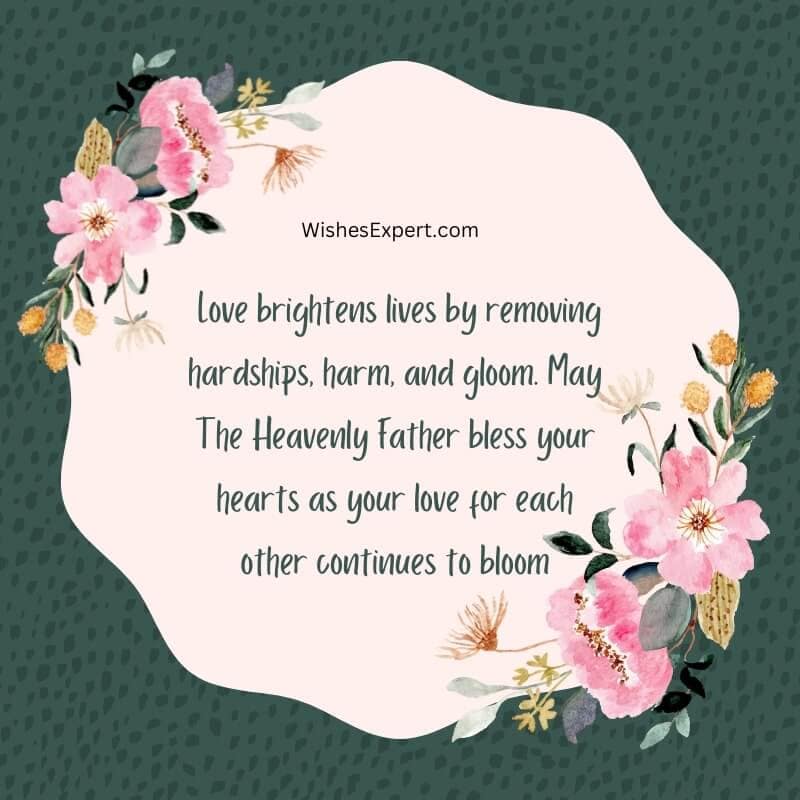 #3. Marriage is a union of two hearts and souls where love teaches you to accept each other's faults and imperfections. May the Almighty guide you in the most prosperous direction.
#4. I am thankful to witness the nuptial bond blessed by Heaven above. I pray to the Lord so that He fills your life with joy and love.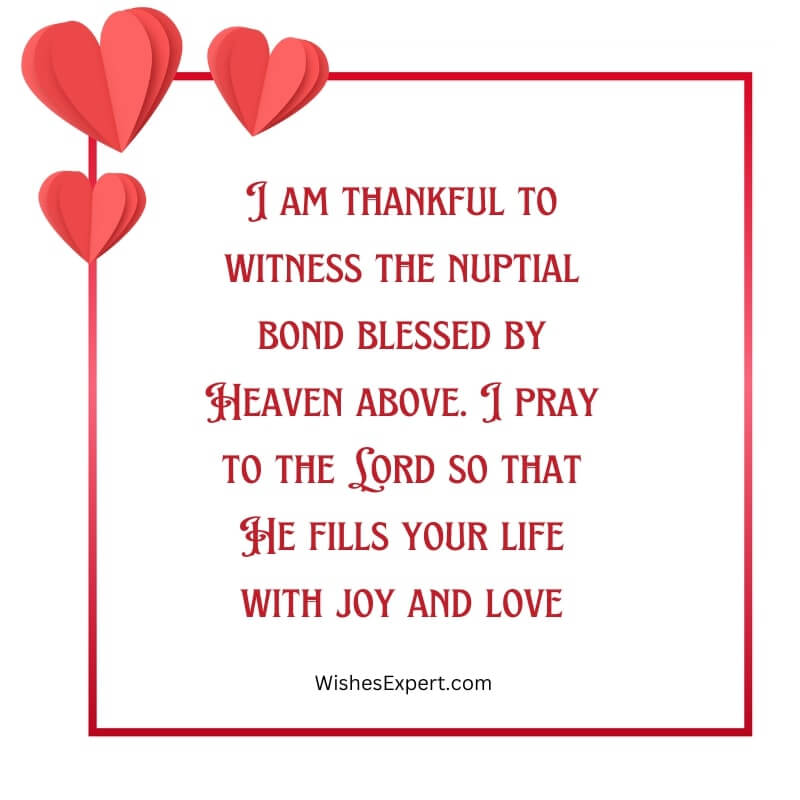 #5. Marriage has tied you in a sacred bond that will always keep you together. My prayers for you ask the blessings of the Almighty to stay with you forever.
Read: Creative Wedding Wishes
Short Wedding Prayers For The Bride And Groom
#1. May your marriage bring a lot of joyous moments in your life. Lord, please bless the Bride and Groom with love and patience so they can fulfill their promise as husband and wife.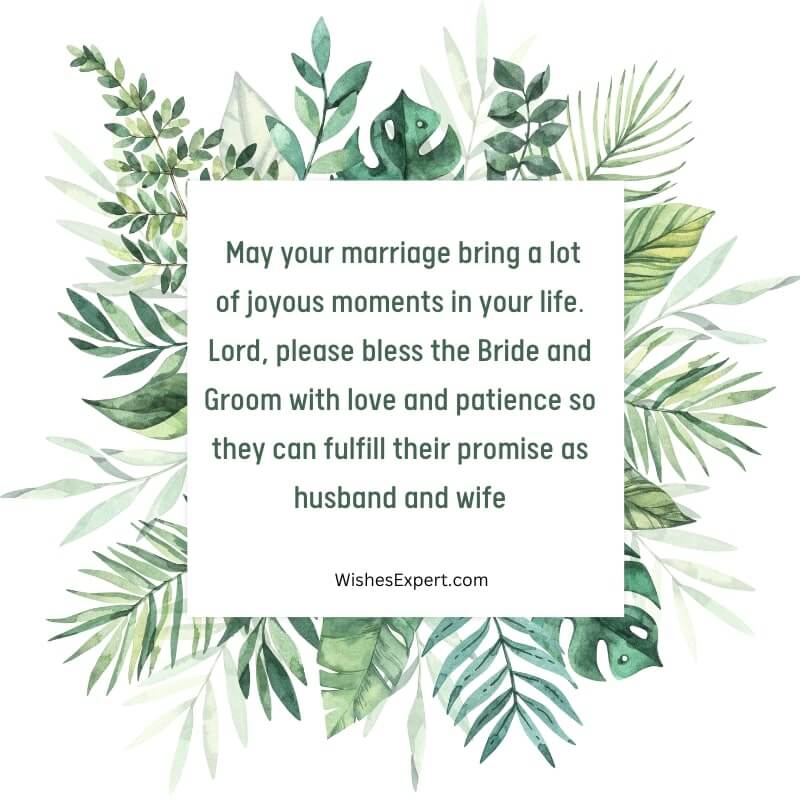 #2. I pray to the Almighty to keep the married couple safe in His loving heavenly embrace. May the bride and groom get countless moments to celebrate their love and togetherness.
#3. Dear Lord, thank you for allowing us to celebrate this joyous day. Please bless the bride and groom so they can fulfill their commitments in every way.
#4. Almighty Father brings light into the newlywed couple's life and removes all the darkness. I pray that He fills their heart with blessings so that their love for each other becomes endless.
#5. Dear Father, please shower your blessings on the newlyweds from heaven above. Bless the bride and groom so they can forever kindle their bond with respect and love.
#6. Heavenly Father, please always stay with the married couple as their protector. Please bless the bride and groom with joy, loyalty, and love to cherish each other forever.
#7. Dear Lord, please shower your blessings on the bride and the groom to eternalize their nuptial tie. May their happiness and affection for each other stay abundant and multiply.
#8. Heavenly Father, please guide the bride and broom in your path during the joyous moments and difficult days. I pray that your blessing should give them strength to stay at each other's side forever and always.
#9. Dear Heavenly Father, bring your blessings into the life of the newlyweds and stay in their vicinity. Please fill the hearts of the bride and groom with hope, love, and serenity.
#10. Please, Lord, acknowledge your blessings on the bride and groom at the beginning of their journey together. May they flourish as individuals with their love and care for each other.
Read More: Funny Wedding Wishes And Messages
Spiritual Wedding Prayers
#1. With the Lord's blessing, you can still hear the wedding bell. May God bless you with peace and keep you both away from all obstacles.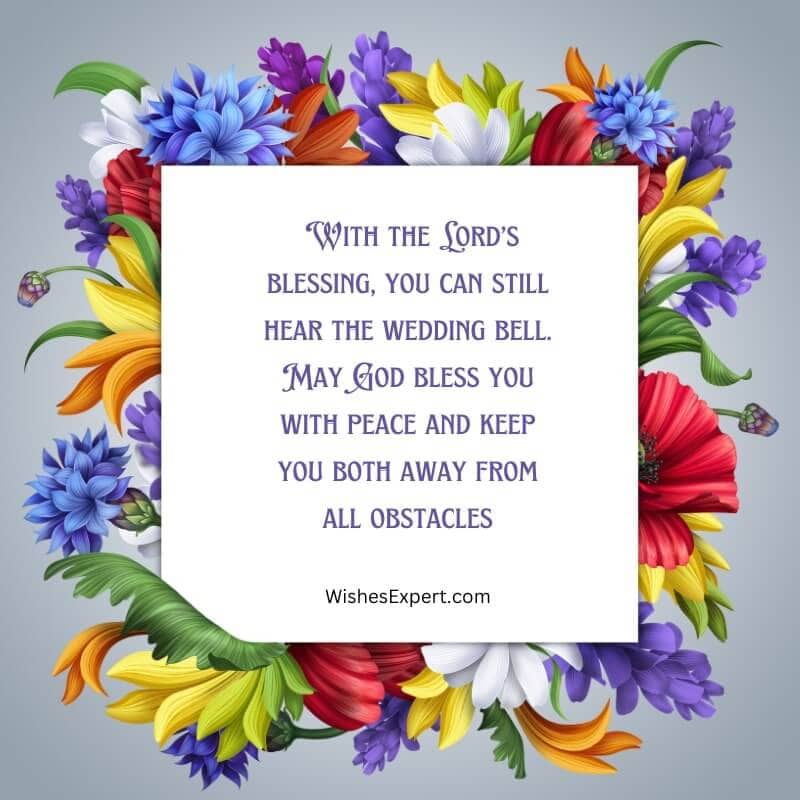 #2. God bless you two with a lot of happiness and joy. The Lord is always beside you to protect and guard, my boy. Stay strong together and fight back without any fear.
#3. The Almighty is looking after each of us. His blessings are always with this newlywed couple, so don't fuss. God bless you both with a joyful life together, and may you live happily ever after.
#4. May the Lord bless both of you with happiness and joy on this day. Remember, God will show you the correct way. No matter the ups and downs you face, every day.
#5. God bless both of you with a joyful life together. May both of your spirits shine brightly forever. May the Lord bless you two with a successful married life, dear.
Read More: Wedding Wishes For Friend
Religious Wedding Blessings
#1. God's blessing will always show the presence of the Lord to you and your wife. The Almighty seeks to guide, protect, and support you in every step of your life.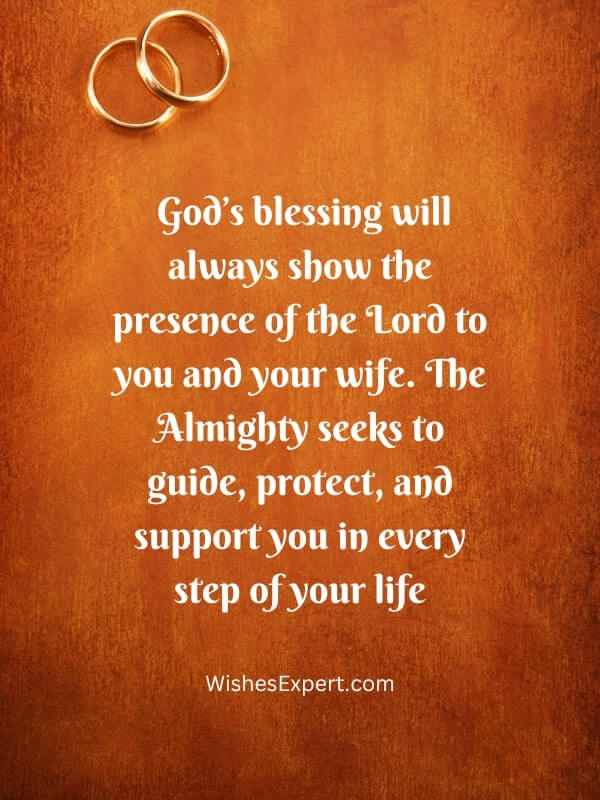 #2. Weddings are such a spiritual union of two people. God is the means of success and joy in every hurdle. May the Lord bless you with an irrevocable relationship so that you emerge as a successful married couple.
#3. A wedding without God's blessing is an unfinished part of the marriage. God is always there to protect both of you from any sin that's a part of a happy married life's carriage.
#4. The Almighty is the supporter of peace and joy as you dwell. His blessings will pour a shower of happiness and bless you with a peaceful marriage that will go well.
#5. God is always beside us in every step of our lives. We can feel his blessings more as husbands and wives. May the Lord bless you with happiness and joyous lives.
Also Read: Thank You Message For Wedding Wishes
Personalized Wedding Prayers And Blessings
#1. May God bless you two with a happy ending, and with the Lord's help, may you seek a fantastic beginning. May the Lord bless you two with a fab life ahead as you remove thorns from the flowerbed.
#2. God's blessings are always with you, so be calm. Benediction to God may lead to a successful life and bless you with strength and wisdom. Your togetherness is God's blessing that you must harness.
#3. Weddings ring the bell of eternal togetherness and tie a bond between two people in happiness. It creates a spiritual bond between both. May God bless you with joyfulness, peace, and growth.
#4. The Almighty may bless you both with a peaceful and blissful marriage. God's blessing is always with you two, and it will protect you from damage.
#5. I lack words to wish this cute couple, you know the exact phrases. May laughter shine brightly on both of your faces. I pray for a happy married life in all your upcoming phases.
#6. Wedding bells are a very precious moment in the couple's life. A wedding means perseverance, togetherness, and dignity that will help you to survive. I wish you a joyful and peaceful life together with your lovely wife.
The wedding prayers and blessings announce the presence of the Divine Father in a wedding ceremony and also acknowledge the holiness of this nuptial bond. With exchanged vows and rings, two individuals start their journey on a new path together. The blessings and prayers of their loved ones will pave their road with love and joy to keep them away from sorrow and pain. These wedding prayers and blessings will express your care for the newly-married couple, and they will also start their new life on a positive note. You may also use these prayers as inspiration to write your blessings to share your love.