Happy Birthday Wishes For Neighbor: Everyone does not wish for grand celebrations or expensive gifts in this world of people with busy schedules, but non-complicated heartfelt birthday wishes for neighbors go a long way.
No matter what society we live in, neighbors are one of the most essential parts of our lives. Sometimes we see them more than our own family, and sometimes they treat us as if we are their family.
People who live away from their families for study or work may sometimes feel homesick, but if they get a good neighbor who takes care of them like their family, the pain somewhat feels bearable. So, celebrating the birthday of such a person, who directly indirectly affects our lives so much, is mandatory.
Happy Birthday Neighbor:
1. You have always taken care of me. Without you, I would still be stuck where I used to be. I only wish you find your love on your way, and that too on your birthday.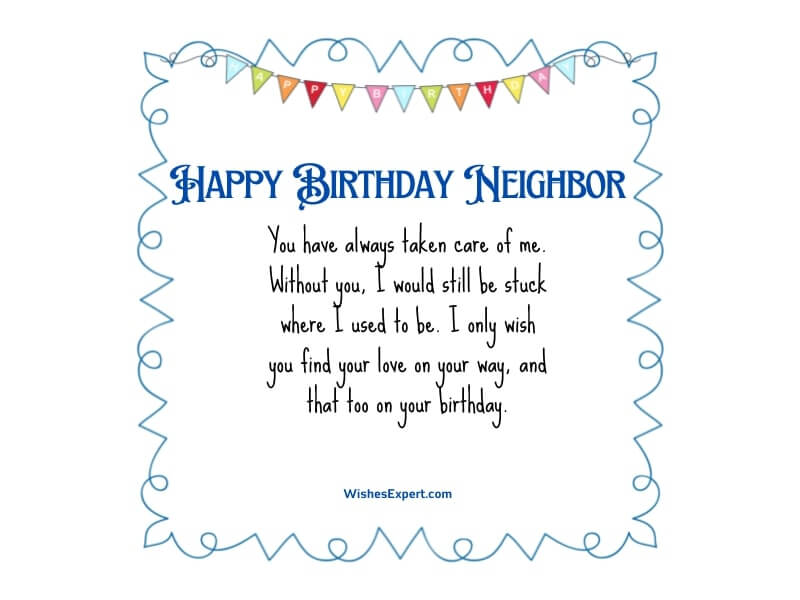 2. You have been a loyal friend in need. You have shown me your love with your deed. I hope all your wishes come true as I wish a happy birthday to you.
3. You are one of my biggest supporters. I have grown so much with your nurture. I hope you have all the success in the world in your way. Have a memorable birthday.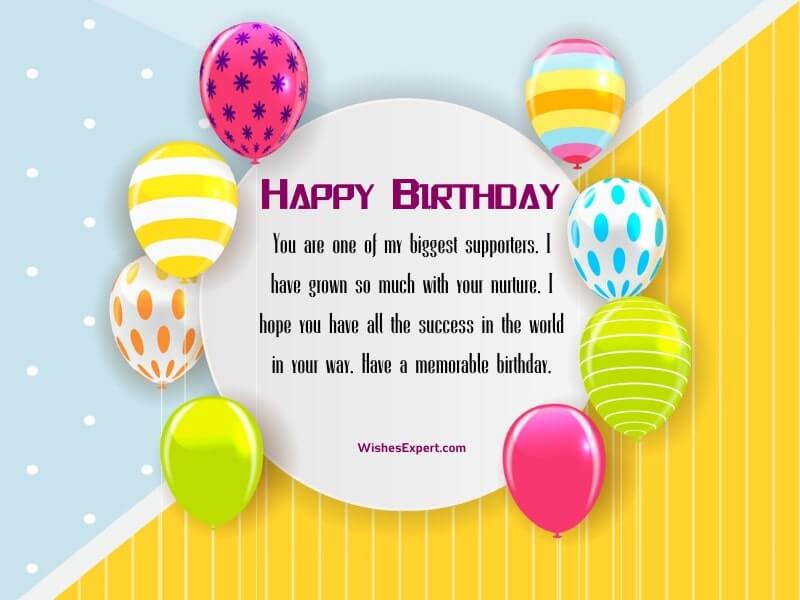 4. I can't ask for a better neighbor ever. I hope we will keep this bond forever. May God bless you with long and healthy life, my peaceful dove. Happy birthday, love.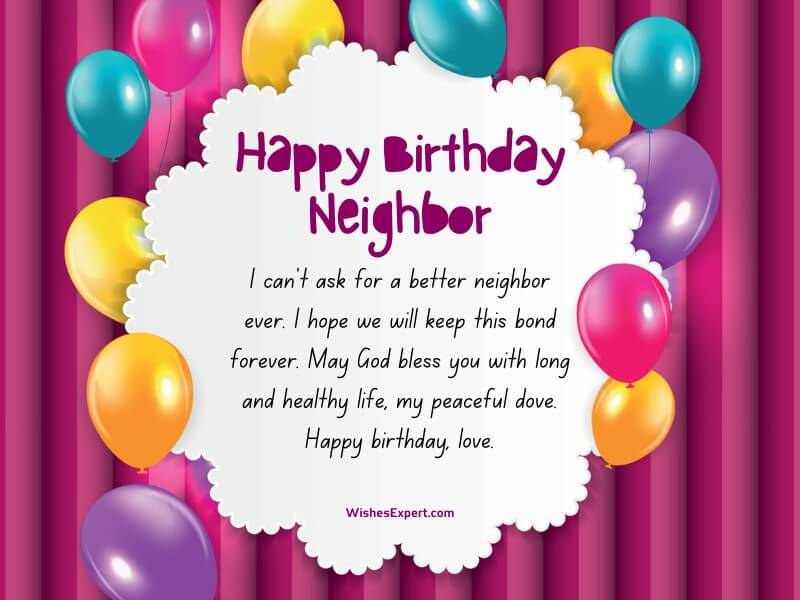 5. You have never let me feel the absence of my family. You have loved me so dearly. Whenever in need, you will find me. Happy birthday, dear, and you are a genuine friend, you see.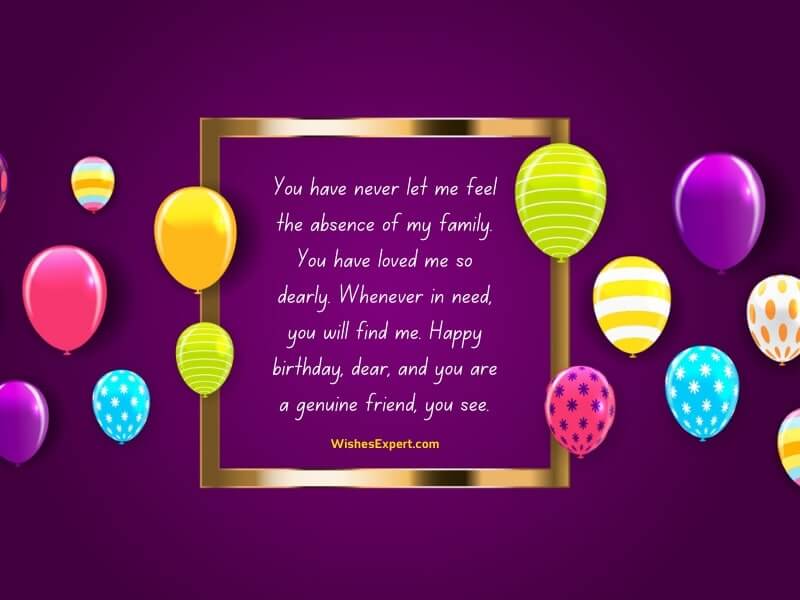 6. You always praise me and give me courage. Without you, I would still be in my mind's cage. You only live once. Happy birthday and have a blast, mate since this is your last chance.
7. You light up my world with your love and care being away from you is something I don't dare. Don't change yourself as you are the best version. Happiest birthday to nicest person.
8. I'm grateful to you for so many things. You solve all my problems before I can even blink. Thank you for always being by my side. Happy birthday, dear, and remember, you have always been my guide.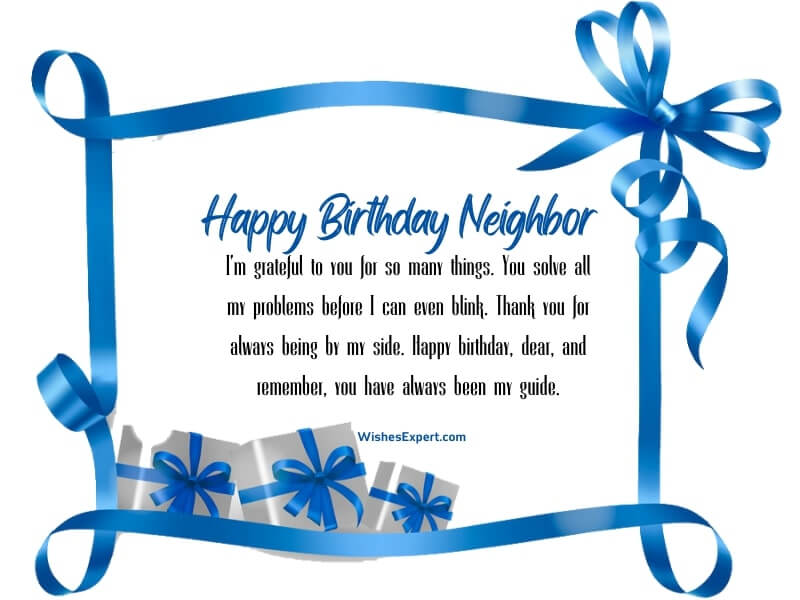 9. Age is just a number, they say. So, spend happily this very special day. Many, many happy returns of the day. Enjoy your birthday for your neighbor's sake and eat lots of cake.
10. I will not let you go without you showing me one more magic show. Have a very prosperous year ahead. A happy birthday to that friend who loves his bed.
Read: Happy Birthday Wishes For Coach
Funny Birthday Wishes for Neighbor:
1. Today is your birthday. Stop listening to others and start living your life your way. Happy birthday, love who is 100% original and 0% fake. I will need you to store your birthday cake.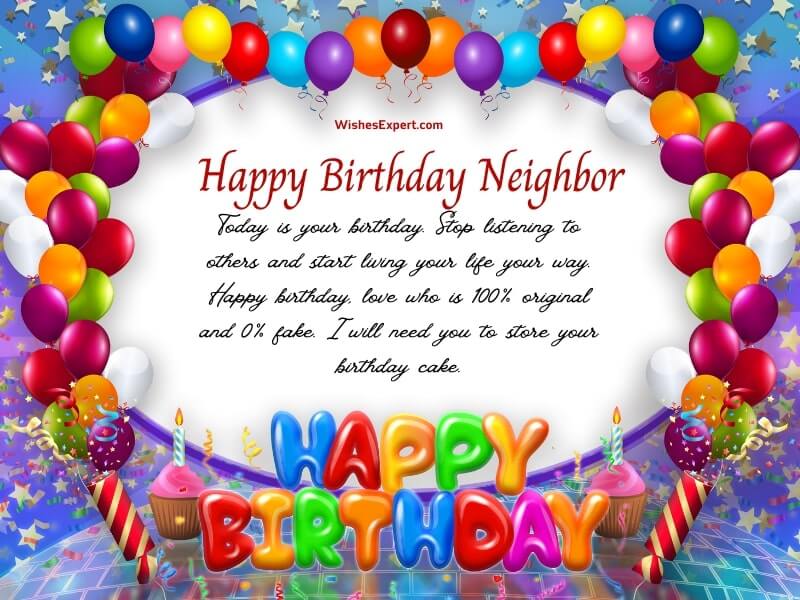 2. Barging in your room when you sleep is fun. I know I annoy you, but you will learn. I wish you all the success. Have an excellent happy birthday with zero stress.
3. I know age is just a number, but playing with food makes us look dumb and dumber. Enjoy your birthday cake. Many happy returns of the day, enjoy it by the lake.
4. Life will be so boring without you. Not making fun of you will be something very new. I wish you all the happiness. Happy birthday, sweetie, who is a sweetheart, even after being a mess.
5. When you see the number of candles on your birthday cake, fake your age, for God's sake. Don't ever change yourself as you are the best. Happiest birthday to the man who loves his nest.
6. It is scary when you are pissed, but your expressions are funny after you get dissed. May God bless you with a long, prosperous, and healthy journey. Happy birthday, birthday girl, and today you look so sunny.
7. Real-life is when you realize that I am your best friend. Without me, your life will be a dead end. Enjoy the coming year, and have a great birthday, dear.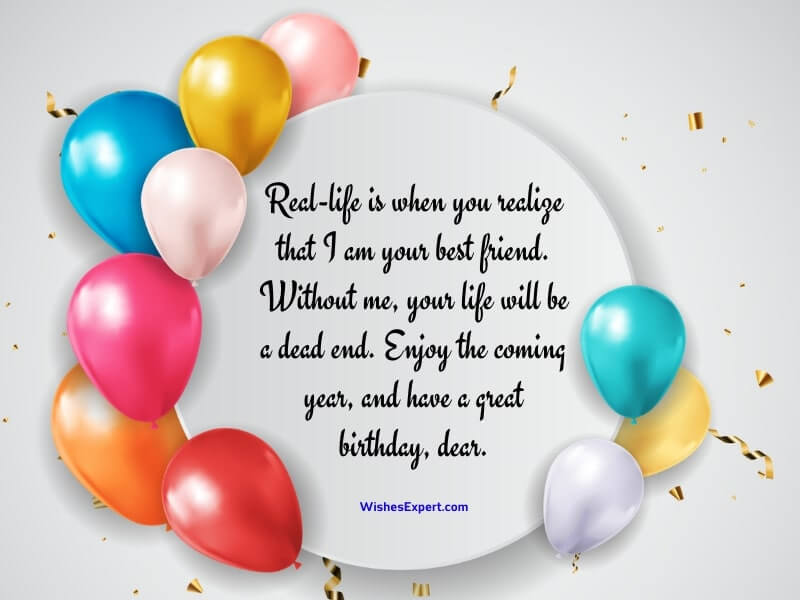 8. Watching the movies you like is boring, but I'll still watch them even when I'm just trying to stop snoring. I hope all your wishes come true. Happy birthday to you.
9. Even though you are getting old, still the time we spend together is made of gold. I will be by your side when you need me. On your birthday, let your soul be free.
10. Be careful before smiling for your photos. Your wrinkles might just say hello. Thank you for caring about me. I'm glad to be your neighbor, so I am sending heartfelt birthday wishes to you, you see.
Read More: Happy Birthday Wishes for Pastor
Birthday Wishes for Neighbor With images:
1. Life becomes beautiful when there are positive people in it. You are the most positive person who is always fit. Happy birthday, dear neighbor, and you are the best, I must admit.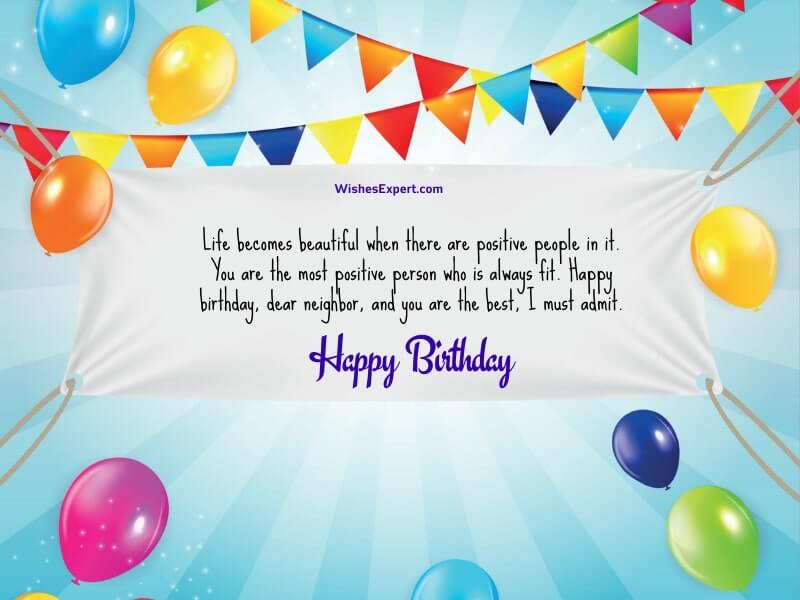 2. I feel blessed to have a neighbor like you, who has always been honest and true. On the eve of your birthday, prosperity is what I hope and pray for, while I wish you to celebrate the day.
3. You spread positivity. Thus, I wish you have an extraordinary life without negativity. I hope you wholeheartedly enjoy your birthday, sweetie.
4. You have a great sense of humor, making each moment spent in your company worthwhile. I wish you a happy birthday, and I pray your wishes to come true with a smile.
5. You have the most happening smile in the world. Your lit-up face changed the ambiance of the room while you swirled. I am fortunate to have a neighbor like you. Happy birthday to you.
Read More: Celebrity Birthday Wishes And Messages
Sweet Birthday Wishes for Neighbor:
1. To the sweetest person and kindest neighbor that I have ever known, may God bestow his grace upon you and you achieve all your dreams that you have sown. Happy birthday, dear neighbor. My best buddy ever.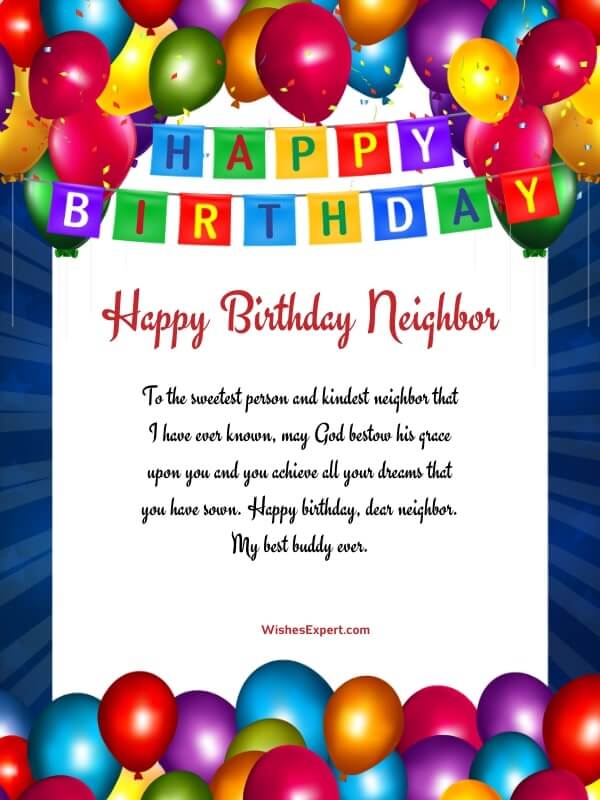 2. Life is a sweet encounter when we get to know people like you. You are the best neighbor, and like you, there are few. Wishing you a happy birthday, dear. Do take care.
3. On your birthday, my sole wish is that you always stay happy because you have always tried your very best to keep everyone happy around you. Happy birthday to you.
4. Everyone is not capable of showing kindness. As a neighbor, you have always helped others and me and filled our lives with happiness. Happy birthday, dear. Always stay positive, and never fear.
5. You have always gone out of your way to help others. Your immeasurable good deeds will help you in the long run, and we are just like brothers. Wishing you a wonderful birthday, dear.
Read: Happy birthday wishes to one of my favorite person
Happy Birthday to Neighbor Friend:
1. I don't think I will ever find a friend like you. You are not a neighbor, you are my friend now, and there's none like you. On your birthday, I hope God blesses you.
2. I can't believe my luck that I found my best friend in my neighbor. You have been that ever-caring person I could always count upon, forever. Happy birthday, friend dear.
3. Whenever I had trouble, the first name that came to my mind was yours. You have become indispensable in my life for all my cures. I wish you a happy birthday. Dear, enjoy an excellent day.
4. Didn't know that from being a neighbor, our relationship would evolve into a strong friendship. I pray to God to protect you from evil and our relationship. Happy birthday, dear, and long live our comradeship.
5. Some things never change, like your friendliness. Your constant positive energy and, of course, your obsession with cleanliness. Today I take the opportunity to wish you a happy birthday filled with prosperity.
Final Words:
No matter where you are, who you are with, and how old your neighbors are, they will be a part of your life in every step you take in this life. They are worth remembering. Remembering their birthday is a great way to show them your appreciation towards them, as they are the first people you think of when you are in a problem and need assistance. In this age of social media, meaningful birthday wishes for neighbors on the morning of their birthday will be appreciated. So, why not do something to make their birthday memorable.