Happy Birthday Wishes And Messages For Coach: To that coach who has been strengthening not only your muscles but your life, cheers. These happy birthday coach wishes are the unique and fun that will carry your love and care in various forms and parcel it to your coach.
So, don't hold back from going with the combination of these wishes if you adore or respect your coach beyond words. But these words have captured that essence of infinite love and respect for your coach.
If you have a fun relationship with your coach and you consider him/her your friend, you'll still find what you're looking for. Because scrolling on our page never goes to waste, you'll end up with something valuable always.
Happy Birthday Wishes For Coach:
1. Your patience has helped us build resilience. It's you who has built this team. Without you, neither we nor our will to survive would be this strong. Thank you and happy birthday, coach.
2. Like once in a blue moon, you get a day to yourself. Today, we wish you to rejuvenate your cells for as long as you can because you so deserve it. Happy birthday, coach.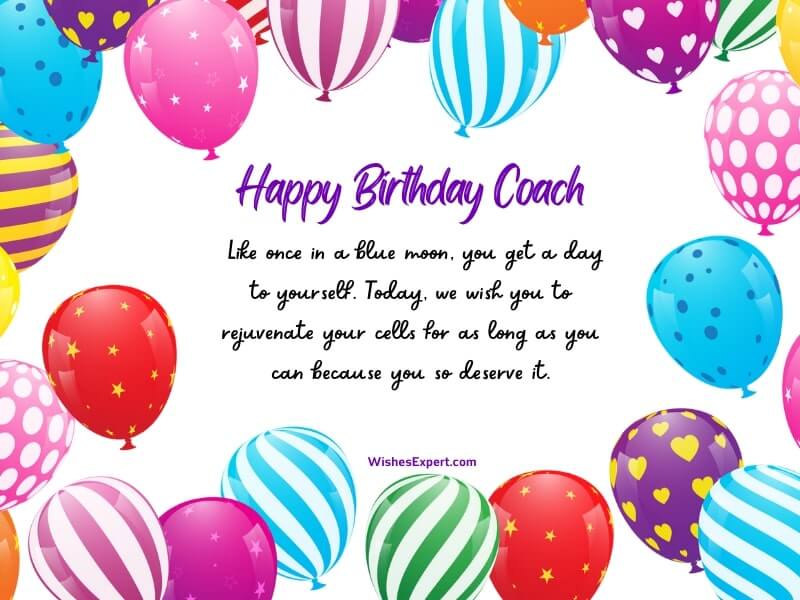 3. You're that central brick without whom we all will collapse. You bring that central force that makes us all work together as a team. Happiest birthday to the best coach we know.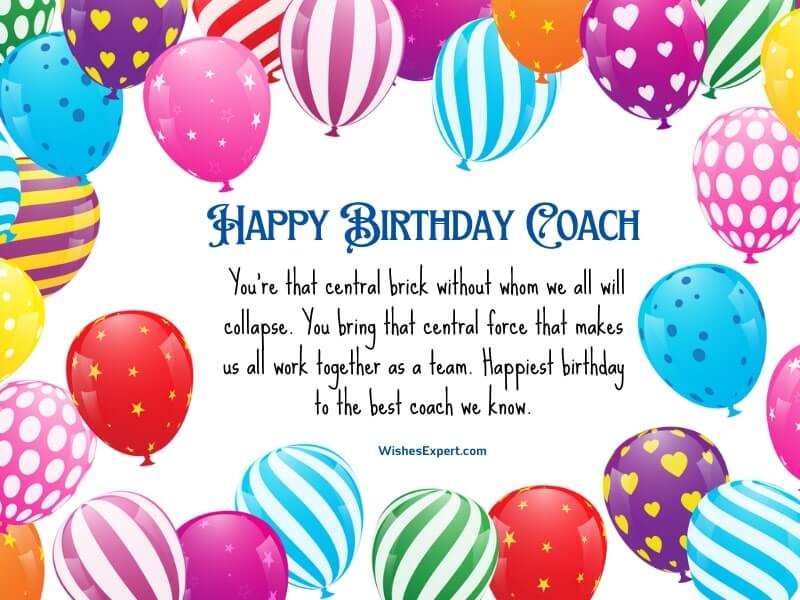 4. Without you, we wouldn't affirm ourselves as a team. We're here to thank you for all the value you provide to us and wish you a happy birthday.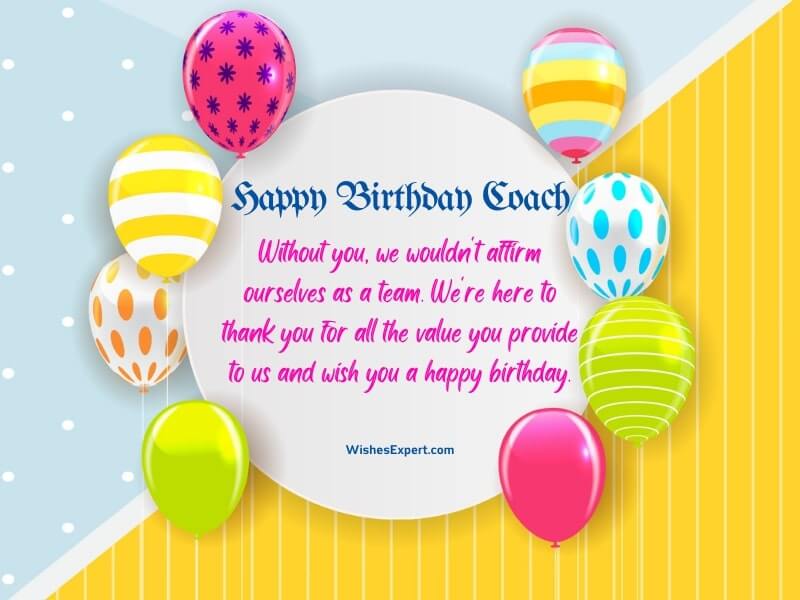 5. To the coach whose words of wisdom and peculiar ways of teaching not only have built us good athletes but better contestants in life, happiest birthday.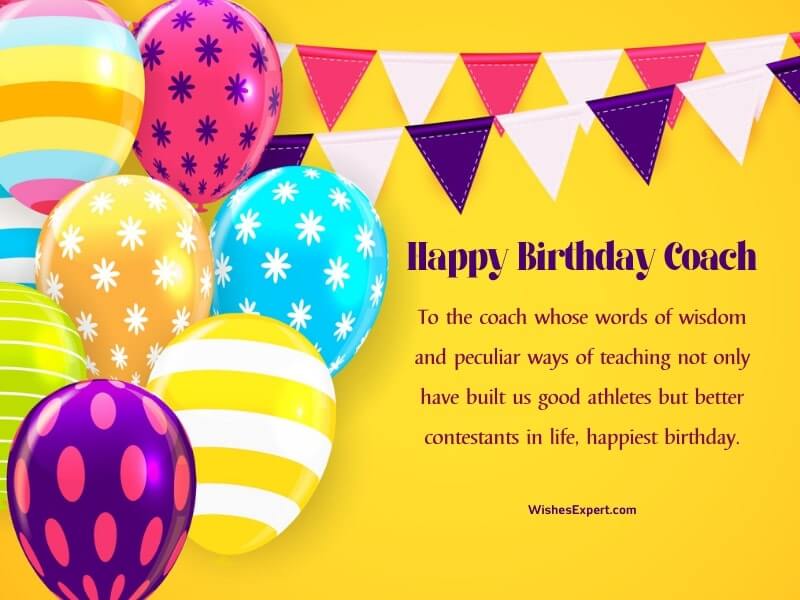 6. Happy birthday, coach. Your workout plan has been canceled by us today. Today is your turn to not give your glutes any stress and relax. Have a fun one.
7. Happy birthday, coach. Pump in the motivation today to not make us train but to celebrate your day with the fullest zest.
8. Like the one hanging on the raft in a stormy ocean, we rely on you for every greater-than-life game and you've always landed us in the land of victory. Thank you and happy birthday, coach.
9. To the coach whose guidelines have not only kept us winning on the field but in life, we wish you the happiest birthday.
10. When you put on the coach outfit, it seems as if it was meant for you. When you train us, it seems you were meant to be a coach. Because you are!
Happy birthday, coach.
Read: Birthday Wishes For Boss And Mentor
Birthday Wishes For Coach:
11. Only a coach like you can keep our calories and energy levels in check. But we wake up with the hope that today will be an exception. Please don't break that bubble and happy birthday.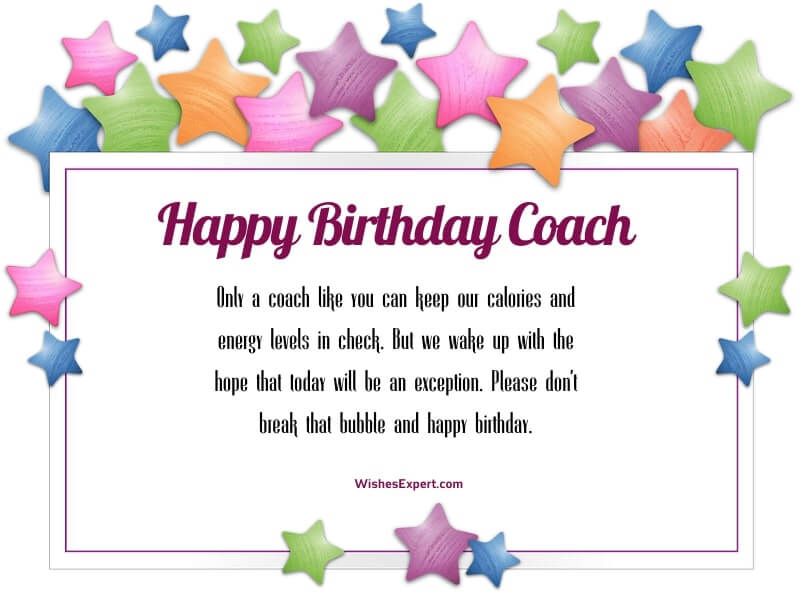 12. Among all the people we admire, none of them has won over us as you do. You don't only win matches but people. Happy birthday, coach.
13. I say that the dreams could take off the field you work on and I never lie. To the best coach, happiest birthday.
14. Because you always throw us in the loops of win, as payback, we're going to throw you today in the zones of fun. Happy birthday, coach.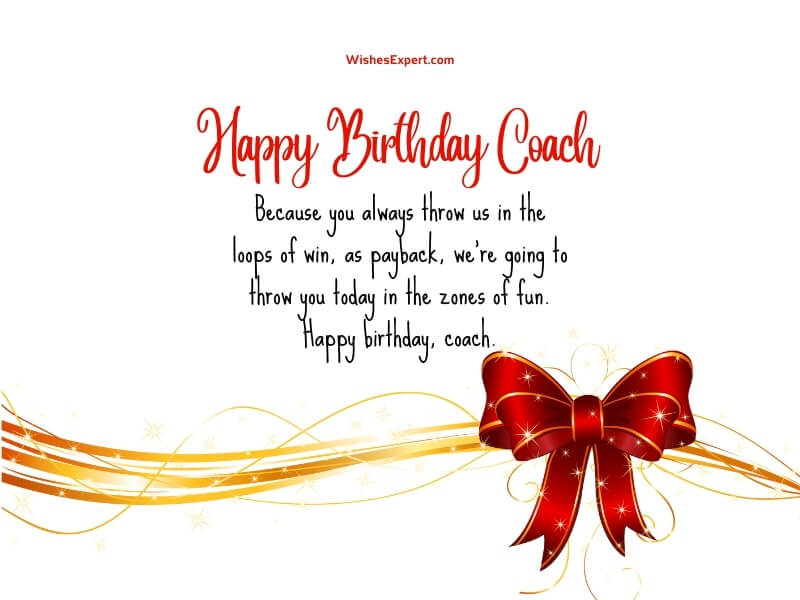 15. Your talents and work ethics blow our minds every day but not more than your ability to handle us calmly as that's truly the toughest task. Happy birthday, coach.
16. Don't worry as the number on the scoreboard is running, we know you'll win at every level. Happy birthday, coach.
17. Our endurance wouldn't have gotten better if you were not there pushing us for that last rep. Happiest birthday to the coach who trains one not only for the game but in life.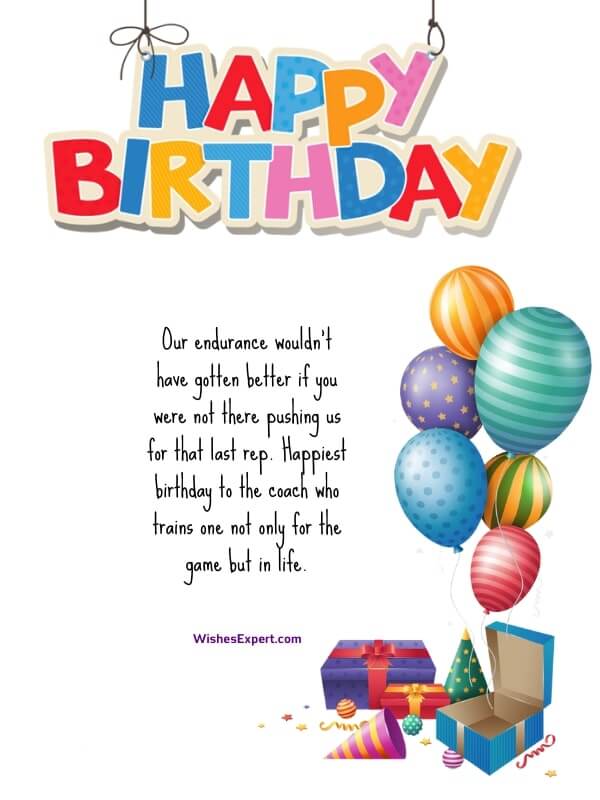 18. As you always go for the best shot and never fail to hit the goal, we are assured that you'll make this year count. Happy birthday, coach.
19. The only thing we can teach you is how to have fun and as today is your birthday, we're planning to give you hard training on that. Happiest birthday, coach.
20. Happy birthday, coach. Apart from recharging us with those motivational speeches and making us follow your guidelines, you make us all genuine sportsmen, and we appreciate you very much for that.
Read More: Happy Birthday Wishes For Doctor
Funny Birthday Wishes for Coach:
21. Except for those days when you make my legs shake while working out, I adore you and respect you in many ways. Happy birthday, coach; have the best one.
22. We hope you celebrate today with all you got which is the bones that are losing calcium and morale that's getting down but hey you got us. And we hope we count. Happy birthday.
23. Happy birthday, coach. As today's your birthday, we truly wish you to have a break to have a good day and stop us from cursing you today.
24. We can't be happier for you and ourselves as you're going to have a wonderful birthday and, us, a good day in bed without facing your inspirational speeches. Happy birthday.
25. We wish at least for once you show up at the field with less enthusiasm, low energy levels, and forgiveness in your heart. But happy birthday.
The above-mentioned happy birthday wishes for a coach will sound sincere regardless of the emotion you're portraying. A coach can sometimes play many roles in one's life. These wishes will carry the essence of your love and respect. However, to make your wish more personalized, you can write a letter or a greeting card along with the wishes we've come up with. You can always add or subtract the elements to these wishes as you wish to make them more personalized. Have a good day.