Looking for birthday wishes for boss? Well, you have landed on the right page. Your boss is someone who mentors you in your career and motivates you to do your best. Remembering your boss's birthday will help you earn some extra points and ensure a good relationship with your boss.
While the birthday is a personal event, you also have to make sure that the birthday greeting to your boss is equally formal and crosses no professional boundaries. Therefore, we have compiled a list of 35 unique and creative birthday wishes ideas that you can send to your boss on his/her birthday.
Happy Birthday Boss
Dear boss, thank you for always guiding me and motivating me to do my best. I am grateful for having a mentor like you. Happy Birthday!
Happy Birthday to the boss who made sure to always stand by his employees and celebrate the success together.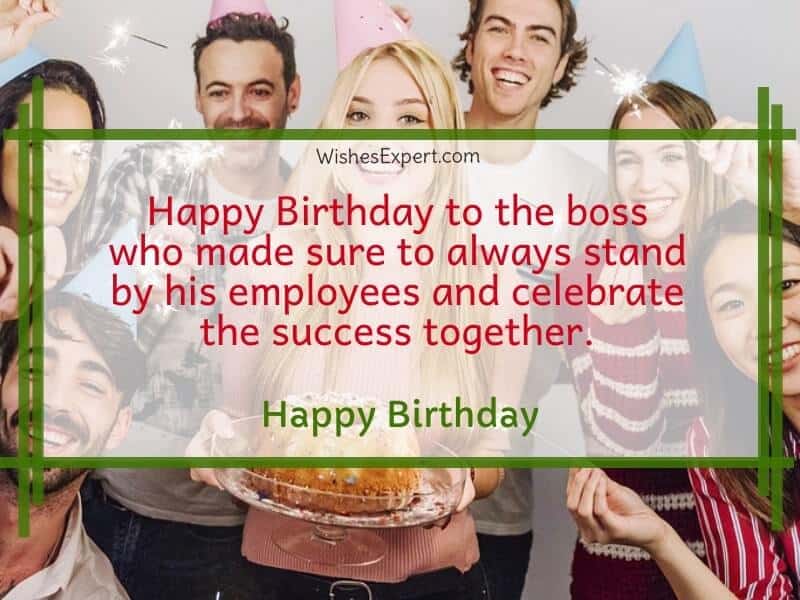 Happy birthday, dear boss. You have a heart of gold and a brain so creative; we all idealize your qualities.
Wishing you the best of health and infinite success in your career. May you achieve your goals with ease. Happy birthday to you.
Happy birthday, boss. You are the heart of this office. I am glad to be working under such an ambitious person.
Since your birthday is at the weekend, I hope you enjoy the much-needed break. You have given your all to your goals. Have a blast on your birthday!
You are not just a boss, but a teacher, a friend, and our biggest supporter. You a lady of your words. Happy Birthday.
When you asked me where do I see myself in the next 5 years, it took me a few months to work with you to realize I wish to be as ambitious and focused as you in the coming years. Happy birthday, boss.
Happy birthday to the CEO of our company. We wouldn't have been one of the best companies without your vision. May you have many more!
Sending the warmest wishes to you on your special day. May you get to celebrate many more birthdays.
Try: Happy Birthday Old Friend
Best Birthday Wishes for Boss
May you have all the success and prosperity. I hope you achieve all your goals and live a happy and healthy life. Happy Birthday.
I am grateful for working under the most ambitious man and learning from such a skillful person. Happy Birthday, Sir!
You are a wonderful boss and truly someone who deserves to be called a leader. Happy Birthday to you.
I can undoubtedly say that you are the biggest inspiration for most women out there. You are the real boss Lady. Happy birthday, Ma'am!
May you have the happiest day today and for the rest of your life. Heartiest wishes on your birthday!
May you peak in your career and have everything that you have ever wished for. Happy birthday, boss.
On this day, I wish you health, happiness, prosperity, and success. Have a blast on your birthday!
The one thing I have learned from you is not giving up and find a solution no matter what. Keep going strong! Happy birthday.
A birthday is a day where people shower you with countless blessings. I wish you have the best life, both personally and professionally. Happy birthday!
Wishing all the happiness to the most hardworking and devoted boss. May you have many more.
Read: Birthday Wishes for Father In Law
Unique Birthday Quotes for Boss
I appreciate your motivating nature and helpful attitude. May you have the happiest birthday ever. Have a blast!
You are nothing less than a devoted teacher to me. Happy birthday to the best boss ever!
Wishing you all the very best on your special day. You are the person who has taught me how to work on my goals.
I am grateful to be a part of many of your successful years. I hope you have countless more. Happy birthday, boss.
You are the reason why we have such a relaxed and creative atmosphere in the office. Thanks for being the most amazing boss! Happy birthday.
Check: Birthday Wishes for Grandson
Boss Birthday Wishes And Quotes
May you have a wonderful day filled with countless blessings and joy. Have a cheerful birthday.
Happy birthday to the guide who made me the ambitious person I am today. May you have countless more.
Wishing you more strength, motivation, and ease to achieve your goals and reach the skies. Happy birthday, dear boss.
I am truly grateful for all the things you have taught me and groomed me professionally. Happy Birthday, boss.
Working under an amazing leader like you was the best decision that I have ever made. Happy birthday to you!
Take A Look: Birthday Wishes For Coworker And Colleague
Birthday Quotes and Messages for Boss
Sending the heartiest birthday wishes your way. Not only you are an amazing boss but also a wonderful person. Glad to be working with you.
Happiest birthday from the whole team of [Add name] company. You are truly a guiding light in our lives.
Wishing you a very successful and prosperous life. May you cross many more milestones. Warmest birthday wishes to you.
May success follow you wherever you go. Keep shining bright! Happy birthday, boss.
The way you have brilliantly build an empire with your ambitious nature and hardworking attitude is impeccable. Happy birthday, boss!