Birthday Wishes And Messages For Boss: If you're one of those lucky beings who have found that kindest being as their boss and now wish to show their affection by wishing him/her the best with these birthday wishes for the boss, then firstly congratulations. You've found the right boss and landed on the right page, luck is truly on your side.
You can skip your meal once but you can't forget to wish your boss a heart-warming birthday wish. For all the affection and respect you have in your heart for him/her, wish him/her the best. With these below-mentioned wishes, wish him/her good luck, tons of happiness, bundles of love, and a bunch of rest days.
Happy Birthday Wishes to Senior Boss:
#1. Happiest birthday. May this year you forget to be a productivity nerd and get into the perpetual state of procrastination, so we can continue to do it without a hint of shame.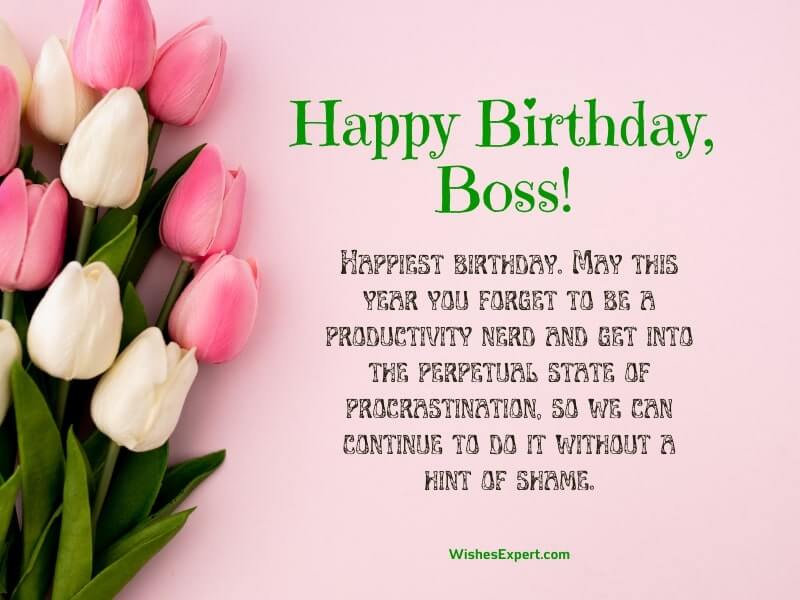 #2. Happy birthday, boss. Hopefully, the love relationship between you and your desk strengthens more and in the hours of flow, you forget to supervise our work.
#3. The corporate tie suits you and so does the role you play. No one else can handle an empire and a bunch of crackheads like us with this much patience. Happiest birthday, sir.
#4. Like a glass of wine, you keep us in our elements, and like a cup of coffee, you make us get things done. No one can do it better than you, happiest birthday to you.
#5. Happy birthday, boss. You're the vitamin that all of us need to work together as a team. Without you, our morale gets sick and we fall apart.
#6. Thanks to your witty cells and undefeated spirit, we can regulate our dull cells and lift our dispirited souls. Beings like you are needed in every corporate world. Happy birthday, boss.
#7. The patience you exhibit, the dignity you hold, the work ethic you bring to the table, and the persistence you work with can only make a being a boss. To a peerless boss, happy birthday.
#8. Happiest birthday to the boss who is a multi-talented and multi-tasker. May, this year, we can find your diary where you keep all your secrets.
#9. May this year, you take a moment to rejuvenate your workaholic soul and recharge your burnt cells. Happy birthday, boss.
Read: Happy Birthday Wishes For Old Man
Birthday Wishes For Lady Boss:
#1. Happiest birthday, ma'am. Only if we were allowed to be nitwits during office hours, we'd jump on our chairs to sing a birthday song to you with our hearts and voice out loud.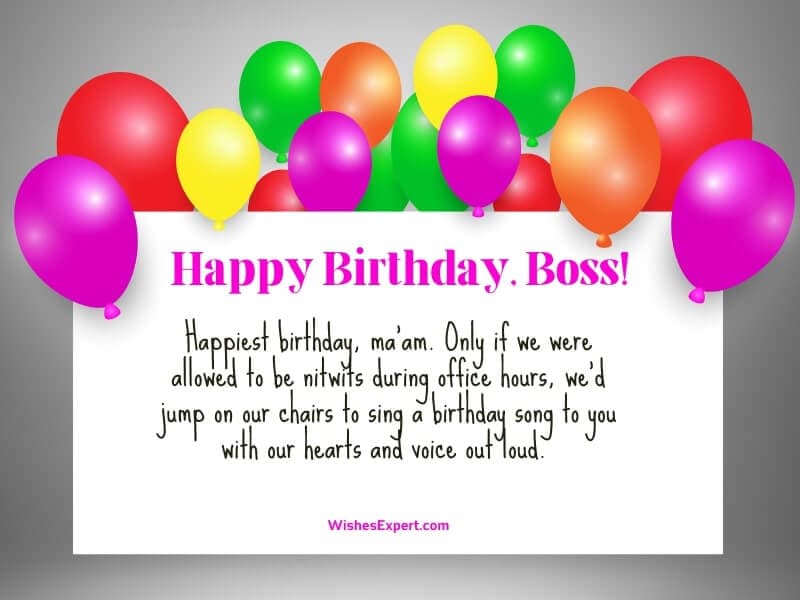 #2. Only because of you, our team does the work that creates the dream work. To the boss, who is destined to be doing what he's doing, happiest birthday.
#3. Happy birthday. Let this day invite the celebration for the fruits you've received for all the blood, sweat, and tears you put in all the year; you truly deserve that.
#4. To the leader who never forgets to listen to the voice of each team member and creates workplace a safe place to come to every day, happy birthday.
#5. Happy birthday to the muse without whom, our creative juices can't flow, without whom our technical cells don't work, without whom we as a collective, as a team, cannot function.
#6. Cheers to the boss who makes our dread Mondays fun and his birthday. We hope, this year, you can cross out more days on your calendar for leisure and fun.
Read More: Birthday Wishes for Male Friend
Happy Birthday to Male Boss:
#1. Dear boss, thank you for always guiding me and motivating me to do my best. I am grateful for having a mentor like you. Happy Birthday!
#2. Happy Birthday to the boss who made sure to always stand by his employees and celebrate the success together.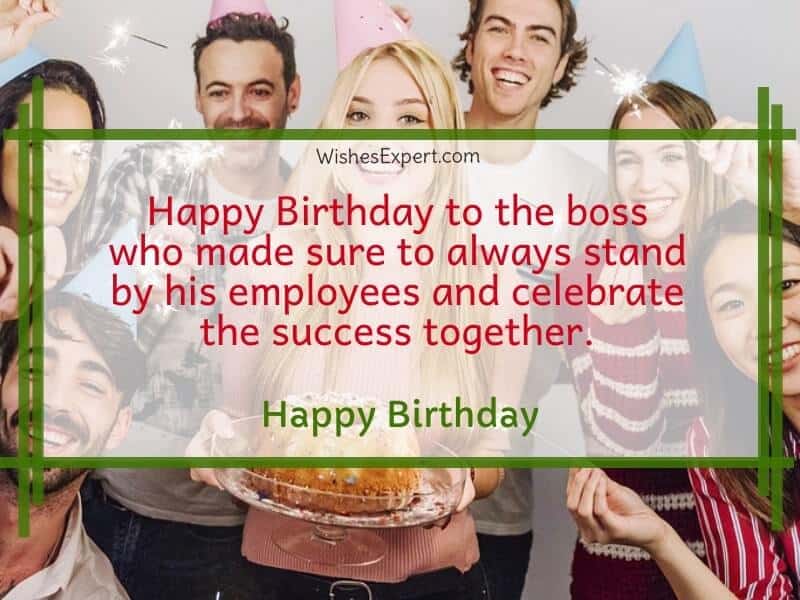 #3. Happy birthday, dear boss. You have a heart of gold and a brain so creative; we all idealize your qualities.
#4. Wishing you the best of health and infinite success in your career. May you achieve your goals with ease. Happy birthday to you.
#5. Happy birthday, boss. You are the heart of this office. I am glad to be working under such an ambitious person.
#6. Since your birthday is at the weekend, I hope you enjoy the much-needed break. You have given your all to your goals. Have a blast on your birthday!
#7. You are not just a boss, but a teacher, a friend, and our biggest supporter. You are a lady of your words. Happy Birthday.
#8. When you asked me where I see myself in the next 5 years, it took me a few months to work with you to realize I wish to be as ambitious and focused as you in the coming years. Happy birthday, boss.
#9. Happy birthday to the CEO of our company. We wouldn't have been one of the best companies without your vision. May you have many more!
#10. Sending the warmest wishes to you on your special day. May you get to celebrate many more birthdays.
Try: Birthday Wishes For Employee
Best Birthday Wishes to Boss:
#1. May you have all the success and prosperity. I hope you achieve all your goals and live a happy and healthy life. Happy Birthday.
#2. I am grateful for working under the most ambitious man and learning from such a skillful person. Happy Birthday, Sir!
#3. You are a wonderful boss and truly someone who deserves to be called a leader. Happy Birthday to you.
#4. I can undoubtedly say that you are the biggest inspiration for most women out there. You are the real boss Lady. Happy birthday, Ma'am!
#5. May you have the happiest day today and for the rest of your life. Heartiest wishes on your birthday!
#6. May you peak in your career and have everything that you have ever wished for. Happy birthday, boss.
#7. On this day, I wish you health, happiness, prosperity, and success. Have a blast on your birthday!
#8. The one thing I have learned from you is not to give up and find a solution no matter what. Keep going strong! Happy birthday.
#9. A birthday is a day when people shower you with countless blessings. I wish you the best life, both personally and professionally. Happy birthday!
#10. Wishing all the happiness to the most hardworking and devoted boss. May you have many more.
Read: Birthday Wishes for Father In Law
Unique Birthday Quotes for Boss:
#1. I appreciate your motivating nature and helpful attitude. May you have the happiest birthday ever. Have a blast!
#2. You are nothing less than a devoted teacher to me. Happy birthday to the best boss ever!
#3. Wishing you all the very best on your special day. You are the person who has taught me how to work on my goals.
#4. I am grateful to be a part of many of your successful years. I hope you have countless more. Happy birthday, boss.
#5. You are the reason why we have such a relaxed and creative atmosphere in the office. Thanks for being the most amazing boss! Happy birthday.
Check: Birthday Wishes for Grandson
Boss Birthday Wishes And Quotes:
#1. May you have a wonderful day filled with countless blessings and joy. Have a cheerful birthday.
#2. Happy birthday to the guide who made me the ambitious person I am today. May you have countless more.
#3. Wishing you more strength, motivation, and ease to achieve your goals and reach the skies. Happy birthday, dear boss.
#4. I am truly grateful for all the things you have taught me and groomed me professionally. Happy Birthday, boss.
#5. Working under an amazing leader like you was the best decision that I have ever made. Happy birthday to you!
Take A Look: Birthday Wishes For Coworker And Colleague
Formal Birthday Quotes and Messages for Boss:
#1. Sending the heartiest birthday wishes your way. Not only you are an amazing boss but also a wonderful person. Glad to be working with you.
#2. Happiest birthday from the whole team of [Add name] company. You are truly a guiding light in our lives.
#3. Wishing you a very successful and prosperous life. May you cross many more milestones. Warmest birthday wishes to you.
#4. May success follow you wherever you go. Keep shining bright! Happy birthday, boss.
#5. The way you have brilliantly build an empire with your ambitious nature and hardworking attitude is impeccable. Happy birthday, boss!