Birthday wishes for an employee are not something we get to hear very often, but that does not make them any less significant. No matter what sector of the work you are in, you can never achieve success without hard-working employees.
A school cannot work without teachers, an office cannot run without office workers, and a business cannot run properly without a dedicated workforce. So, it becomes our responsibility to show them our gratitude and love. Nothing can portray these emotions better than a heartfelt birthday wish. A birthday wish shows they are remembered and treasured by people as they should be. Hence, wishing them an excellent birthday might be the best thing ever.
Birthday Wishes for Employees:
#1. You have been a wonderful secretary for a long time. Without you by my side, I might have committed a crime. I hope you are having an excellent day and wish you a happy birthday.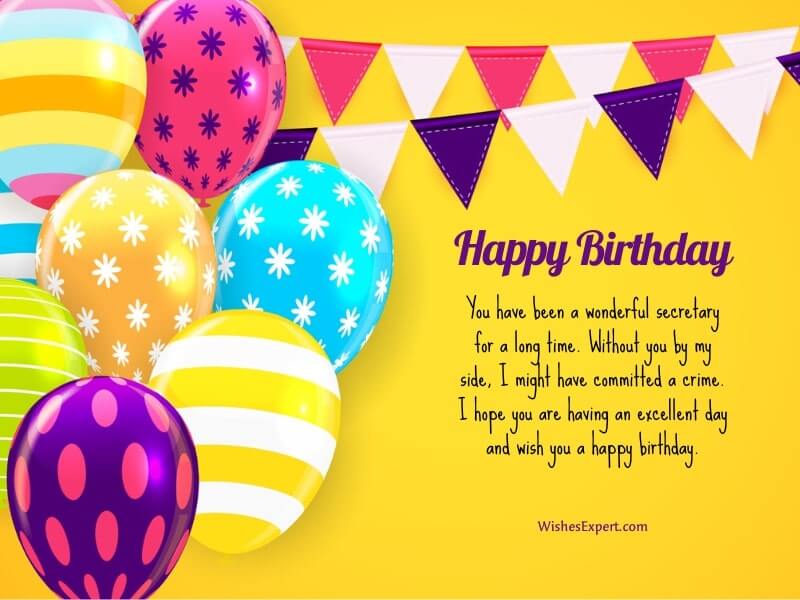 #2. You work hard a lot. I wish you would spend more time outside the office and not work like a bot. I bless you with a prosperous life ahead. Happy birthday, and may you have success in the project you led.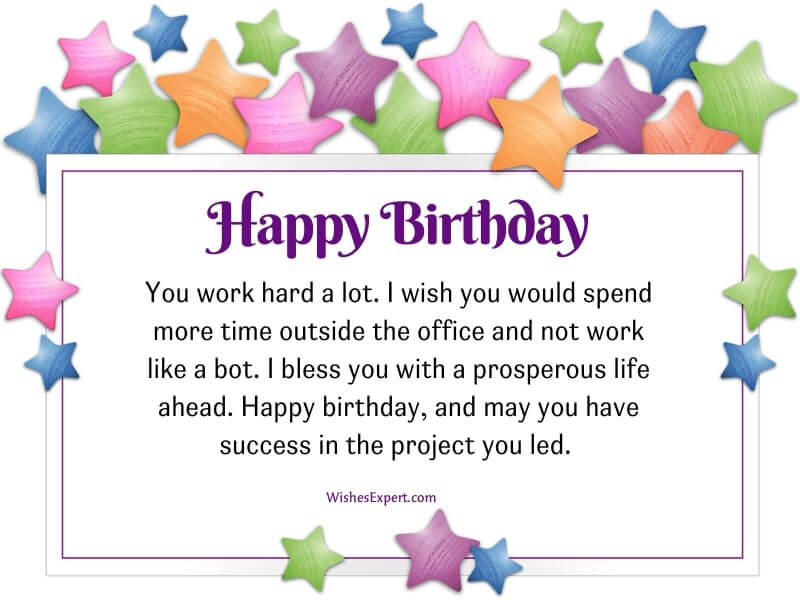 #3. Even with all the work pressure on yourself, you still help others manage their work shelf. I wish you many, many happy returns of the day. Enjoy a fab birthday.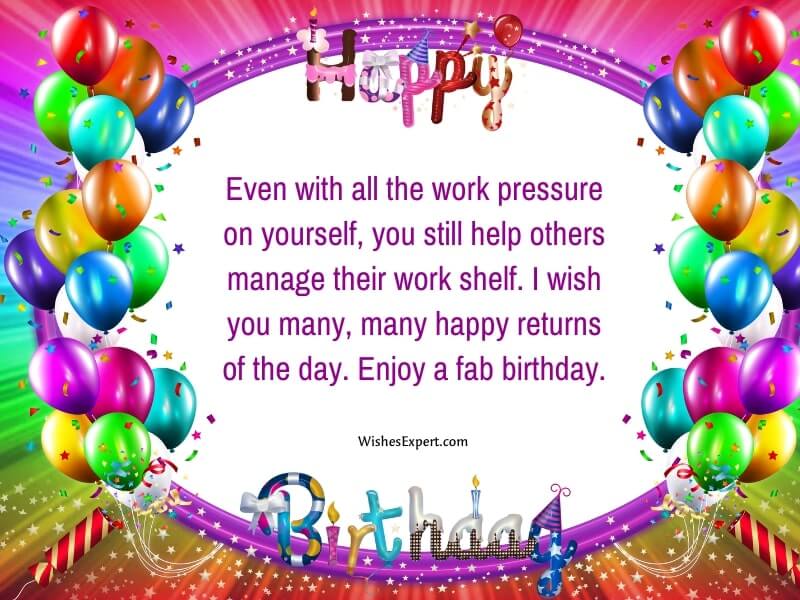 #4. The respect you get is well deserved. I hope you know I appreciate you even though I stay reserved. I hope all your wishes will come true while I sing happy birthday to you.
#5. Your sincerity and hard work inspire me a lot. Happy birthday to the employee who showed me kindness instead of being a robot. I hope in your future everything is sought.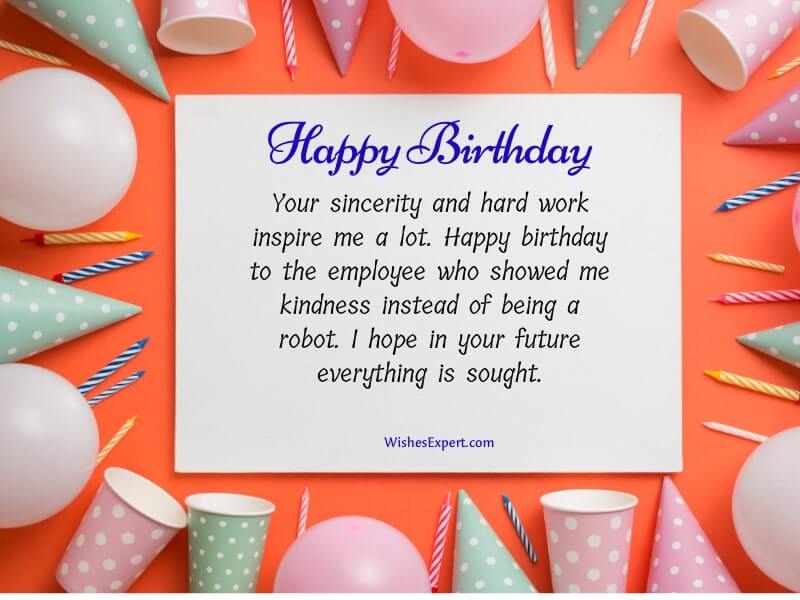 #6. I hope you do good in your life. Go back home faster as I'm scared of your wife. I hope you receive all the success. On your birthday, take a pledge to reduce stress.
#7. I hope you get to live the life you have always wanted. Never take your happiness for granted. I wish the happiest birthday ever to my best employee, forever.
#8. I am very proud of the progress you have made. Don't ever be afraid. I hope you achieve everything that your heart desires. I wish a splendid birthday to the employee everyone admires.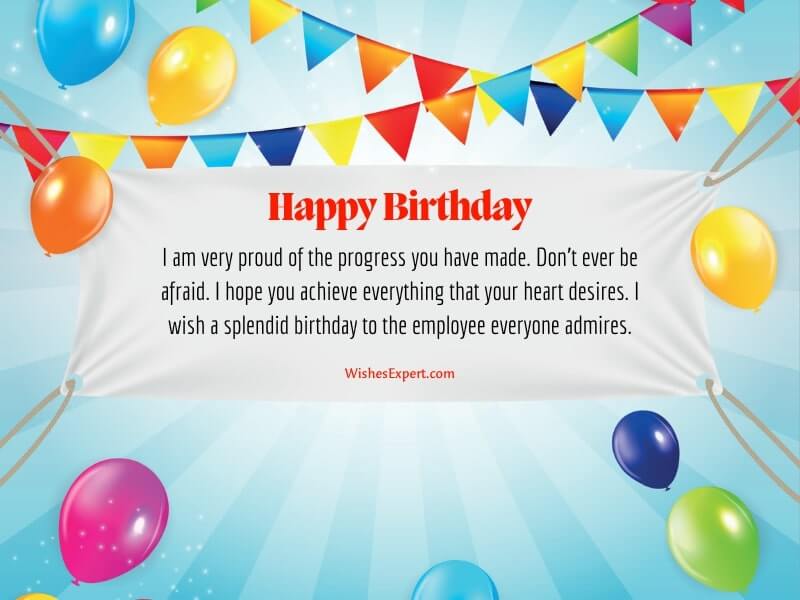 #9. Patience is a quality of yours that I admire. Not acknowledging your perseverance will make me a liar. Lots of good wishes for your future. Happy birthday to the employee who always showers care.
#10. You are a wonderful person to work with. Getting such a sincere person in today's world is a myth. Happily, spend the most beautiful birthday with your friends and family.
Read: Birthday Wishes For Boss And Mentor
Happy Birthday Wishes For Employees:
#1. Your commitment to this organization is a reflection of your brilliant work ethic. You are a valuable employee excelling in each metric. Hopefully, all your dreams will come true today, and we wish you a happy birthday.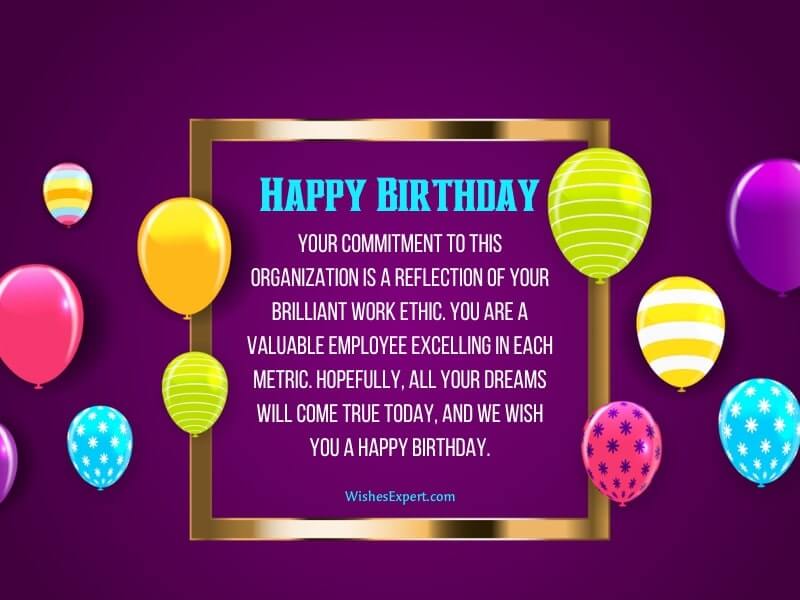 #2. You have made our work life enjoyable with your presence. We wholeheartedly wish you a happy birthday without any pretense, and we will miss you in your absence.
#3. You have left an indelible mark through your hard work and commitment. You always have a zeal for betterment. On your birthday, let us confess that you make us prouder as you work harder.
#4. We are thrilled to have an employee and friend like you. We would have never succeeded if you weren't honest and true. It encourages us, and we cheerfully sing happy birthday to you.
#5. You have always honored your professional commitments. But your commitment towards your friend is a different sentiment. I wish you a happy birthday on your payday.
Read More: Birthday Wishes For Coworker And Colleague
Employee Birthday Wishes
#1. You have been a true asset to this company. Your work is unquestionable, and your talent inspires many. On your birthday, we wish you all the success. Dear, you will never have to toil to impress.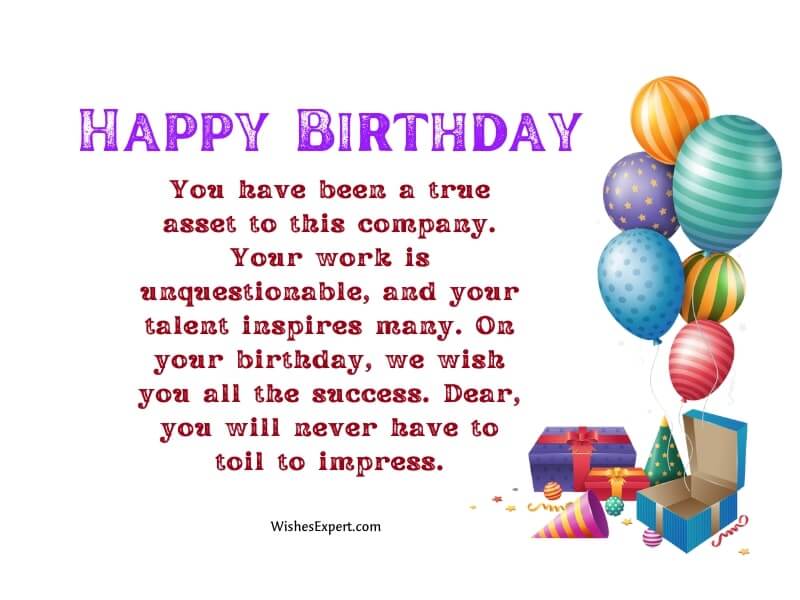 #2. A loyal and hardworking person like you as an employee will help us to gain success, surely. On your birthday, try to be merry.
#3. As an employer, I couldn't have someone better. On your birthday, I hope that in your life, you will prosper. Happy birthday to the employee who is always focusing on her career.
#4. You are the best employee that anyone can hope for. Your cordial attitude and zeal to take up challenges add to your score. Happy birthday, dear, and we couldn't have asked for more.
#5. Your valuable contributions as an employee towards this organization have enriched us and propelled this company towards success. We all wish you the best for your future on your birthday, and never settle for less.
Try: Motivational Good Morning Wishes For Team
Birthday Messages For Employee:
#1. You have made so many valuable contributions as an employee of this organization. Working with you was indeed an inspiration. We wish happy birthday to the man who always works with passion.
#2. You are the best employee because of your supportive attitude. We wish happy birthday to the employee who keeps shining, and we fell short of words while showing you gratitude.
#3. I have never seen a hardworking person like you. You excel as an employee because you never give up on whatever you do. Keep up the excellent work, and we wish you a happy birthday to the man who sweeps away the jerk.
#4. Who would have thought you would climb the stairs of success so rapidly? It is the result of your dedication and hard work that you gave happily. Happy birthday, dear, and do enjoy the time with your family.
#5. There is nothing better than to have an employee like you in my organization. Keep striving like this for your passion. Happy birthday to our office's all-time sensation.
Professional Birthday Wishes For Employees:
#1. Dear employee, your professionalism is the prime reason behind your success. I am telling this as your team member, and I am not trying to impress. The management wishes you a happy birthday and hopes that you progress.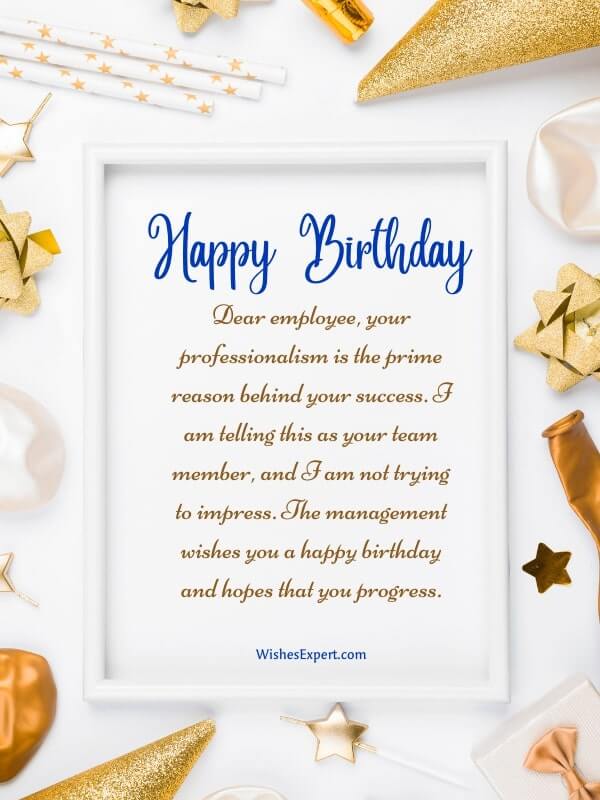 #2. Dear employee, you have achieved success within a short span in this company. We hope that we can keep working like this as one and as many. On your birthday, we bless you with success.
#3. We wish you healthy life on your birthday, eve. You are a talented employee, and we hope that you never leave. Keep working in a successful manner, and you are our treasure. We wish you a fantastic birthday here.
#4. Wishing you success and prosperity on the occasion of your birthday. Our team values you as an employee, and we will love it if you stay.
#5. We hope you can keep honoring your professional commitments as you have always done from the day you joined our organization. Our entire team wishes you a happy birthday, and you are a genuine inspiration.
Final Words:
Birthday wishes for the employee must show appreciation for them because the most significant moment of someone's life is their birthday. So, we should remember that day at any cost and make it memorable with a small but sincere birthday wish. It is not always about the extravagant and expensive gifts with celebrations that employees desire on their birthdays. Even the smallest gestures, like a heartfelt birthday wish, might be something they cherish the most. The wishes can range from funny, serious, or poetic to anything depending on your relation with your employee.