Good Luck Wishes For Job Interview: Do you know the magic a few words of encouragement can do? They can lift up a person, especially those who are starting a new career path or going for an interview. A few words can give them the confidence and aspiration they need. It will make you happy. Your words won't make their journey free of obstacles but will definitely give them the strength to face those obstacles. So, we have put some amazing words of encouragement that you can send to your friends and family to motivate them for an interview. Use these quotes to send your best good luck wishes.
Good Luck on Your Interview:
I know you are nervous right now about the interview. You think it's going to be tough. But, I know you have the potential to amaze. So, good luck with the interview.
Nobody deserves this job more than you. You have worked hard and you have been so determined at it. So, best of luck with the interview and may God bless you.
We sternly believe that you are about to Ace this interview. Just remain calm and believe in yourself. Give your best there and hope for the best! Good luck!
I hope today with the interview, you get to achieve your first set of goals. May your performance impress them and may you get it without any hindrance. All the best.
Hey, best of luck for your interview. Just relax and remember that this interview may determine if you're good enough for it but it won't determine how talented you are.
Good luck for your interview. Stay confident and believe that you can do it. You are worthy of this job. So, don't be nervous and give your best shot!
Let's hope that today's interview comes out to be one of the best interviews ever. So, get ready, look sharp, and be prepared to take over the world!
Remember to be focused for this interview. Your talent speaks iotas about you and I know you can ace this well. You have the talent in you! So good luck!
I have seen your passion and dedication to your work. You deserve this job the most. I hope your interviewers see it too. I hope you have a smooth journey to success.
Are you nervous about the job? Don't be! You have amazing talents that are bound to impress them. So, be confident and do your best to win them.
Read: Good Luck On Your Test Wishes
Words of Encouragement for Job Interview:
Today's a big day. You have a big interview that you have been preparing well with all your determination. Don't worry, all your hard work is going to pay off.
As you prepare yourself to step into the interview, understand that you worked hard and you have nothing to fear. Keep believing in yourself and success will be yours.
Today, in your interview, give your best shot but let it not decide your worth. Use it as an experience to learn and grow so that you can be better tomorrow.
When you walk into the interview, use all your knowledge and assets to help you reach your goal. Don't stop, don't be scared. Good luck, my friend.
Feeling nervous about the interview? Just remember that you worked hard for it and you have the potential to win it. I pray for you and wish you the best of everything.
Also Read: Congratulations On Your New Job Wishes
Good Luck Wishes And Messages For Interview:
Your interview is soon and you need to have faith in yourself. Your luck would accompany you if you believe in yourself. Let the best version of you come out in this interview.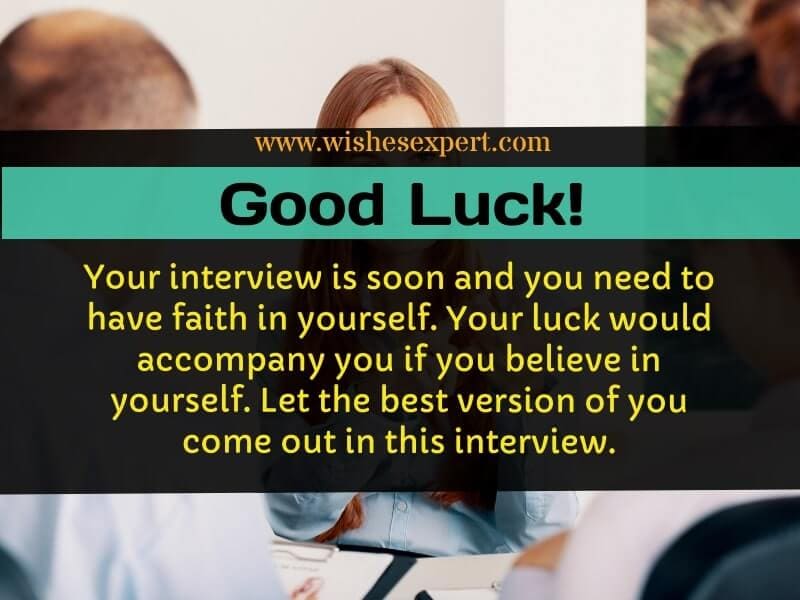 I am sure you will be amazing in this interview. Just keep calm and let your awesome self impress the interviewers. Good luck to you!
Hey friend, I believe in you a lot and you should too. You are going to do amazing in this interview if you have faith in yourself. You have the best of my wishes.
Step into your interview with a pinch of luck and a lot of confidence. Believe that you are going to excel at it and leave your interviewer in awe. Best of luck!
My dear friend, you are amazing and confident and I can't see any reason for you to not get this job. I hope your interview goes amazing. Break a leg!
Read More: Good Luck on Your New Adventure Wishes