Birthdays of the passed-on loved ones remind us of them the most. If your most loving and dear late uncle's birthday is nearby, then these happy birthday in heaven uncle wishes will help you process your emotions in a way. On such occasions, when emotions are steering up you, by no means, should hold yourself back from feeling them.
In fact, writing a letter to your uncle in heaven would help you feel close to him. You can use these wishes in that letter or say out loud or else keep them in your prayers with hope and knowing that he's hearing you. He'd be so glad to see that you still take out time to feel his presence.
Happy Birthday Wishes For Uncle In Heaven
#1. You left this planet but the memories we've made with you will never fade away; we'll keep them and you close to our hearts. Happy birthday, uncle in heaven.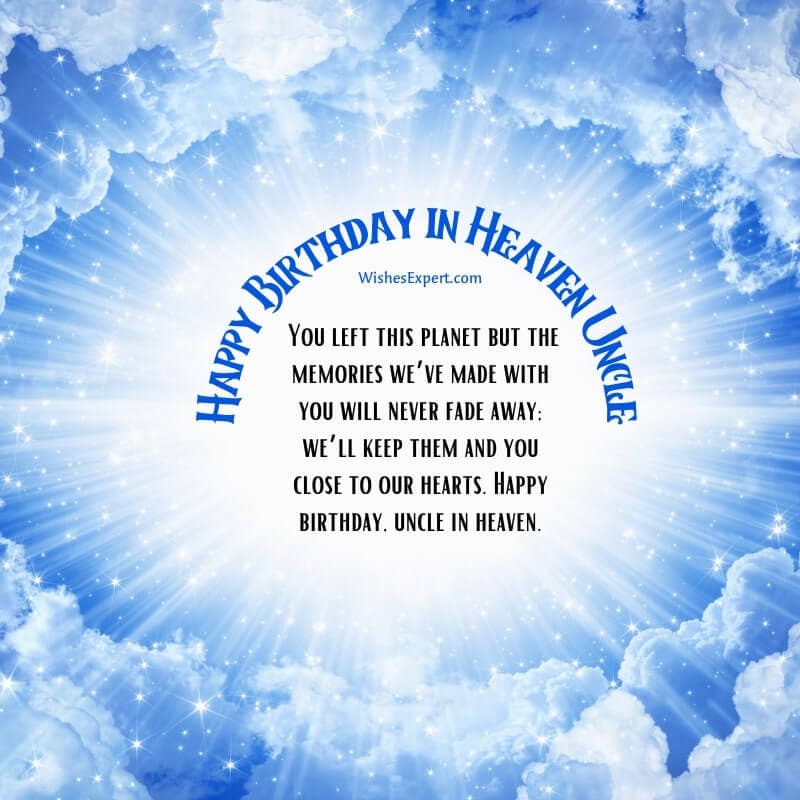 #2. I consider myself fortunate that I at least got to spend some time with you so I have something to cling to and never actually feel your absence. Happy birthday in heaven, uncle.
#3. Thanks to you uncle, my childhood is filled with the best memories. A belief that you still watch over me keeps me going. Happiest birthday in heaven.
#4. My future looked promising as a child because of you and you're no longer with me but my past looks cheerful because of you only. Happy birthday in heaven uncle.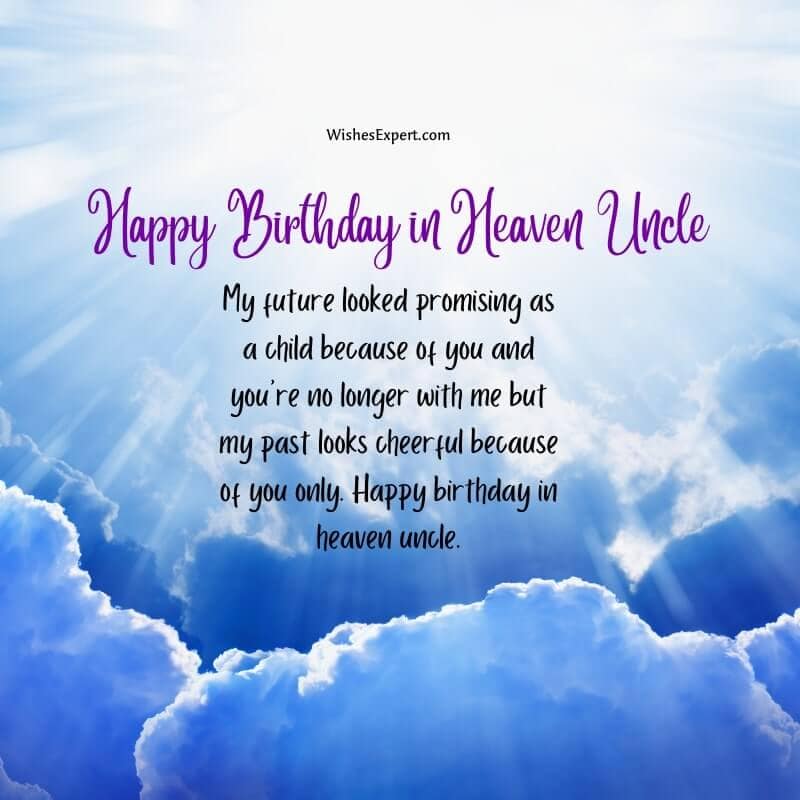 #5. God perhaps called you sooner because he wanted to protect your innocent, pure, and gentle soul. And I hope your soul is resting in peace. To the best uncle, I had, happy birthday.
#6. A sorrowful heart weighs heavy when flooded with your memories. In a hope that you're fine where you're, I sigh with relief. Happy birthday in heaven uncle.
#7. Under the influence of you, I grew up. It's why when I look into the mirror I can be proud of myself. Thank you for making me who I'm today; Happy birthday in heaven uncle.
#8. To grieve your loss is something I feel like I never can totally overcome because you were the semi-main character of my life. Happy birthday, uncle; I miss you so much.
#9. From the heaven above, I hope you're looking over me, I believe you're! And that belief fills the void your loss has left me with a little. Happy birthday, uncle.
#10. You were my cheerleader. You were my partner in crime. You were everything one needs in their childhood; you were my THAT uncle. You're missed a lot, especially today! Happy birthday uncle in heaven.
Read: Heartfelt Happy Birthday In Heaven Mom Wishes
Happy Heavenly Birthday Uncle
#1. You were the best guardian my parents could rely on when I was a little kid. You're gone but I'm assured that you're still watching over me as my guardian angel. Happy heavenly birthday uncle.
#2. Because of you, I have joyous memories of my birthday parties. Now as you're gone, I can never forget to celebrate your birthday as a repayment. Happy heavenly birthday uncle.
#3. I do leave the past in the past but you can never be forgotten because you've left a part of yourself with me and you're still alive in my heart. Happy birthday, uncle.
#4. Your presence was God's ultimate present. You left me with a treasure of memories. And in return, I promise I'll keep you safe in my memory land. Happy heavenly birthday uncle.
#5. To my late uncle, happiest birthday. You were the sweetest and jolliest being I've ever come across. Your absence can't be consoled by anyone or anything. I'll miss you forever.
Check: Birthday Wishes For dad In Heaven
Birthday Quotes For Uncle in Heaven
#1. While you rest in peace, we hope you don't forget to look out for us while celebrating your day in heaven. We wish to feel your presence, especially today. Happy birthday uncle in heaven.
#2. Never was an occasion when I didn't think highly of you. You were a celestial being even when you were on this planet; you've just reached your home. Happy heavenly birthday uncle.
#3. Happiest birthday to my sweetest uncle who now inhabits heaven. While you rest in peace there, we're going to send you tons of love by celebrating you here today.
#4. To the uncle whose existence on this planet inspired many but his nephew/niece to an unbound extent, happiest birthday. Don't forget to have the most fun in heaven; we know, here we'll.
#5. We'll let the waves of agony surpass us as we wish to rejoice knowing that from wherever you're watching us, you'd wish us to do the same. Happy birthday in heaven uncle.
Read More: Happy Birthday In Heaven Grandma Wishes
Birthday Greetings For Uncle In Heaven
#1. With teary eyes, a heavy heart, and a smile, I'm today looking over the sky hoping you'd be hearing me as I say, happy birthday, uncle.
#2. Today the grief will weigh a little more heavily. I wish you were here to wipe my tears and fill me with strength. However, I'll rejoice hoping you too are in heaven. Happy birthday, uncle.
#3. Dear late uncle, you were a rainbow in my grey life. Today, the best way I can give you tribute is by being the jolliest person and sharing the joy and I'll. Happy birthday.
#4. It's been impossible to bear your absence as you were all I had but I take comfort in knowing that you're still with me in some shape or form. Happy birthday uncle in heaven.
#5. To my late uncle, Happy birthday. You took on many hats for me. You moulded yourself in every role I needed you to be. I aspire to be the same for my nieces and nephews.
These were all the happy birthday uncle in heaven wishes we've had in store for you. Save the ones you felt the most drawn to or the ones that talked to you. Grieving the loss is a lengthy process, even after the five stages of experiencing grief, scars don't totally heal. Your uncle's birthday is the best day to remember him in a pleasant manner and to play the old memories on a loop because he wouldn't wish to see you crying on his birthday. Recall him with love, peace, and joy.