Your stepmother has taken tasks and responsibilities of your mother. And for doing it so willingly, she deserves the world.
Below-mentioned birthday wishes for stepmom are the ones you should go through if her birthday is coming and you want to wish her, not for the sake of it but whole-heartedly. What can be a better occasion to validate her efforts and showcase her some love than her birthday?
Take a step out of the stereotype circle in which stepmothers aren't appreciated. These birthday wishes hold the potential to make your stepmother's day because they carry loving messages in the most genuine ways. And you don't want to miss out on them because you wish to make your stepmother happy.
Happy Birthday to Stepmother
#1. For all you've done to nurture me and my brother, we're truly grateful to you. I wish you a year ahead where your relationship with my father blossoms more and more. Happy birthday.
#2. Without having asked much, you've given us everything we were seeking. You did fill in the place of our mother without us asking. To the best stepmother, happy birthday.
#3. Thank you for taking up the role that you were not bound to and yet doing it still so elegantly. Happy birthday!
#4. The world's stories told me that you'd be a wicked ogre but you gave me a different story to tell, in which you are a bonafide fighter. Happy birthday, my stepmother.
#5. To my stepmother who didn't treat me like her stepchild, I adore you and hold you in high regard. Happy birthday.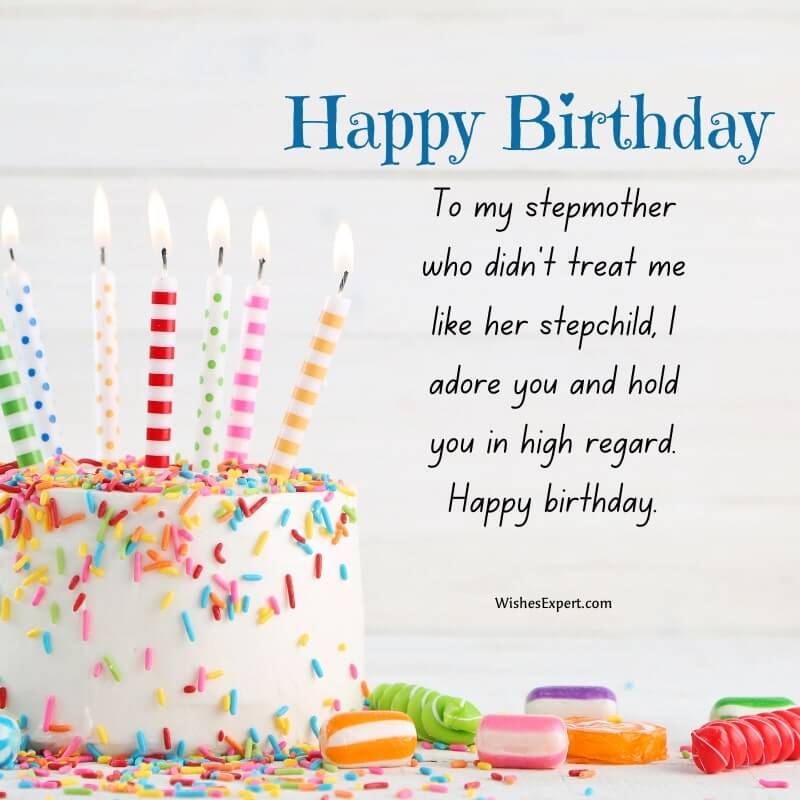 Read: 80 Best Happy Birthday Wishes For Mom
Best Birthday Wishes for Stepmom
#1. It takes an enormous amount of courage to accept the things that aren't super comfortable or pleasant and I congratulate you for being such a courageous person, happy birthday; have the best one.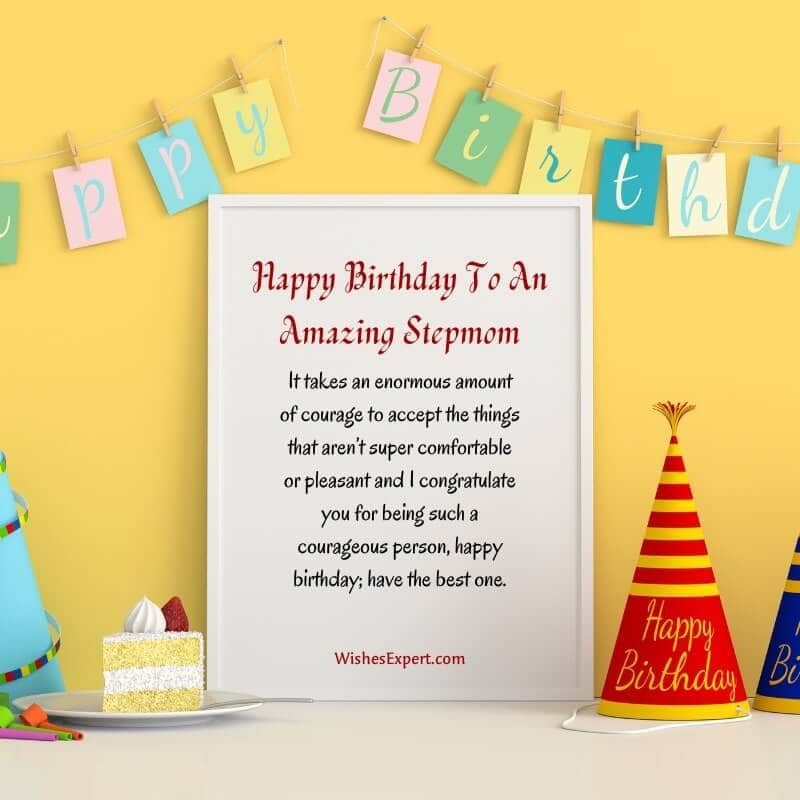 #2. To the stepmom, who has put in so much time and effort to be adaptable to this family's scenarios, we respect you more than you know. Happy birthday.
#3. I consider myself lucky enough to have a stepmom like you who has glued the relationships in this family with her love and kindness, we love you; and happiest birthday.
#4. For you've never made us feel left out, you'll always feel at home with us. Happy birthday, have a blast.
#5. Without you, we'd have never completed this family puzzle, you are the missing piece we were seeking, thank you for coming into my life. Happy birthday.
Check: 50+ Heartfelt Happy Birthday In Heaven Mom Wishes
Birthday Wishes for Stepmom
#1. Who needs the same DNA when we can all plant the seeds of love and nurture relationships? And you, my stepmother, are a perfect fit to be an example of that. Happy birthday.
#2. You didn't try to fit in. The way you blend into this family is a course that fate made happen. And to our fated mother, happy birthday.
#3. You couldn't have done better than this and no one else could've done better than you. To the perfect fit of this family, happy birthday.
#4. The lines between a real mother and a stepmother blur when the love is the same. To my prettiest mom, happy birthday.
#5. To the precious being who never let us deprive of the motherly love we seek and yearn for sometimes, happy birthday.
Also Read: 25 Awesome Birthday Wishes for Mom from Daughter
Stepmoms Birthday Wishes
#1. Like primary colors, you set the base for us to blend in. Like the core of this home, you hold everyone together. Thank you for being at the core and a primary person. Happy birthday.
#2. You were the glue we needed to bring all the people of the family together. You didn't create the slits, you healed the cracks. To the most valuable person in this family, happy birthday.
#3. The biggest and the most pleasant surprise dad has ever given us is you! Thank you for making him so happy and us, content. Happy birthday.
#4. We didn't have a checklist for our stepmother, but if we did, you'd have checked all those boxes; happy birthday!
#5. We wish you a year where you can be at ease within your skin and at comfort within this home. We hope we'll make you feel at home. Happy birthday.
Can you say these are the birthday wishes for stepmother you were looking for? We hope so. Go with the one that suits the dynamic of you and your stepmother. The one that makes you feel like "aww" or describes your stepmother perfectly is the one you should go with.
Other than that if you're the person who doesn't know your way around the words(which is totally fine) and are always in search of that suitable wish/greeting then you can head to our main page to go through other wishes/greetings for various occasions or scenarios.