9th birthday wishes are unique because the little kid has grown up and is all set to enter a transition phase. They can no longer be regarded as little ones because they learn to take age-appropriate responsibility and offer their views in different situations. It is the time when they start forming and voicing opinions.
Therefore, celebrating a nine-year-old kid's birthday is crucial because they will remember these birthday celebrations as wonderful memories while growing up. If you are confused about writing 9th birthday wishes for your beloved child, brother, sister, or cousin, then we have you covered. We have created some meaningful, personalized 9th birthday wishes that you can use to wish a 9-year-old.
Happy 9th Birthday:
1. Time flies so quickly, and today you are nine years old. No wonder you are pretty bold. On your birthday, let me tell you are more precious than gold.
2. Baby, look how much you have grown! It is like a little milestone. You have several milestones to cover and several mysteries to discover. Happy birthday, dear.
3. I can't imagine how quickly you have grown. You are now nine years old. Although, you started crying and crawling when you were one year old. I wish you a happy birthday, my child, and I promise you will never be alone.
4. Who would have thought that you would grow up so soon? I can see your dreams increasing while we appreciate you by the moon. May all your dreams come true. Happy birthday to you!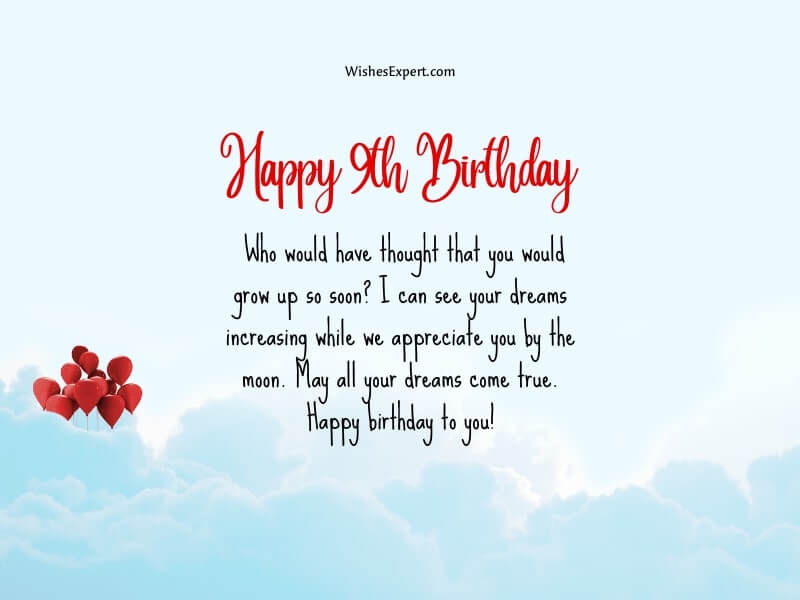 5. It is the beginning of your journey. I know you will prove yourself worthy. Many roads you will see, but choose the one that you desire. Happy birthday, dear.
Read: Happy 12th Birthday Quotes and Wishes
Happy 9th Birthday Wishes With Images:
1. You are growing up so quickly. I am unable to hold on to the moments, dearie. On your 9th birthday, I hope that you have a wonderful day.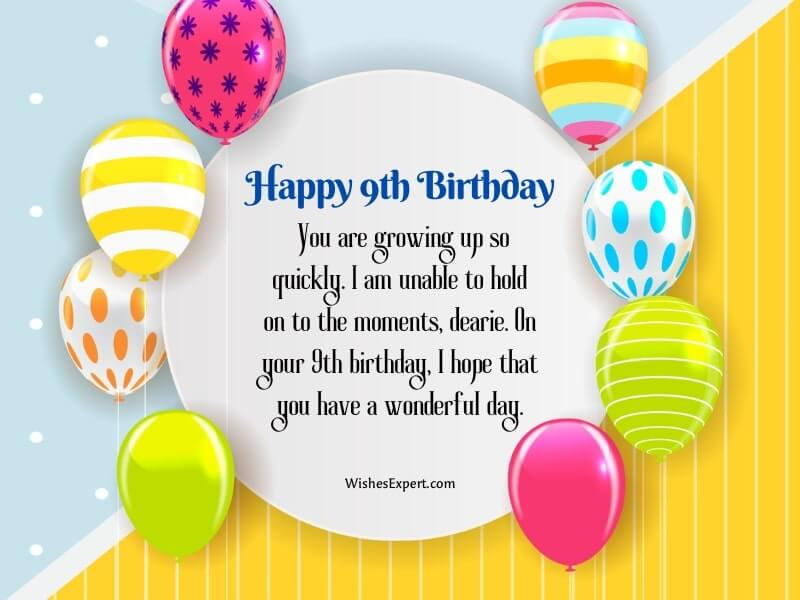 2. Life is all about collecting the good moments. Your 9th birthday is a sure reason for an eventful celebration. Happy birthday dear. Enjoy every moment of your 9th.
3. A smile is a small expression that can create wonders for you and the other. Keep smiling like this and celebrate your 9th birthday, and even if someone says anything, never bother.
4. Happy birthday, my child. Remember, life is like a rollercoaster ride. You are just starting to experience it. Try to love every bit of it.
5. You were a tall child, but now you have grown up as a wonderful person. You have a long journey ahead of you, and you should learn to question and reason. There is a small wish for you today. I wish you a happy birthday.
Read More: Happy 4th Birthday Wishes
Happy 9th Birthday Girl:
1. My little girl has grown up so fast that I can even believe she is a young lady now. You just look wow! Happy birthday, my lovely daughter. I hope you have a wonderful life ahead, dear.
2. You are nine years old, and I simply can't believe it. It seems I saw you crawling yesterday, and now you are fine young miss, and you look elegant when you sit. My dear daughter. Happy birthday, dear.
3. Either time is on horseback or you have decided to grow up so fast. My little girl who was engrossed in her dolls is now nine years old. Happy birthday girl.
4. My fine young miss, you are now capable of achieving her dreams, which is bliss. I wish you good health and prosperity on the eve of your 9th birthday, lovely.
5. You have grown up the most graceful young lady, buddy. Keep learning and fill your life's canvas with vibrant hues. Girl, happy birthday to you.
Read More: Happy 10th Birthday Wishes
9th Birthday Wishes For Boy:
1. It is impossible to believe that you were that little kid. Your jaunty walk shows how happy you are with what you did. Hey baby, keep walking and enjoy every moment of your birthday.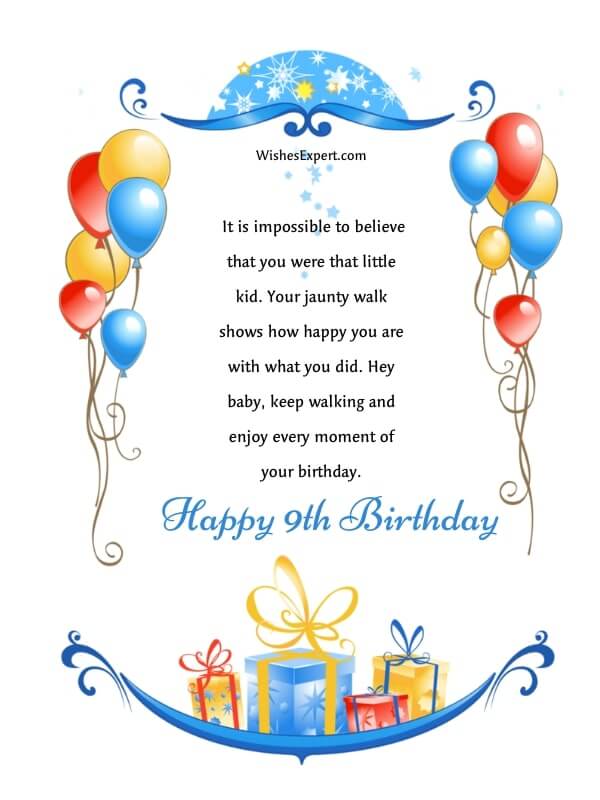 2. My dear child is now a fine young boy. With you, life is always full of joy. On this day, may God bless us both on the occasion of your 9th birthday.
3. My crying infant is now a mature boy who never fears. Hopefully, you will learn meaningful lessons. Son, let me wish you a happy 9th birthday, dear.
4. You are God's gift for me. On your 9th birthday, I wholeheartedly pray to God that he gives you the strength to face all the challenges life has to offer and those you see.
5. You were always mature. As a 9-year-old, you seem like a handsome young man, of which I am 100% sure. I hope your wisdom keeps growing with your age. On your birthday, I hope you gain control over your rage.
Final Word:
Setting up a birthday party includes ordering a cake, buying gifts, arranging a party, and more. However, birthdays are incomplete without meaningful wishes. Wishing a nine-year-old is about giving them your blessings and wishes. It is also essential to include some knowledge nuggets in the birthday wishes because they will remember it forever.
It might become daunting to write down a memorable wish for a child. For this reason, we have penned down a few 9ths' birthday wishes, which you can write on the gift card or handmade birthday card for a child. You can easily personalize the 9th birthday wishes and make the birthday boy/girl feel all the more special.