Birthdays are very special and joyous days, especially for the kids. It is a tradition to send heartfelt quotes and wishes for 12th birthday as it is the last before becoming a teenager. This year is truly something extraordinary for every kid trying to leave their childhood and entering their teenage years. Watching kids grow up around you is such a great blessing, as you can watch them understand their true nature better and become wonderful adults right in front of your eyes. As a person close to someone celebrating their 12th birthday, you must make this moment unforgettable for the almost-teen.
A genuine birthday wish can truly make anyone's day, but finding the words for a perfect happy birthday wish for the birthday girl or boy can prove to be quite a task. That is exactly is why we have put together a list of unique birthday wishes. You can pick the one which suits the birthday kid best and send it to that special 12-year-old to ensure their birthday is delightful and unforgettable.
Happy 12th Birthday:
1. Happy 12th birthday! I've watched you go from a crawling baby to a wonderful young lady, and it's been amazing to watch you grow. Here's to many more years of learning and experiencing!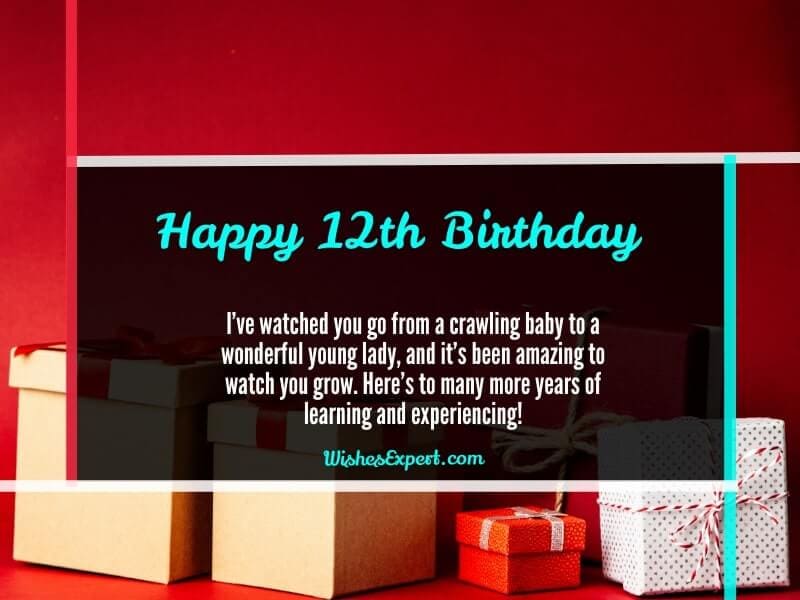 2. You are an example to everyone, and you have become an awe-inspiring and fascinating person for the people around you. Happy birthday, kid! Break a leg.
3. Happy birthday to the kid who is growing up way too fast! It seems that you're going to be bigger than me sooner than I know. Make sure to party hard today!
4. We still remember you from when you were just a baby, and now you're a strapping and charming young man who is ready to take on the world. Happy birthday, kid; enjoy your last year before becoming a teen!
5. We are beyond proud of the fantastic person that you are becoming; seeing you grow up has been a great joy for us and we can only thank you for this happiness. Happy 12th birthday!
6. Congratulations, you lived 12 years, and every year has 12 months! We hope for you a thousand more years like this which will be full of happiness and joy. Happy 12th Birthday!
7. I want to wish you a prosperous 12th birthday, and I pray that nothing in this world will be able to hold you back from becoming the wonderful person that you already are. Stay blessed, kid!
8. May you grow more incredible and more intelligent as you turn 12 today. You are our most favorite kid; happy birthday and stay blessed, sweetie!
9. On your 12th birthday, we wish you would achieve all your goals and succeed in every challenge in your life. You bring great joy to our lives. Happy birthday, kid!
10. Happy birthday to the person that spreads happiness in all our lives; may you collect all the joy in the world and get to cherish every moment of your life. Enjoy your 12th year of awesomeness!
Check: 55 Sweet Birthday Wishes For Sister
Happy 12th Birthday Wishes with Images:
1. For you, my favorite kid, here is my wish for your birthday. May this special day fulfill all your wishes and make your brightest dreams come to life. Happy 12th birthday!
2. All these years, we've watched you grow into a wonderful young person, and yet another adventurous year awaits you. We wish you a joyful teenage life and a delightful birthday!
3. Happy birthday to the only kid whose birthday I remember without anyone's help! I hope you know that you're my favorite kid, and that you have a wonderful life full of happiness and interesting experiences ahead of you.
4. You're 12 today and, better yet, for the next 365 days too. Enjoy every second of this particular age and achieve every little wish of yours. Happy birthday to my favorite kid in the world!
5. Happy 12th birthday! Luckily, you're old enough to have the birthday party of your dreams but young enough to stay out of trouble for it. I'm just kidding; I hope you'll have a delightful day and the best birthday party ever!
Read: Funny Birthday Wishes For Best Friend
12th Birthday Captions:
1. Birthdays are so delightfully special! Especially when they result in someone as wonderful as you. The bliss you bring to our lives is immeasurable and I hope you know how proud we are of you. Happy 12th birthday!
2. Happy birthday! I'll ensure that you've had the most unique 12th birthday ever to rival with your 13th one. Hopefully, you're enjoying your day well and planning your dream birthday blast.
3. It's the birthday of my favorite kid ever! That's because I love you more every day, and that's how special you are to me. Happy 12thbirthday!
4. Never forget that this is the only year you have to be a little kid. Next year is going to be the beginning of your teenage life which will be full of adventures and experiences. I wish you a very happy 12thbirthday!
5. If anyone asks for your age, tell them you are a dozen years of age; a dozen of everything is desired almost by everyone, just as we love you! Happy 12thbirthday, kiddo!
1. Happy 12th birthday, princess! Here's to 12 wonderful years of being the sweetest girl that you are and many more years of you becoming the wonderful young woman you will be. We're hoping your day is full of delight and happiness.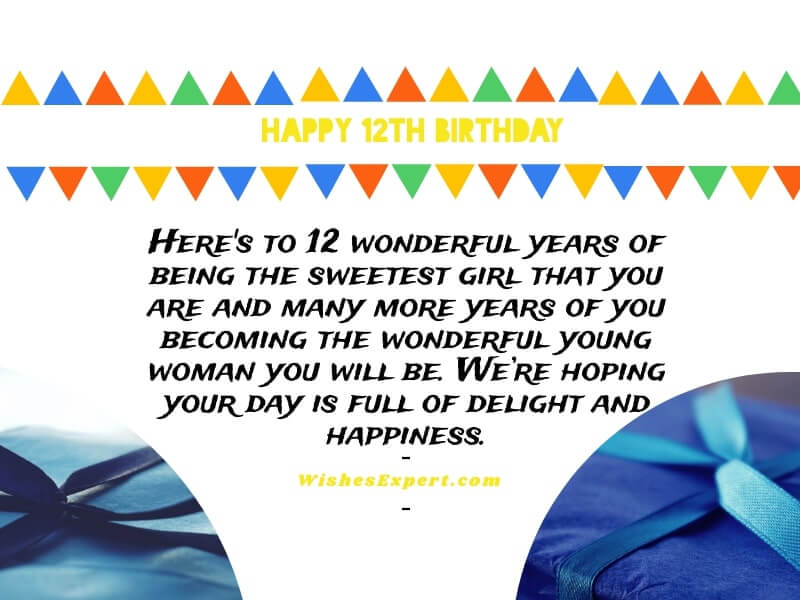 2. There isn't a more perfect or excellent girl in this world or the next than you. Happy 12th birthday, darling! You're the cutest and I know you'll get even cuter as years pass!
3. A 12-year-old girl like you deserves every one of her wishes and dreams to come true. My birthday wish for you this year is that you get everything you've ever wanted. Happy 12th birthday, princess!
4. Happy 12thbirthday to the gorgeous birthday girl! You're growing up so fast, and we can already tell what a sweet and lovely young lady you're going to be in a few years!
5. Happy 12th birthday, sweet girl! It's a well-deserving special birthday for you this year. You are my unique and fabulous girl.
Also Read: Happy 30th Birthday Wishes
Happy 12th Birthday Boy:
1. Happy 12th birthday, young man! From an adorable baby to a charming young man, now growing to become a man; I've seen every stage of your life. I wish you a future full of success and happiness!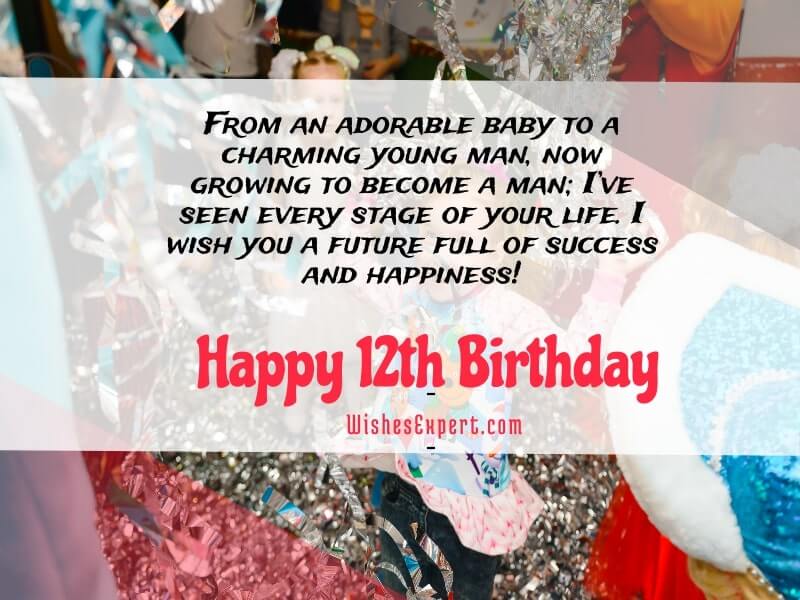 2. As you grow up, I hope you'll start bringing troublemaking to its end and start picking up a genuinely responsible attitude. I still adore you though. Happy 12th birthday to my favorite kid!
3. A decent, calm, and cool boy of your age is hard to find, but you have shown to be an excellent example. I wish you a teenage life full of joy and excitement. Happy 12th birthday, kid!
4. You are a fantastic guy, and I believe that you can do everything, but it is just a matter of acting smartly. Have a wonderful teenage life; happy 12thbirthday!
5. Be happy, make good and have fun; those are the only birthday rules I know of, my darling little birthday boy. May 12 be your lucky age; happy 12th birthday!
Check: Happy 18th Birthday Wishes and Messages
Happy 12th Birthday Son:
1. Happy 12thbirthday, son! I hope you know that there is no one else more important to me than you and I love you the most. Stay blessed!
2. We are beyond proud of the beautiful person you are becoming. Watching you go from an adorable little boy to an accomplished young man has been a prideful experience for you- happy birthday,son!
3. We're so lucky to have you in our lives as our son, and you make every day worth living for us. We hope you know that you're the source of our happiness. Happy 12thbirthday, sunshine!
4. Every day that we have spent taking care of you and watching you turn into this incredible human being has been truly worth it. Happy 12th birthday, son!
5. Happy birthday to a son like no other! Today, we get to celebrate another wonderful year we've spent with you, and we can never truly explain how much joy you have brought into our lives.
Try: Thank You Messages For Birthday Wishes
1. You may be growing up very fast, but you will always be my darling little angel. Happy 12th birthday to the sweetest granddaughter a grandparent can wish for!
2. Happy 12th birthday, sweetie! My love for you is endless, and I cherish every moment with my beautiful granddaughter. May you have a wonderful birthday; I'm eternally grateful for you.
3. You make us such silly and proud grandparents. Happiest birthday to our lovely granddaughter who just turned 12 today! Here's to many more amazing and memorable years with you.
4. Here's an inspiration for your 12th birthday! Never let anyone tell you that you can't do something; just put your mind to it, and you can achieve anything. We're the proudest grandparents; happy birthday!
5. On your special day today, just know that we're super proud of you, and our best wishes are always with you. Happy 12thbirthday to the best granddaughter in the world!
Happy 12th Birthday Grandson:
1. Grandparents adore seeing their grandchildren grow up, and we're no different. We're so proud to see how wonderful you're becoming day by day. Happy 12thbirthday, young man!
2. We're sending you lots of love on your 12th birthday from your loving grandparents. We hope you like our present and get many more amazing ones. Happy birthday, have a marvelous time!
3. May the angels that have been protecting you so far continue to do so; we're so blessed to have a grandson like you. We love you the most, young man, and we're wishing you the happiest 12th birthday!
4. Happy birthday to our favorite grandson! Now that you are close to becoming a teenager, I hope you'll grow to understand how it feels to get old, like us! We're only kidding; enjoy your youth while you can, kiddo!
5. You will always be my little angel, no matter how many years pass. I wish you a very happy birthday; may this 12th year of your life bring a lot of happiness and joy that you'll never forget.
Happy 12th Birthday Niece:
1. Happy 12th birthday to my niece, who takes after her aunt in every way –gorgeous, intelligent, funny, and a lot more! I look forward to seeing you become the accomplished young woman I know you will be.
2. Happy birthday to my sweet little niece! You will turn 12 years of age today, and your journey for becoming a strong person who achieves whatever she aims for. Enjoy this journey!
3. Happy birthday to the brightest member of the family! May you succeed tremendously in your life and get all the happiness in the world. Enjoy the 12th year of your life as much as possible!
4. Happy 12th birthday to my favorite niece! I will make sure I get to see you lots more over the coming year and make more fun plans with you this special year. Stay blessed!
5. Happy 12th birthday to our funny, loving, and beautiful niece. We hope you have a brilliant day and enjoy all the fun your birthday will bring!
Birthday wishes let people know how much you love them and how much they mean to you. Choosing the correct words to wish your loved ones on their special day can sometimes be tricky. If you want to show just how happy you are for them and what a big day it is, don't be afraid to show some emotions and be honest. Children love to celebrate their birthdays, and you should celebrate them in such a way that will ensure that they never forget the amazing time they had. Make their day even more joyous with a perfect 12th birthday wish!