Happy 70th Birthday Wishes: Each year that passes in our life makes us smarter and wiser. The bigger the number of your birthday, the more reasons you have to celebrate even if it's not your birthday. If you have an experienced person around you who is just going to have his 70th birthday and you want to send them warm wishes, we have everything planned out for you. Here are 35 Happy 70th birthday wishes to fill their day with happiness:
Happy 70th Birthday:
1. No matter how old you are, you will always be my best buddy. I have learned countless things from you that I can never forget. Happy 70th Birthday, Grandpa!
2. I will not reveal how old you are if you promise to give me an amazing treat. Happy 70th birthday, Granny. Let's make a trip to the café and enjoy your birthday!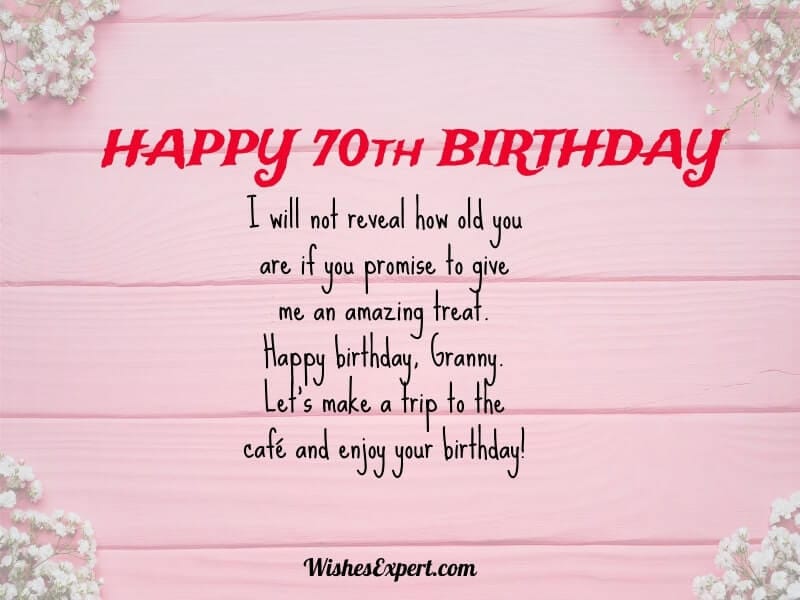 3. Hey, friend! Party hard on your 70th birthday because you are still young at your heart. I have never met a person like you in my life. Have a blast!
4. Let's not put the candles on your cake this day and enjoy like you are still young. All the best wishes from me on your special day, pal!
5. They say that age is just a number. In your case, it is actually true. You are the liveliest and loveliest person I have ever met! Have a wonderful 70th birthday celebration.
6. Let's open the box of old memories this birthday and reminiscence the golden time of our life. Make this birthday as memorable as the birthdays in your 20s. Enjoy!
Check: Happy 80th Birthday Wishes
7. Today is your special day. May your life be filled with all the best things and countless moments of joy. Have an unforgettable birthday this year.
8. Even though you are my colleague, you are nothing less than a brother to me. On your 70th birthday, I want you to have all your wishes fulfilled. Happy Birthday!
9. Happy 70th birthday, friend. May you have many more. I hope this day turns out to e exactly how have planned and fill your life with happiness. You are always in my prayers.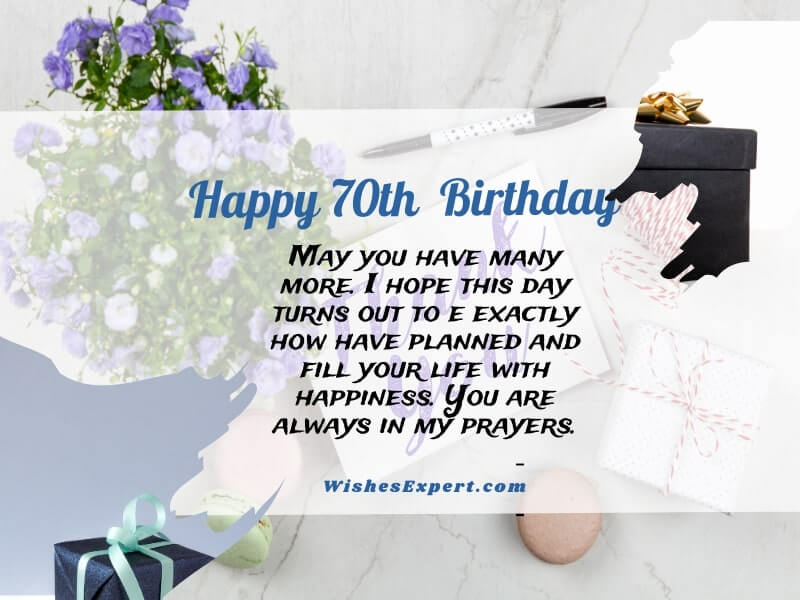 10. 70th birthday means you have spent 70 healthy years of your life. May you continue to prosper this way and make the most out of each moment in life. Happy birthday!
Read: Wishes For Grandfather
Happy 70th Birthday Wishes With Images:
1. With each passing year, you are transforming into a wiser and kinder person. I have learned most of my life values from you. Happy 70th birthday!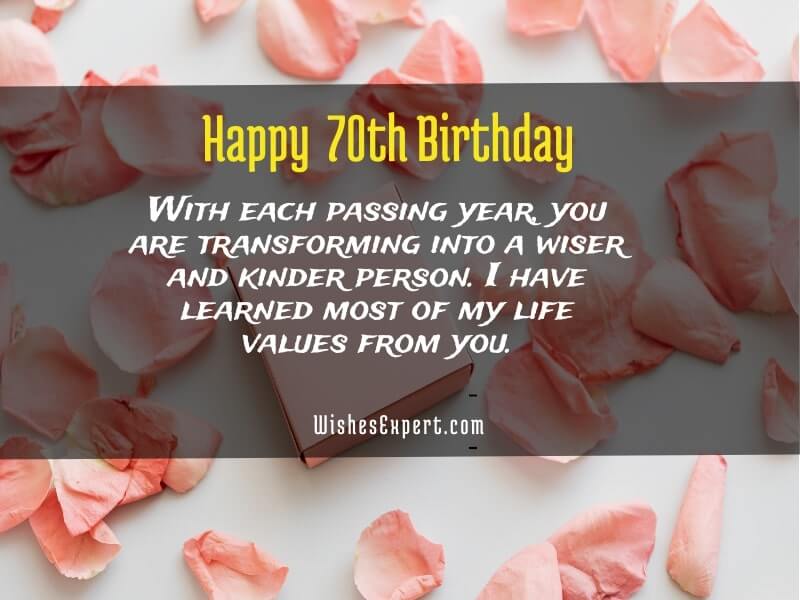 2. The more time I spend with you the more I realize what it means to cherish each small moment in life. May you continue to shine like this forever. Happy 70th birthday!
3. Happy 70th birthday to the most precious man in my life. Our hair has turned silver but you are still so young at heart. I love you so much.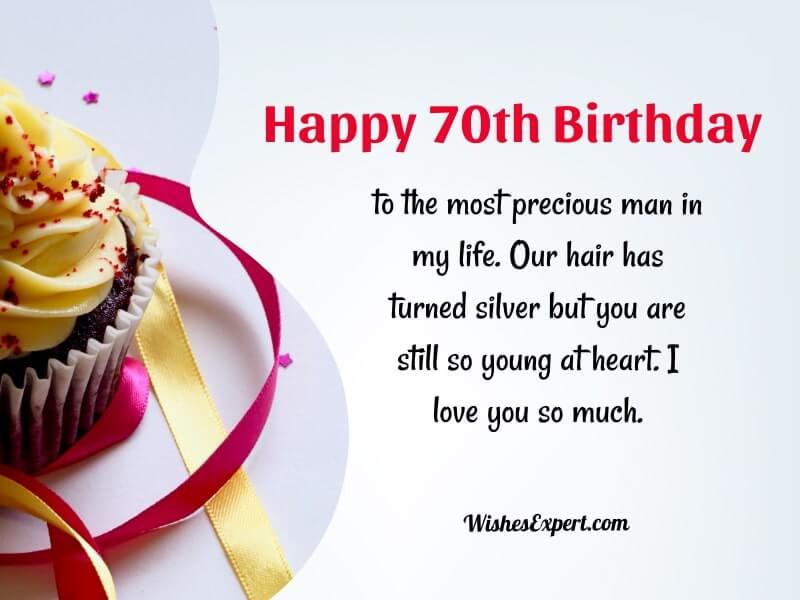 4. The day we became friends, I told you that you are the sweetest person I have ever seen. With each passing year, you have only turned sweeter. Happy 70th Birthday to you!
5. We have 70 reasons to enjoy and celebrate your birthday. You are the person who has taught me the true meaning of a birthday. I hope you have a birthday you never want to forget.
6. The best part about getting old is that you don't need to take any permission from anyone. You can enjoy your birthday just the way you want. Enjoy your 70th birthday, friend!
7. You were born 7 decades ago and you have seen the world in many of its different stages. Happiest wishes for the kindest man in my life. Happy 70th birthday, Grand Dad.
8. You are one of the most helping, caring, and cheerful people I have met. Thanks for filling my world with happiness. Happy 70th birthday to you, dear friend!
9. Each year I tell you how special you are to me. On your 70th birthday, I want to thank you for each and everything you have done to make me a better person. Happy birthday.
10. Forget about counting your calories and macros tonight and have as much cake as you want. You are the smartest 70-year old I have seen but tonight it's okay to cheat your diet. Enjoy your birthday!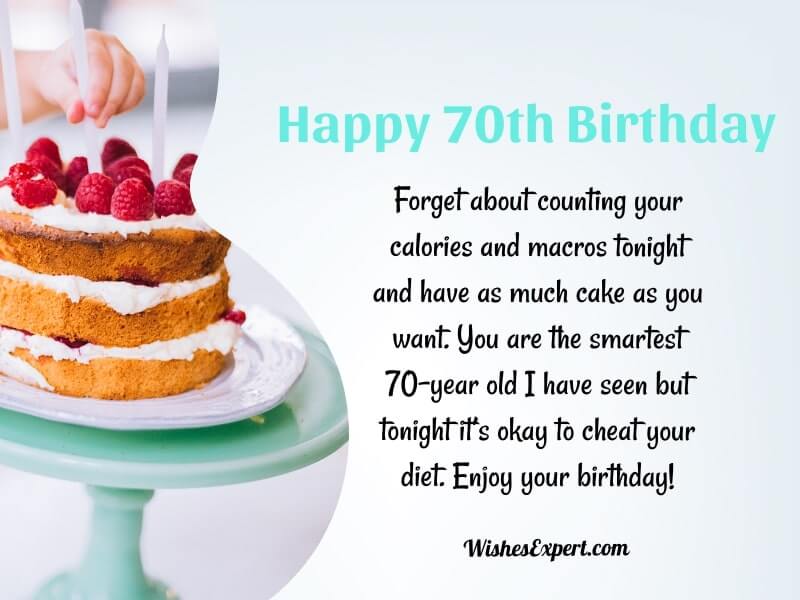 Take A Look: Birthday Wishes for Uncle
Funny Happy 70th Birthday:
1. Let's just not put any candles on the cake tonight and celebrate like you are still young, as long as I get the biggest slice. Have a blast, buddy!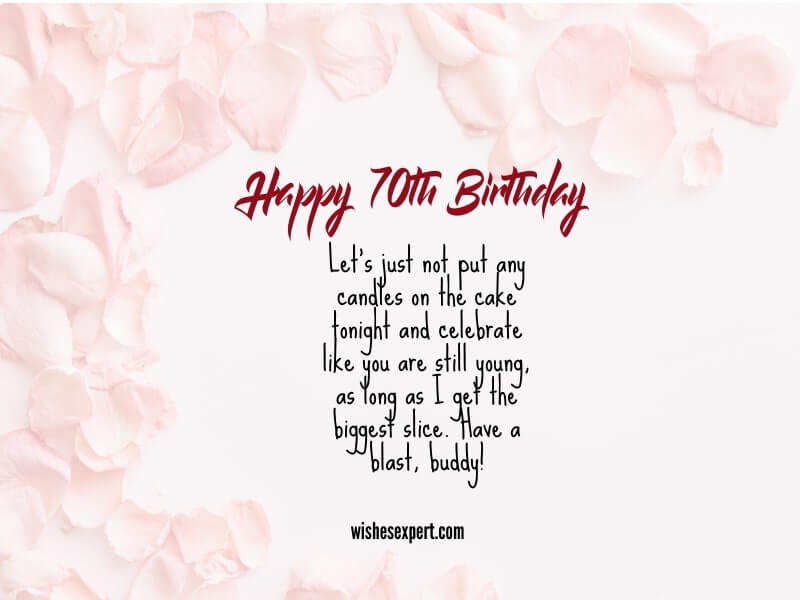 2. The best part about getting old is that you do not have to sneak in alcohol to enjoy your special day. You have all the right to celebrate your birthday with a glass or two, or more. Enjoy!
3. I have heard that by 70 you start having memory issues so let's use that in our favor. Forget that you are 70 years old and have a blast! Happy birthday!
4. The best part about being 70 is that you can easily pass as a Santa for your grandkids. I guess there's really no retirement in life after all. Happy birthday, dude!
5. Tonight let's just not count the years of your life and the grey hair on your head. Enjoy your 70th birthday with a young spirit and make countless memories.
Try: Happy Birthday Wishes For Grandma
Happy 70th Birthday Mom:
1. I love you mom for spending the golden years of your life taking care of me and giving me the values that make me such a respectable young woman today. Happy 70th birthday!
2. Hey mom, each year on your birthday I want to spoil you more than before. I can never repay for the countless times you put me and my needs on top but I can make sure you get everything you want in your life now. Happy 70th Birthday.
3. You say that I am the biggest gift you have ever been blessed with. So, does that mean I don't have to buy you a present? Happy birthday, mommy!
4. Today I wish all the angels in the heavens to come together and fulfill all your desires. I hope this special day becomes more and more special with each moment. Happy 70th birthday,mom.
5. As a young girl, I never understood the pain and struggle you went through to give me a better life. Now that I am older and I understand all your efforts I want to make each day of your life more special than you can imagine. Happy 70th birthday.
Read: 40 Sweet Birthday Wishes For Mother in Law
Happy 70th Birthday Dad:
1. Dad, you are the first person who taught me how to face this world with the utmost confidence in myself. I can never ready you for that. Stay blessed and have a very happy 70th birthday.
2. I cannot believe you are 70 years old dad. I still remember having a team with you to fight off the zombies and aliens with a ride on your back. Happy birthday to my dad who is more of a best friend for me.
3. I am so proud to have a father like you who has taught me how to live with the best examples. You are truly a man of character and respect. Happy 70th birthday to you.
4. Dear father, I am grateful for everything you have done for me to transform me into the person I am today. Happy birthday, young man! Remember, age is just a number.
5. Hey dad, I want you to know that you are most amazing dad in the world. Thank you for giving me a childhood that I can cherish from time to time. Happy 70th birthday to my biggest support!
With these original and heartfelt 70th birthday wishes, you can make that special 70 years old delighted on their special day. Appreciate their existence around you and make them feel loved on their birthday by sending them a beautiful wish.