Birthdays are special occasions that allow you to celebrate the lives of the people you love. Check worthy happy birthday wishes for your grandfather, and send them to show your love for them.
After all, Grandparents are inseparable parts of a family, and they try to incorporate different values in their grandchildren to help them to face the world confidently.
For your grandpa, birthdays are meaningful as he receives warmth from their family members while reflecting on the milestones they have achieved throughout the years. Though there is no occasion to celebrate your relationship with your grandpa, you can thank them with a heartfelt birthday wish on their birthday.
Here is a list of birthday quotes for your grandpa that reflect your emotions for your grandpa, whom you cherish. Your messages can express how much they mean to you, which will bring a bright smile to their faces.
Best Birthday Wishes Collection For Grandpa:
1. Grandpa, you are the one we turn to when we need a guiding light. I hope this birthday brings you things that can make your smile bright.
2. Our memories bring a smile to my face. I know nothing can replace your loving embrace. Happy birthday Grandpa, and I hope you will enjoy this phase!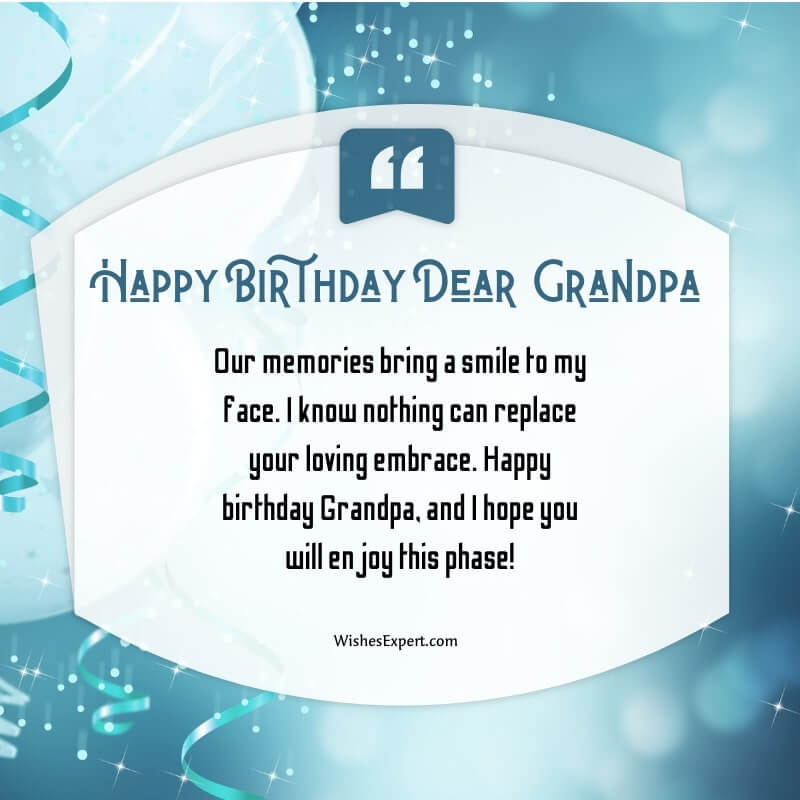 3. Your wisdom, knowledge, and sense of humor are like an unfathomable mine. Grandpa, did I ever tell you, you are aging like a costly, fine wine? I wish you an angelic birthday because you are holier than a shrine.
4. Happy birthday to my partner in crime! I will never have a better accomplice saving me from trouble all the time. Stay healthy and enjoy your birthday on full blast! Grandpa, party hard, and don't end it too fast!
5. Grandpa, there are countless life lessons that you have taught me. Enjoy your day filled with the warm love of your close friends and family. I wish you a sweet birthday, my honeybee.
6. Grandpa, when I was a baby, you picked me up whenever I fell and supported me. Even today, you are my biggest supporter who stands by everything happily. Happiest birthday, grandpa, my fairy!
7. Happy birthday to the most amazing grandpa in the world! You inspire me with your wisdom, kindness, and love. May your special day be filled with joy and laughter.
8. Grandpa, thank you for everything you have done for me all these years. Your words and support have made me strong enough to stand tall and face all my fears. I pray, grandpa, that you celebrate your birthday amidst the fresh air!
9. Grandpa, you've taught me so much about life, love, and perseverance. I am grateful for your guidance and support. Wishing you a very happy birthday and many more to come.
10. Let me wish you a youth birthday because you proved that age is just a number in every possible way. May this year bring enough happiness for you on your way. Celebrate the rest of the years like you celebrate your birthday.
11. On your birthday, I want to thank you for being the best grandpa ever. Your stories, hugs, and jokes always brighten my day. May your birthday be as wonderful as you are.
12. Grandpa, my life would have been incomplete without your presence. I am thankful because you shaped my mind with your thoughts and lessons. Accept my birthday wishes filled with my overwhelming passion!
13. Happy birthday to my hero, my friend, my grandpa. You have a heart of gold and a spirit of adventure. May your birthday be filled with all the things that make you happy.
14. You are my best friend with whom I can share anything; a joke, a problem, or a top secret. You are great, and I know I am blowing your trumpet! Failing to wish you a happy birthday will be my biggest regret!
15. You are the best grandpa in the world, and I am so grateful to have you in my life. Here's to another year of creating memories. May all of your favorite things be there on your birthday
Read: Thank You Messages For Birthday Wishes
Happy Birthday Grandpa
16. Dear Grandpa, you are the most important person and someone who has always been there for me. I know we don't get to spend much time together but please know that I love you with all my heart. Happy birthday!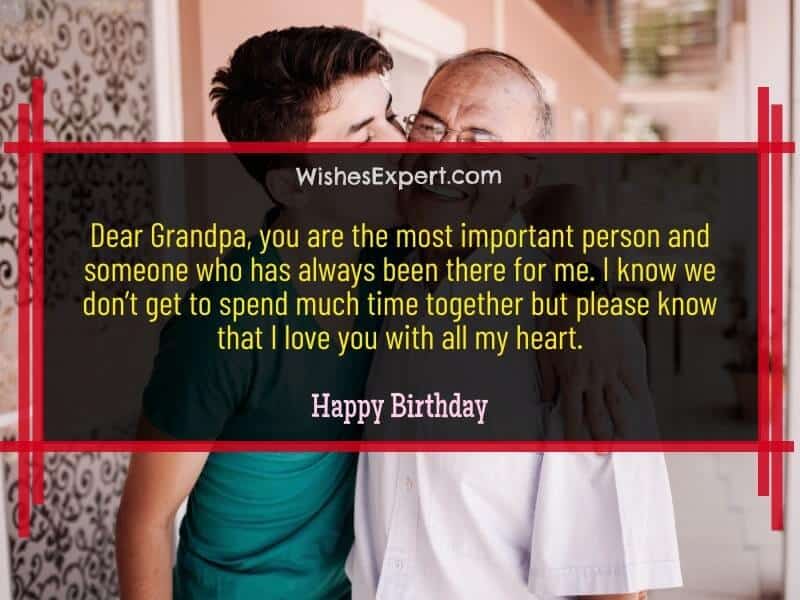 17. Happiest birthday, Grandpa. I have always been in awe of the person you are, and I would always want you by my side because you are my strength and everything good, I could ever wish for.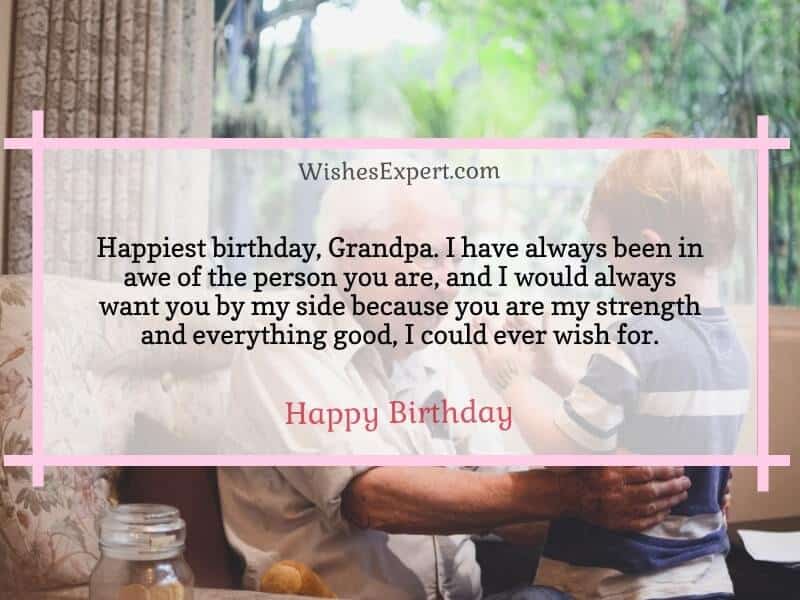 18. Grandpa, you are my hero and my one true love. I hope you enjoy your day with the sweetest birthday cake and lots of good food because I know you love that! Wishing you a happiest birthday and may you have many more.
19. My dearest Grandpa, I hope you are in the best of spirits and health. This is your big day and I cannot wait to be with you as soon as I can. Please enjoy this wonderful day because the world always enjoys your existence. Sending you love and prayers on your birthday.
20. Grandpa, you are like a fine wine; the more you age, the better you become. I respect the wit, generosity, and wisdom you possess. I hope your birthday is as unique as you are.
21. The day has come when the world became a much better place with your arrival in it. You are such a generous, loving, and compassionate person and I hope that you always remain the same. May you have the best birthday ever!
Read: Birthday Wishes for Uncle
Grandfather Birthday Quotes And Wishes
22. . A grandpa is that person in life who always loves you and never lets you down. The one thing that I would always appreciate in life is your existence in my life. Happy birthday, grandpa.
23. Happiest birthday to the world's greatest grandpa. You are not only my grandpa but my best friend as well. I am so lucky to have you in my life.
24. I always wonder as to how someone can be so wonderful and then I look at you and realize that wonders do happen when you have a grandpa in your life. Happy birthday!
25. Happy birthday to the patriarch of our family, my beloved grandpa. You have taught us the importance of family, faith, and hard work. May your birthday be a reflection of all the blessings you have given to others.
26. . Dear grandpa, you are the star that shines the brightest and the sun that brings light into my dark life. I hope you always remain happy. Happiest birthday, our sunshine!
27. It is always so magical to hear about miracles happening but the greatest miracle that I have witnessed is in your form. You are the best grandpa, happy birthday to you.
Also Read: Birthday Wishes For Grandma
Birthday Wishes for Granddad
28. I have always loved how you smile even in the toughest of times. Now, when it is your birthday, I hope you smile even brighter. Happy birthday, granddad.
29. You are such a strong and amazing person for having led such a wonderful life even when things were not always in your favor. I hope you get all the best things of the world, happy birthday to you!
30. I am such a lucky person to have you in my life and I wish that you continue to spread happiness in everyone's life. You are the best! Happy birthday.
31. Grandpa, you make getting older seem effortless and graceful. You have a contagious and energizing zest for life. I hope you have a wonderful, exciting, and healthy birthday.
32. Dear granddad, as we celebrate your birthday, I hope you live a long and healthy life that is full of beautiful surprises. May you have many more.
33. You are a blessing of the God and a wonderful miracle that has made our lives so much easier. May God bless you and give you all the happiness you deserve. Happy birthday.
34. Happy Birthday to the coolest grandpa in town! Your stories, jokes, and practical jokes always make us chuckle. Laughter and love be with you on your special day.
35. Grandpa, you serve as a mentor, a teacher, and a friend. We will always treasure your legacy of love and kindness. May your birthday serve as a reminder of how much you are cherished and admired.
Related: Happy Birthday in Heaven Grandpa
Final Sayings:
Messages like happy birthday, grandpa, wishes for grandfathers, or a simple text message on a grandparent's birthday reflect the grandkids' love and appreciation for their grandfathers.Birthdays are not only occasions for celebration, but they also reflect gratitude.Send a lovely happy birthday, grandpa, and wishes for grandfather on their birthday that can capture the essence of all these emotions. Rekindle the precious memories you have made with your grandpa as you celebrate their birthday.
You can use the quotes to show the bond with your grandfather. Your message will let them know how important they are in your life and how they have inspired you.