Birthday Wishes For Son From Mom: If the occasion is the birthday of your son then the celebration must be held but before that takes place, you must have a look at these birthday wishes for son from mom to wish him first. Your son's birthday might bring out a lot many emotions as the flashes from the moment of acknowledging his existence in your belly to the current moment, would be on the fast track in your mind. To express your emotions to the fullest and to bless him with beautiful words, these wishes are the ones you should go with.
It is needless to say how much significance the birthday wishes hold! To shower your son with love, go with the below-mentioned wishes.
Birthday Wishes For Son From Mom:
1. Son, keep on radiating your light to irradiate the lives of others 'cause the world so needs it, happiest birthday, son!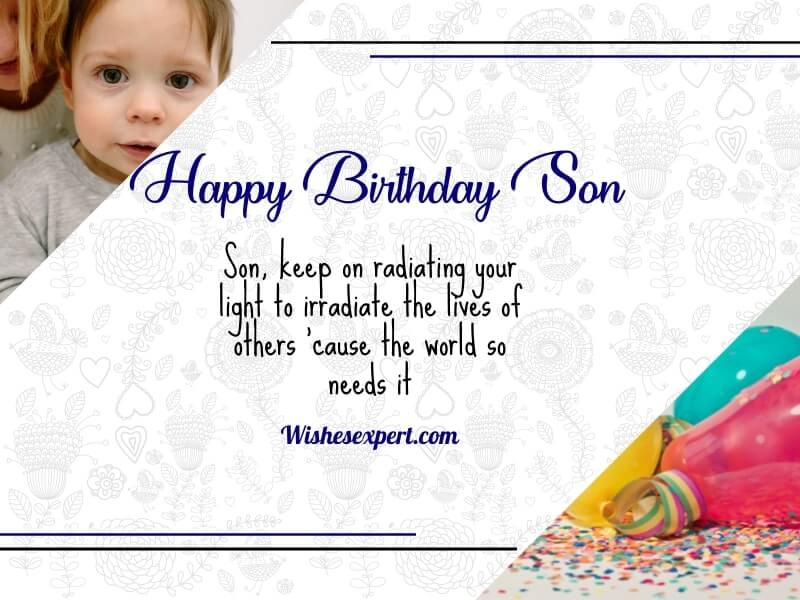 2. Every year, today I thank God for fulfilling my dream of having a child like you and as always, I wish you delightful new beginnings, happiest birthday, son.
3. From being cheered up by me to cheering me up, from holding my hand to becoming the pillar of my strength, son, truly you are growing. Happy birthday.
4. May nothing and no one ever dims your light for you are the Sun who cannot afford to not shine his light even for one day; happy birthday.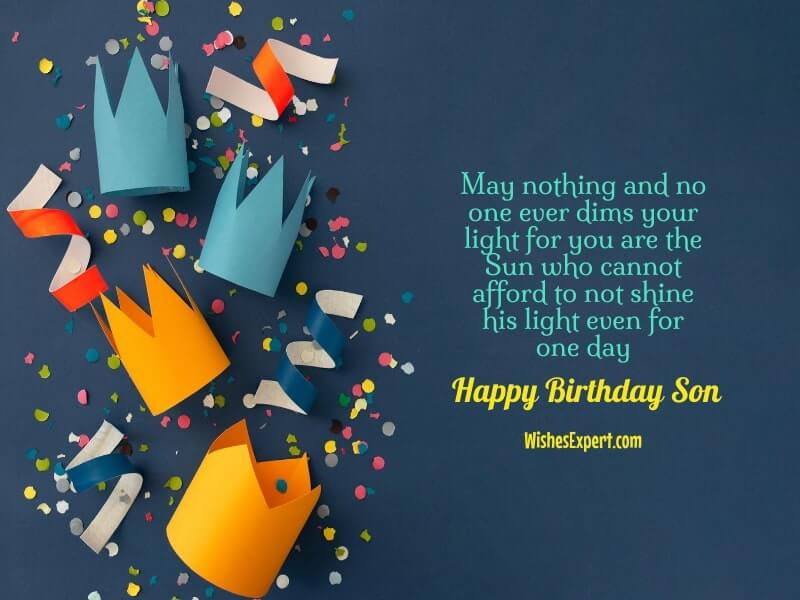 5. Happy birthday, son. As you blow candles today, you are embarking on a new chapter of your life that is meant to help you succeed in life, believe it, and it'll happen.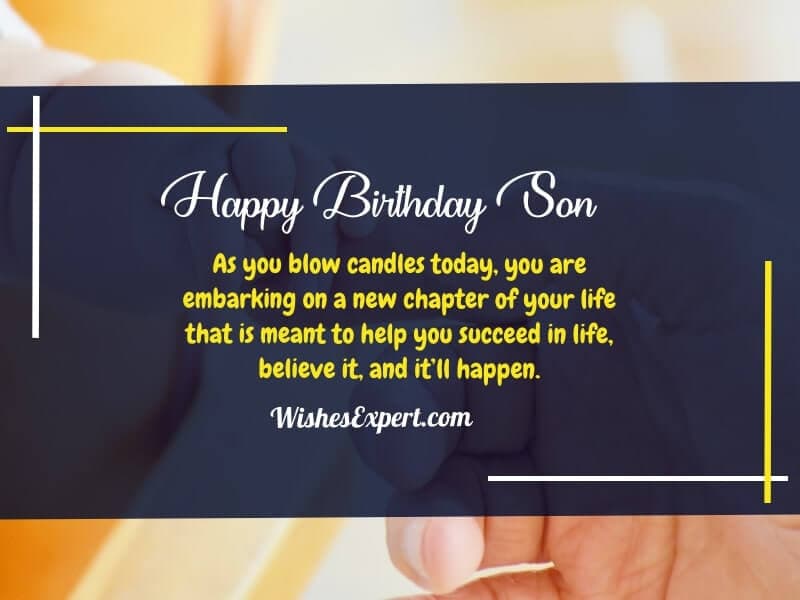 6. You are so valued, loved, appreciated by all of us and the most by your mother, always remember it, son! Happy birthday.
7. May the upcoming year help you build the solid ground on which you can build the paradise of your beautiful life, happy birthday, son.
8. With the witty brain cells, handsome features, and a kind soul, son, you have all the reasons to make me proud of you every day. Happy birthday to the most amazing son ever.
9. Happy birthday, son. Don't forget to wear the spirit of joy and operate from the source of love and kindness today and every day.
10. Son, we are grateful to have you and proud to see the wonderful human being you are becoming; keep on being you, and happy birthday!
Read: Happy 18th Birthday Wishes
Birthday Quotes For Son From Mom:
1. Son, I want to thank you for making each day of my life more precious by letting me witness your immense growth, keep on growing; happy birthday.
2. Son, lock in all the moments of joy, our blessings, and wishes with a knowing that you are cherished and loved by all of us no matter what. Happiest birthday.
3. I want to see you always smiling with a heart that is open to love and eyes that are filled with wonders, happy birthday, son.
4. May the divine be the kindest today to you and shower you with the blessings that will make your day and the year ahead happiest. Happy birthday, son.
5. Son, write down your story with sheer courage, tear down the page if you do not like what you are seeing with no shame, and be you with no comparison! Happy birthday, son.
6. Whether I stay close to you or apart, my blessings and love will stay with you to protect you from everything that is of harm; happy birthday, son.
7. May this year bring you sheer joy, pure laughter, brilliant insights, and great enthusiasm to help you have the best year. Happiest birthday.
8. Being your mother is my favorite task that God has handed me to do and I find my pure bliss in loving you and taking care of you. Happy birthday, son.
9. May you walk in this life lighter on your feet, in your heart and soul for life is too short to live it as burdensome, keep these words forever with you. Happy birthday, son.
10. May you stay young at heart, a gentleman in your skin, and develop more grey cells in your head, happy birthday son.
Read More: Happy 21st Birthday Wishes
Heartfelt Birthday Wishes For Son From Mother:
1. Son, today reminds me of the day of your birth when the pain I was having vanished away and the tears became the tears of joy; Thank you for coming into this world, happy birthday.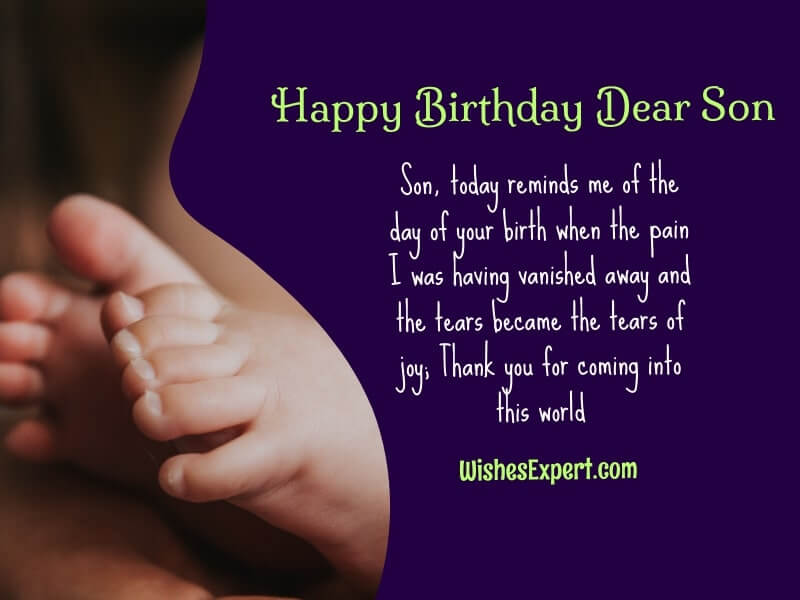 2. Happy birthday, son. No matter how older you get, feel no hesitation to come to your mother for anything as I will be always happy to help you.
3. Son, you are the lighthouse for me and our family; you make me hopeful in times of uncertainty and dark, you are the reason I smile in times of melancholy, thank you, and happiest birthday.
4. Son, I wish my prayers never fail to keep you safe from the evil that exists in the world for you are truly an innocent soul, happiest birthday.
5. Without you son, neither our family photograph nor our family gatherings are complete, without you neither our home nor our lives would be complete. Thank you for being my son and happy birthday!
6. ,Nothing puts my soul at ease than seeing your face with the biggest smile on your face, and I wish that big smile never fades for any reason, happy birthday son.
7. I believe, all my good deeds got paid very well by God the moment you entered into this world. I am so grateful to have you in my life, happiest birthday son.
8. Hope all your dreams become reality. May you reap the rewards of all the hard work you have done. May this year be the best year of your life so far, happiest birthday.
9. Son, may you get to have the fruits of your labor. May you get to live all your desires. May this year, you find yourself happiest. Happy birthday!
10. Happy birthday, son. I wish, the lens that makes us view the beauty of life in its purest and the gentle form never gets broken for you.
Check: Happy 25th Birthday Wishes And Messages
Happy Birthday Son From Mom:
1. Son, I hope that this year, the phase of abundant happiness and prosperity enters your life and you get to enjoy life to the fullest, happy birthday!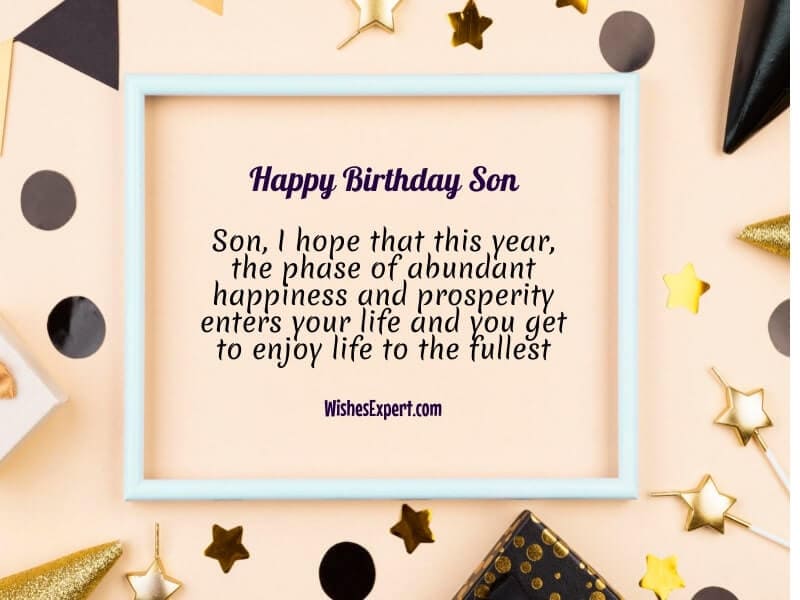 2. You are the son of my dreams and you have helped me become the mother that I always dreamt of being, happy birthday son.
3. May like the colors in an art piece, you blend in with the people and surroundings you get to work with, happy birthday, son.
4. Son, I cannot thank you enough for being the most responsible kid in your childhood and the most gentleman in your adulthood, you make me proud every time, happy birthday, son.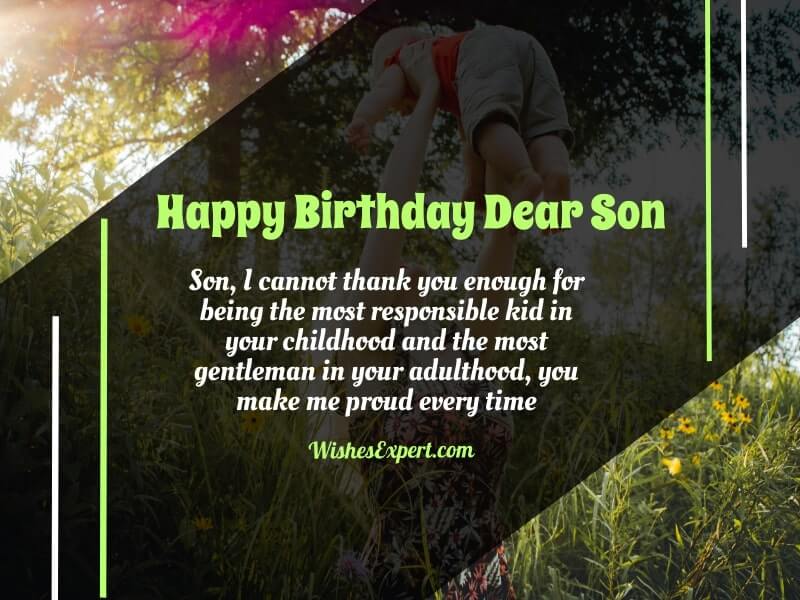 5. Son, today on your birthday, I want to give you the best advice and that is to never get yourself trapped in the victim mentality mode. Happy birthday.
6. May today be a remarkable and heart-warming day to make you feel overwhelmed with love and happiness, happy birthday, son.
7. The treasure you carry within is beyond precious to be praised in the words, all I want you to know is I am a proud mother of an excellent son like you, happy birthday!
8. May the trust in yourself, hope for the future, and faith in the divine never fade away, happy birthday, son.
9. Son, today I pray for you to have sound health, abundant wealth, peaceful life, loving and caring people around you. Happy birthday, son.
10. Son, I wish, the pathway of opportunities opens for you and you walk in with no fear in your head and undeniable faith in yourself to succeed in life, happy birthday!
Also Read: Happy Birthday Son in Law Wishes & Messages
1. Happy birthday, son. There is no doubt in you are being blessed with luck, otherwise, how would you get me as your mother?
2. Happy birthday, son. I wish that my intuition gets stronger and I become a savage mom to catch your lies in seconds.
3. God knows how long this wild ride of helping you with sneak-out moments and getting away with lies from your father would last but I'll be down for it always, happy birthday, son.
4. I hope, son, you are aware of the fact that you are growing because your actions lately have been concerning and proved me things otherwise; but happy birthday.
5. Don't worry, I will keep all your embarrassing stories locked in my mouth as long as you follow the drill, which is to listen to me always! Happy birthday, son, I love you.
Birthdays bring a wave of happy moments and a flash of memories, especially when it is your child's birthday. These birthday wishes for the son from mom are best suitable for all the mothers who are looking to bless their sons with the most delightful blessings or beautiful wishes. You don't want to feel left out in your son's DMs, do you! Then slide into your son's DMs with these wishes is all you have to do.
Don't forget to remind your son that no matter how much adult he becomes, he is still loved and cherished by you.