Happy  21st Birthday Wishes: Are you searching for a kind gesture or a unique way to say "Happy Birthday"? Well, here are some unique ways to wish someone a happy 21 birthday. 21st birthdays are not the same comparing to other birthdays. That's a milestone worth remembering, another leap into adulthood. They are not actually significant changes in your life, but most people believe that this the day that you become a real adult.
There are many moments in someone's life that will be remembered.  One of the most important milestones that many remember is the 21st birthday. Turning twenty-one happens only once. Turning 21 deserves to be celebrated with a bang. Welcome someone turning twenty-one with lots of joy and fun.
Happy 21st Birthday Wishes
1. You have finally walked into real adulthood. Being 21 is the first step towards a long journey of life. Happy 21st!
2. Finally, you can throw away your fake ID. No need to worry about being caught using a fake. Happy 21st birthday.
3. Turning 21 is a true blessing. You get to exercise your freedom, and I hope you use it wisely. Happy birthday.
4. The most fun age in the universe is 21. Welcome to a prime time in your life. Happy Birthday.
5. You have finally made it through one-fourth of your life. Enjoy your other three-fourth and make your life worth it. Happy 21st birthday.
6. If you ask me, there are endless benefits of being 21. I hope you enjoy them with a lot of excitement. Happy birthday.
7. I hope you do not miss out on all the fun that accompanies turning 21. Make sure you make the most of it. Happy birthday.
8. Wishing a grand 21 filled with unforgettable joy to the most amazing person out there. Have a great one.
9. Happy birthday, buddy. Being 21 and loving your life is worth a celebration. I hope you have a great birthday.
10. 21 looks so beautiful on you, and I wish you age the same throughout your life: beautifully and gracefully. Happy birthday.
Read: Birthday Wishes For Grandson
Funny 21st Birthday Wishes and Quotes
11. Turning 21 is all about entering adulthood and lemme tell you, there is no fun being an adult. I hope you're ready. Happy birthday.
12. You can finally enjoy your champagne without any fear. Happy 21st birthday, and enjoy your drink!
13. My advice for you: enjoy every moment while you have a chance. Adulthood destroys the rest of your life. Happy 21st birthday.
14. The big day is finally here. Please get me a beer from your original ID. I cannot wait to taste it. Happy 21st birthday.
15. You may not have lived your life to the fullest till now. I assure you that you won't be able to enjoy again for the rest. But let's get enthusiastic about turning 21.
Check: Birthday Wishes For Son In Law
Happy 21st Birthday Son
16. You are no longer a teenager. Welcome to the world of adults. I know you will get everything discovered. Happy 21st son.
17. Your life is about to pick up real speed. I know you are ready for this ride, but I wish you all the very best for your new chapter. Happy 21st birthday, son.
18. As you are turning 21 today, make sure that you enjoy every second of the journey! Except for plenty of twists and turns and highs and lows. Happy birthday.
19. I know the 21 years of your life went out in a blur. I hope you enjoy the rest with a big fat smile on your face and lots of memories of how much you love your life.
20. You turn 21 only once in your life. Make sure you make the best of it. Don't let the excitement of entering adulthood ever leave you. Happy birthday.
Take A Look: Birthday Wishes For Daughter In Law With Images
Happy 21st Birthday Daughter
21. I am so proud of you and all your hard works. Your generous spirit and hard work are amazing. I know you will do great things. Happy 21st dear daughter.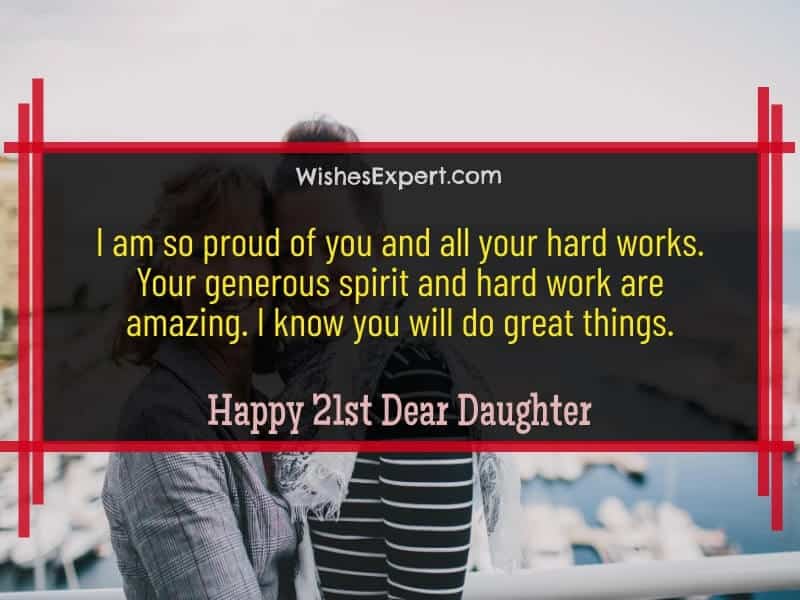 22. From the day you entered my life, you made my world a little brighter and made me a little happier. Thank you for all the memories and love you have given me. Happy 21st birthday.
23. You have been the center of my world for the past 21 years, and you will always be one. You are the light that fills up my life every single day. Happy birthday,daughter.
24. We would have never asked for anyone besides you. You have filled our life with lights. We hope to see you shine even more brightly. Happy 21st birthday.
25. As you are turning 21 today, our hope for you is that you continue to be true to yourself and grounded in who you truly are and what you believe. Happy birthday.
Also Read: Happy Birthday Beautiful Friend Wishes
Happy 21st Birthday Girl
26. To see someone like you age so beautifully towards your adulthood has been such a pleasure. I can assure you: you are going to make every moment count. Happy 21st birthday girl.
27. With the lights you have in your eyes, there is nothing that can stop you from achieving your dreams. I can see your age into a fine adult. Happy 21st.
28. I know it in my bones that you will age into a fine woman and a responsible adult. 21 is just the starting to rest of your life. Happy birthday.
29. I have seen you blossom into a flower, and I know this flower has the potential to create change. I believe in you. Happy 21st birthday.
30. To the most amazing and beautiful girl I have ever known, happy 21st birthday. Make sure you make the most out of it and enjoy it to your fullest.
Read: Birthday Wishes For Mother in Law
Happy 21st Birthday Niece
31. Happy 21st birthday to my dear niece. You have brought so much laughter and joy to this family. I love you with all my heart. Welcome to adulthood.
32. You are a gift to the world. I know you will make the most out of your adulthood. Have a great birthday, dear Niece.
33. You can now refer to me as your friend as we are both adults and trying to figure out life. I am so happy to be here celebrating your 21st birthday.
34. Happy birthday to the luckiest girl. We will have a grand celebration on your special day. Welcome to your 20's honey. Happy 21st birthday.
35. It's your 21st, and I'm more excited than you are. I cannot wait to hear about your adult problems and let you know that I have been through all that. Happy birthday.
Happy 21st Birthday Granddaughter
36. Watching you grow from a child to an adult is one of the best things I got to experience. I'm so proud of you. Happy 21st birthday.
37. The smallest one is no more little. You have entered into your 21st, and you are one fine lady. Happy birthday, granddaughter.
38. You remind me of my youth, and now as you are turning into an adult, I can see a glimpse of my daughter in you. Happy 21st birthday.
39. Let me tell you this, you look as beautiful as your mother did on her 21st birthday. You two are the most beautiful people to have ever existed. Happy birthday beautiful.
40. Last 21 years went by so fast. I wish nothing but the best for you, and I hope you all the fortune in the world. Happy 21st Birthday.