"Funny birthday wishes for son" is nothing but a parent's way of showing how much they love their son with just a hint of humor and a bucket filled to the brim with love. Kids are said to be the best thing to happen to a parent, and cherishing that special present from God by celebrating the day of their arrival is the best way.
Sometimes grand gestures are not required even from parents, especially for those sons who stay far away, a small birthday note or message is good enough and something they will cherish for a very long period.
These funny birthday wishes will be enough to bring the most ethereal smile to that most beloved and precious face.
Funny Birthday Wishes For Son:
#1. Congratulations on being a son to such cool parents. I know you are grateful for such an excellent present. Since we are the most precious gift of your life, expect your present from your would-be wife.
#2. Our continuous nagging may cause your annoyance, but I'm still losing all my money on your allowance. I know you will make me tech-savvy, so I wish an excellent happy birthday to you, baby.
#3. You've grown into a handsome young man. All thanks to your mom and this old man. Happy birthday, son, and please do avoid the sun and the tan.
#4. We know you will enjoy your birthday at its best because we will be the special guest. I wish you a fab birthday, son and I hope, after managing your dates, you get time to rest.
#5. Son, you manage your expenses somehow, and it seems simply wow! But why can't you clean your room till now? But anyways, I wish you a beautiful birthday and pray you will clean your room one day.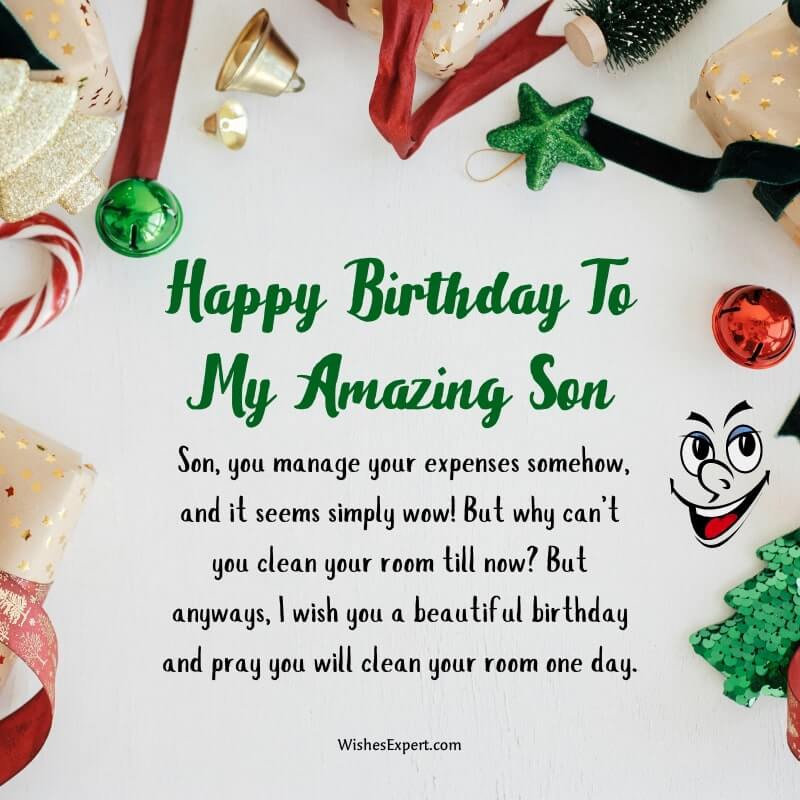 #6. Son, you are getting the best present on your birthday, it's my promotion with good pay. So, I wish you a glam birthday and hope to meet your bae.
#7. Whenever you want, you can come back home. It's better than being homeless and having the streets roam. Oh, I forgot, you never left it, because like every year, on this birthday, also, you have your home, dear.
#8. You might not be the perfect son because it is hard to be perfect. But we are the perfect parents whom you should respect. Wishing you the happiest birthday, do remember our return gifts, don't forget.
#9. Son, we loved you yesterday, we love you today, and we will love you tomorrow because we do not have a choice but to sorrow. Happy birthday, dear child, and there is no more money with me that you can borrow.
10. You are the light of our lives and more because I cannot pay for electricity anymore. Kid, I am sending lots of love your way. I wish you a fun birthday.
Read: 45+ Perfect Birthday Wishes For Son From Mom
Funny Happy Birthday To Son
#1. I was the one who changed your diaper, but talking about it makes you all flustered and hyper. Enjoy your birthday to the fullest, and happy birthday to the sibling who is the best.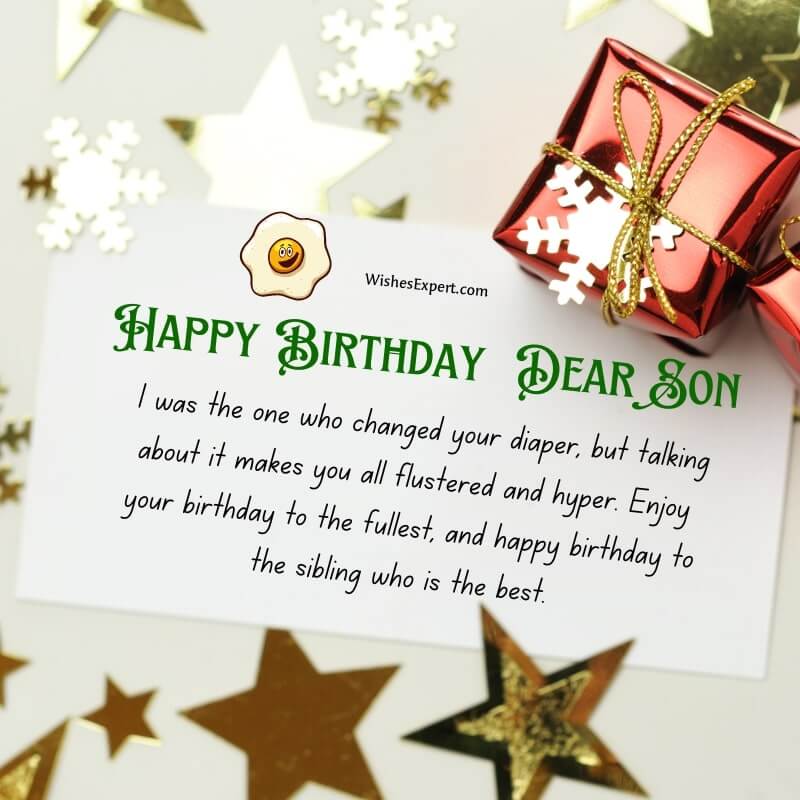 #2. We thought kids inherit traits from their parents, but we doubt it after seeing your talents. May you shine brighter than the sun. Just don't get the tan. I wish you a gleeful birthday, my son.
#3. It is risky to have cool things, sorry son, for having parents who are the coolest human beings. My dear child, let me wish happy birthday to you because I could not sing.
#4. I hope no one gets to taint your life with sadness because that leads to madness. So, stop breaking crockeries, and enjoy your birthday with mockeries.
#5. I'll have a wallet with a tear if your cake's size increases every year. But it's your birthday, dear, so don't fear. Tomorrow is a fine day, dear, when we will talk together.
Funny Birthday Wishes For Son From Mom
#1. Son, in the field of mischief, you are an over-achiever. I hope this year will see fewer complaints from your homeroom teacher. Let me wish you a mischievous birthday, dear!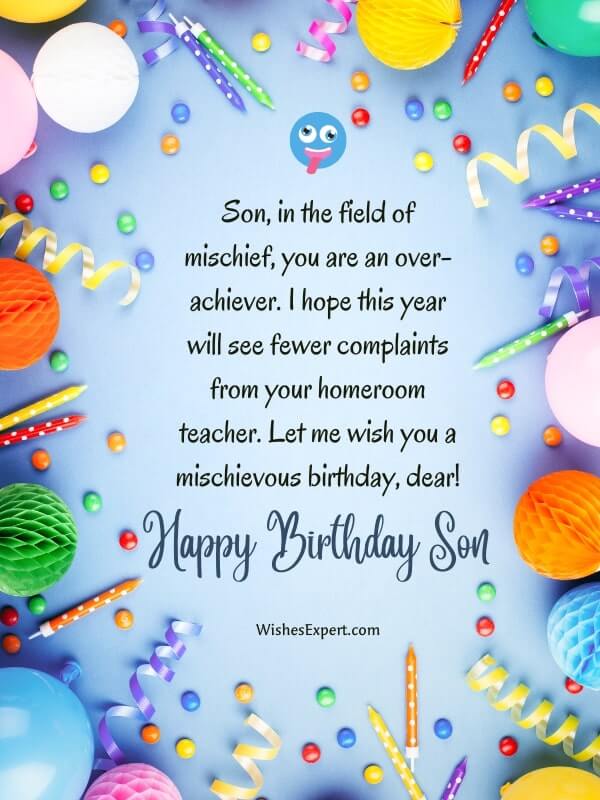 #2. You are like a miracle to us, dear, because it is hard to find someone so goofy and forgetful after Uncle Podger. I wish you a miraculous birthday, son, and do have fun!
#3. It is a pleasure witnessing you growing up from a sweet child to a fine man. During my teenage days, I felt I should have run. Let me wish an energetic birthday to you, my son.
#4. I wish you an exciting birthday, my dear. I Hope my prayers bring you happiness, health, love, and good grades, which you need the most this year.
#5. The candle number on the cake is variable, but you will always be my little one. Not because you are my child but because you behave like one. I wish you a kiddish birthday, my son.
Also Read: 30 Amazing Birthday Wishes For Godson
Funny Happy Birthday Wishes To Son From Dad
#1. Birthday boy, it is a blessing to have you in my life because you don't make me sad. It will also be a bigger blessing if you stop clinging to your football all day and concentrate on your studies, unlike your dad.
#2. In you, I see myself, which makes my eyes swell as my junior version makes me realize why mom used to scold and yell. Happy birthday to you, baby, and I hope your baby hears the same tale.
#3. I don't know what is scarier—your grades or my PJs at this age? Both need the Midas touch to recover from their present stage. I wish you a jolly birthday, do enjoy your day.
#4. You have enmity with the idea of maturity. I know it's hard to handle, and I hope you learn to identify yourself as an adult before the cake becomes small to add candles. I wish you a fun birthday, my son.
#5. Dear son, you can be whatever you wish to be. Just don't be a headache to mom or me. I hope you enjoy an enthralling birthday. May success start galloping on your way.
Trying out "funny birthday wishes for son" instead of those serious, heart-wrenching ones can be an excellent way to start this special day. Heartfelt wishes might be something everyone likes and expects, but sometimes, when you get a humorous birthday wish, the essence is different and pleasant, and it gets even better when it is from your parents. When Gen Zs rules the whole world, it is natural that their parents will start doing things differently, even the fundamental things like wishing them an excellent happy, and prosperous birthday.