Each year a person learns something new. We celebrate this learning and growing up with birthday wishes. 10th birthday wishes are specially crafted to wish a young individual.
A 10-year-old is still considered a kid, but it is essential to understand that they are rapidly growing. The mental growth is tremendous during this period. Hence, meaningful birthday messages are vital.
They are starting to understand the world and their range of emotions, so the good wishes they get on their 10th birthday will undoubtedly stay in their memory. Later in life, they might revisit these wonderful birthday wishes and gain positive energy. Hence, it is vital to choose the most endearing and meaningful birthday wish for a 10-year-old.
Happy 10th Birthday
#1. A year ago, you were nine, and a year later, you will be eleven. But at this moment, you are ten. Thus, at this moment, I say you have a magnificent 10th birthday.
#2. You were a little bundle of joy, and now you are a big boy. You have grown so much. It is amazing to watch. Happy birthday, my sweet boy, and I love your soft touch.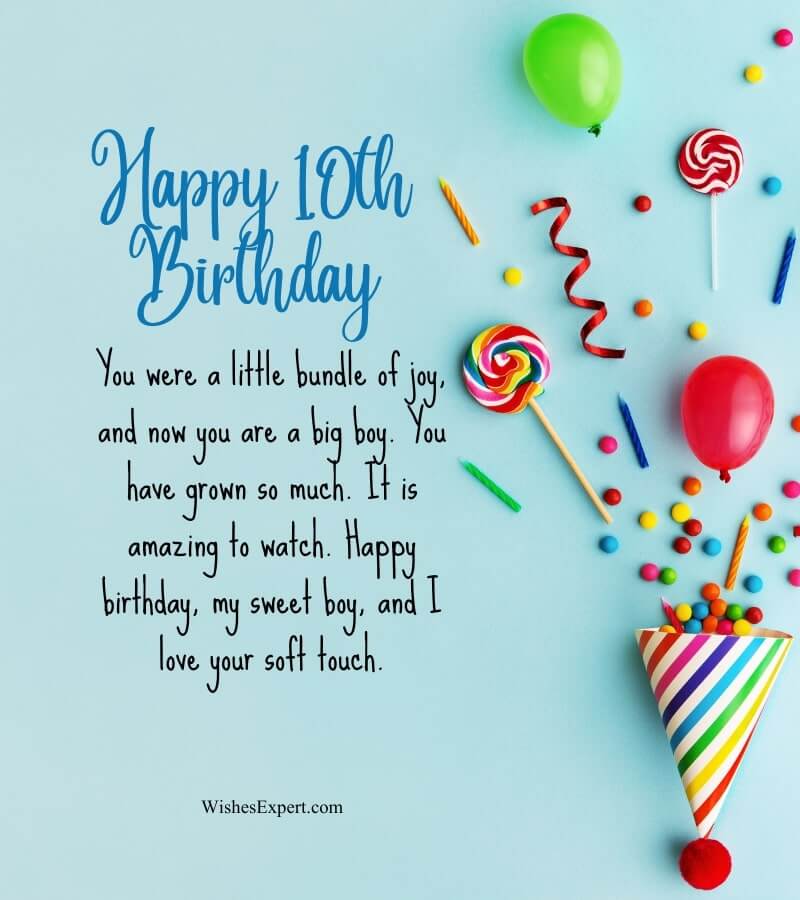 #3. It is impossible to believe ten years have passed, and you still have many more years to go. So, I congratulate you on your 10th birthday, as I know there will be many more things you shall get to know.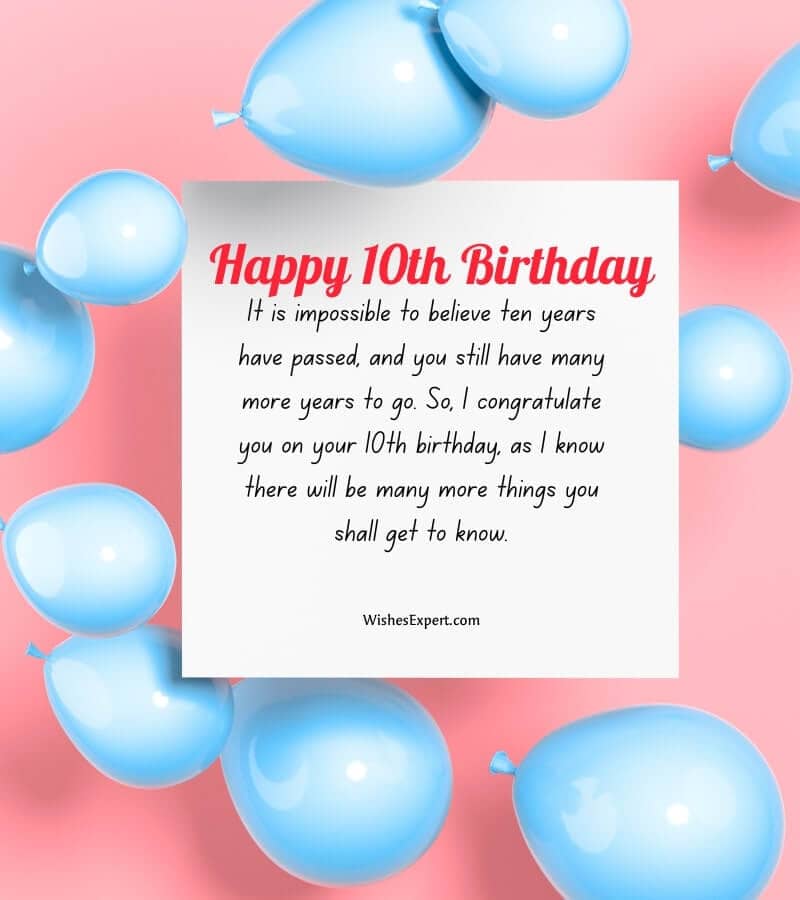 #4. It feels like yesterday when you used to cry non-stop in my arms. Now you are a young one who finds reasons to make me smile with your charms. Happy 10th birthday to you, and do hold me firm.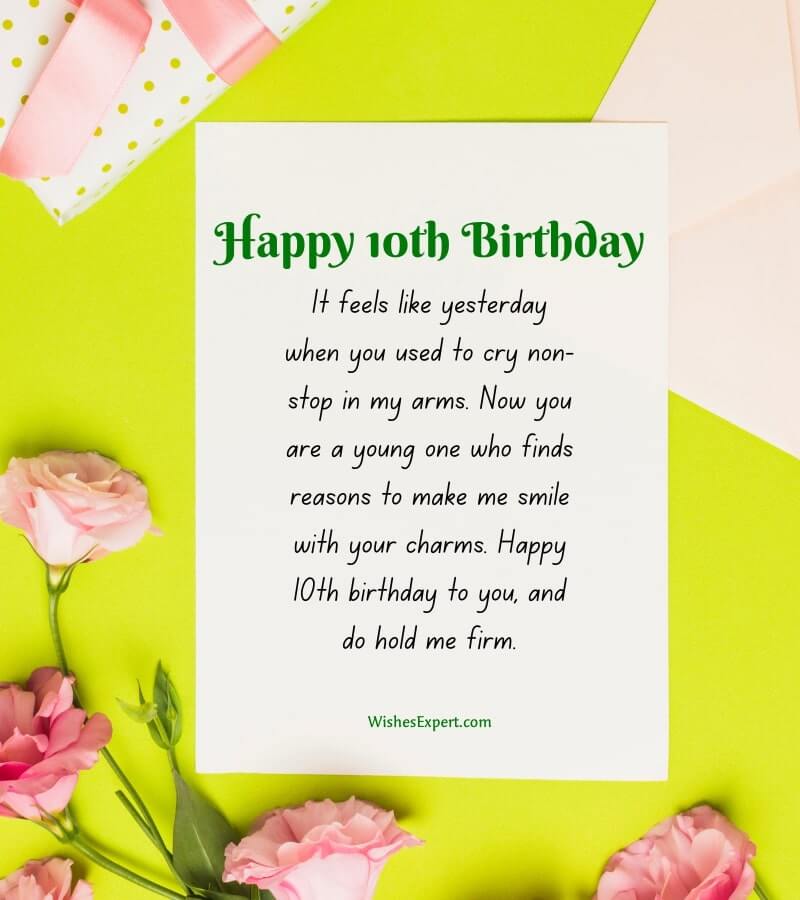 #5. You are growing up so quickly, and I hardly had a chance to relive the past, like the wind blowing so fast. Happy 10th birthday, dear, and the years went by and didn't last.
Read: 35 Simple Birthday Wishes- Short Happy Birthday
10th Birthday Wishes
#1. You have a lot to learn from life. Don't be disheartened when you make mistakes because that helps you survive. As your little mistakes will make you stronger, always remember my words, and with this, I wish you a happy birthday, champ, baby bear.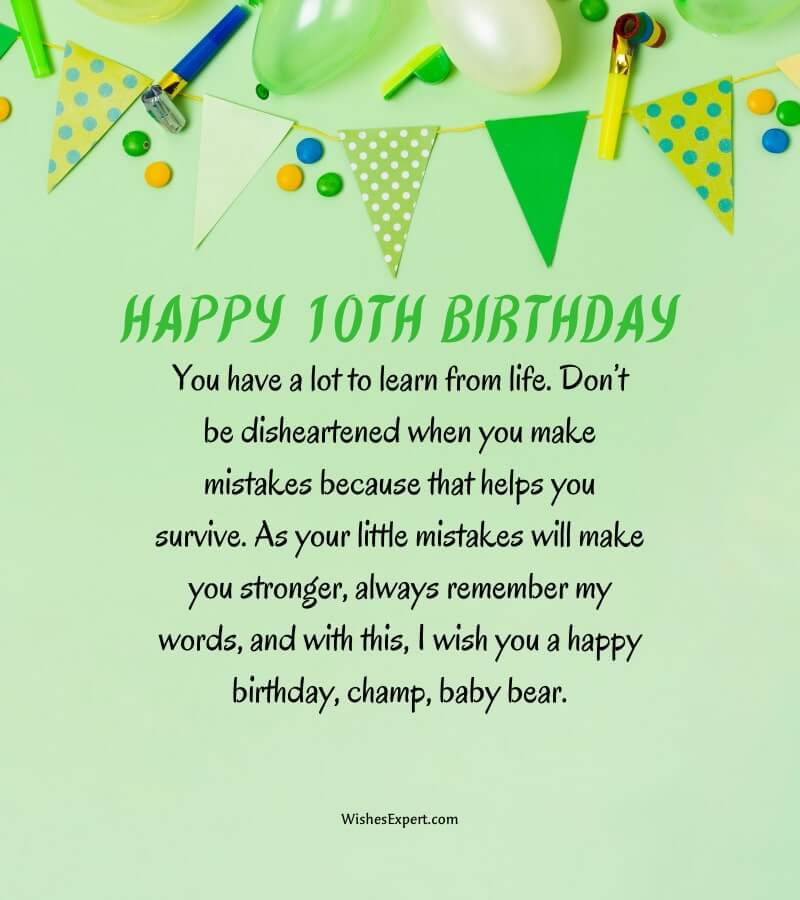 #2. Gifts and toys might not last long, but words of wisdom you can carry along. Keep working hard and be grateful for every day. On this note, I wish you a wonderful birthday.
#3. All days won't be that bright. But don't lose hope and wait till the time is right. On your 10th birthday, I wish you always win your fight.
#4. You are growing up to be a fine young lad. Stay away from things that are bad. Learn to be happy and not to remain sad. Happy 10th birthday, and if something goes wrong today, don't be mad.
#5. For 10 years, you have ten candles to blow. Blow them in one go for wishes to come true, and happiness overflows. Happy birthday, kid, and today you are the star of this show!
Happy 10th Birthday Wishes for Girls
#1. From a little baby, you have grown up to be a beautiful Miss. Years will keep on passing, and there will be moments that you will miss. Happy 10th birthday, girl, and you are just like a doll.
#2. The time spent can't be brought back. Today when I see you, I am taken aback. From a crying kid to a smiling little lady you made to 10th birthday, buddy.
#3. Ten years have already gone. It seemed like a matter of yesterday when you were born. I hope all the dreams that you have come true. My dear girl, I wish an adorable birthday to you.
#4. Ten years have passed in a twinkle of an eye. On your birthday, I wish your only limit would be the sky. Happy birthday, my angel and my cutie pie.
#5. You are such an obedient girl. You look like the prettiest girl in your gorgeous dress when you twirl. Happy 10th birthday, my little girl.
Happy 10th Birthday, Boy
#1. You are growing up so fast. I had hoped to make some moments last. On your 10th birthday, I wish to celebrate your growing up with pomp and splendor and wish you an enthralling birthday, dear.
#2. Once a toy car was your prized possession. How you fancied it is a memory that shall remain my prized possession. More memories we shall make as we celebrate your birthday every year on this day.
#3. On your 10th birthday, my dear little boy, I hope the Lord blesses you with infinite joy. May you work hard and remain kind with good thoughts in your mind.
#4. Our good wishes will always be there for you. These wishes will light the way as you take the path that is new. My beloved little boy, on your happy 10th birthday, you should do nothing but enjoy.
#5. Keep the light and the warmth in your heart. Today's birthday celebration shall remain in our hearts, my dear sweetheart. Always be happy and have fun for the future years that will come in the long run.
Meaningful Happy 10th Birthday Daughter Quotes
#1. Do you know my favorite medicine that can heal any pain and distress I am going through? It's hugs and comforting words coming from you. Happy 10th birthday to my little angel, and mamma loves you.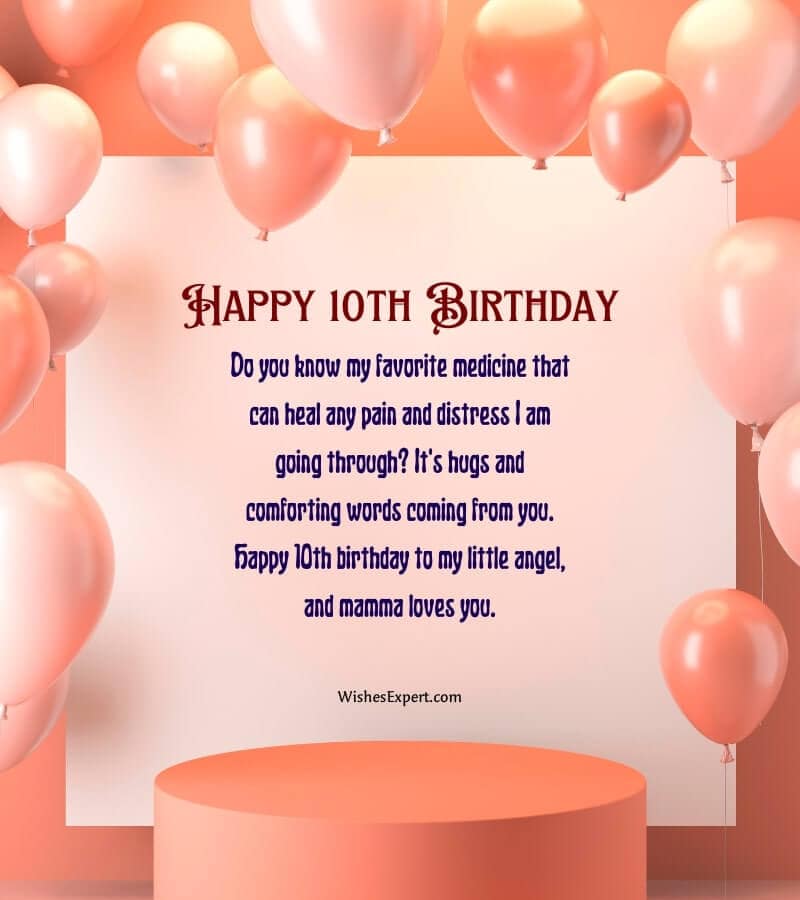 #2. I may not be the best in everything, but you greeted me as the coolest dad, and I forgot what it means to be sad! Ten years ago, on this day, a husband became a dad who will now wish you a happy 10th birthday.
#3. On your 10th birthday, baby, it is a pleasure to see you growing up in front of my eyes, experiencing every first of yours. This is a heavenly blessing to feel your love is so pure.
#4. I know you better than anyone because our relationship started nine months before any other. My heart feels joy every time your lips utter "mother." Happy 10th birthday, my teddy bear.
#5. You are my bundle of happiness that has given me chances to rekindle the child in me, and your presence is like the sunshine that brightens up my day, you see. Happy 10th birthday to my baby.
Happy 10th Birthday Granddaughter
#1. My heart feels incredible happiness knowing that my baby is now a big girl. The small bean I saw wrapped in a swaddle celebrating her first two-digit birthday makes me twirl.
#2. Sweety, let me wish you a happy 10th birthday. You are like a rainbow on dark, cold, gray days. Thank you, angel, for filling our abode with love, peace, and happiness, and with you, I forget my stress.
#3. Your kind heart and caring nature can beat the best treats on earth in sweetness. Hope you have a life filled with laughter, love, and success. Happy 10th birthday, dear, and gladly be a mess.
#4. There are some years when things will not go as planned, but never lose your smile that brightens the planet. Let me wish you a happy 10th birthday before we celebrate.
#5. The word "Special" falls short when I want to describe our bonding. Just like "Love" fails to convey what my heart feels for you, darling. Happy 10th birthday to my dear granddaughter.
10th Birthday Wishes for Son
#1. These ten years passed as I blinked my eye. I am thankful to see my little man growing up fine while aiming to touch the sky. Stay happy and healthy, baby, and happy 10th birthday to my honey bee.
#2. Turning ten? You stand almost on the brink of being a teenager. I am proud to see my big boy with a gentle soul and caring nature. Take love, sweetheart, as you celebrate your 10th birthday, dear.
#3. Your every act of kindness makes me happy. Your every word of courage swells my heart and fills my life with glee. I hope my hug can heal every pain when you are hurt, and happy 10th birthday, sweetheart.
#4. You have always been the source of my positive energy, and I hope you can say the same for me. Spread love and happiness, my sweet boy. Happy 10th birthday, dear, and you have grown enough to play with a toy.
#5. It is a pleasure seeing you taking long strides towards your teenage years. Stay healthy and be the best version of yourself while boldly facing your fears. Happy 10th birthday to my little man. You know, I am your fan.
Happy 10th Birthday, Grandson
#1. My little teacher is growing up soon while making me immensely proud. You are the sweetest little man, without a doubt. Hope your humble and inquisitive mind always stays the same. Happy 10th birthday, and sometimes, be lame.
#2. Ten years passed, and you had grown a lot taller. May all your dreams find their wings to fly with the brightest color. Happy 10th birthday, grandson, dear.
#3. On your 10th birthday, let me wish you a fantastic day. My stock of Adjectives might never be able to express how wonderful a person you are, my grandson. All I know is there is nothing to compare with your precious heart that's bright as the Sun.
#4. Your mother might find it challenging to handle your overflowing energy, but I feel happy to witness you all lively and healthy. Happy 10th birthday, dearie.
#5. On your 10th birthday, mate. Let me tell you a secret. You are the prince of the fairy tale you always inquire about, my bunny. You hold immense power to remove the distress and bring sunshine, honey.
Conclusion
The birthday bash and gifts are vital in a happy 10th birthday party. Everyone wants to celebrate, and birthdays are frequent occasions where people come together and enjoy themselves.
However, the party won't last for a lifetime. The gifts you purchase for 10year old kids might not be used forever. The child will outgrow the gifts and toys, but what will remain are the happy 10th birthday wishes that you write for them. They can treasure these good wishes forever. We have assembled the best happy 10th birthday quotes for you so that you can select the one you prefer.