Family is funny but the most significant part of our life. Whether your mother's side of the family or father's side of the family is your favorite, you might have one or more cousin brothers so favorite that you've come across this page by trying to find a perfect birthday wish for him.
Don't worry, you'll find your match from all these happy birthday wishes for a cousin brother we've come up with.
Whether you simply want to wish him, greet him, or give your blessings to him but in the best possible manner, then you've got nothing to worry about.
We're so pleased to present you with what you're looking for. Dive into all the kind, thoughtful yet cool birthday wishes for your cousin brothers.
Happy Birthday Cousin Brother
#1. Happiest birthday to my partner in crime, 2 am buddy, the best hacker and hiker I know, oh and the best brother.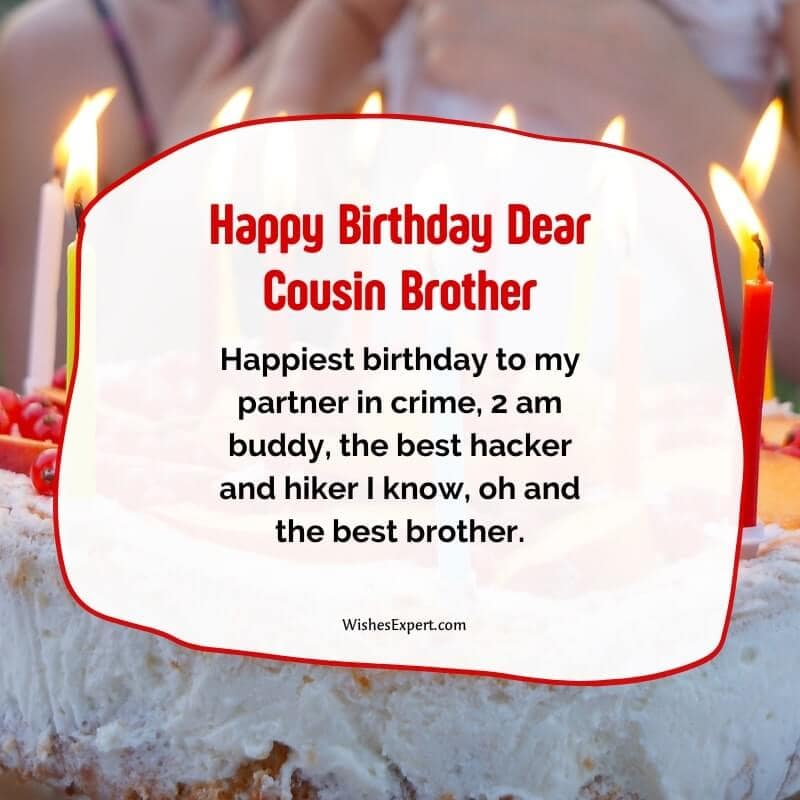 #2. Happy birthday to the one who has been my saviour in all the family gatherings! Without you, I wouldn't dare to attend any.
#3. Brother, keep your hopes high. You deserve every bit of wonder and stardust you wish to have because of your kind, loving, and genuine heart. Happy birthday.
#4. Happy birthday, brother. I hope you get to have a year that helps you get in your best shape and not only physically, but mentally, emotionally and spiritually.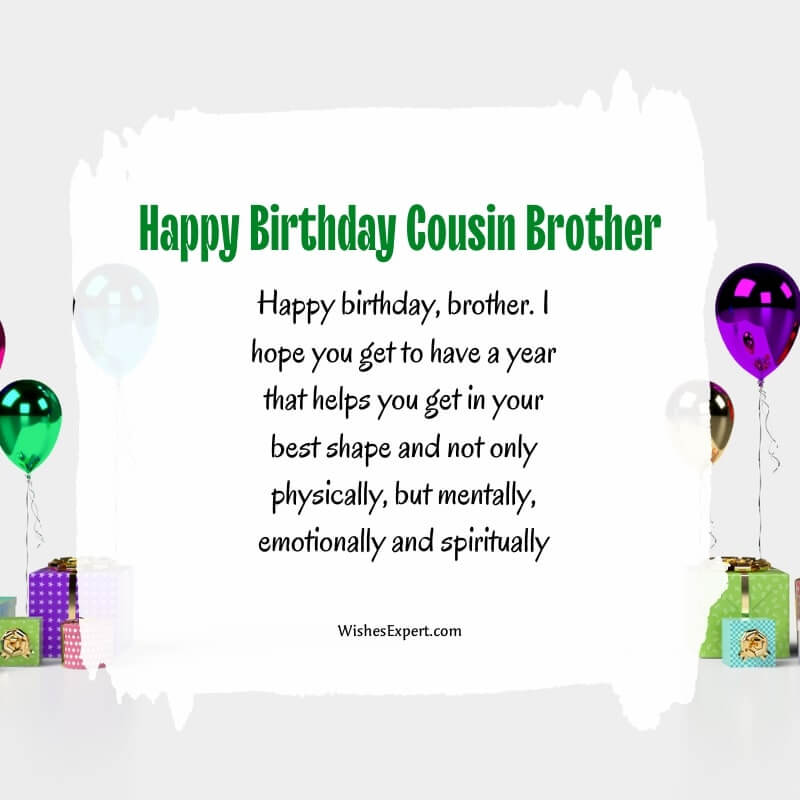 #5. Happy birthday to one of my favourite members of my soul tribe. The only thing I have to tolerate about you is that my parents love you more than me. But I can't blame them.
#6. Only if you promise to not beat me in studies and sports or even at least one, I'll wish you a very happy birthday.
#7. If I've survived as a single child, it's because of you! You've never made me feel I didn't have a real sibling. For me, you're my big brother, real big brother. Happy birthday.
Related: Birthday Quotes For Cousin
#8. Happy birthday, brother. I hope you find many surprises on your path, the surprises that bring you closer to your dreams and make you walk the most adventurous path!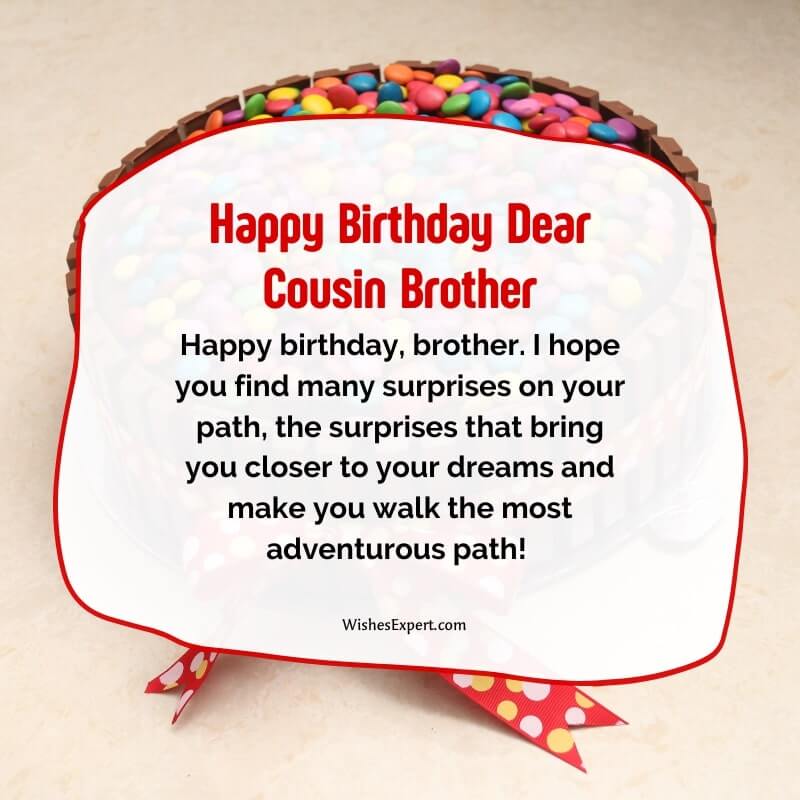 #9. To the brother, whose genius cells and strong muscles I wish to have, a very happy birthday! You deserve the best and anything else that your fears might tell you is a complete lie.
#10. Happiest birthday, brother. Can I tell you a secret? You're my favourite! No one in this entire family gets me as much as you do and I'm so grateful to have you, love you.
#11. Happiest birthday to the brother who somehow always tackles all the family feuds. What would we do without you! Have the best one, mate!
#12. Happy birthday, brother. For all the hard work you do, I wish you get to see your dream life unfold in front of your eyes so graciously and gloriously.
#13. You always make your big brother proud. There has never been one year till now in which you haven't amazed me with your talent and hard work. Keep doing what you do. Happy birthday.
#14. Happy birthday, champ! As long as you know you're doing the right thing for yourself without causing harm to anyone, know that you're on the right path; there is nowhere else to be.
#15. As long as the person in the mirror you look at is proud of you, you're winning. As long as you're winning in your eyes, it doesn't matter how anyone is perceiving you! Happy birthday.
Check: Birthday Wishes For Cousin Sister
#16. I'm lucky to have a brother like you who has my back no matter what! For everything you've done, you'll always find me by your side. Happy birthday, brother.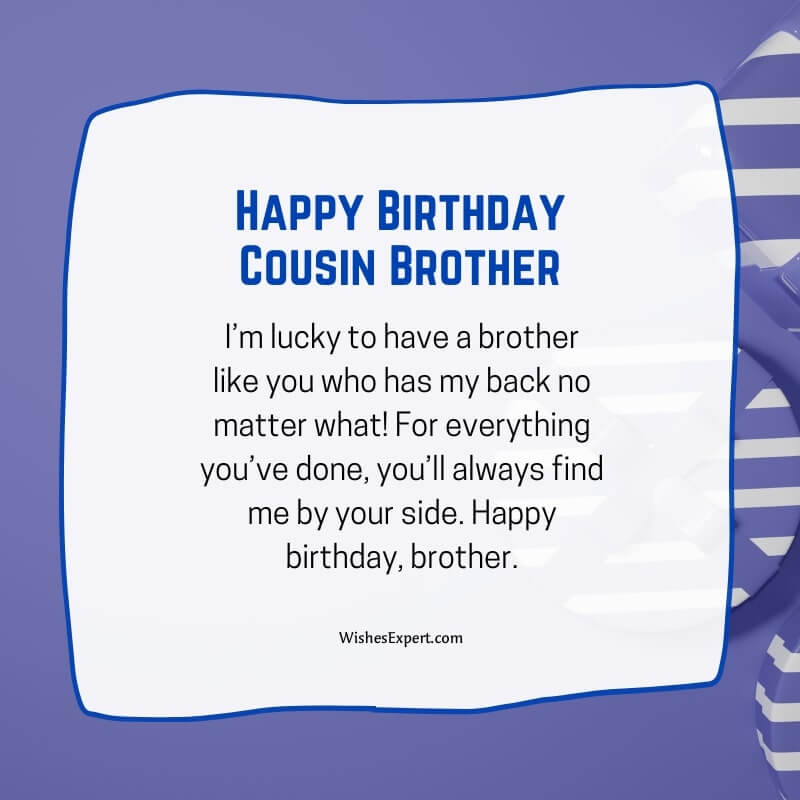 #17. Pave your path. Be fierce and fearless; the foremost thing you shall do is to listen to your gut, and take baby steps and in no time, you'll be crossing the finish line. Happy birthday.
#18. Out of all the family members, I adore you and respect you so much because a brother like you is the softer version of a dad and I love that! Happy birthday.
#19. To the brother who glues the group of cousins together, thank you and happiest birthday. May you live with sound health, stable wealth and undying happiness.
#20. May this year you go through such a beautiful transformation and an unbelievable glow-up that you allow yourself to be proud of yourself at least once. Happy birthday.
#21. We're not related by blood but by so many other things such as values, beliefs, and ways of being. All of which makes us soul brothers and that's everything to me. Happy birthday.
#22. Everyone knows how talented you're. However, what they don't know is the countless hours you put in to be the diamond you're! Happiest birthday, keep gleaming.
#23. I wish that God would give you stupefying financial gain and heaps of love and then never stop because you deserve every penny and each ounce of it. Happy birthday.
#24. We might not be meeting every month but we catch up quickly and that is a sign of a healthy relationship. Cheers to our healthy brotherhood and the happiest birthday.
#25. Due to unknown reasons, I choose to get lost in an unknown territory often and you're the only one who brings me home. Thank you for being such a homie, happy birthday.
#26. To my guardian, happy birthday. It's not every day that one finds such a supporting and caring brother like you. Keep being you.
#27. I can't believe you're turning ___. Our days to ride bicycles in the backyard are over but thriving with the cars on the streets are here. Happy birthday. Have everything you wish for.
#28. As long as you don't lose touch with reality and do the best you can, the rate of your success is increasing exponentially. I hope God gives you the strength to do so, happy birthday.
#29. To my brother who is not only a gym shark but an avid reader, happy birthday. Your admiration and willingness to put in the work everything you do is unbelievable; we're still learning.
#30. It's your time to move to the calmer shores. I wish and pray that God will sail your boat to the island filled with treasure, an abundance of joy, and everything else you wish for.
From all the above-mentioned happy birthday wishes for a cousin brother, surely, you would've found something you're so keen and excited to spill in your cousin brother's DMs. From wishing him sound health, bountiful happiness, glorious success and abundance of wealth to sharing your wise words to guide him along his path and making the journey a bit smoother, you can choose to do any and you're about to make your cousin's brother's day. He'll be so delighted to have you as their siblings too.