Retirement wishes and messages mean the world to people who have served a company for years and played an important role in its success. When a colleague retires, it is important to thank them for their services and shower them with love. It is something they will always remember and appreciate for the rest of their lives.
If you are looking for appreciating words for a colleague who has just retired, then look no further. Here is a collection of 50 heart touching messages and wishes for someone who is about to retire or have already completed their years of service.
Retirement Wishes
1. You have been a wonderful colleague and a mentor to us. Thanks for all the years you have spent working hard.
2. I have always looked up to your courage and creativity which has provided this company with great success. Happy retirement!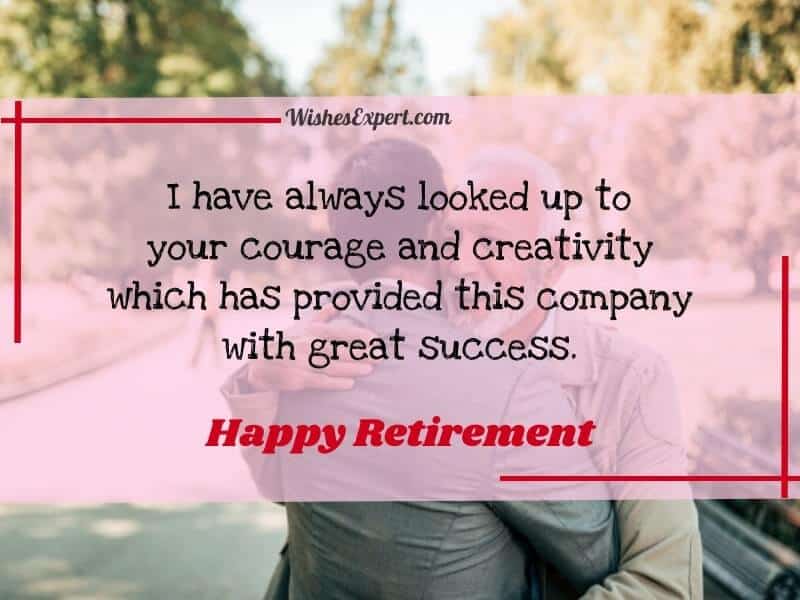 3. Wishing a happy and relaxed retirement to the person who has tirelessly worked for this organization and made sure to keep the office smile all the while.
4. Most of the time we put our hobbies aside just for the sake of our career. Now that you have completed your years of service, I hope you get to spend all your time doing things you have always wanted to. Enjoy your retirement.
5. I wish you have an amazing, fun-filled, and relaxing retirement. Enjoy your life exploring the world and yourself!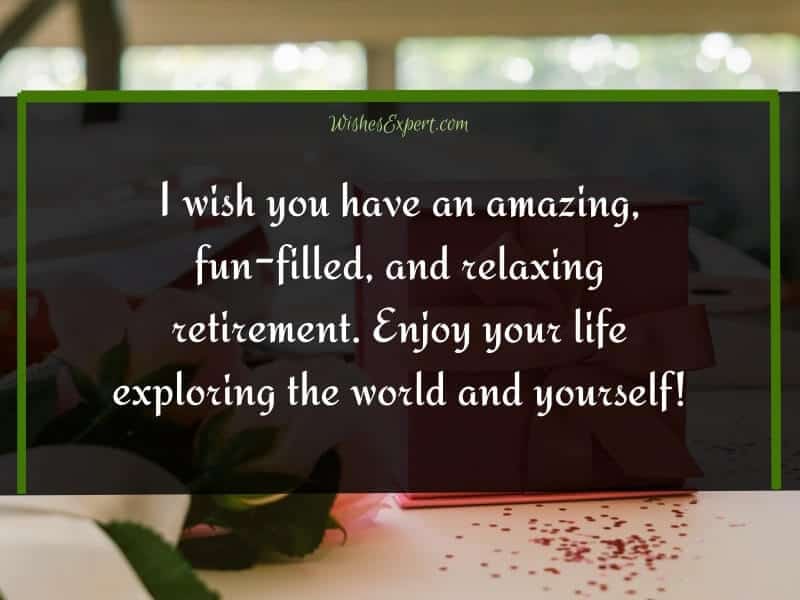 6. The workspace is not going to feel the same without your cheerful existence. I hope you an amazing, fun-filled retirement.
7. You have spent [add number] years in this organization and I can undoubtedly say, you have been one of the most dedicated employers over here.
8. Today you are starting a new chapter in life and I pray to God it is the best time ever. Happy retirement.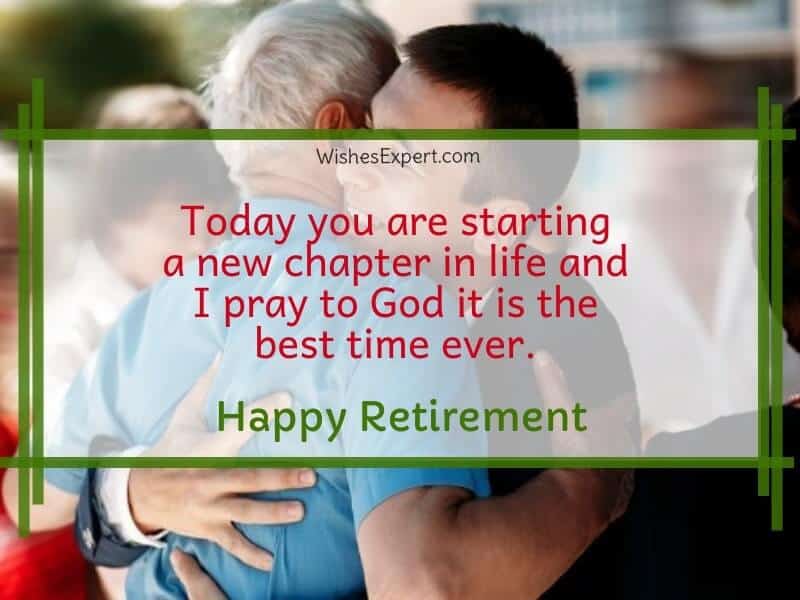 9. You have always guided us with your experience and creativity. We are so grateful to have a colleague like you. I hope you relax as much as you want now. Happy retirement!
10. Retirement is synonymous with freedom. Have a nice time reuniting with your hobbies. Happy retirement
11. May you have a life full of comfort and enjoyment with your family. Enjoy your retirement.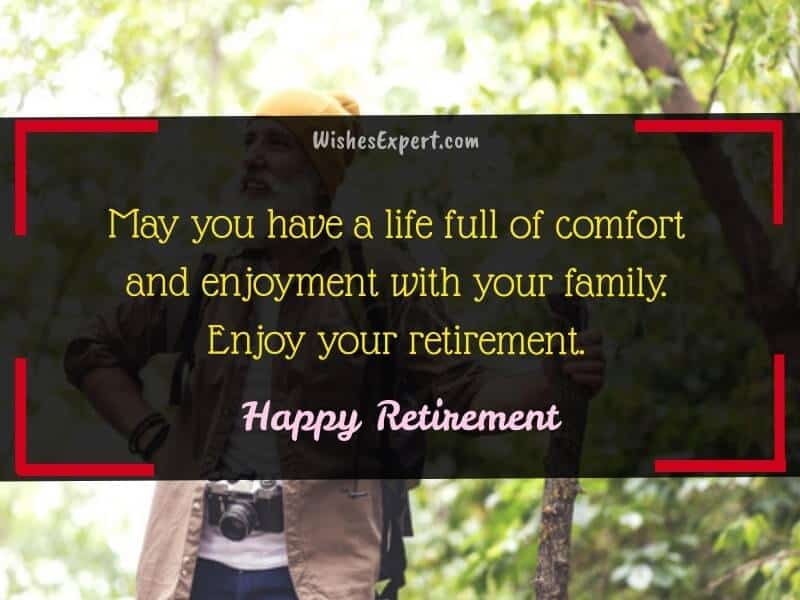 12. Have a wonderful time away from all the work and deadlines. This time is for you to enjoy now. Wishing you a happy retirement!
13. Congratulations on completing [add number] years in this company. You were the reason we had a day full of laughter and productivity. You will be missed dearly. Happy retirement.
14. I hope you walk out of this office content with your work life and relationship with your colleagues. Enjoy your retirement.
15. Sending warmest wishes your way on the day you complete your professional life. Happy Retirement, dear sir!
Read: Motivational Farewell Quotes
Retirement Messages
16. All these years, I have been inspired by your dedication, vision, and ambition. You have taught me a lot. Have a wonderful retirement party!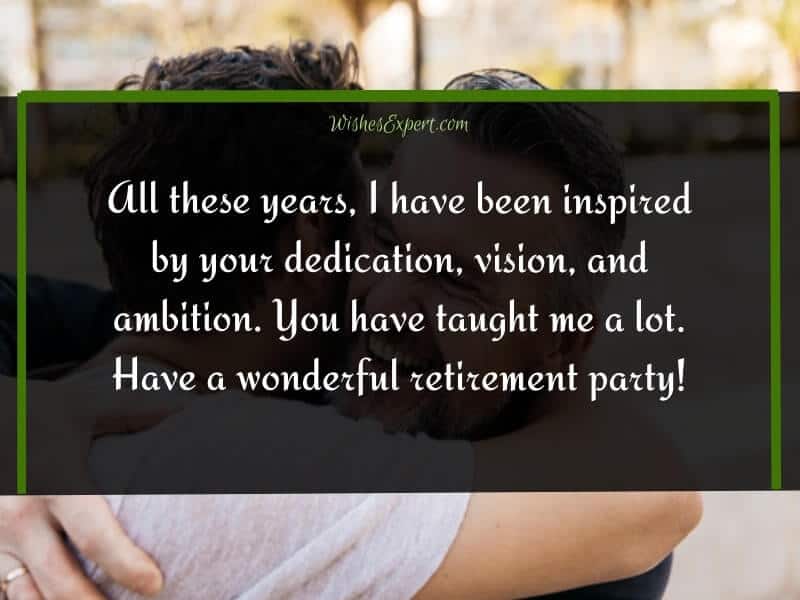 17. Today, you have finished a responsibility that you have dealt with in the most professional way. Happy retirement, [add name]
18. With this much dedication, and hard work, no wonder why you were everyone's favorite! Happy retirement, buddy!
19. May you enjoy your days at home with as much happiness as you did here with us. We will miss you. Happy retirement!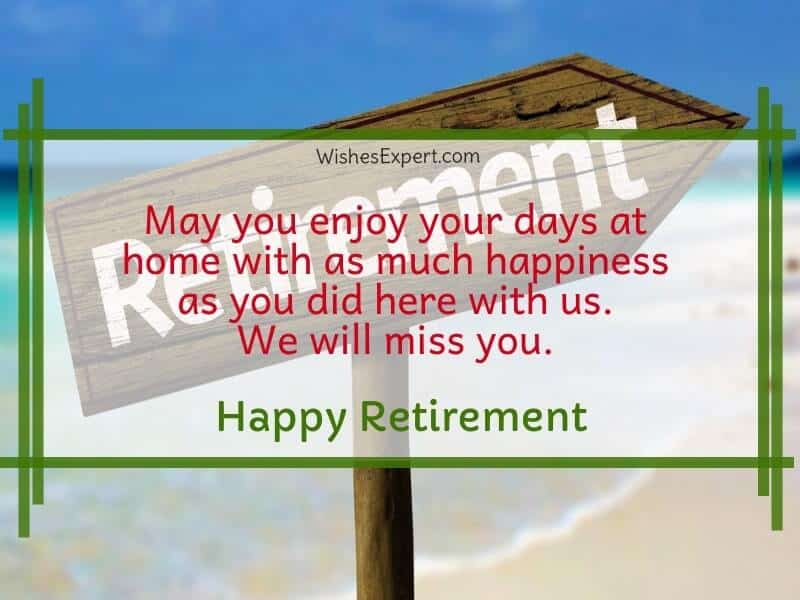 20. I still remember when it was my first day at work and you were the one who helped me feel easy in a new place. Thanks for everything you have done for me. Happy retirement!
21. Finally, there will be no monster Mondays. I hope you have a fun and relaxing retired life at home.
22. I can't help but feel a bit teary-eyed at your departure. You are one gem of a person. Enjoy your retired life.
23. Now that you have retired, I can't wait to see you living your life to the fullest. Party hard!
24. For years and years, you have worked hard and fulfilled all your responsibilities. Now it is time to enjoy the fruit of your labor.
25. With the chapter of work done and dusted, make sure to not miss a single get together with your friends. You have got no excuse. Happy Retirement!
Take A Look: Congratulations On Your Promotion Quotes
Happy Retirement Message
26. When I joined this office, you were one of the most loved employees over here. To this day, it has not changed a bit. I will miss working with you. Happy retirement!
27. I hope you are happy, satisfied, refreshed, carefree, and comfortable. Wishing you a happy retirement!
28. When you are retired, you get paid for all the extra dedication and hard work you have put into your career. Have a wonderful retirement!
29. Just because you are retiring, does not mean we will never meet. You will always be my best friend. Happy Retirement!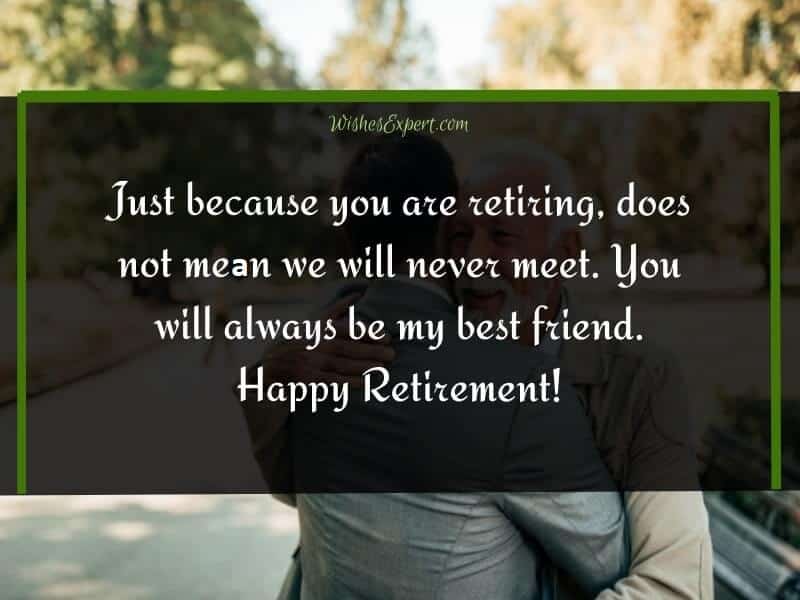 30. You are finally retired and I am next in the line. Can't wait to spend all our free time having fun. Happy retired life!
Read Also: Thank You For Your Hospitality Messages
Retirement Well Wishes
31. This small greeting is nothing compared to what you have done for us in the past years. We hope you enjoy your retirement!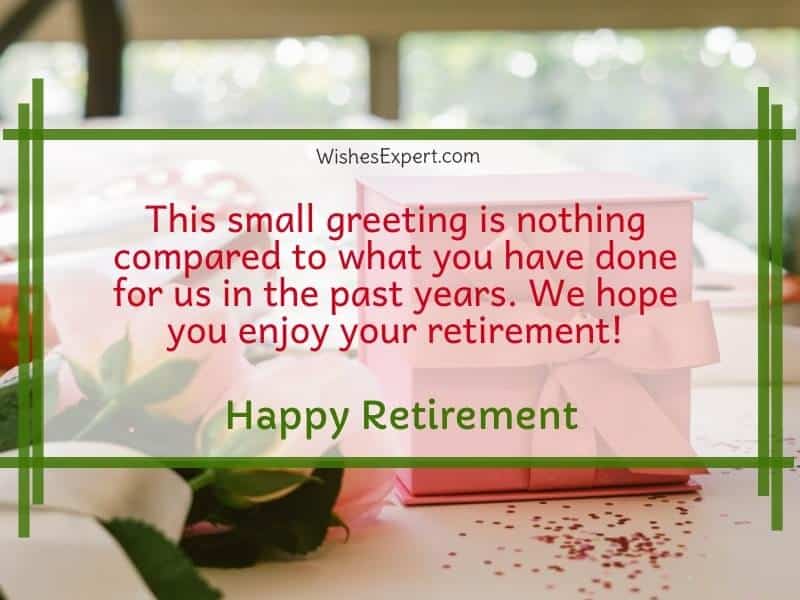 32. Now that the 9 to 5 life is over, start living 24 hours of your day and 365 days of your year! Happy retirement, friend.
33. Wishing you a content life ahead. Enjoy another refreshing chapter in your life. Happy retirement!
34. You are such a gifted personality. We have learned so much from you. Happy retirement!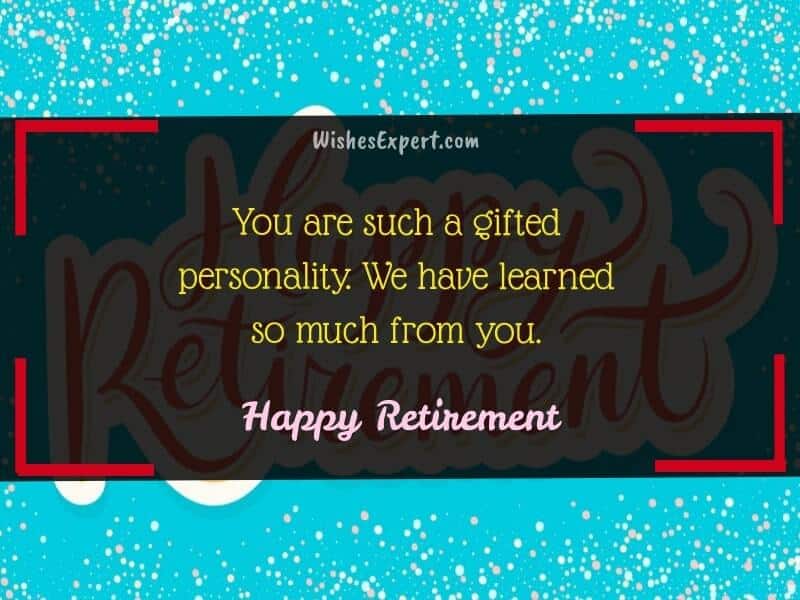 35. Happy Retirement! Since you have finally retired, are you up for being my travel buddy?
Check: Well Wishes for Surgery
Retirement Wishes for Coworkers
36. Some coworkers are God's way of telling you that he has got your back! You were that one for me. Happy retirement!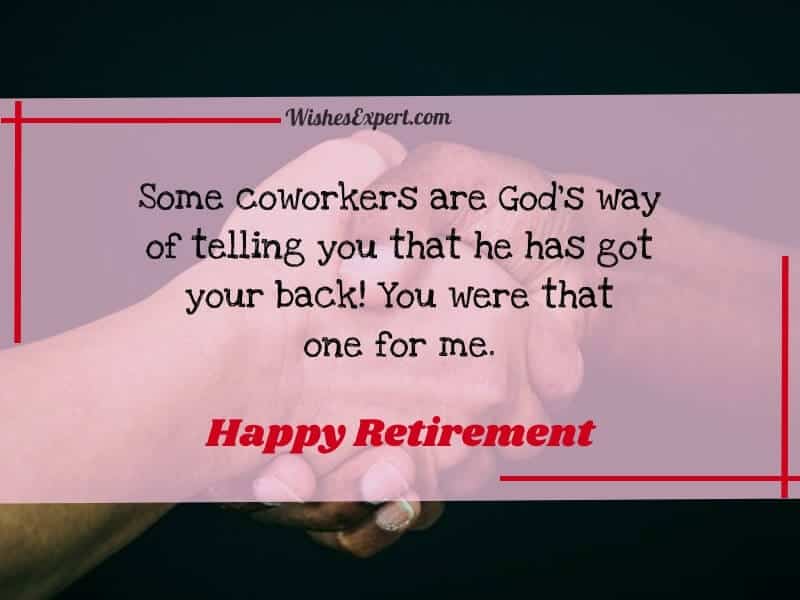 37. You are the reason why all my days at work were full of positive energy and joy. Thanks for being the amazing person that you are! Enjoy your life without any deadlines.
38. With no work-related responsibilities on your shoulders, sleep in late, and enjoy every minute of staying at home! Happy retirement.
39. Because of you, this office felt like my second home. Thanks for always being my guide. Happy retirement!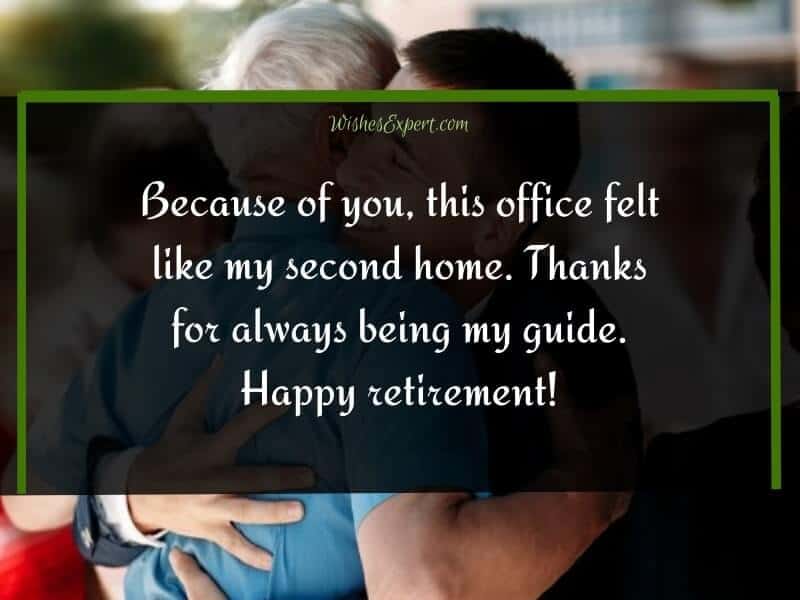 40. You have worked the hardest and now you deserve to enjoy that sweet fruit of it. Han a fun-filled retirement!
Retirement Congratulations
41. Even though you have retired, we will still hang out and talk about all the adventures you are having in life. Stay happy and enjoy your retirement!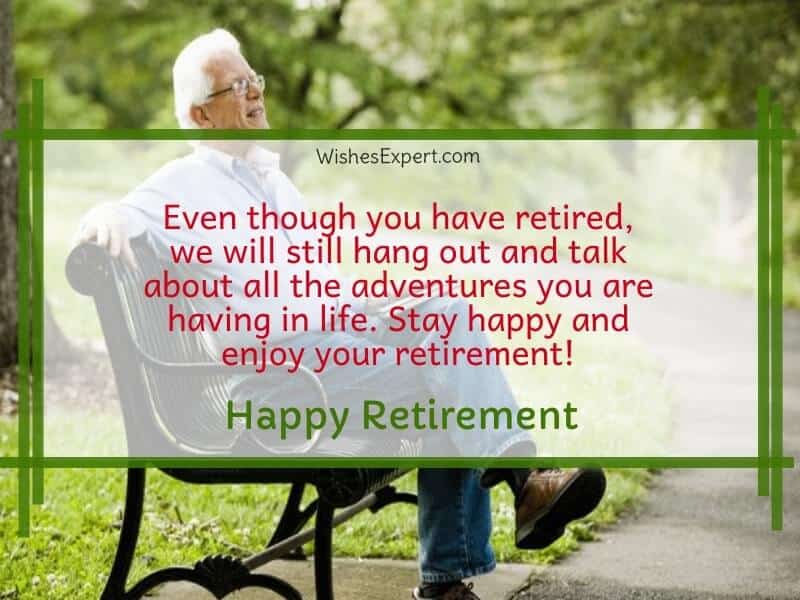 42. Happy retirement to the most senior colleague of this office. We all respect you from the bottom of our hearts, for all the hard work you have done.
43. The best thing about retirement is that you do not have to wait for the weekend. Every day is a weekend now. Happy retirement!
44. I am so proud and grateful that I have worked with someone as dedicated and ambitious as you. I hope you have a happy and content retired life.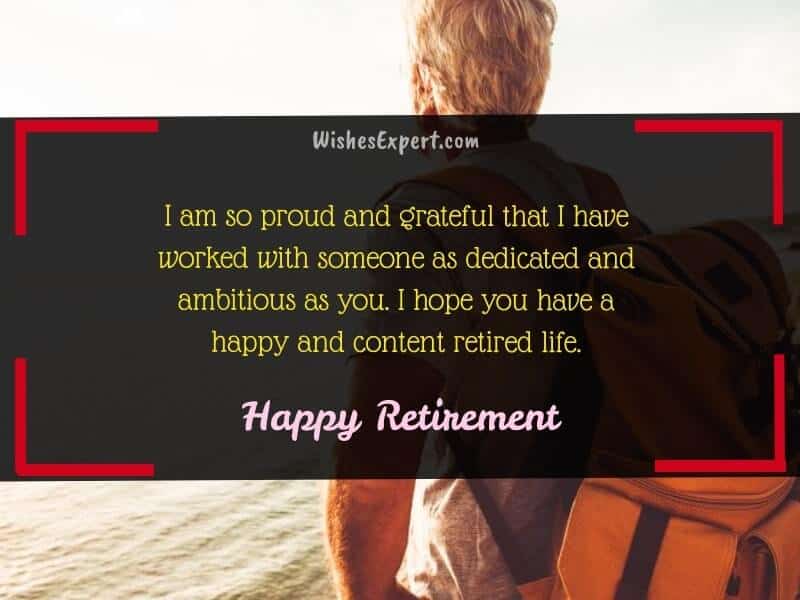 45. Saying goodbye to you is not easy! You are a wonderful person inside and out. Wishing you a wonderful retirement!
Congratulations On Your Retirement
46. The fact that you will no longer have to decide on a new outfit every morning is a whole celebration on its own. Have a wonderful retired life.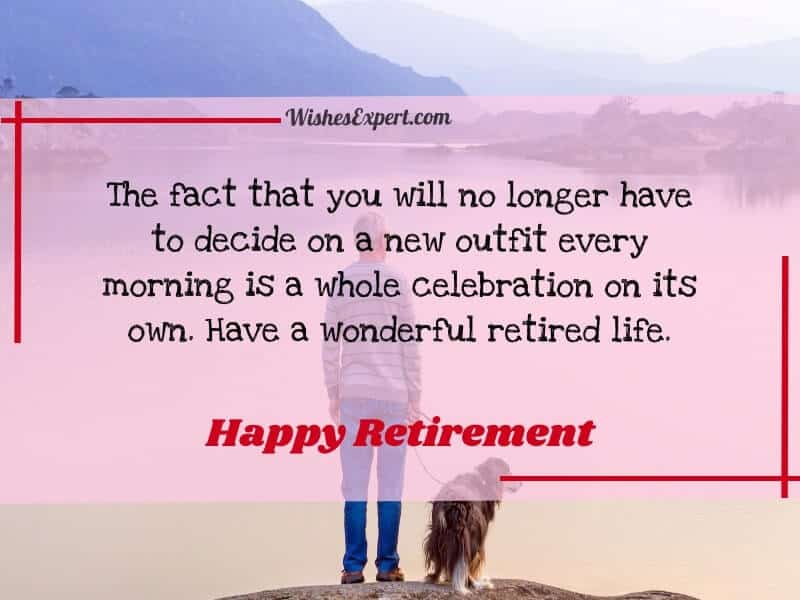 47. We are going to miss you [Add name]. I hope your retirement opens new doors of happiness and contentment for you.
48. The end of your career means the start of your personal exploration. I hope all your dreams come true. Happy retirement!
49. I cannot even begin to express my happiness for you. I hope you have a wonderful life ahead. Happy retirement.
50. You are not only a good colleague, and a mentor, but also a sincere friend. I will miss you a lot. Enjoy your endless days off!