Witnessing a child slowly growing is always a happy memory for the parents and close relatives. Celebrate the first month-birthday of your little one with happy 1st month birthday wishes.
Recently, if you have been blessed with a baby, you might know how extraordinary the experience is. From learning new things about your baby to feeling euphoric while holding them, everything comes in the package.
Though they are yet to understand the complexity of language, your emotion will reach them. You can post happy 1-month birthday wishes on social media and share the happiness of this milestone birthday of your baby.
These quotes are also suitable for cards and journals. Here is a list of happy 1 month birthday wishes that you can use or personalize as per your choice:
Happy 1st Month Birthday Wishes
#1. The nine-month wait is over, darling. Now I can hug you, and it feels overwhelming. May God fill your life with happiness and blessing. Enjoy your 1st-month birthday while cuddling and peacefully napping.
#2. I cannot believe it's already been one month since the day I held you in my arms for the first time. It is a blessing to have you as mine. Celebrate a happy 1st-month birthday, my baby, my sunshine.
#3. You have given me so much happiness that nobody ever could. My precious little one, I thank you for offering me motherhood. Your 1st-month birthday should mark the beginning of your beautiful childhood.
#4. Baby bear, I cannot believe it's been a month since you came to me. Today my world revolves around you, and your smile makes me happy. Happy 1st-month birthday, sweety.
#5. Touching you after waiting for nine long months felt heavenly. Thank you, dear, for bringing so much happiness to our family. Enjoy, to the fullest, your 1st-month birthday, baby.
#6. Hey, champ, your smile, your tears, and everything about you make me feel joy. I cannot wait to watch you grow and be a lovely young boy. Celebrate your 1st-month birthday while you learn to enjoy.
#7. When I first heard your crying, my heart danced with happiness. Seeing you sleeping peacefully in my arms makes my heart race. Happy 1st-month birthday, bud, and I pray that your life gets filled with sweetness.
#8. My little one, celebrate your 1st-month birthday without any fear. You are the best gift I had, dear. For you, I waited for years. May God bless you with happiness because I cannot see you in tears.
#9. Hey sweetheart, you are a blessing I received from heaven above. I hope you grow up happy and healthy, surrounded by joy and love. Enjoy your 1st-month birthday, my little dove.
#10. Hey, little one, you have brought so much joy into our lives that we have never thought of. I wish to Lord that you be a kind human, filling everyone's life with love. On your 1st-month birthday, I thank the angel above.
Read: Happy Birthday Wishes For My First-Born Daughter
One Month Birthday Wishes for Baby Girl
#1. My little angel is already a month old, and her smile holds the happiness of paradise. I feel peace seeing the galaxy that lives in your eyes. Celebrate your 1st-month birthday, my fairy in disguise.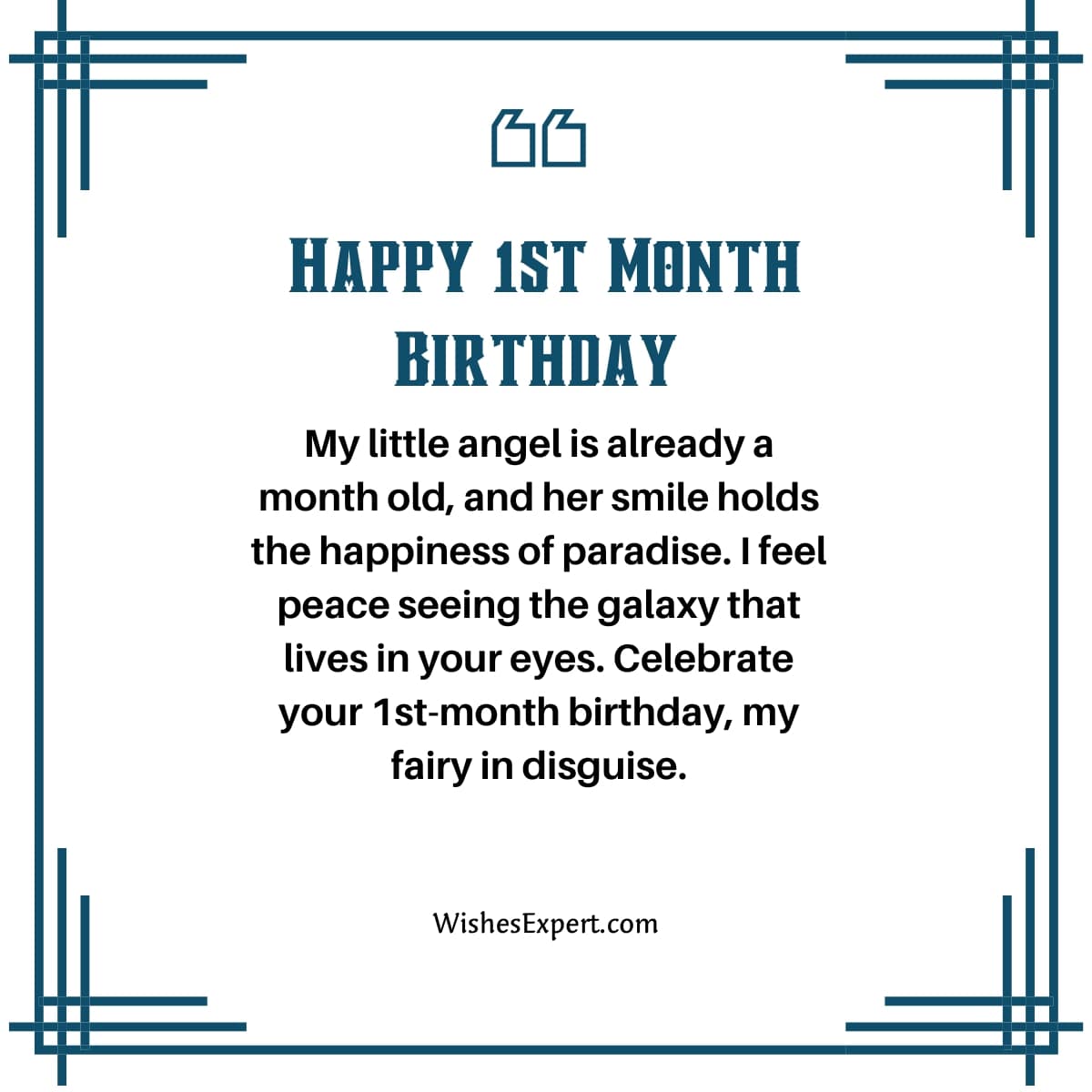 #2. Baby, you are the bundle of joy I have always dreamt of, and now you are with me. I love you a lot, dear, and you complete our little happy family. Happy 1st-month birthday, my cute baby.
#3. Celebrate your one-month birthday and learn to dream about touching the sky. One month with you just flew by in the blink of an eye. The feeling of being a parent is amazing. Thank you, angel, for coming to our home as God's blessing.
#4. You are already a month old, my little princess. Seeing you growing up bit by bit is happiness. Daddy promises to be there for you no matter what you face. Celebrate your 1st-month birthday with grace.
#5. Baby, in the past month, you have given me many memories to treasure forever. Thank you for letting me experience this joy of being a father. Your 1st-month birthday is the event I will always treasure.
See: Cute 1st Birthday Wishes And Messages
1 Month Birthday Wishes For Baby Boy
#1. Happy one-month birthday, my boy, and I pray to God that you be strong enough to fall. May God protect you and give you the strength to reach your full potential.
#2. It brings us joy, my boy, that you were born into this family one month ago. May God's light and guidance be upon you, my little fellow.
#3. Happiest one month to my baby boy. May God bless you with more days, months, and years to stay with us in good health and sheer joy.
#4. Congratulations on celebrating a happy 1-month birthday, my cute little boy. I pray that you have a long and healthy life filled with joy.
#5. As you celebrate your 1-month birthday, my boy, may you witness many more happy days with us all. I hope you experience a bright future without a downfall.
Happy 1 Month Birthday Caption For Social Media
#1. Happy one-month birthday, my baby. May you see many more beautiful days ahead with your mommy and daddy.
#2. Accept my good wishes for your 1-month birthday. May God give you the strength and wisdom you need to achieve what you are destined to accomplish on this earth someday.
#3. This 1-month celebration brings many memories into my mind of our special bond. May God's favor carry on to glow on you today, tomorrow, and beyond.
#4. I am happy to be a part of your baby's 1-month celebration in the land of the living. Do not forget to relish parenting.
#5. May your first month be a calming and cheerful ceremony for you and your family. You are a wonderful gift from God, honey. I pray that you are richly blessed to celebrate, even your 100th birthday, without any agony.
The first month with the little one is always memorable. Celebrate their first month-birthday with happy 1 month birthday wishes. The first month after your baby is born is an exciting ride where you experience varied new emotions, and the little one learns to get familiar with the new environment surrounded by the love and warmth of their parents.
The happiness multiplies as you see your little one growing up in front of your eyes, and you create many new memories with your baby bear. Create new memories of their first month-birthday with these heart-touching happy one month birthday wishes.