Living for 90 years is not an ordinary thing. So 90th birthday wishes should be immensely memorable for our dear ones, be it our grandma, grandpa, mom, dad, or any other relative or friend.
These people are essential for our family as they manage the family for such a long time. Their birthdays give us a unique opportunity to make them feel special and honor their contribution to the family.
So, let's wish them sweet and touching messages so they can feel happy and proud of their loving family members. Though they are the oldest family members, they still set an example of perfection for us.
Happy 90th Birthday Wishes
#1. I am sure you are tired now counting the years of your age. May these years be endless and full of happiness at every stage. Happy 90th birthday to my wise sage.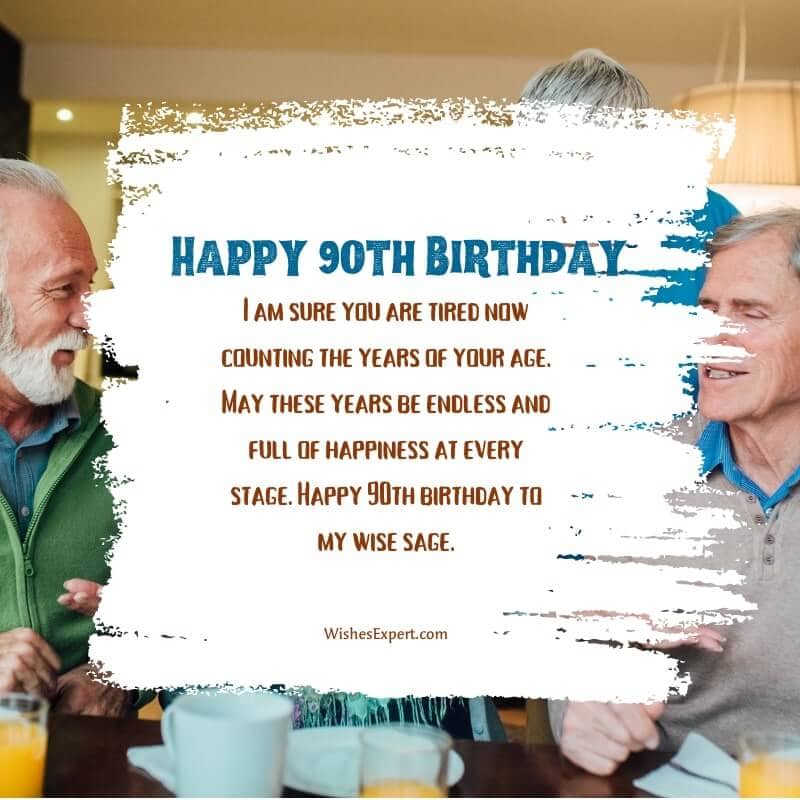 #2. On your 90th birthday, I wish you stay healthy and happy for the years to come. We are delighted to have you here with us making our family wholesome.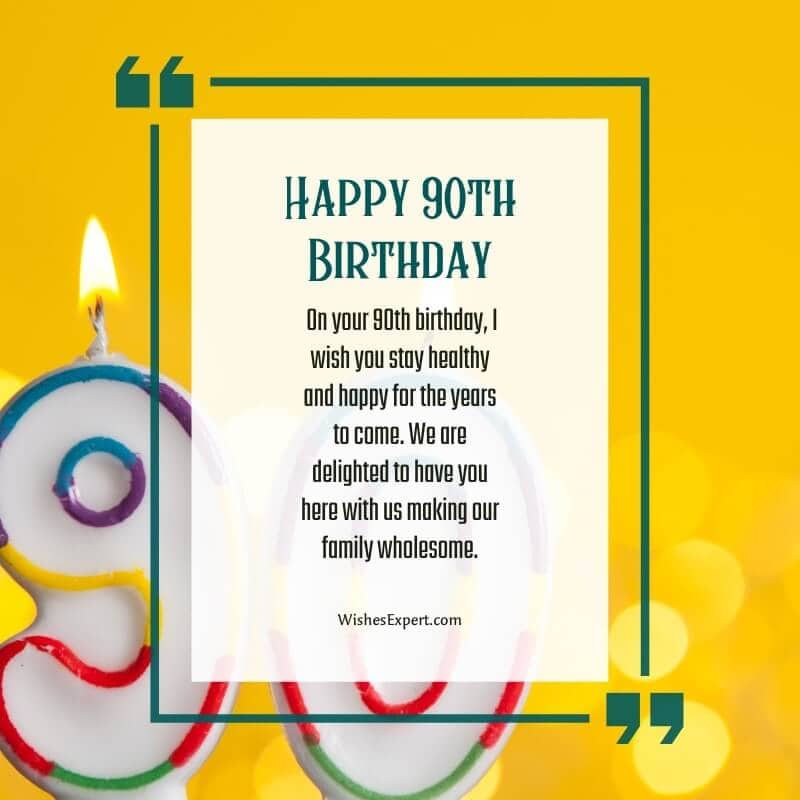 #3. Happiest 90th birthday to you. I wish you another wonderful year with plenty of reasons to smile without any clue. We are all here to celebrate your special day with a perfect view.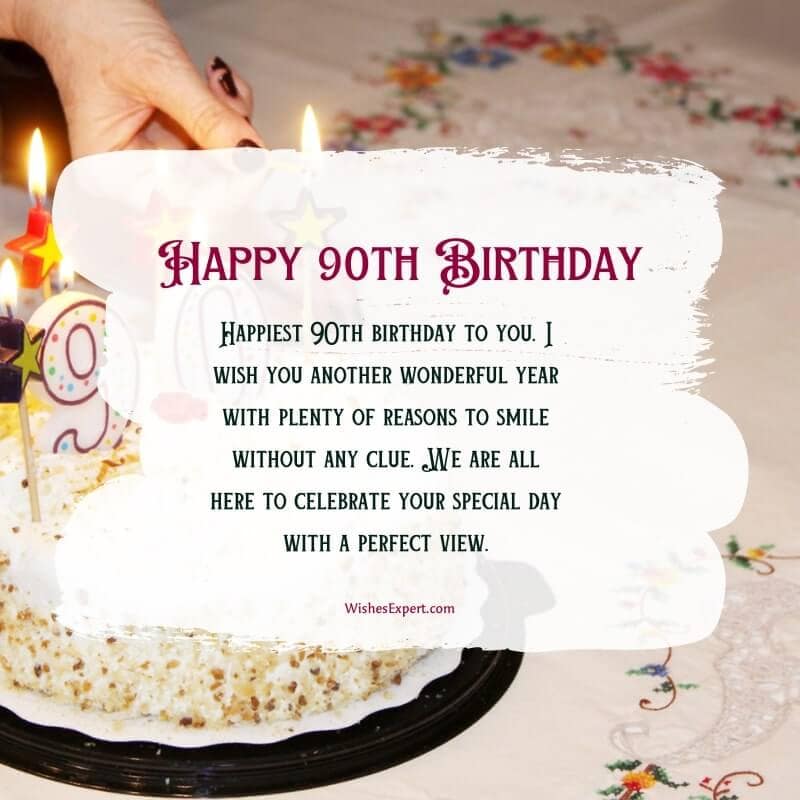 #4. Love and happiness to the person who gave me great attention and many warm hugs all these years. Happy loving birthday to you without tears.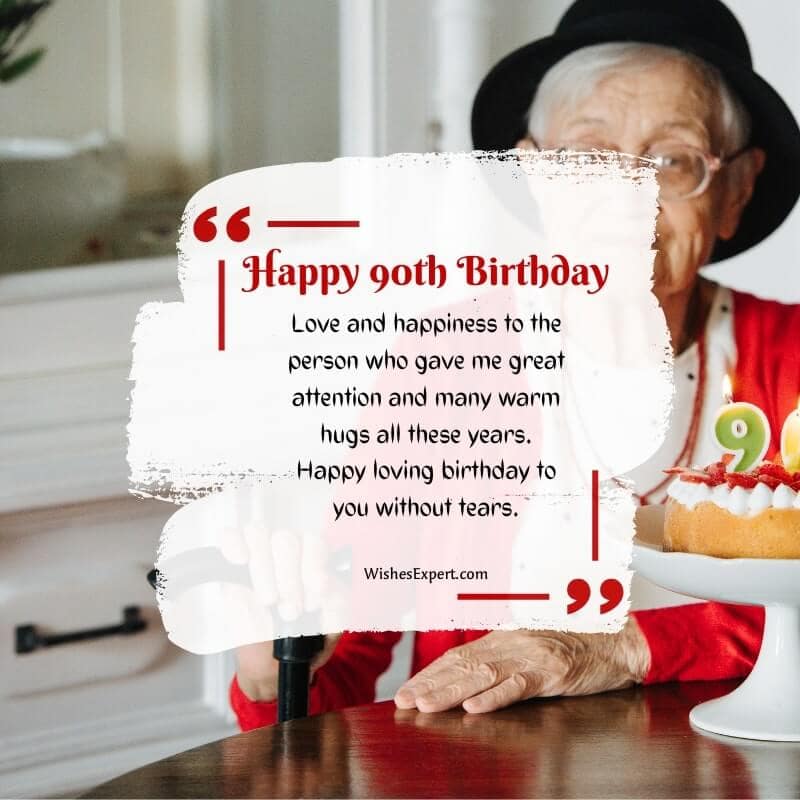 #5. All these years, you have taught me countless lessons in life. May this birthday make you feel like a 19-year-old from the inside. I wish the Happiest birthday to you, my wife.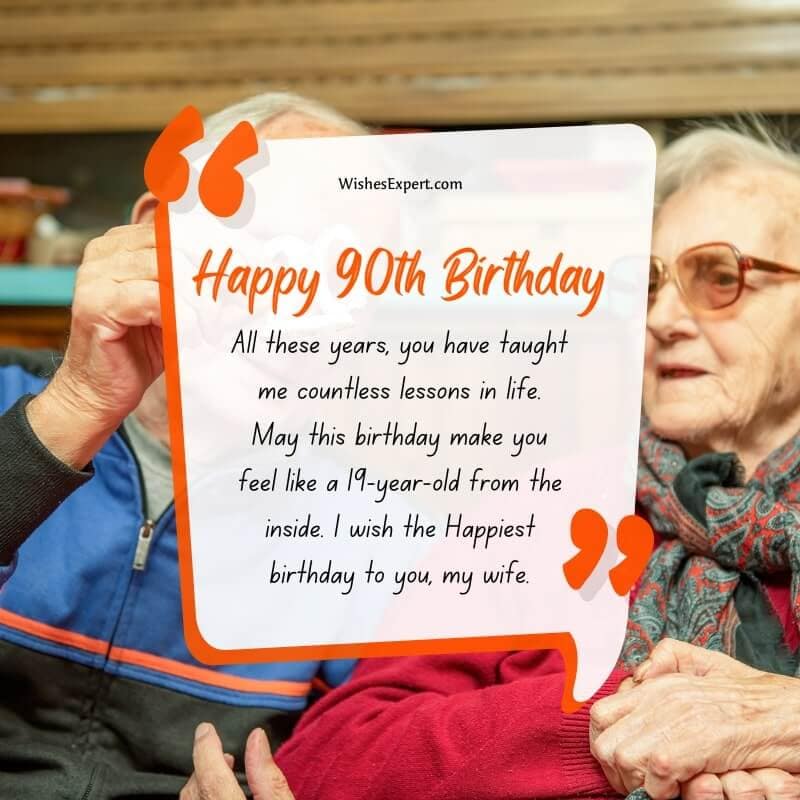 Read: Happy Birthday Wishes For One Of My Favorite Person
90th Birthday Quotes
#1. When I look into your beautiful eyes, I can see an experienced person who has always offered me love and protection. I wish a happy 90th birthday to the youngest member of our family, full of affection.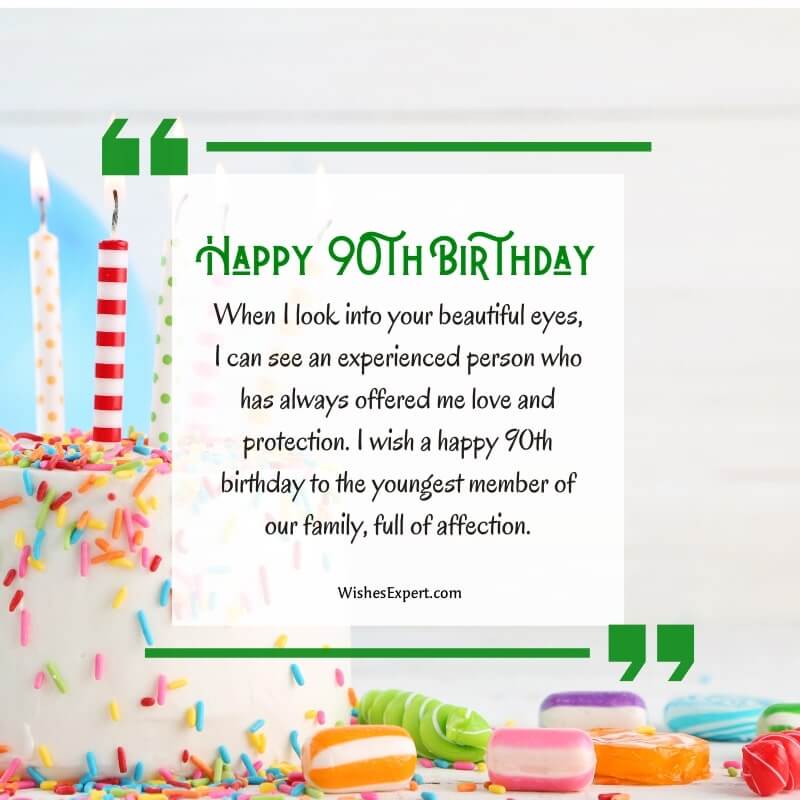 #2. I have always admired how you taught me how to live and love. May your 90th birthday be unforgettable enough.
#3. Your face and skin are the only things that show your age. But your heart is still young as a little child with no change. Happy 90th Birthday, my bestie, and do enjoy this stage.
#4. Everything that is kind and wise I wish to inherit from you. I wish a warm birthday to you. May you stay healthy and joyful all through.
#5. You were always there to help me, and the keystone of our family. I send my warmest greetings for your 90th birthday, sweet lady.
Read More: Birthday Wishes And Quotes For Mom
Funny 90th Birthday wishes
#1. Aging is just a number. I hope you have good health and wealth with a bumper. Let me wish you a fantastic 90th birthday, buddy. Always be happy-go-lucky.
#2. Being aged is just a proverb. But various forms of fun are undercovered. I wish the happiest 90th birthday to the charm of this special day. Stay blessed with good health, as always.
#3. I wish you a fun-filled 90th birthday, old pal. I hope your life shine as bright as the sun. May you have a romantic dinner tonight with your gal. You must enjoy this special day with fun.
#4. You are getting as old as wine. May your smile be benign. I wish you a joyous 90th birthday. Enjoy it the utmost today.
#5. Life is full of twists and turns. Celebrating the 90th birthday is just a cute churn. Happy 90th birthday to you. Staying cheerful at this age is a cup of tea for very few.
90th Birthday Wishes For Dad
#1. Hey dad, it's your 90th birthday. Just wishing you the day is not the thing I must say. I would shower love on the gleeful man of my life, who had laid my life prepossessing with his design for me to survive.
#2. Let me wish a happy 90th birthday to the hero of my life. I hope you have good health and peace in a line. You are the joy of my heart. You are the one who gave my existence a start.
#3. Let me wish you a fab 90th birthday, my dad. You are my best hero to whom I'm mad. You gave me the meaning of my entity when I remain sad. You are the one who tackled me when I chose the road that's bad.
#4. Father, you are my part of jubilation. You gave me the courage to imbibe myself into my creation. I hope you enjoy a happy 90th birthday to the old pal of my mortality. You are the best of all, and that's the reality.
#5. Happy 90th birthday to the reason behind my existence. Your support and love in my life made everything subsistent. I hope you have good health and can lead your life with joy and strength.
90th Birthday Wishes For Mom
#1. Mother, you were my first friend since I was nine. On your special day, I would always love to prepare your favorite to dine. Happy 90th birthday, mommy. And trust me, the sugar-free cake is very yummy.
#2. I wish you an empowering 90th birthday, mum. I hope you get the strength to fight back against all storms which may come. You have always been strong and vigorous. You are the one who leads me to be courageous.
#3. Happy 90th birthday, mother. I'm always here to let you bother. I wish you good health and strength. You have always understood me before I could even express it to you at length!
#4. Mother, you are the first love of my life. I wish you a happy 90th birthday, with a beautiful cake and flowers kept aside. I always say, my mother is my courage and strength. I hope I haven't let you down at any length.
#5. I wish you a mind-blowing 90th birthday, my creator. You have always been my orator. Let me shower love on the lady behind my existence. You made my life full of artistry with your assistance.
90th Birthday Wishes For Grandpa
#1. I wish an energetic 90th birthday to my sweet grandpa. I hope you have good health and strength in your life. I love you for fulfilling my demands before Pa! So, I play the happy birthday song with my fife.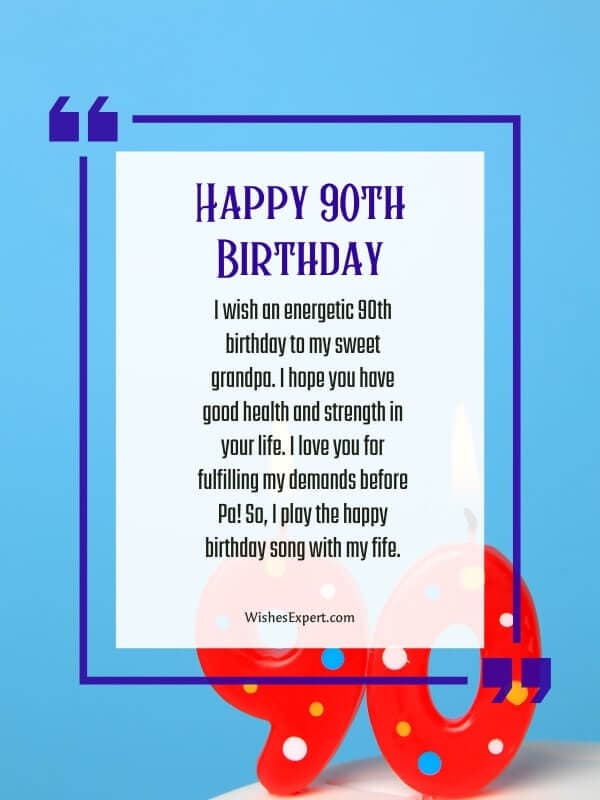 #2. Grandpa, you have always been my strength and humor. In every difficulty, I have gotten you as my armor. Lots of love and good wishes to my old pal. Happy 90th birthday to the man who is always jovial.
#3. Happy 90th birthday, grandfather. You are a man of honor. I hope you have a life filled with strength. Your good health is the only thing I consider to be your precious wealth.
#4. You have always been our source of joy and courage in every challenging situation we faced as a boy. I wish you a happy 90th birthday, grandpa. Your good health and proper strength are now your life's law.
#5. Grandpa, happy 90th birthday. It is a memorable day. You have always been the cheerful one. We, the kids, have always been your favorite other than your son.
So, what do you think about 90th birthday wishes for your near ones? Hopefully, you have liked it enough to use it. Why not? After all, these people are an integral part of our lives. From our earliest days, their attitude towards other impresses us. The scope of their wisdom covers such a wide gap in our knowledge. Their influence is magnificent, reaches several generations, and is respected by all. 90 is an age beyond many people's reach. Someone who has made it to 90 has just about seen it all, so it is significant to find the right way to say happy birthday to these people.