So, it's the birthday of that one crazy friend whose insanity drives you crazy yet he/she is the precious one for you, then these happy birthday crazy friend wishes are perfect to go with. It's okay if you can't match up to their level of craziness, you can still celebrate their day, being crazy enough.
The people who keep the insane in them alive should be well appreciated. And if birthdays don't provide that occasion to show them how special they're, then what else would? Let them know how much you value and love them just as they're! Take this occasion to make them feel good about the wild craziness that they carry.
Birthday Wishes for Crazy Friend:
#1. As today is your birthday, I swear I'll usher you to our uber when you get drunk and forget in which dimension you live. Happy birthday, friend.
#2. The time of the year has come when the bar of your craziness gets broken. But don't you worry, as usual, I've got your back. Happy birthday.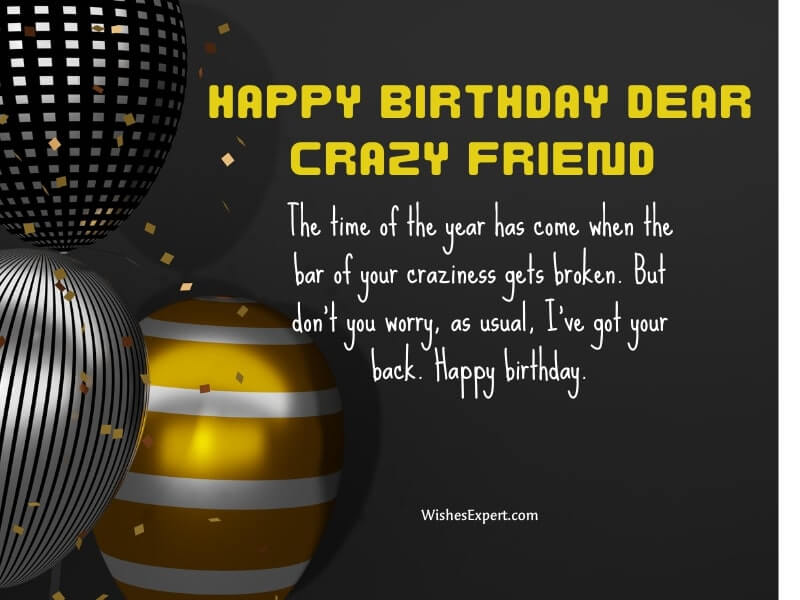 #3. To the wildest creature, I know, don't ever put a halt to your craziest ideas. The world needs crazy people like you. Happy birthday.
#4. You're one of a kind. To one of the craziest beings with the funniest buns and ideas that hold the potential to get us in jail, happiest birthday.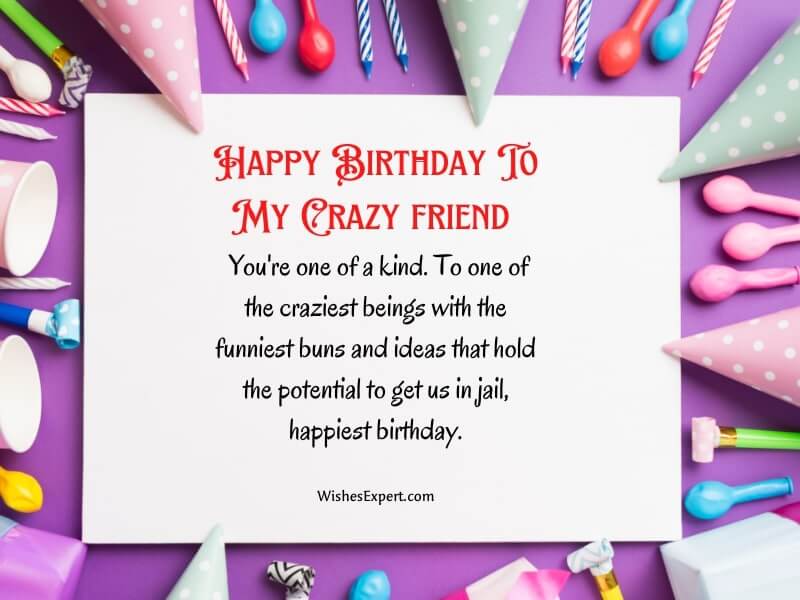 #5. Happy birthday to the crackhead whose daily dosage of iced coffee and wine is immeasurable. We don't need to wish you to have the best one but a safe one.
#6. No matter how much you grow, you're still going to be that crazy gal who runs back to her ex for the 10th time. But this time I won't let you do that. Happy birthday.
#7. As you're 75% craziness and 25% cuteness, none of us can ever get mad at your puppy face, nor do we ever wish to. Happy birthday, hon.
#8. You can never get too old for your childlike tacts and traits. They're brewing with your age number only and we love that cause we don't want to lose what we have. happy birthday, dear.
#9. To my crazy friend, who I find in the tub of wine on weekends, watching her favorite crime documentaries; happy birthday. We're match-made in heaven.
#10. It's that time of the year when you have to switch from your everyday anxiety to the anxiety of being social on your birthday. Don't worry, you'll be fine. Happy birthday.
Read: 30+ Religious Birthday Wishes And Messages For Friends
Happy Birthday Wishes to My Crazy Best Friend
#1. To my crazy friend, I say thank you not only for the birthday party but for the hangover story you're about to give us. Happy birthday.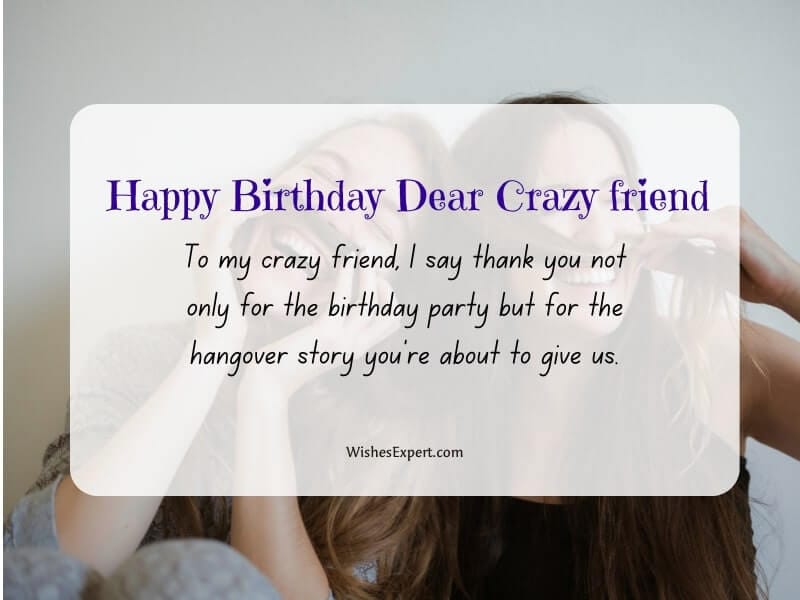 #2. Regardless of how nuts you could get, I would be banana for you forever. Happiest birthday to one of the craziest people I know.
#3. Honey, get your curls up, put on your face mask, look in the mirror and tell yourself, happy birthday, gorgeous. Let self-love sink in, and we'll handle the crazy self-care woman in you.
#4. Happiest birthday to my craziest best friend. Cheers to our insanity that has kept us sane and all the illegal things we do that have kept us alive.
#5. I hope you receive an admission letter from Hogwarts as I know that only can make you the happiest and not my "happiest birthday" wish.
#1. If you feel a bit sad today, remember, stupidity has no age. And in that case, you're going to stay as young as you were yesterday. Happy birthday.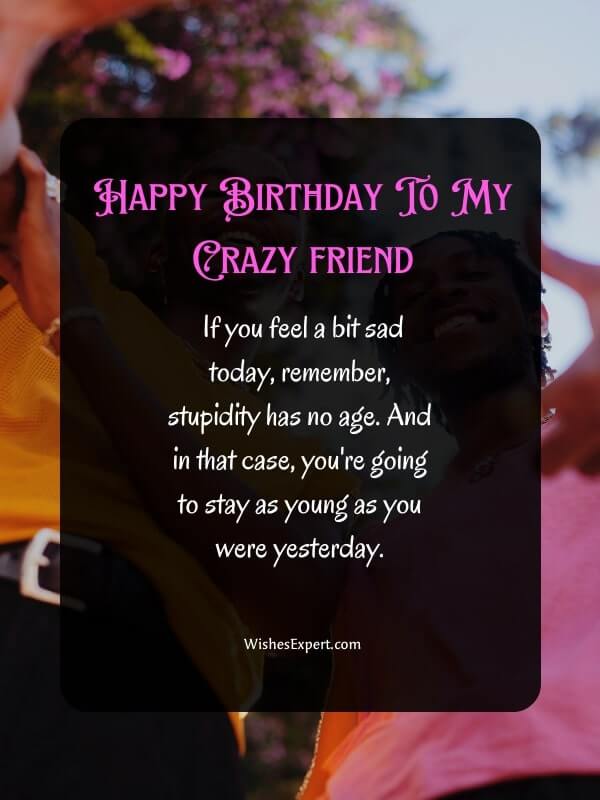 #2. As no one can beat you when it comes to blowing(all the opportunities life gives you), I brought extra candles for you. Happy birthday.
#3. I recommend you to listen to your body, especially today. It will tell you to eat the whole cake and never stop having red bottoms, and I tell you to do so too. Happy birthday.
#4. Happy birthday. You still have us to have your back and wine in the fridge. So, you have a few wonderful creatures and a fabulous invention with you. And do you still need presents?
#5. Happy birthday. So what if you're getting older, can't you find your contentment in knowing that not even time can change the crazy man in you who invites troubles all the time?
Check: 35 Exclusive Birthday Wishes For Old Friend
Birthday Greetings and Messages for Crazy Friend:
#1. Today is your birthday, honey. Throw some sass around or sherbet but keeping it dry and dull is illegal. Happy birthday.
#2. It's all about you today unless you decide to be not sober and take us with you in the rabbit hole, but happy birthday.
#3. How can this day get better? Today's planetary ride is dedicated to you, and you're going to get a free Starbucks today. You're going to have to best day. Happy birthday.
#4. Happiest birthday. It's your day, but can you surprise me with the version of you that's subtle and sober? I'm hoping for the best.
#5. Only if sarcasm and idiocy could lift you up in the air, you'd be soaring higher. Otherwise, we need to make the panda in you awake to make you reach heights. Happy birthday.
Read More: Birthday Paragraphs For Best Friend
The world would be a dull place without people who aren't crazy enough to live their own ways and see the world from a totally different lens. Use this happy birthday crazy friend wishes to make them feel special and valued. Let them know how much their insanity is needed to make the world a better place.
You're lucky to have such a friend on your radar and show your gratitude for him/her on his/her birthday. And don't forget to check out our main page to find the other wishes and greetings.