Religious birthday wishes for friends add a pinch of specialty to your special day. Belief and faith in God are the main elements that make religious birthday wishes for friends. From the first day of our lives to the last day, our creator destined our birth and death. Strangely, everything circulates faith, belief, and trust in our existence.
Surprisingly, faith in religion and its practices began from the day we were born. Religion depicts bondage within a society between tradition and some rituals.
These kinds of wishes pour a vibe of positivity within one's mind. You may not be so indulgent in any religion by nature, yet a simple religious birthday wish or message may change your mind. It may fill the mind with immense energy, positivity, and peace.
Religious Birthday Wishes For Friends:
1. Happy birthday my dear friend. Remember one thing, everything is destined previously, from beginning to end. May the Lord bless you with an amazing life full of faith and belief. Accept whatever comes your way with great happiness and not with grief.
2. Wish you a very happy birthday. May almighty fill your life with hope and humanity. Happiness shall shower on you and bless you with sensibility.
3. Surprisingly, God is preparing us for both failure and success. Emotion shall be balanced in both ways. You are strong enough to win any match of life without any fear. Happy birthday, dear.
4. All sounds are not noise. Stir it within your soul, you would find the true meaning of each of it if you are poise. Likewise, choose your life in a righteous way. Wish you a very happy birthday.
5. Wish you a very happy birthday, friend. You are a beautiful creature of the almighty on whom all can depend. You have a heart of kindness. That's the gift of God, which you can embrace.
6. Happy birthday to my dearest pal. May God bless you with all happiness, my girl. On this day, may you understand the truth of life? The Lord is always beside you for proper guidance that helps you strive.
7. Happy birthday, friend, you are a godsend. Live your life with happiness and prosperity. May you have with you, self-confidence and dignity.
8. Happy birthday, buddy. Remember one thing, that each and every moment of your life is the gift of God already. Keep it fresh, just like a beautiful flower soothing enough to refresh.
9. May God bless you with loads of love and happiness. Prosperity shall show your way to success. Happy birthday my dear friend. May you find your Lord whenever the path of your life takes a bend.
10. Humanity is the true religion of our life. So, stick to it as it will help you survive. May God keep you motivated, the way you are, boy. Happy birthday, pal, forget everything and enjoy!
Read: Religious Birthday Wishes And Greetings
1. Happy Birthday dear friend! May you face all the challenges in life with positivity and handle it with confidence. May Lord help you to face hard times with patience!
2. Many happy returns of the day dear friend, May God shower love and courage to you so that in front of injustice you never bend. Happy Birthday, friend! Party hard till the end!
3. Over the years among all the constants in my life, you are one, without you, I wouldn't have survived. May God help you achieve all your dreams, gain weight by eating loads of creams!
4. Happy birthday, dear! I wish you happiness forever. Lord will always be with you if you have a good heart, like swan only fetch the clean water from the dirt!
5. God will teach you to deal with failures in life, optimism is a part of you that helps you to survive. Wish you a very happy birthday, buddy, never lose trust in the Almighty!
6. Happy Birthday dear friend! Today is the day for taking new oaths and wise decisions. I wish you happiness and good health forever! Soar higher.
7. Happy birthday my lovely buddy! May God help you with an honest heart, little lady! So, let's celebrate the day with prayers and blessings, let's ask Lord for a new beginning!
8. Happy birthday my pal! Let God illuminate the candles on the cake and likewise illuminate your life with hope, positivity and happiness, dear girl. Stay blessed and smile more the higher you soar.
9. The costliest gift one can afford to have in life is a smiling face. May god gift you that in this earthly surface. Happy Birthday, friend, let's make #smilemore our trend!
10. Happy Birthday, dear! Every moment of your life is a gift from God, so make it worthwhile and don't fear. God is always with you, providing you love and care!
Check: Happy Birthday In Heaven Wishes With Images
Religious Birthday Greetings to a Friend:
1. May the Almighty bless you more as you grow a year older and shower you with wisdom and peace, dear. Happy birthday to my dear friend who is godsend!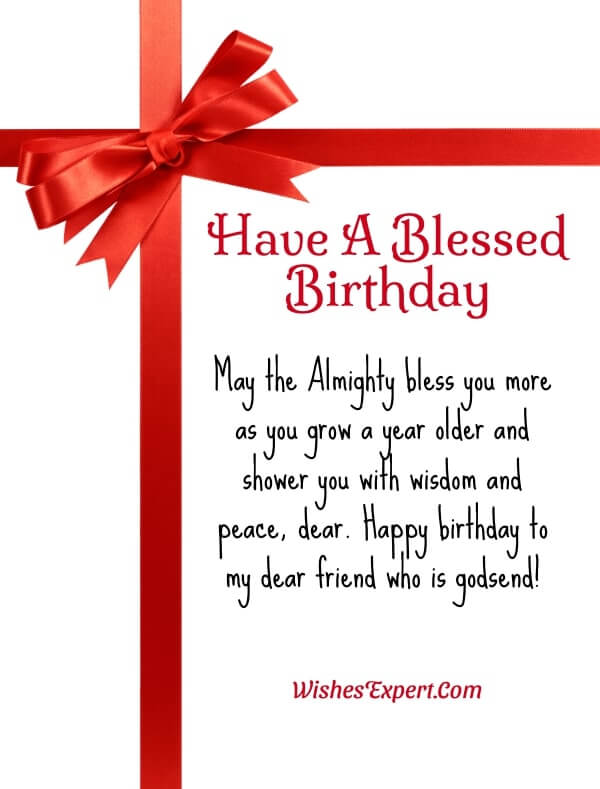 2. Believe in God and have faith in his presence, He eases the path of life and moves you towards wisdom and knowledge even in his absence. Wishing you a very happy birthday, enjoy the day.
3. Birthday is a reminder that you are blessed with a beautiful life and people around you help you to thrive. May God fill your coming days with fitness and happiness!
4. I pray to God that He illuminates your path with good health, kindness and empathy so that you can spread happiness and treat everyone with sympathy. Happy birthday to you, do enjoy life too.
5. The Almighty might test your endurance throughout the year but he would bless you on your birthday without fear. Wish you loads of happiness and prosperity on your birthday!
Try: Birthday Wishes For Best Friend Female
Happy Birthday, Friend Religious Wishes:
1. In happiness and decease, never forget God is the reason behind love and peace. May God bless you on your birthday with grace, you will be protected by that Almighty, on this Earth, who created your place.
2. In every difficulty, you will find guidance, don't worry then, because the one who is keeping you safe is the Almighty. May God ushers you with blessings and compassion. Wishing you a very happy birthday, be happy without reason.
3. When life puts you into test, always have faith in God remember you are being prepared for the best. Wish you an amazing birthday! Trust me God is there to guide your way!
4. You are a child of God and He would always protect you through thick and thin. Life is about the loses, and not always about the battles you win! Happy birthday dear, god's blessings is there beneath your skin.
5. Happy Birthday to an amazing person who carries God's godliness and kindness. May God give you more strength to deal with sadness.
We always want blessings in our lives. Religious birthday wishes for a friend help us shower those blessings on them.
A beautiful wish may turn someone's day memorable and exciting. The creator gives us our life and fills us with some divine qualities. Once we find out the true meaning of life, we can effortlessly dig out the quality within ourselves. Someone's birthday becomes memorable when we remember the almighty and be thankful for the beautiful creation around us.