From the day we are born to the day we breathe last, religion is inter-wined in our life. Religious beliefs and practices get started once we come into existence. Religion is a means to bind a community strongly with the same traditions and rituals. Therefore, religious birthday wishes to a person can add a lot more to the day's specialty.
A person might not be conventionally religious by nature, but a simple religious message or wish can change the day, adding more positivity and energetic vibes.
Life goes inseparable from religion. In various cultures, religious activities are performed on birthdays for the person's long life. It is one's truth, which is invincible and undeniable. Conducting prayers and visiting shrines on birthdays are always regarded as auspicious.
Religious Birthday Wishes:
1. I pray to God that your birthday turns more special with His blessing. May He bless you with wisdom and glory that's never ending. Happy Birthday, dear, when God is near never fear!
2. One year added to your life means one more year of dedication, devotion, love and spirituality. May you flourish more and more by God's glory.
3. Have faith in the Supreme power who paves the way for you and blesses you with all might. May you be blessed with his power to forgive and be kind. Wishing you a very happy birthday!
4. Always believe that there is the guiding star above you, following you and clearing the path of your life. Have faith and take a leap, you will survive! Happy Birthday, my life!
5. May God bless you with strength and wisdom to wade through the hurdles of life. God always bless with more knowledge and enlightenment, remember this while cutting the birthday cake with a knife.
6. May God bless you on your birthday and keep you away from greed, avarice, gluttony, sloth, lust, wrath, and pride. Happy birthday, dear, always find your Lord, deep inside!
7. You are a true child of God. May his grace shine on you and guide you in all odds. May your day be blessed and filled with joy and mirth. Happy birthday, another fantastic year on the Earth!
8. Wish you to be kinder and more compassionate, that is how you can be true to your God residing within you. Commit yourself to Him on your birthday today, and you will find profound happiness like a few.
9. A prosperous and amazing birthday to the person who finds the light in the darkness. May Almighty shower love and hope on you, may He be there with you in your tiredness.
10. I have not seen God, you see. I have seen you as the precious gift of God to me. Your presence is a blessing. Wish you a birthday full of love and joy, may God's blessing be with you when times are distressing.
Read: Belated Birthday Wishes
Religious Happy Birthday Wishes:
1. You are like a young sapling that requires sunlight and water to grow up into a tree. May God bless you with eternal sun rays and allow you to be free. Happy Birthday to you!
2. Like the dawn gets showered with dewdrops, hope your life gets sprinkled with best wishes and blessings of the Almighty. Wish you a happy birthday, always embrace everyone politely.
3. Life is meant to experience ups and downs. Hope you find God as your lighthouse during the times of ebbs and tides. Wish you a very happy birthday, may you enjoy the day with positive vibes.
4. Dark days are there to give you a better realization of light and brightness. May God be your guide and fill your heart with joy and happiness. Happy birthday wish you always find brightness.
5. If you see despair and agony in life's cup, trust in God before giving up. Let the Almighty show you the way to happiness. Wish you a very happy birthday, my Princess!
Check: Thank You Messages For Birthday Wishes
Religious Birthday Greetings:
1. May you have a joyous and prosperous year. Wishing you a happy birthday, dear! Hope heaven showers you with blessings on this very special day of yours.
2. The world may fail to stand beside you and acknowledge the good in you but the Almighty will never leave your side. Happy birthday, always stay truthful inside!
3. Every time you experience turbulence, let God guard you with comfort and fill your heart with joy and patience. Happy birthday, sweetheart, search your God in your heart.
4. The way the sunflower faces the sun and blooms brightly warming up the atmosphere, hope you have God as your sunflower lighting up your way and guiding you, here. Wish you a happy birthday, dear!
5. If thunder and lightning seem to scare you, just smile. Rains accompany them and make the land fertile. Similarly, during your bad days hope the best blessings from heaven prepare you for the upcoming good days. Happy birthday.
Also Read: Birthday Quotes For Me
Blessing Happy Birthday Religious:
1. Happy Birthday dear son! Your Birth 20 years ago was destined, on a lovely morn! Hope you understand Life's Amazing Secrets with your own abilities. Always have faith in God and never resort to hostilities.
2. Happy Birthday dear daughter! May God shower you with all her love and blessings, dear. Always remember the true meaning of any relationship is beyond what we think, it simply depends upon how we acknowledge without a blink.
3. Happy Birthday dear Father! You have taught me to STRUGGLE, FIGHT, STAND UP, and deal with FAILURES. Always stay blessed dear Father. May God bless you with a life longer and happier.
4. Happy Birthday dear Mother! I extend my sincere gratitude towards God for giving me birth in your arms and letting me become an important family member. May God Bless You with a Happy Life, forever.
5. Happy Birthday dear Brother! I thank God because he gifted me you, without you I would never understand the true secret of the relationship between a brother and sister. Happy Birthday, May Lord help you in Life and never Fear.
Check: Advance Happy Birthday Wishes And Messages
Happy Birthday Religious Messages:
1. May Lord charge yourself with hope and positivity. Wishing you a very happy birthday, may you gain peace and prosperity, may your life be filled with spirituality!
2. Always remember! You have been created by almighty according to her choice, not your, dear. So, she will always have some beautiful plans for you, forever. Happy birthday, never lose trust in Mother Nature.
3. The two words 'HAPPY' AND 'BIRTHDAY' words work as magic when spelled together. But the real magic lies in the hands of the Almighty, dear, without whom, you and I would have been nowhere.
4. The true religion in life that we must follow is Humanity. The religion of Love, affection, care, optimism, truth and integrity. May God gift you all this, on your birthday. Trust your Lord, every day.
5. May God prepare you for both Success and Failure. On your birthday may the Lord guide you with challenges so that you face them without fear. Many happy returns of the day, dear.
Read More: Religious Birthday Wishes For Sister 
Happy Birthday God Bless You:
1. Happy Birthday dear friend! May God bless you and be with you, when your paths are coming to a dead end. God's blessing is the costliest fuel to drive the car of your life to a proper destination. Have a grand birthday celebration!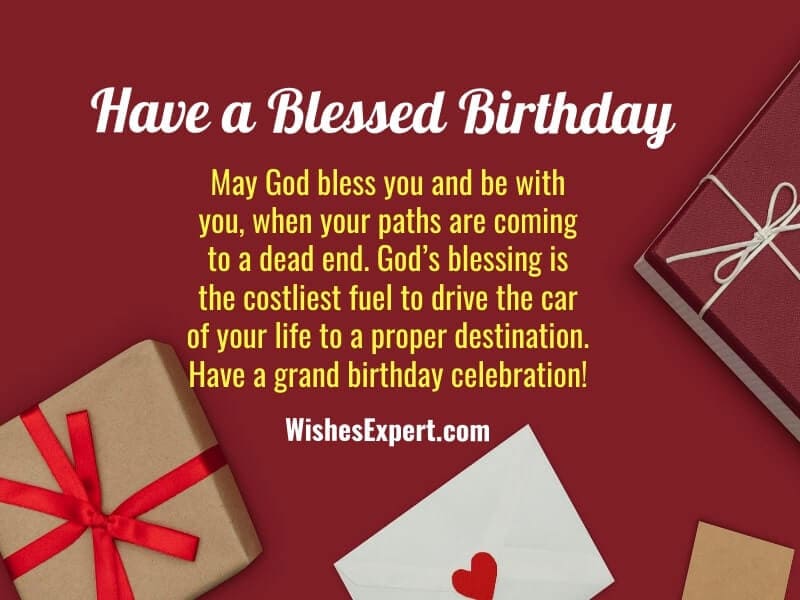 2. Happy Birthday younger brother! I pray to God that your young mind always remains innocent and clear. From sapling you grow to a tree, God will always keep your mind pollution-free.
3. Happy Birthday genius! God has gifted you with a kind heart that always stays motivated, inspires people and is not to mention always rebellious. So, accept yourself as you are, because you are God's greatest gift dear!
4. Happy birthday, dearie. On your birthday may God bless you with everything to live happily. May you understand the true meaning of life, your Lord is always there with you as your guide.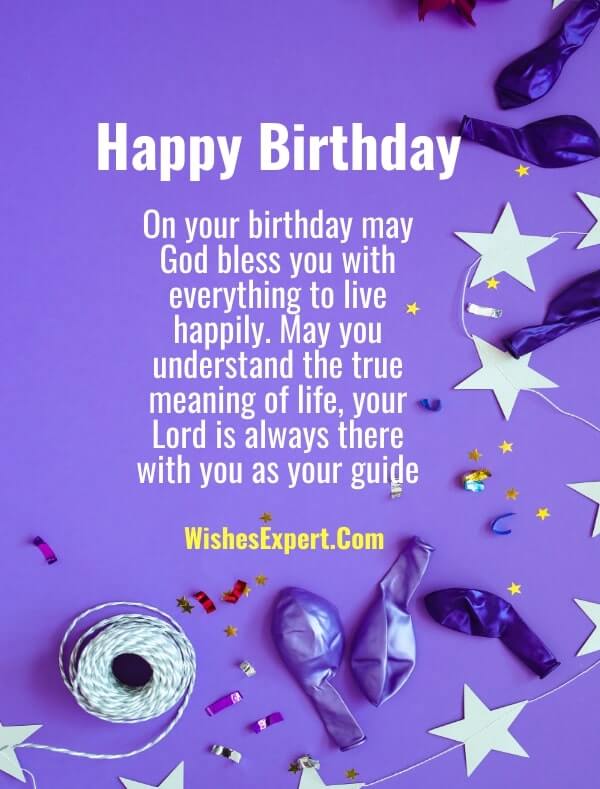 5. Happy Birthday mother! May God bless you with good health and help you to bloom like a flower.
6. Happy Birthday friend! May God bless you with options and opportunities until the end. Option is simply what you choose, opportunity is, what chooses you and determines your future and what you do!
7. A family is the best gift one can afford to have. Being a part of your family, I pray to God bless you with loads of love. Happy birthday dear, may God bless you with a smile, and wash away even a drop of tear.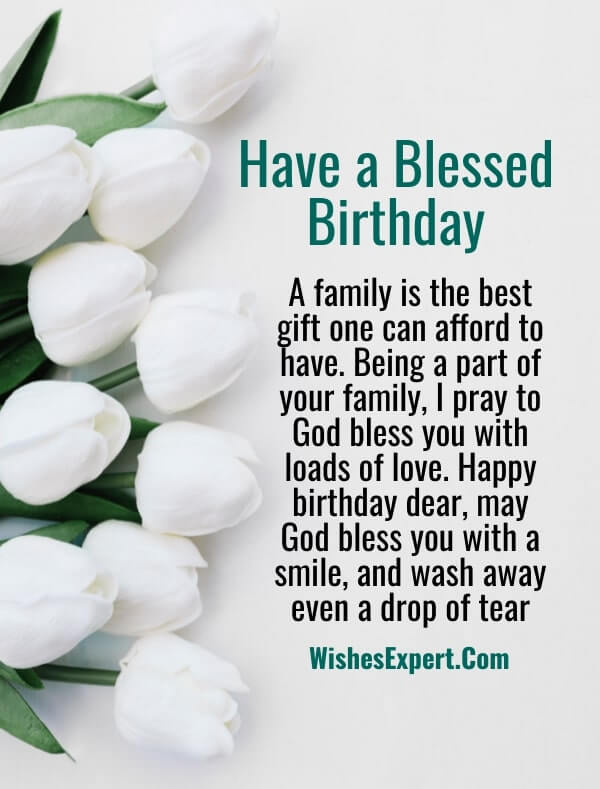 8. May God shower you with the best possible happiness and prosperity. On your birthday I pray to God to bless you with self-confidence and dignity.
9. Today when you blow 1 extra candle on the cake, dear, remember my friend, God blesses you with enlightenment, new possibilities and hope forever.
10. Remember dear brother, every moment of your life is a gift from God, so make it worthwhile, and soar higher. Stay blessed and may all your future dreams come true, happy birthday to you.
Being blessed is what we all desire. When someone really wishes their beloved religious birthday wishes on birthdays, that make the day all the more memorable and blessed. Happiness comes from a simple wish and a blessing comes from a pure heart. When God gives us life, he gives us many more divine qualities. Wishing someone a religious birthday greeting enriches the soul and strengthens the goodness. Let's call for the happy day as a religious enlightening day for all. A happy birthday can really be a happier birthday by remembering our Almighty, the omniscient.