Birthday Wishes And Messages For Elder Sister: People say that our elder sisters are often your second mother. They care for you, love you unconditionally, and do all the things a mother does for her child, and that is why when her birthday comes, you have to be ready with the best birthday wishes for elder sisters.
Elder sisters deserve the best of everything, and along with the best gifts, you have to ensure that birthday wishes for elder sisters are also the best. Being an elder sister is a huge responsibility, so when we grow up, we must look after our elder sisters and try to give them the best of everything as she has rightfully earned that. Bestow all the love upon her. Make her feel special every day and especially on her birthday.
Happy Birthday Wishes For Big Sister:
1. Being the older sister and always caring for me when we were younger couldn't have been easy, especially because I didn't even try to make it any easier! You must have had a lot of patience back then! Happy birthday big sis, I want to be your baby again!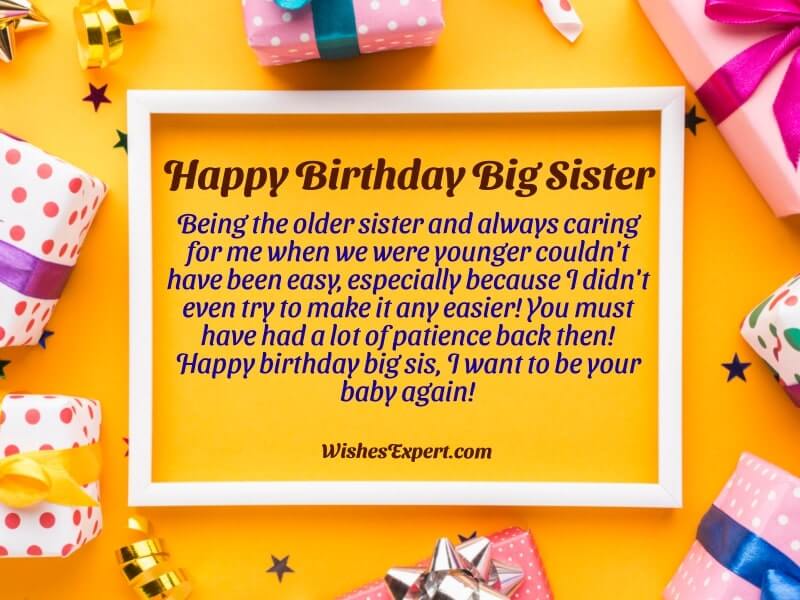 2. Without my life would have been dull and boring. Thank you for all of our incredible adventures, and for making it indeed pretty happening. Wish you a very happy birthday, my sweet sibling.
3. Thanks to you, my darling big sister, because of you my childhood memories are full of fun and laughter! I can't believe we're getting older, raise a toast to our adventurous future! Happy birthday, dear!
4. Sis, you are a true star. I saw you made your way out of trouble when we were youngsters. I'm confident that while moving forward, you will always find a way. Sister, enjoy a wonderful birthday!
5. I'm grateful to get a sister like you who filled my life with love and care. Thank you for always being my support and for making every day so unbelievably better! Wishing you a birthday filled with love and care!
Read: Heart Touching Birthday Wishes For Sister
Happy Birthday Elder Sister:
6. On your special day, I'd like to send my best greetings to the nicest, brightest, and most beautiful elder sister. I'd like to express my gratitude for being the most loving and caring person I come across ever!
7. I know we are growing older, which is why the old days I always remember. We hold a special bond together. We have always proved the happily ever after. Happy birthday, dear!
8. My kind, goofy and adorable sister, I wish you a very happy birthday, dear! I know you are older, but you see I am smarter! But is more adorable than you, you are so soft like a dew!
9. Dear, elder sister, now you resemble mum, but no matter what you are still dumb! You know all of your secrets, and accept me after all my mistakes! Happy birthday, darling, enjoy a great evening!
10. There were guffaws and laughing when you were around anything. We've always been best friends and will be for another until our lives come to an end. Wishing you a very happy return of the day, enjoy your birthday!
Take A Look: Funny Birthday Wishes For Sister
Funny Birthday Wishes for Elder Sister:
11. Happy birthday to my dearest sister, remember how I stole the egg yolk from your plate when we were younger. You were look dumb yet super cute and adorable, thanks for being my elder sister.
12. Happy birthday, my sister, the all-time sage. It's okay if you don't can't blow all the candles equal to your age. We won't reveal how old you are, after all, it's your birthday, why fear! Many happy returns of the day, dear!
13. On your birthday I pray to God with you remain wrinkle-free, after all, you are older than me. Although, there is the anti-aging cream but that's not in your scheme! Happy birthday elder sister, did I say you look older!
14. Happy Birthday my dear sister, today I will treat you better. Today we won't fight, today all your words will be right! From tomorrow everything will change, thus, today I will be a sage!
15. Are you really growing old my sister? Because it seems I have more grey hairs than you, which is bitter. Please share your beauty secret with me too. Many happy returns of the day to you!
Also Read: Birthday Wishes For Sister In Law
Birthday Messages For Older Sister:
16. Life is meaningful when it has an elder sister like you. You make my life is simple yet happening too. Happy birthday my dear sister! Without you all tasty things taste bitter!
17. When it is dark, I know who can brighten my day, it's you, wishing you a very happy birthday. You illuminate my day. Enjoy your life to the fullest, come whatever may!
18. Although we had fought the most in our childhood, we are the best pals in our adulthood. Wish you a lot of love and good wishes on your birthday! I remember those lazy afternoons when on the bed, we idly lay!
19. Let me tell you the truth on your special day, you are precious to me, more than my bae. May the year ahead be filled with love, positivity and compassion. Happy birthday, dear, always stay in fashion!
20. Elder sisters are not only older than you, but they are your role model too. For me, you have been really an inspiration. Happy birthday my dear sister, you are responsible for all beautiful creations!
Read: Loss Of A Sister Quotes
Birthday Wishes For Big Sister:
21. Being your little sister means getting all happiness and blessings. Happy birthday big sister, with you, life is never distressing! Enjoy your day with laughter, don't just live today make it bigger!
22. A big sister is not only a sister but also a mother by heart. Thank you for being one, you are a complete sweetheart! You are the biggest blessing I can have in my life. Wishing you an amazing birthday without you, it would have been difficult for me to survive!
23. Birthdays are fun, where you enjoy to the fullest, but big sister birthdays are always the best! Thanks for your presence in my life, my dear. Happy birthday, love I am all brave when you are near!
24. Happiest birthday to my favorite person. You have been the best big sister anyone could ask for every reason. From being a kid to growing up as a teenager, you stood by my side, my dear big sister.
25. More than anyone, there is just one person who can make my heart calm and strong. It is you, my lovely big sister, you can never be wrong. Thank you for being a wonderful existence. Happy birthday, angel I can't tolerate your absence!
Read More: Religious Birthday Wishes For Sister
Happy Birthday Big Sister Quotes:
26. A big sister is more responsible than anyone else in the family. And I'm proud that you are there for me every time, being my support happily! What I am today is because of you. Happy birthday big sister, love you too!
27. If it wasn't for my big sister, it isn't for anyone. Happy birthday dear, every heart you have already won! You are disguised as my blessing. Long live, my big sister, it's your birthday we are celebrating!
28. I am living the best of my life only because of you and you care. Wishing you nothing, but only happiness and blessings every year. Happy birthday, dear!
29. You stood by my side when no one else did. You took care of me like your own kid. Thank you for everything. Happy birthday to my best friend, my big sister, you are just amazing!
30. Big sisters are meant to shower love and care. Ask me about it because I know this better! Thank you for tolerating me and understanding me. Wishing you a fabulous birthday, my big sister, I will be always there for you, you see!
Read More: Birthday Wishes For Step Sister
There are a plethora of birthday wishes for elder sisters that will make the birthday adorable. Whatever you do, make sure that the words have significant meaning and feel like you especially thought of her when sending it to her. Often, gifts fail to convey the feelings you have for a person. In that case, a written note or quote does the trick as those come from your heart. The person can feel that you have put your efforts into it. Here are some birthday quotes for your elder sister that you can write to make her feel special.