It's your step-sister's birthday and if you want to wish her most genuinely because you truly consider her your soul sister then these birthday wishes for step sister are perfect to go with.
Because of the dynamics step-siblings usually have, it's crucial to express love and remind each other that you're there for one another. Occasions such as birthdays provide the best instance to do so. These birthday wishes will help you showcase your love and care for your step-sister and make her feel special.
We come up with these wishes only so that words can be a medium of joy. Keep on scrolling for heartfelt birthday wishes for your sister.
Happy Birthday Wishes For Step Sister
#1. Blood doesn't define family, love does. You're the best and the only family I've got. Happiest birthday, I only wish to see you in your best doing the best.
#2. Don't ever confuse soul sister for step-sister. You're my soulmate and I'll always be rooting for the best for you. Have the best year ahead, and happy birthday.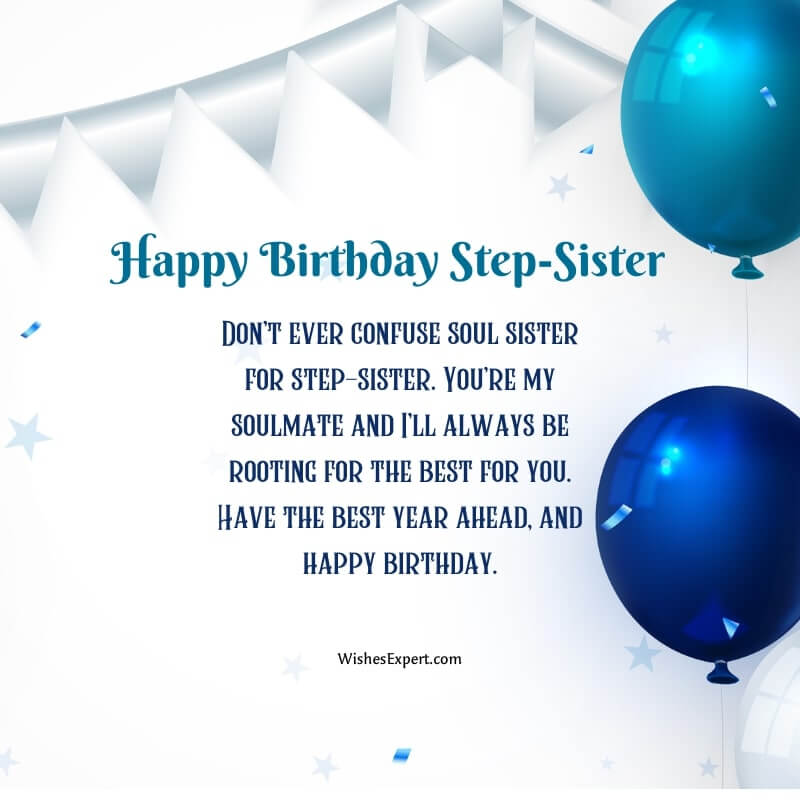 #3. To my sister-in-crime whom I love dearly and cannot live without; happy birthday. May this year take the turns of events that make your world upside down but in a good way.
#4. We might not have the same blood type but our souls match precisely. We don't have the same birth origins but we're more than a family. Happy birthday!
#5. To my sister, in tons of ways, I show you my love and it might not be that apparent but its roots go deeper than your sight and senses. Happy birthday.
Read: Sweet And Cute Birthday Wishes For Twin Sisters
Birthday Messages For Step Sister
#1. Dear stepsister, never forget that teasing you, competing with you, and caring for you is my love language. Also, never forget that I'm in your corner always. Happy birthday.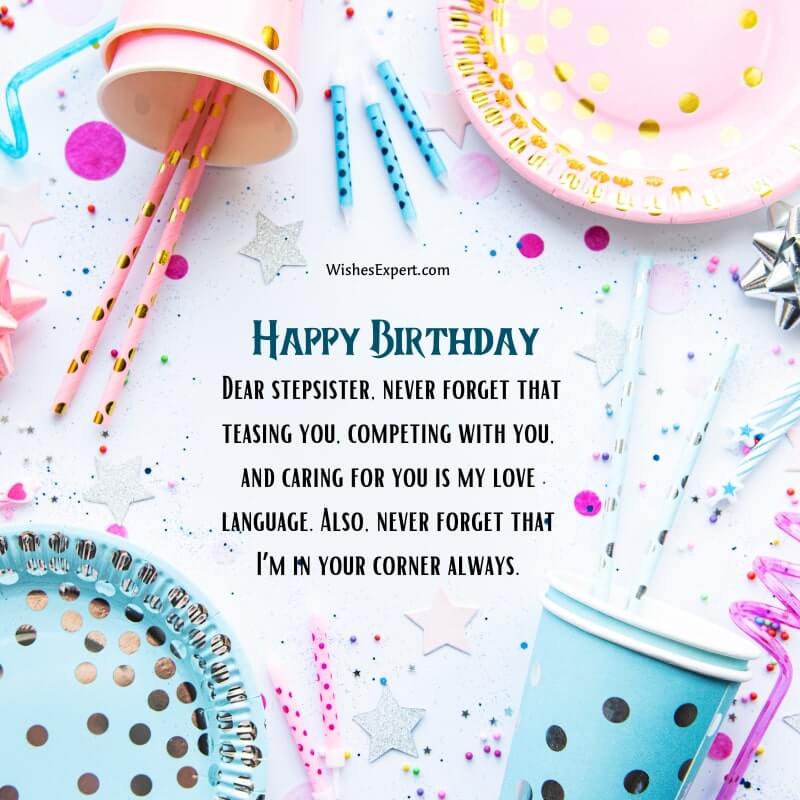 #2. We might be very different but how we see the world and choose to operate are so similar that I never doubted that you're my soul sister. Happy birthday.
#3. Happiest birthday, honey. I wish you a year ahead filled with rainbows. And may our sisterly bond only gets stronger and we thrive as sisters in crime.
#4. Happy birthday to my sister who never makes me feel the void of love and knows how to be there for me in times of need. I'm grateful to have you by my side.
#5. Drum roll, please! My sister is turning ____ today and I have to say that she is the best human being I know and I couldn't have gotten any better sister. Happy birthday to her.
Also Read: Birthday Prayers And blessings for Sister
Funny Birthday Wishes For Step-Sister
#1. It's okay if you're getting old. I'm the pretty one anyways and you shouldn't be worried about me staying the prettier one. But happy birthday, you're still not that old for parties; have fun.
#2. Dear sis, happy birthday. Don't worry about your age, it is just a number. I believe in that saying because if it wasn't true then by now you should've become a bit wiser.
#3. Happy birthday, sis. May God give you everything but also give no regard to your wishlist on Amazon; because I don't want him to spoil you that much.
#4. I'm always praying and rooting for you because I know you get yourself in trouble every single day, so you need my prayers the most anyway, happiest birthday, sis.
#5. Happy birthday, sis. The only oath you need to take and follow is to not trouble me and embarrass me this whole year.
Take A Look: Religious Birthday Wishes And Messages For Sister
These were all the birthday wishes for step-sister that we had in store for you. Hopefully, you found what you were looking for. If you haven't already saved the wishes you liked then make sure you do before you forget. You wish to make her day and we wish to make both of your days. And we hope we succeeded in doing so.
You can check out various greetings and wishes on probably everything on our main page. Don't forget to subscribe for the constant influx of wishes and greetings in your mail.