Birthday Wishes for a roommate should come from a place of love and affection. We spend lots of time with our roommates, whether during school days, college days, or even when we are working. Having a deep connection with your roommate is quite normal because, at some point, you start to share each other's life stories, good and bad things. We get close to our roommates because it gets hard for us to stay away from our families.
We start to search for a substitute, but eventually, sometimes roommates get as close as family members, and cherishing that kind of love and bond is mandatory, and wishing such a special person the warmest happy birthday is a must.
Short Birthday Wishes For Roommate
#1. You have always been there when I struggled while staying away from my family. I wish you a memorable birthday with your new roomie. I hope you will remember me.
#2. It is rare to find a roommate like you. The way you have taken care of me, it would have been done by very few. I delightfully wish the happiest birthday to you.
#3. I could never imagine forming such a strong bond with someone else. We can be like this until we hear the ring of the ending bells. Happy birthday, my angels.
#4. I am glad you broke down my walls and wanted to be my friend. I cannot even think of an alternative end. I wish the happiest birthday to my blessing in disguise, the girl who always loves to be the trend.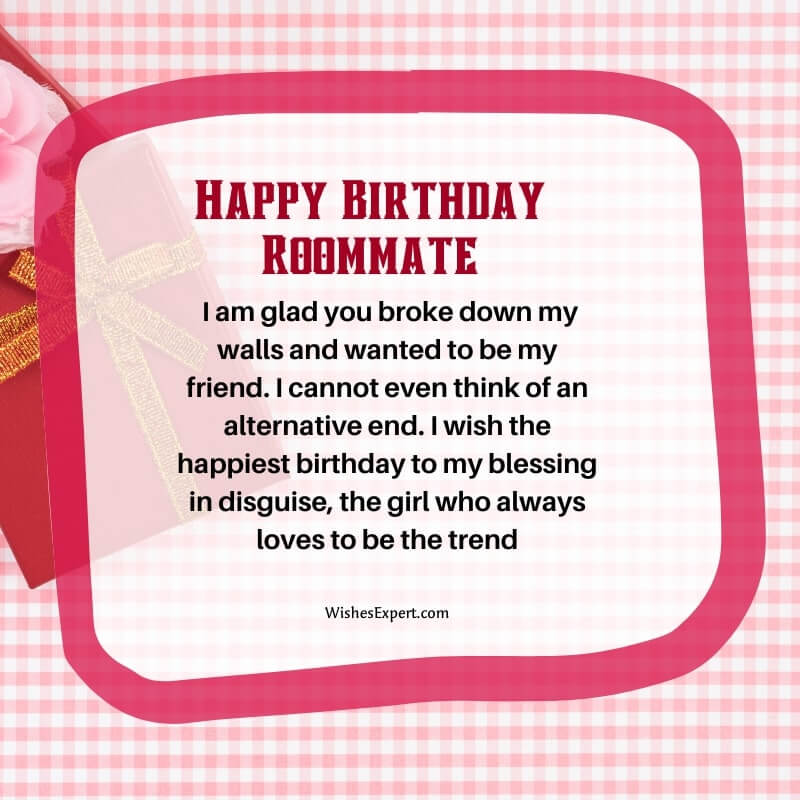 #5. Even though we fought all time, I am glad that those little arguments helped create such a strong relationship at its prime. I shower all my best wishes who considered me a partner in all her crimes.
#6. I hope you achieve all your dreams in this life. Always stay confident no matter how much someone wants to backstab you with a metaphorical knife. Happy birthday, friend. On your birthday, I promise that our friendship will never end.
#7. Dear roomie, many happy returns of the day to you, cutie. You will always have me, no matter how tough it gets in the way. Take all my love and best wishes on your happy birthday.
#8. I wish you a healthy, happy, and prosperous life that waits for you ahead. Never shy away from life's challenges, but face them instead. I pray for a happy birthday and stay long on your bed.
#9. You have taught me so much that I always remain fit. I am very grateful for it. I hope I can also give you some good advice if you need it. Dear roomie, my hugs and kisses are your birthday gift.
#10. Even if we have not known each other for long, you have always treated me nicely and have not let anything go wrong. I am glad I met you and delighted to sing happy birthday to you.
Read: Happy Birthday Wishes For Neighbor
Long Birthday Wishes For Roommate
#11. I am grateful to find you as my confidant, companion, and lovely friend. Thank you for being the person who has always listened to me and supported me to every extent. Happy birthday, dear roommate. Today we finally need to celebrate
#12. It is rare to find people with a similar mindset, but I found the person in you. Though we started as roommates, now you are my best friend and one of my very special few. Now in a hoarse voice, I will sing, Happy Birthday to you.
#13. Whether on shopping trips or small talk on the way, you have become an essential part of my days. You are my roommate and best friend whom I will treasure always. Celebrate a Happy birthday.
#14. I will remember those fights that have strengthened our bond. We are no longer roomies, James Bond, but we have gone beyond. Happy birthday, and let us make it your day.
#15. We started as two roomies with very different tastes and a frown. But you soon stole the 'best friend' crown. Thank you for your stupid jokes that make me laugh when I am down. Happy birthday, my clown.
Read More: Birthday Wishes For Cousin Sister
Birthday Wishes For Hostel Roommate
#16. Do you know the perks of having a fashionista roommate? You no longer look broke or unstylish ever again, mate. Thank you for being my best friend. Together we will make your birthday a fashionable event and begin a trend.
#17. I am thankful that I am your roommate. If I can handle your mess, I can put up with anything in life without any regret. I wish a Happy Birthday to my messy but caring roommate.
#18. I have never imagined meeting so close to my heart that their presence can become priceless. Though we have opposite natures, the time has made our friendship endless. I wish a happy birthday to the self-made duchess.
#19. You are my roommate and best friend rolled in one, and it is one of the precious gifts life has given. I wish a happy birthday to my buddy, partner in crime, who had made my hell life heaven.
#20. I am proud to have successfully spent this many months as your roommate. Do you know how much effort it takes to bring the room to a cleaner state? Happy Birthday to the goofiest person I know, my mate.
#21. Our room loses its vibrant, homely aura when you are not there. I am thankful to get you as my roommate because you are caring, gentle, and incredibly rare. Happy birthday, roomie dear.
#22. Dear roommate, the whole college sees you as a very cool person, but do they know you sometimes forget to act your age? People may think it's trouble, but I call it a privilege. Happy birthday, and I love you because you are ready to break the cage.
#23. Hey roomie, you have always encouraged me to try new things while putting others to the test. I have made your birthday cake, and now it's time for you to have a taste. Happy birthday, and you know you are the best.
#24. The best part of having you as my roommate? I found a true friend taking care of me like my family. May you have a successful year as you take significant steps toward your dream, happily. Happy birthday.
#25. Hey, my dear roommate, on your birthday, I wish you live for hundred-plus years with happiness and grace. I would love to see you as a toothless old lady with a bright smile dangling on your face. Happy Birthday, and virtually we do embrace.
Check: Birthday Wishes For Ex-Girlfriend
Funny Birthday Wishes For Roommate
#26. I wish a life full of adventures and heart-warming moments for the best roommate of all time, baby. But I also pray that you do not be so lazy. You make this place tolerable, and that is not easy. Happy Birthday, pretty.
#27. Dear roommate, I still do not know how old you are. Only you, God, and human resources know the actual age of this star. Happiest Birthday, rockstar.
#28. I wish a heartfelt happy birthday to the world's best roommate. Let me remind you that you can feel free to send a similar message to me, too, on my birth date.
#29. I have a perfect gift for your birthday, roommate – today, I will do one of your not-so-loving works for you. But do not take advantage of me without giving proper value.
#30. After seeing you, I must go back to that old saying that says growing old is mandatory, but growing up is optional. May God bless your roommate and stop being always emotional. Happy Birthday, doll. Before you shed tears, please get ready for the mall.
Birthday Wishes For Ex-Roommate
#31. That midnight Maggi never tasted good without you. Although I never got to eat most of it when I was with you. Happy Birthday, roomie, and you are not my ex, sweetie.
#32. When I was with you, nights used to turn into mornings fast, and you became my family by fate. You will always be my person, dear ex-roommate. Happiest Birthday, my little jest.
#33. Whenever I order my food, I miss you a lot, genuinely. Have a great birthday, ex-roommate, and always remain a foodie.
#34. People say that good roommates are hard to find, harder to leave, and impossible to forget. It is a challenge to forget someone who leaves their clothes all over the room without regret. Happy Birthday, my ex-roommate.
#35. With you, every day was like a sleepover with my best friend. You always made my saddest nights better for me to comprehend. Happiest Birthday, ex-roomie, and remember, you were God send.
We should have special Birthday Wishes for a roommate to show them how important they have become in our lives. Even if most are strangers, we still form a strong bond, and if we are already acquaintances with our roommates, it is more common for us to send the most heartfelt birthday wishes. Showing appreciation can be best done with the help of words, especially if those words come from the depths of our sentiments.
So, you can use the short yet meaningful wishes mentioned in this article to wish your roommate a memorable happy birthday.