You always wish the best for your soul mate but is it possible to express everything through material gifts? Probably not. Birthday wishes for a soulmate are profoundly personal wishes that ring with passion. Fulfill your desire to wish your soul mate on their birthday with gifts and other surprises, but nothing can be equated with the importance and uniqueness of a personalized quotation for your soul mate on their birthday.
Therefore, do not only arrange a grand surprise party or find expensive gifts. Prepare yourself to say to convey your heartfelt wishes to your soul mate on their birthday. Something that will ensure that you can wish your soul mate the best way. Thus, we have curated a fascinating list of birthday wishes for soulmate.
Soulmate Birthday Wishes:
1. We found each other, and somehow life became complete like two hemispheres that roll over and join together seamlessly without a split. Happy birthday, dear. May we live together like this forever.
2. I hope God showers his blessings on you on your special day. Wishing you a blessed, happy birthday. I hope that you prosper in life, dear. Hopefully, you celebrate this day forever.
3. You complete my life in every way, and your birthday is a celebration of the life I got to live because of you. I hope you always remain blessed no matter what you pursue.
4. With my heartfelt warm regards, I hope we can always celebrate your birthday this way. The world is enough when you are in it. I shall always love you, and may you always be fit.
5. I hope we always celebrate your birthday with equal pomp and fervor each year, even when we are too old and can't walk without our walking sticks or wheelchair.
6. Your birthday is a reason for me to celebrate because as you entered my life, God allowed me to have someone like you and helped me survive.
7. I am thankful to God, who created you, and helped me find you in this lifetime. Your birthday is the best day of my life, and if I miss it, I will commit a crime.
8. You arrived like a gentle breeze after a raging storm and calmed me with love and care. I only wish you get whatever you desire. Happy birthday to you, dear.
9. I wish to remain a part of your world, and you remain a part of mine. Wishing you a happy birthday, my love, and I know you will always shine.
10. Bound with love, I hope we keep supporting each other through all the difficulties. I wish to stand by you in all your opportunities. Happy birthday, my soul mate, my bestie.
Read: Birthday Wishes And Messages For Lover
Happy Birthday Soulmate:
1. I can't believe you are already a year older. I hope this year will make you a lot bolder. Have a great day. My dear soulmate, wishing you a happy birthday.
2. I hope you live your life the way you want and still don't pull a funny stunt. Happy birthday my dear soulmate. May all your wishes come true on this date.
3. I hope you have a long life ahead, where you can enjoy many vacations in bed. Have a blast with the cutest soulmate ever. A very happy birthday, dear.
4. No one is closer to me than you are. No one can care for me the way you care. Hope you have a great year ahead and enough reasons to celebrate. Happy birthday lovely soulmate.
5. My present on your birthday is my good wishes and lots of hugs and kisses. Many, many happy returns of the day to the best soulmate ever.
Read More: Religious Birthday Wishes And Greetings
Happy Birthday to My Soulmate:
1. Our bond gets stronger with every passing year. Living without you is a thought I can't bear. Hope that my dearest soulmate has a beautiful birthday to celebrate.
2. Fate has brought us together, and that makes me happier than ever. On your birthday, dear soulmate, may all your wishes come true. Wishing you a special birthday to you.
3. Spend all your days with a smile on your face. I'm always with you in life's crazy race. Hope all the years ahead bring you wisdom. Happy birthday, soulmate, and may you have all freedom.
4. I am here for you when the rain starts to pour. I'm here for you like you have been there before. I want to enjoy your birthday with you for sure.
5. You are the closest person in my life. Living without you would hurt me more than a wound from a knife. Enjoy your special day, soulmate. Happy birthday, love, and I promise I won't be late.
Try: Birthday Wishes For Someone Special
Funny Birthday Wishes for Soulmate:
1. Stay strong and healthy forever, I don't want to see you sad over anything ever. Happy birthday my soulmate. You are the best thing that ever happened to me.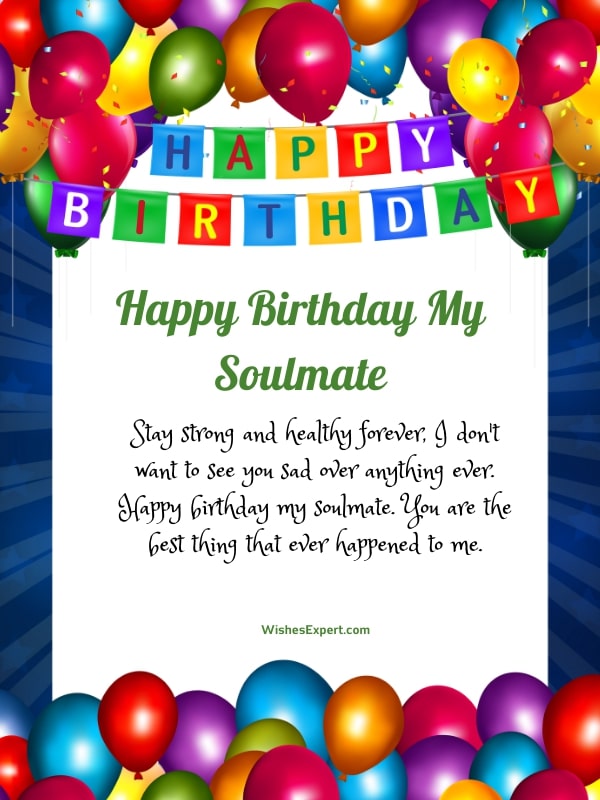 2. The smile on your face is my favorite view. I will always try to keep that smile on you. Stay happy for all your birthdays, and stay honest and true.
3. Nothing can compare to the bond that we two share. The friendship that we have is pretty rare. My dearest soulmate, I wish you the happiest birthday ever.
4. Life is full of roses and thorns, but you are the most beautiful rose in my garden that has been born. Happy birthday to my pretty soulmate. Love you lots, dear mate.
5. I will stick with you till you get tired of me. Still, you will never be free. Hope all your birthday wishes come true. Dear soulmate, a very happy birthday to you!
Read More: Happy Birthday to My Fiancé
Conveying a heartfelt message might be difficult for people unable to articulate their brimming emotions. It is often quite overwhelming for a person when they are speaking about their soul mate. We become so emotional that we hardly frame sensible sentences that will genuinely reflect our feelings. In such scenarios, you can use our carefully written birthday wishes for your soulmate.
Our quotations are created keeping positive and passionate emotions in mind. You can print or write these unique messages on a card for the soul mate in your life. The quotes here will help you when you want the perfect birthday wish for your soulmate.