Bridal showers are a fun way of celebrating the love of a couple before the wedding day. A woman dreams of a perfect wedding and it's up to her friends and family to give her a bridal shower that lives up to her dreams. Shower your soon-to-be-bride with these bridal shower wishes that we're sure she'll love.
Bridal shower wishes
I am so happy for you. You are soon going to take the responsibility of being a loving wife and a caring daughter-in-law. Best of luck!
I know you will be the most beautiful bride on your big day. You deserve all the happiness in the world and more. Congratulations!
I hope the love you two have for each other stays forever young. And I hope the day you walk down the aisle will make you the happiest. Sending you lots of love.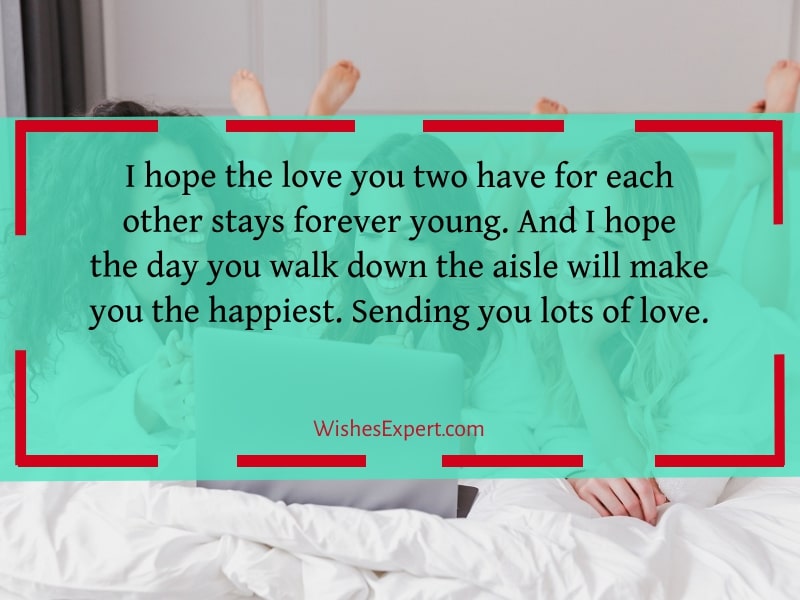 May God bless you with all the happiness that you deserve. May the new journey of life take you to a path full of unconditional love and support.
It makes me so proud to see how you've grown into such a beautiful woman with a kind heart who is soon going to be a bride. You're going to make such a beautiful bride.
I can't believe that my little princess is going to get married soon and wish you a lifetime of love and happiness. I love you, darling.
Words cannot describe how happy I am to know that you are going to get married. Congratulations my love! Cheers to the new life that you're going to start!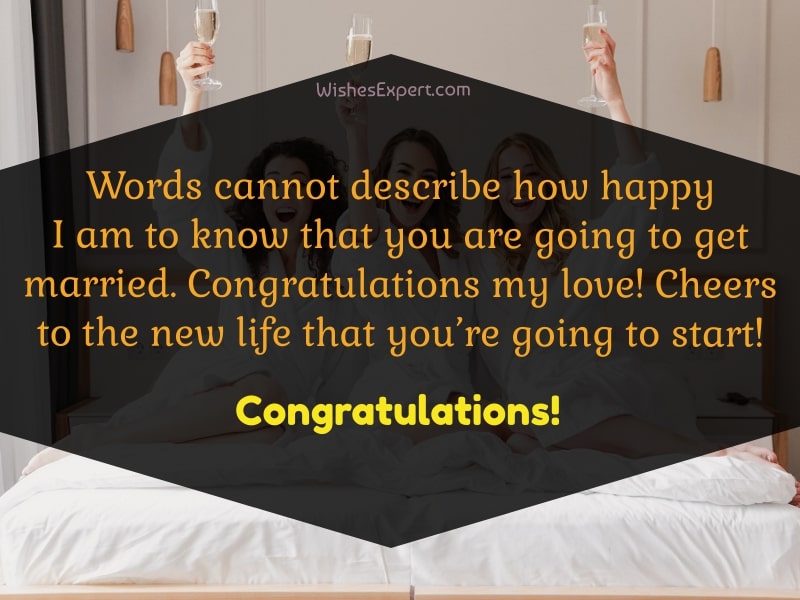 Finding someone you are compatible with is quite a tough job but you did it and found someone so loving. I am proud of you for making this big decision in your life. Cheers!
In this vast world of 7 billion people, you found your soul mate and chose to entwine your fingers with his forever. Congratulations to you two!
My love, you are soon going to be a bride and I wish you all the best. You are starting a new life with him. I hope it is as joyous as it was before.
Read: Congratulations On Your Engagement
Wishing Well Bridal Shower
A new chapter of your life will soon begin. I pray to Lord to make this chapter the most beautiful one of your life. You deserve all the happiness in the world.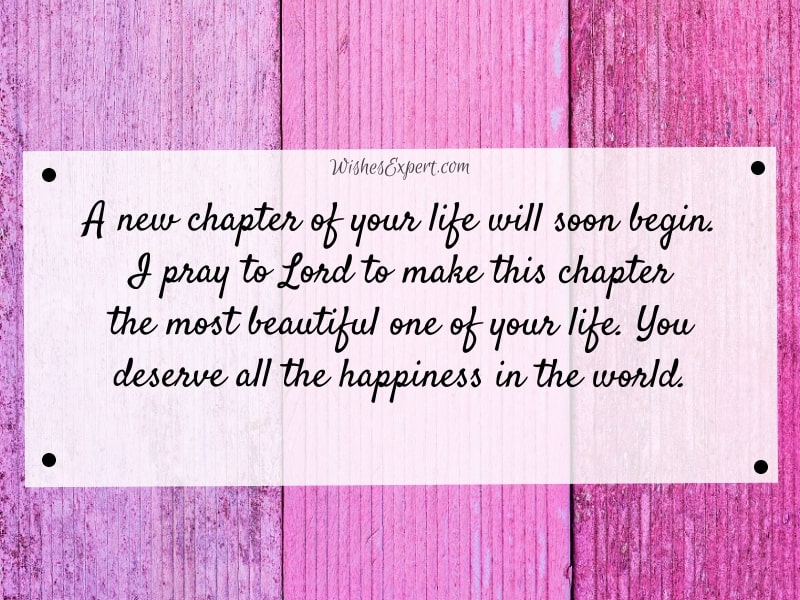 I am happy that the high school sweethearts are finally getting married. I always adored the relationship that you had and excited about your bridal shower.
How could I not be happy to see you fulfill your dream of getting married to someone you love? I am as enthusiastic as you are for your big day. Best of luck!
In the world full of broken hearts, I am happy that you found someone who could protect yours. I wish you a life full of happiness and positivity.
I am sure that you will rock your married life! A beautiful and cheerful girl like you deserves everything that this world can offer. Go ahead and live your dreams with him!
Read: Farewell Quotes
Bridal Shower Quotes
It is a dream of every girl to walk down the aisle and start a new life with someone she truly loves. You chased yours and made it come true. I couldn't be any happier for you.
Sending the warmest hugs and love to the soon to be a bride. You both are a perfect match; a match made in heaven. All the best for the big day!
I can't wait to see how beautiful you will look on your big day. Wish you a married life full of adventures and pure joy. I hope you will have a blast on your special day!
It is such a pleasure to know that you are getting married. You are starting a new phase of life. I hope you find happiness on your way.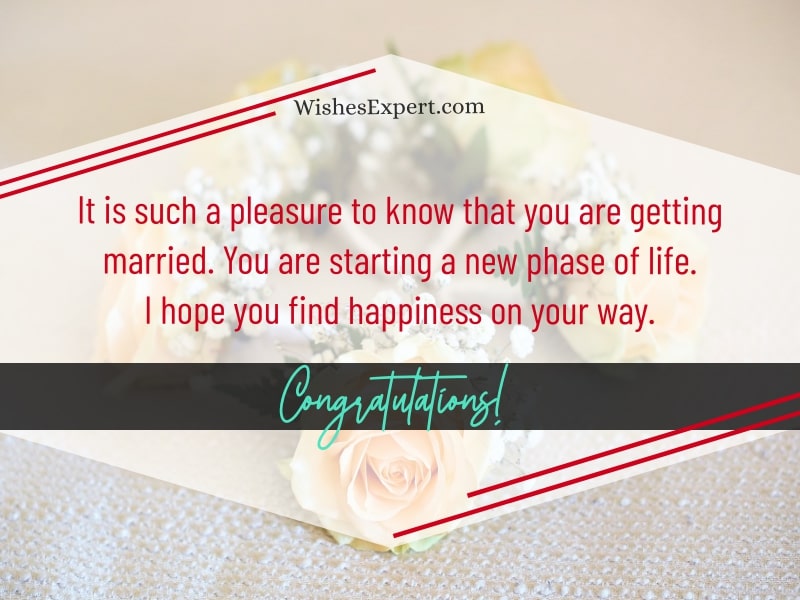 Congratulations on finding your soul mate. You are entering a new life with the man of your dreams. Remember, every relationship needs nurturing and a lot of love. Happy bridal shower.
To the soon to be bride, I hope you know that marriage comes with a lot of commitment. It comes with ups and downs. But I know you are going to live your best life with him. Have a beautiful bridal shower.
I hope your marriage turns out as beautiful as you have imagined it to be. With a heart like yours, you deserve to fulfill all of your dreams. Congratulations darling!
My dearest, I love you and I want you to know that nothing makes me happier than seeing you happy. Congratulations on making such a huge decision of your life! Have a fun-filled bridal shower.
You are a beautiful flower who makes everyone happy by blooming. So, today I wish you always bloom in love and happiness that your new life blesses you with. Congratulations!
Congratulations on finding each other and loving each other so much. I wish you a married life full of memories that you will forever cherish.
Also Read: Congratulations For Baby Boy
Wedding Shower Wishes
Hearty congratulations to the most beautiful bride to be. I wish you a marriage full of love and happiness which will keep you both together for eternity. Happy wedding shower wishes to you.
I hope you are the happiest wife ever. When I first heard of your engagement, I was ecstatic beyond words. I have always wanted to see you as a bride and it's finally coming true.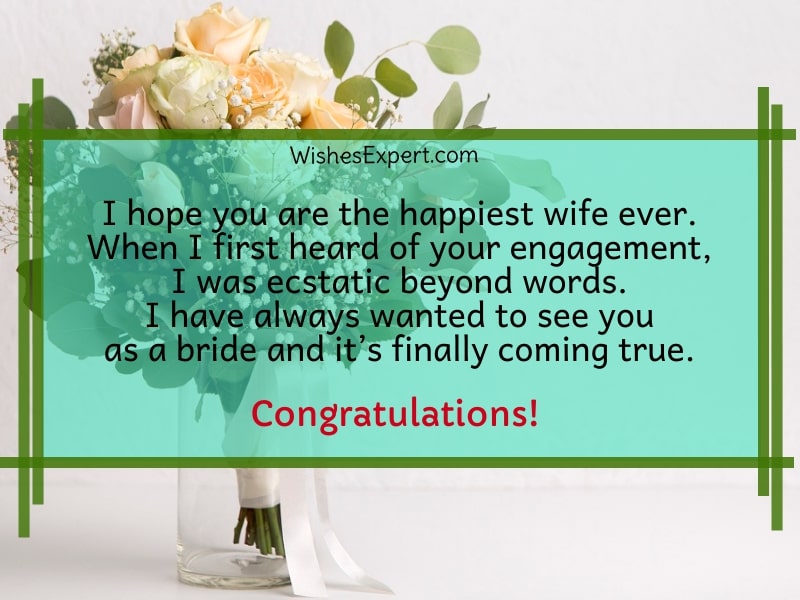 I wish nothing but pure joy for you. May the bond between these beautiful souls live for eternity. Congratulations on finding the love of your life.
We create a beautiful world to live in ourselves. Congratulations on finding someone to spend your beautiful life with. I wish you a married life full of love and support.
No matter how old you grow, you will always remain my princess, my baby girl. I'm so happy for your wedding shower and can't wait to spend the day with you.
Take A Look: Happy One Month Anniversary Wishes
Bridal Shower Messages
We are all looking for someone to love and hold to help us get through life no matter what situation we're in. Congratulations on finding your soul mate. Best wishes for your special day!
Nothing can beat the happiness of getting married to the love of your life. I am sure you are as excited about your marriage as we are. All the best for your big day! Happy bridal shower.
Congratulations on soon going to be a beautiful bride. I hope you make a lot of good memories with your husband to be that you will cherish forever.
You are such an amazing person and you spread happiness everywhere you go. No one deserves this happiness more than you. Congratulations on your bridal shower and upcoming wedding.
To my darling, I wish you a bridal shower full of excitement and overwhelming joy. Looking at how happy and loved you make us all so happy. Congratulations to you, baby girl.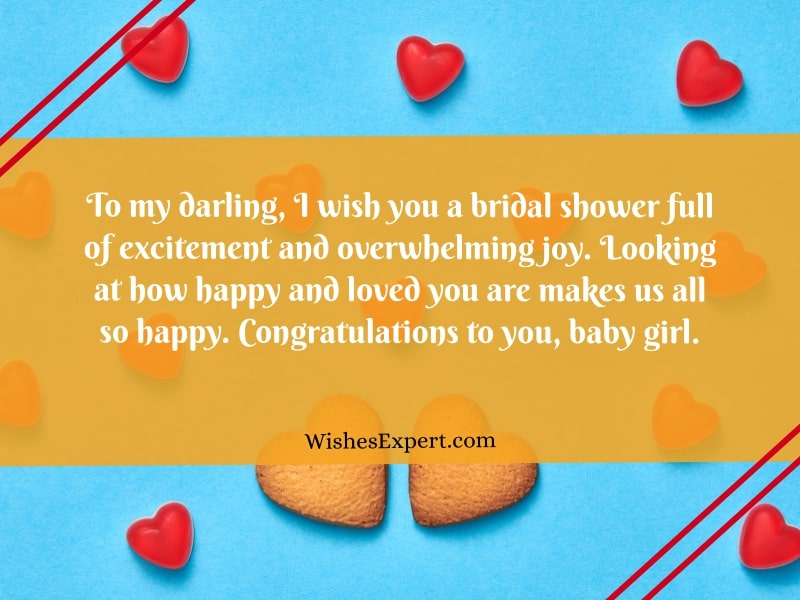 Exclusive bridal Shower Wishes
Congratulations. To have seen your relationship grow with David from a blind date to a 5-year long relationship to marriage truly makes me believe in love.
Congratulations, honey. I could not be happier for you. Excuse me for all the happy tears that are making their way from a joyous heart.
Congratulations to the bride-to-be! Don't you worry!  I'm here always to help you calm down those tingles and get your fits tightly right.
You can call me if David ever forgets to put your means and cats above everything else. I'll be there immediately. But first, congratulations; I'm so happy for you!
No one can love you as much Pete. He keeps you on your toes and in his heart. You're going to marry the most perfect guy! You've made the best decision of your life. Congratulations.
I can't wait to see you in your wedding dress walking down that aisle. It can only look heavenly. Congratulations, may your bond only deepens with love and care.
You two have already set some serious couple goals. And we all are eagerly waiting to see your wedding goals. There's nothing that we're looking forward to but your wedding. Congratulation!
The glow you're gleaming with shows me how much you're in love with Mason. I wish he gives you the world that you deserve! Congratulations.
Congratulations. You never fail to take on a new role and play it with all your heart. You shall not worry at all. You'll be the most supportive wife and the ideal daughter-in-law.
Inhale love and exhale worry. Everything can be a bit overwhelming. But you've got everyone else to take care of everything. You only keep Ronald and your bridal glow in your focal point.