Becoming a parent is an out-of-the-world feeling and these greetings will make it feel more otherworldly to the father-to-be. These congratulations messages for father-to-be will make him go awe as they're the cute and sweet congratulatory regards that he didn't know he needed to hear.
When you hear the news of becoming a parent, not only do you feel the bubbles of excitement and cartwheels in your stomach but you start to feel anxious too as this is a huge thing. Send these messages to remind the father-to-be that he is so ready for this and he got this. Whether you wish to give him tips or tell him how special it would be, you'll find what you're looking for.
Congratulations On Father To Be
#1. Becoming a father is a process of learning and unlearning countless things but most importantly opening your floodgates of emotions. All of it will be worth it and congratulation.
#2. Congratulations! Parenting requires one to have an immense amount of inner strength and patience, hence I'm assured that you'll be a great parent and surely the coolest dad.
#3. The journey of becoming a father will make you more humble and invoke all the nurturing parts within you that were tightly closed before. You'll feel more than alive and free. Congratulations.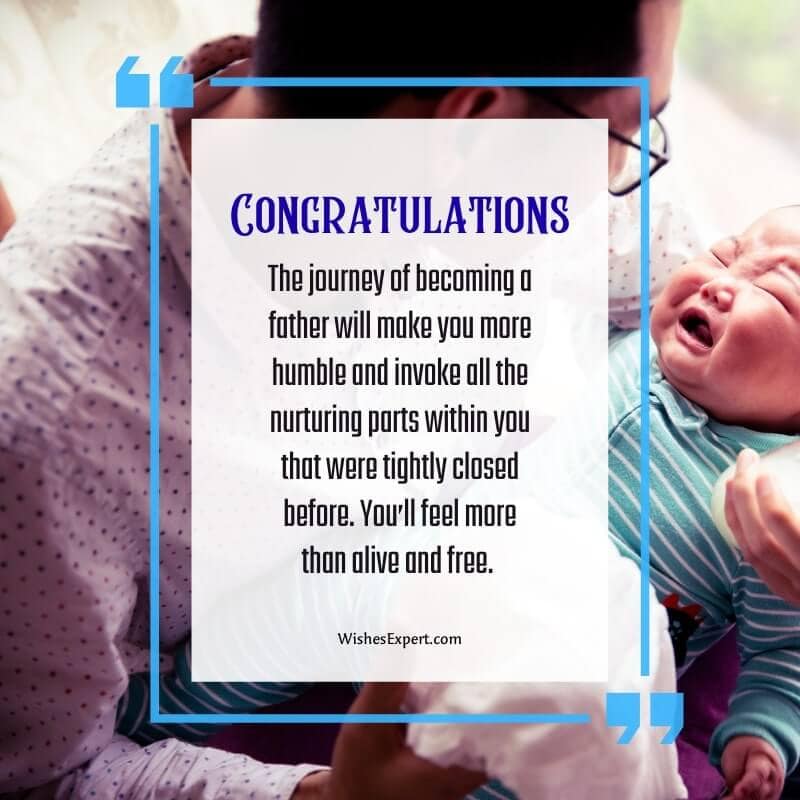 #4. You might need to make yourself capable of working and surviving without sleep because once the kid arrives, your countdown of having sleepless nights will begin but congratulations; it's still a beautiful feeling.
#5. Congratulations to the father-to-be. I have no doubt in my mind that you'll become the finest and coolest father. I'm so happy for you and (wife's name).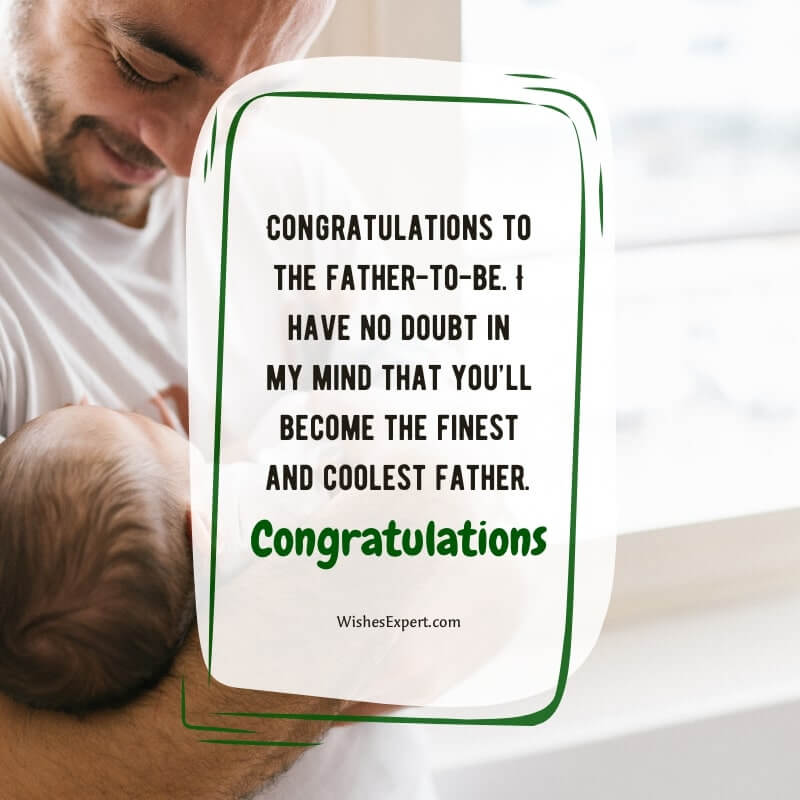 Read: Funny Pregnancy Wishes And Messages
Congratulations Quote For Father To Be
1. Congratulations. You're entering into a different realm of reality. Things will look a lot different and your whole world will take a 180 shift but for good; you'll become a great father.
#2. Becoming a father is a gift to the man that gives him the freedom to be vulnerable and lessons that make him more able to be a source of nourishment; treasure it. Congratulations.
#3. Congratulations. This new chapter of life might not be the most fun at the beginning. It's a slow burn. Soon, you'll see the treasure at the end of the rainbows.
#4. To the father-to-be, congratulations. You've been given the toughest task that you can only succeed with love, integrity, and wisdom; I hope you're prepared.
#5. You've been blessed as you received this gift because the process of becoming a parent turns out to be healing for one's inner child. Be the father that your child needs and not wants.
Read More: Congratulations On New Baby
Messages For Soon-to-be Dad From Wife
#1. To the soon-to-be dad, congratulations. I can't put into words how I'm happy and fortunate to be able to have you as my husband and now as the father of this baby.
#2. To the soon-to-be dad, congratulations. You're the man I could imagine having kids with as you're not only perfect husband material but the best father material. We'll do our best to be the best parents.
#3. Congratulations to the soon-to-be dad. Do not worry at all, you have all that it takes to be a great father, trust me. For now, let's just focus on seizing this joyous period.
#4. I have so much faith in you that you'll truly mould yourself into the shape of the dad that our kid will need. Trust me, we've got this. Congratulations to the soon-to-be dad.
#5. Thank you for making my wish come true. My head is still over the clouds and my heart is overwhelmed with flooded joy. Cheers to us and congratulations to the soon-to-be dad.
Check: Congratulation Messages on Pregnancy
Congratulations Cards Messages For Father To Be
#1. Congratulations to the father-to-be. I wish you good luck as you're entering into a new era. But I know you're so ready to take up this new role. You will exceed your expectations.
#2. The baby will bless you and _______ in ways you can't imagine and we can't explain. It'll be a long journey but a worthwhile one. Congratulations to the father-to-be.
#3. Parenthood isn't only about rainbows and sunshine. It's the toughest task that an individual needs the strength, patience, and love to be good at. And I know you'll. Congratulations.
#4. This little being who is about to enter your life will fill your life with an abundance of joy and your home with loud cries. Even with those sleepless nights, it'll be worth it. Congratulations.
#5. Congratulations to the father-to-be. The baby will test your temper at first then your patience, and then your ability to be compassionate and understanding so I also wish you good luck.
Hopefully, you found some cheerful congratulations messages for the father-to-be and did send them to him already. Save and share the ones that got your attention, felt right and fit for the father-to-be. We hope you find the best suitable congratulatory remark/s for the man who is in his soon-to-be dad fields! If you make your personalised message with the help of these wishes then feel free to mention it in the comment section.
Before you go, kindly make sure that you've subscribed to our page so that exclusive greetings can be sent to your mail.