Dad Death Anniversary Messages: Father is one of the most precious relations one has. We share a warm and understanding bond with our dad. However, if you go through the phase of loss of a father then that is one of the hardest times of life. Losing a father feels like you have lost your shield. At times like the death anniversary of dad where you remember the memories you had with him it is better to not signify the pain but the love that you had for him. Here are some sad and deep dad death anniversary messages you could use.
Dad Death Anniversary
Another year has passed, and there is not a single day when I have not missed you. I miss you and I know you are in a better place.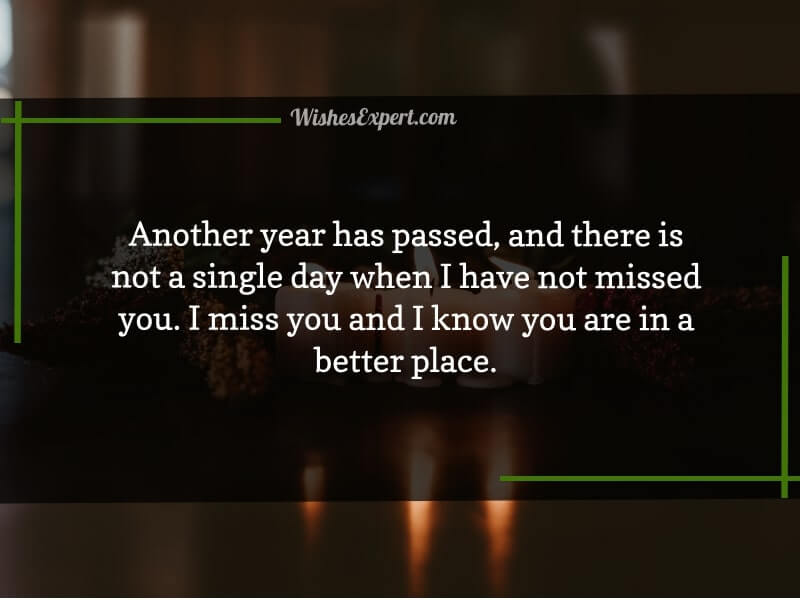 Life is so unpredictable, one second you were with us & now it's been so many days that I have heard your voice. We miss you so much, dad!
Your presence always made us feel so safe & the pain of losing you has made us miserable. We miss you every day dad!
Our life is moral but our love for you is immortal. Though you are not here with us you are always with us in our heart dad.
Dad, we still can't believe that you are not with us anymore. Your presence was everything to us. It still hurts not to hear your voice again.
Losing you was the hardest blow I ever felt. I miss you so much, dad!
The man who taught me how to live, how to laugh, how to celebrate and yet I am left in tears with him not being here.
I might be a big and grown man for the world but I still crave your attention and support.
Without you having Dad there is a void left in my heart that cannot be filled with anything in this world.
Dad! All that you taught me is what has made me survive. Love you Paa!
You might not be here anymore but I am sure you must be watching me from where you are!
Just the feeling of being your daughter has been my pride always. Thank you, Dad!
Years have passed and it still feels like yesterday when we were together. So much time has passed Dad!
If there was anything in this world, I could do to bring you back Dad I would have sacrificed myself but all I have now are your memories and this feeling of longing.
To the inspiration of my life. I believe you are still here with me, Dad.
Read: Condolence Message On Death Of Father
Remembering Dad on His Death Anniversary
We know everyone has to die one day but it's not easy to move on. Dad, we know you are in a better place & may God bless your soul.
Death is a reality of life but a bitter one. We still can't comfort ourselves that you are not with us anymore. We miss you the most dad.
My eyes get full of tears when I think you are not here with us. But I know you are watching us from heaven. Miss you a lot dad!
A year ago, this was the saddest day of my life, dad. I know you have gone forever but you are still with us in my heart.
Dad, you have taught us so many lessons and your death has changed our life. Thank you for supporting me & being the best dad ever. We miss you the most.
Dad! Life has been hard with you not being here but I am good at learning. Miss you so much!
The thought of you still fills my heart with immense warmth and respect Dad.
Whenever I think of you my heart aches and it hurts so much.
We remember people who we have forgotten once, but you were never out of my mind.
Every year this day refreshes all the pain and longing I felt at your loss Dad. I miss you so much Pops!
Father Death Anniversary Quotes
Rest in Peace the man of my heart. You sure would be at a better place.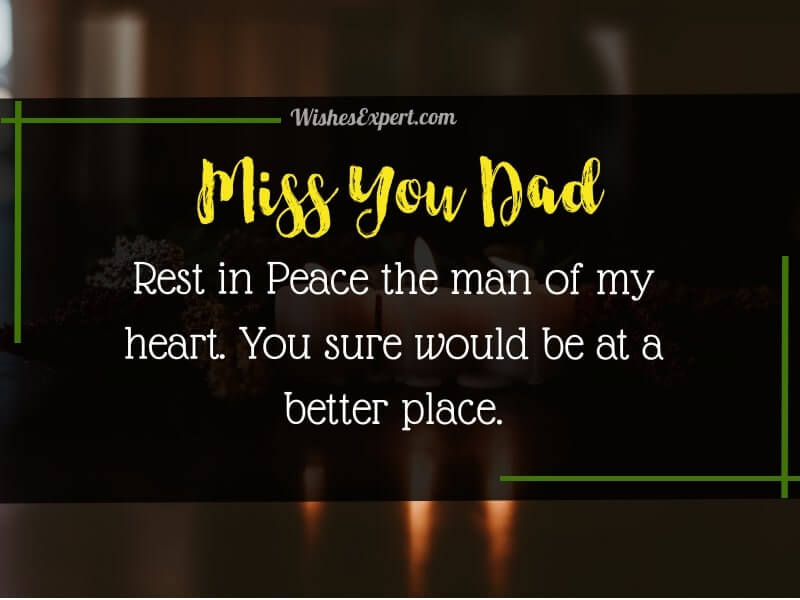 Losing a father is like losing your support system in this world and it sure hurts hard.
Death cannot be avoided but the death of a loved one is the toughest thing that one goes through.
I could never imagine a life without you but see I pulled through it somehow even though it was hard as hell.
All I can do for you Dad is pray and wish that you get.
Sometimes I just look up in the sky and I know you are here with us. Thank you for protecting us from heaven. I love you, dad!
We say everything gets fine with time but even after so many years, it is still the most painful day for me dad. You'll always be in my heart!
Memories never fade. A year has gone by but it still feels that it was yesterday when you were smiling with us. Miss you a lot dad!
Words would never be enough to explain how much I miss you, dad. Dad, you'll always be in our thoughts and prayers.
A long paragraph won't bring you back but we know you are still watching us from heaven. You were truly a gem of my life dad.  all that you deserved from God!
Death Anniversary Message for Father
It has been so many years and you never used to let me cry and now you left me in all tears.
Now and then I watch your pictures and seeing you smile there gives me so much strength Dad.
I am so proud whenever anyone talks about you and I feel blessed to be born as your kid
Remembering the days, we used to go out to play and things we used to do together is a treasure for a lifetime.
Thought of you that you are no longer here with us shatters my heart into pieces.
Knowing you filled my life with happiness and I am happy that you are at a far better place in heaven.
With you, even this world was no less than heavens and knowing how great a man you were I know God must have chosen Heaven for you!
I know you must be keeping an eye on me from heaven and watching how good a person I have grown into.
What I believe is that a heaven is a perfect place for sweet and warm souls like you. The pain of losing you fades a bit.
Thanks to the man who not only treated me like a princess but also taught me how to be a great warrior in battles of life, Thank You!
Death Anniversaries are a special ritual that is used to remember the memories of our loved ones Having to go through the trauma and pain of losing a father is something that is hurtful for all of us. So having some comforting and deep dad death anniversary quotes or messages are a great way to remember our loved ones.